Cigarette Racing, famous for its speedboats, has released a special model - 46' Rider, designed based on the exclusive roadster Mercedes SLS AMG. The choice of the "object of inspiration" is not accidental - the owner of the Cigarette Skip Braver is known for his passion for high-speed cars and for the works of the tuning studio AMG in particular.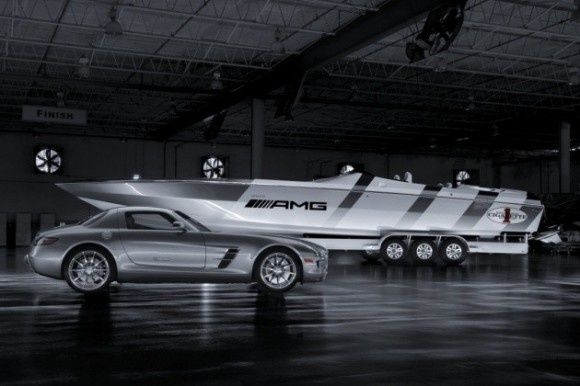 The borrowings mainly concerned the finishing materials of the hull and cockpit. According to Mercedes, the attentive eye will see more than a hundred innovations in the boat. Among the most noticeable are two-color exterior trim (silver steel AMG ALUBEAM and white metallic from AMG Designo) and two-color interior trim with waterproof materials reminiscent of white leather in SLS AMG.
The technical differences are much more noticeable. In order not to embarrass the original, the boat was equipped with two Mercury Racing engines with a volume of 9 liters crazy by car standards. Each engine is equipped with two turbines and produces 1350 hp. The total power of 2700 hp allows the boat to reach 210 km/h.
For comparison - Mercedes SLS AMG is satisfied with one engine of 6.3 liters and 571 hp. The maximum speed of the roadster is limited by electronics at 317 km/h.