The last regatta in the Louis Vuitton Trophy series will start in Dubai next Friday. There are only 6 teams to participate, but which ones! The owner of the Cup of America BMW Oracle Racing, their first registered Challenger Mascalzone Latino, united German-French ALL4ONE, Artemis under Paul Cayard, plus the strongest in the series at the moment New Zealanders ETNZ, and, of course, Russian «Synergy».
This historic stage will bring the LVT series to a close and seems to be the last major race for IACC class yachts, which in various variations has reigned in the world of professional yachting for almost 20 years. After that, the big sailing sport will move to multihulls and start preparing for the next America's Cup.
The regatta will be based at the DIMC Yacht Club, near the «trunk of the» first palm tree in Jumeirah. This place is well known to yachting people, the Class 1 Water Motor Grand Prix and the Dubai International Boat Show are held here annually. The format of the competition is two rounds and then, according to their results, the final series «of departures». The organizers promise to broadcast the races on the Internet - hopefully, we will fully show all the races, not just the final series, as at the previous LVT in La Maddalena.
A little bit of prediction. The favorites, as always, can be considered «kiwi». But the rest of the teams are almost as strong, with the exception of perhaps vaguely speaking ALL4ONE. Weather conditions will play a big role. Dubai is not a very windy place at all, and at this time of year and at the same time - according to statistics, the average wind speed here in November does not exceed 9 knots, and the probability of what will blow more than 4 points (15 knots) does not exceed 25%.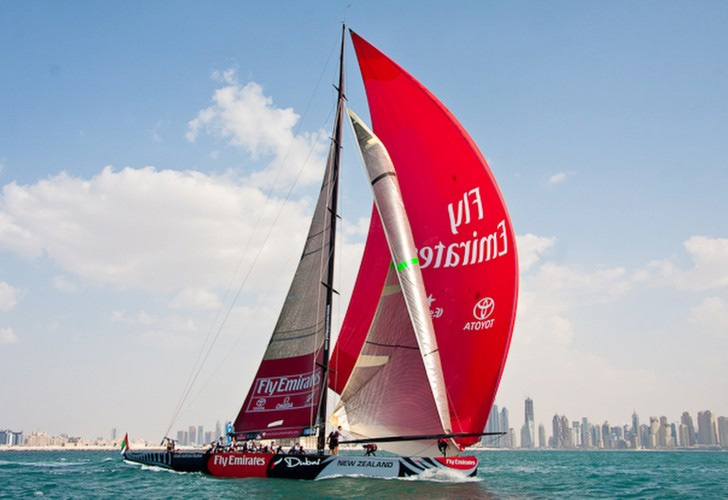 The «Synergy» with the new helmsman Fracesco Bruni has a very good chance of finally taking the trophy - both the team and the helmsman showed their best performance in the previous stages precisely in the weak wind. Around the same muzzle when Francesco and AZZURRA won the first leg of the LVT in Nice last autumn and «Synergy» took third place. The same situation was in the last LVT in Sardinia, where «Synergy» came in second, almost ripping out the victory of the almighty ETNZ. We hope that the guys still have a fuse and are serious about taking revenge.
ItBoat will go to Dubai, hold the fingers crossed for the Russian team and tell its readers all the interesting things about LVT at first hand.