It took years for Richard Beatty to build this one of a kind yacht. A Hong Kong-born businessman of British origin, he often took yachts for charter, preferring explorers because he wanted to travel on non-standard routes. He was particularly attracted to remote parts of the Pacific Ocean. And Beatty wondered every time: why would those accustomed to sailing in the Caribbean do so in luxury yachts comparable in comfort to the best hotels, and those who want to see something new have to sail on some troughs? Why should a $40 million research yacht look ugly, look like a tow or an accessory boat? Why in such a yacht are small and uncomfortable tenders, in which active travelers going diving or fishing have to spend all day? And Beatty has decided for to get to the bottom of this.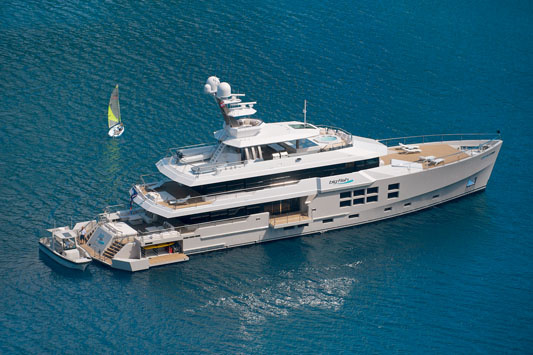 "project Big Fish started after several visits by Mr. Beatty to the most important boat shows," says the yacht manager Jim Gilbert. - He believed at first he would find the right vessel for his purposes. The decision to build his own yacht was made three and a half years ago when he realized he couldn't find one. He asked naval architect Greg Marshall to design a Big Fish and then visited various shipyards in the US, Turkey, China and Europe to find builders obsessed with quality while at the same time being ready to do something new. And he chose McMullen & Wing in New Zealand Auckland when he realized that the shipyards could do what he needed and fit into the budget.
When the yacht was half ready, Beatty found that he loved the design and construction process. He realised that his Big Fish concept could be heard loudly in the market. So the businessman decided to set up Aquos Yachts to bring Big Fish boats to market on a commercial basis. «The idea of sailing around the world was mine," continues Jim Gilbert, "as a way to show the world the Aquos Yachts philosophy of sailing around the world in comfort. There is no better way to test a yacht's strength than to go on a voyage that wasn't before, such as the first crossing of the Northern Sea Route. A yacht can be chartered for a certain period of time to allow future Aquos Yachts customers to experience the combination of luxury and functionality that the company brings to the yacht market.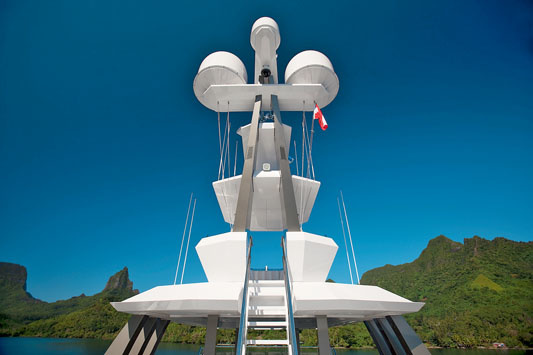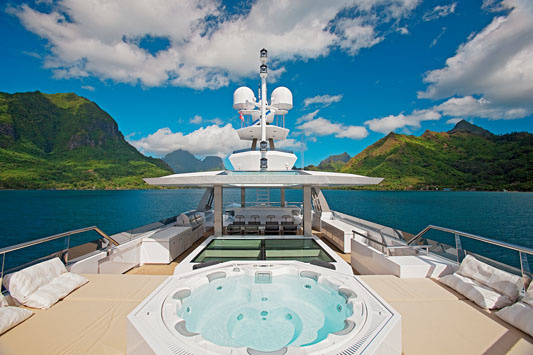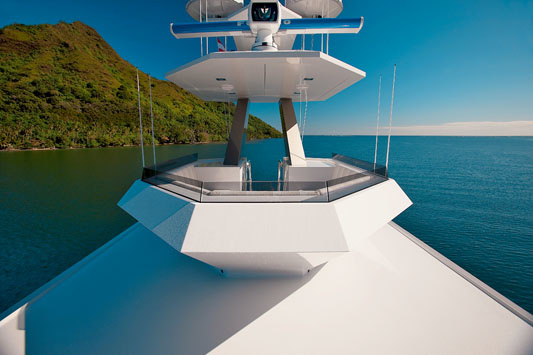 The chartering of the yacht was expected from the very beginning as the owner was only going to spend 4-6 weeks a year on it. And the charter would have given Big Fish the opportunity not to stand still, the crew to act, in other words, to keep the boat afloat and in perfect condition. But who are these people willing to pay about $200,000 a week for a cruise north? Will there be many of these people? "We have clients who are interested in expedition yachts, just the choice of such yachts is limited, - comments Elena Maximova, CEO of Ulysse Travel Club, with the help of which Big Fish can be chartered. - Those who went to, say, to, say. Sensesare coming back to her because there's been no alternative since 1998. This alternative is Big Fish. Customers are tired of standard trips on the Côte d'Azur and Sardinia.
Jim Gilbert confirms Elena's words: "We have already booked three charters in the Pacific Ocean, another one in the Antarctic, a serious offer for Brazil and several others for different parts of the Northern Sea Route. This proves how many people are interested in places other than the Mediterranean, the Caribbean and New England".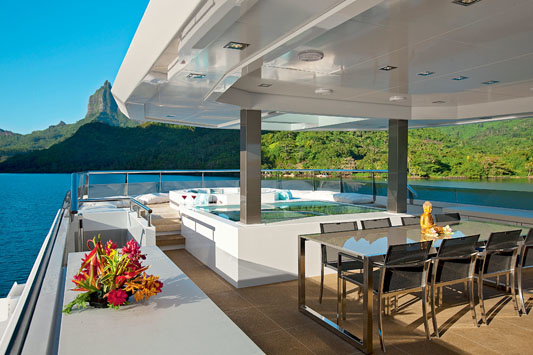 There is no doubt about the reliability of the yacht. Big Fish has enough fuel to cover a distance of 10,000 nautical miles and enough water and provisions for 4 months without entering the port. The tender will cover 250 miles at one gas station. Its steel hull is tough enough to stand the way in ice. These are technical aspects that aren't found on conventional yachts.
The interior pictures show the level of her luxury, and the service on her to the best hotels in the world. Fine cuisine, the best textiles, Toto bathroom fixtures, handmade interiors - nothing like this is found on conventional Explorer yachts.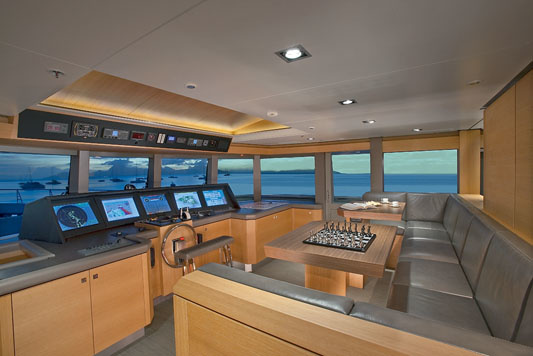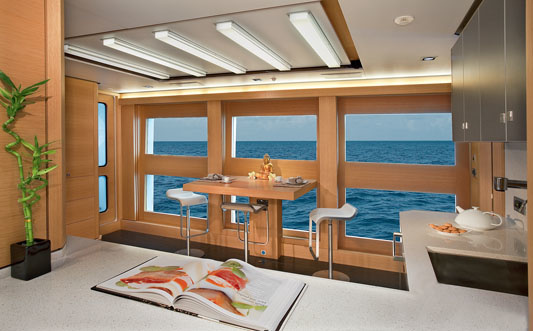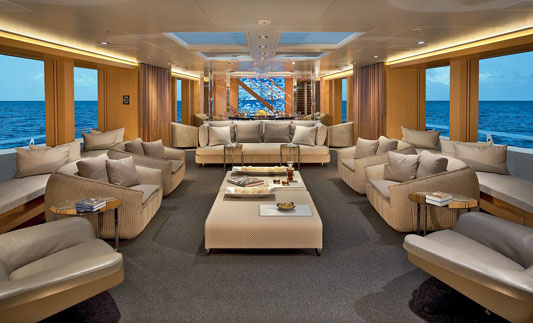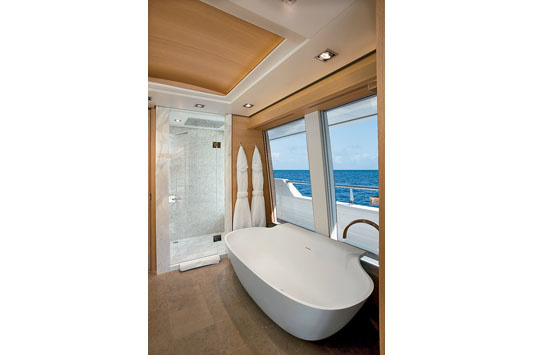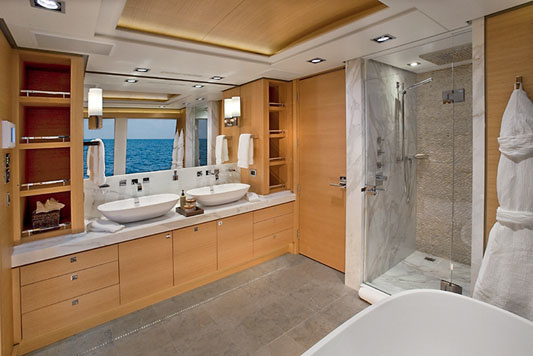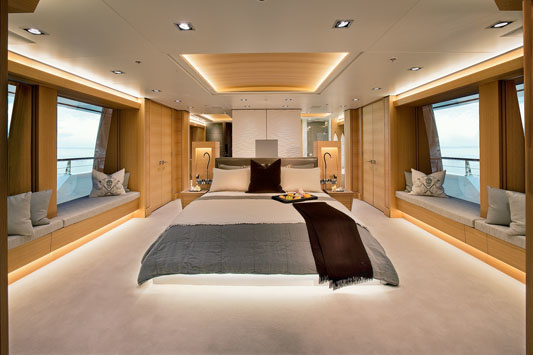 Among the most important innovations of Big Fish are several transformers, such as a hydraulic beach, a viewing platform, panoramic lighting and a granite deck that is stronger than a teak deck. The ladies will be particularly pleased with this latest invention: you can walk on this deck in heels. Massive (30' x 12' x 7') garage for tender on the stern the deck is another important invention. It is strong enough to land a helicopter on it in case of need.
The folding terraces on both bulwarks are also new. Some yachts have one terrace, but a rare Big Fish yacht boasts two that provide a full view. Finally, it is worth noting the intensive use of full size windows in the salon, dining room and master suite. This is a very transparent yacht. During her construction 159 glass panels were used, the largest of which - 6 m2 - weighs 470 kg. The glass of increased strength was made to order: it is also 5 times more transparent than usual glass.
«Pay attention to the three-meter television panel, - advises Elena Maximova. - It allows you to show any image, including three-dimensional, it can be transmitted to the image from the cameras, installed outside the yacht, to see the dolphins close up». Big Fish is a technologically advanced super yacht and at the same time very easy to operate: light, sound, temperature can be controlled at the touch of a button.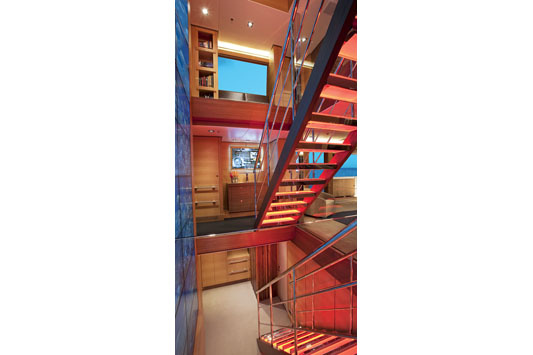 One of the owner's main requirements was to make the yacht as environmentally friendly as possible. Therefore the designers focused on energy saving, cleaning systems and renewable materials. For example, 98% of the lighting on the yacht is LED lamps. Granite decks replace ecologically non-recoverable teak. No plastic water bottles are allowed on board. Instead, guests receive their personal stainless steel bottles, which are refilled during the voyage. The water is heated by engine exhaust and grey water treatment systems are in place. And even the tender is equipped with solar panels.
But that's not all: Big Fish participates in the program of SeaKeeper Society, an international non-profit organization, and has on board a system to monitor the ocean, weather and climate. It collects information every minute and transmits it to scientists in 156 countries.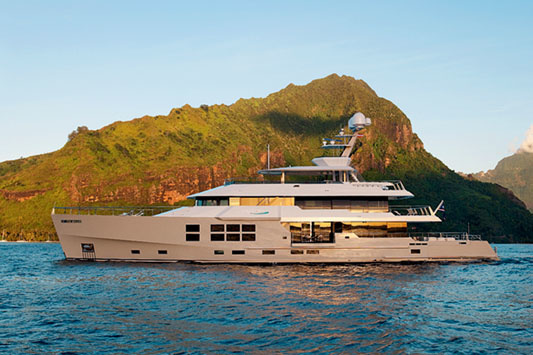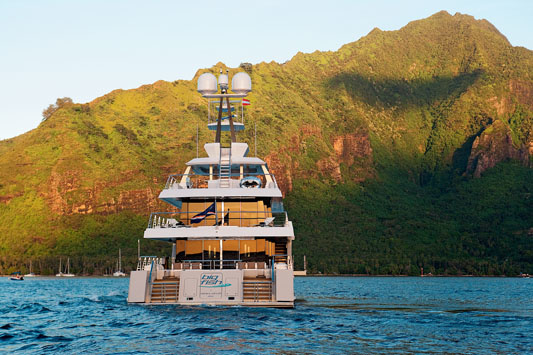 Richard Beatty does not intend to rest on his laurels: the 50-meter version of the Explorer, which will be called Star Fish and will see the light of day in two years, is already in operation. It doesn't have five cabins like Big Fish, but six cabins made on the same principle: four of them turn into two full suites using sliding panels. More space for water toys, outdoor relaxation, and an entirely different tender solution that makes the yacht more spacious.
The text is Alexander Kulish.
Published in YACHTS magazine #35.