In early November 2010, the Taiwanese shipyard Horizon Yachts proudly sent a yacht to Germany to be handed over to the customer. The Horizon SC46. - the world's first large production yacht powered exclusively by solar panels.
The 46-foot catamaran is capable of sailing 24 hours a day and provides guests with an excellent level of comfort without producing a single gram of harmful emissions.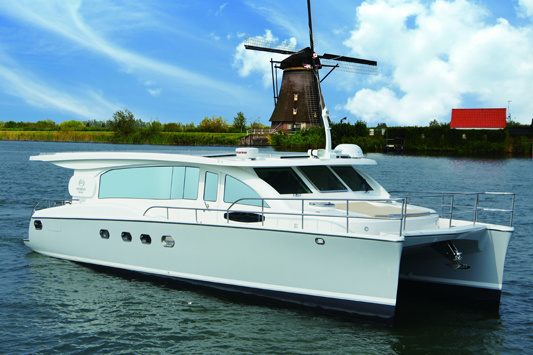 Horizon Yachts was founded relatively recently, in 1987, but at the rate of growth and development it is a true "Asian tiger" in the yachting industry. The shipyard now employs 1,000 people and manufactures seven ranges of motor yachts ranging in size from 52 to 163 feet for customers around the world.
Horizon began work on solar-powered boats back in 2007 and is now one of the first in the world to show significant results. SC46 was created in collaboration with the German company SolarWaterWorld AG, while Juan-Carlos Espinosa, a renowned mega yacht designer, was responsible for the appearance and layout. The fruit of their work together has all the amenities and luxury you would expect from a high-end motor yacht with absolutely no harm to the environment.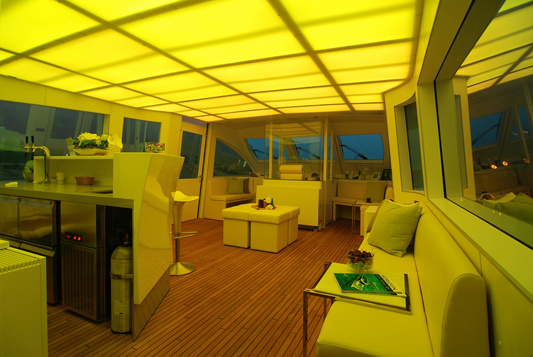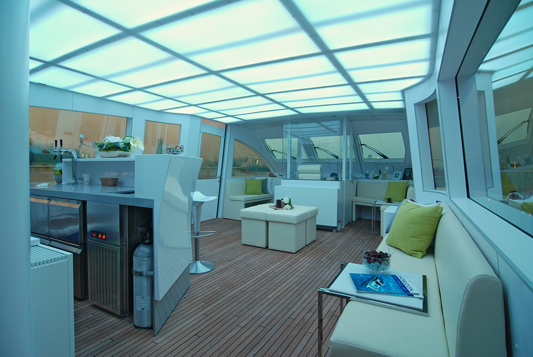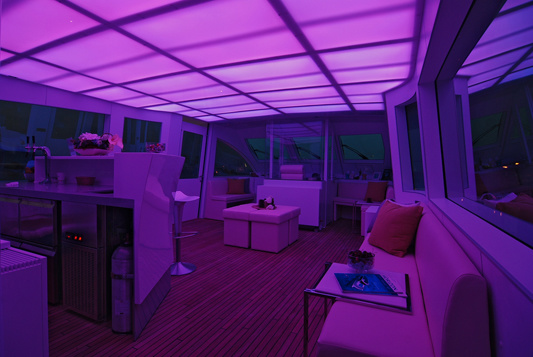 The large saloon of the world's first "solar" yacht accommodates a full set of entertainment electronics, a galley with electric stove and fridge and a control post with double chairs. A stairway downstairs leads to the owner's cabin with its own shower room.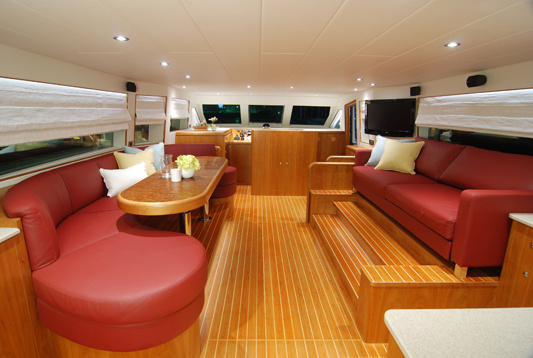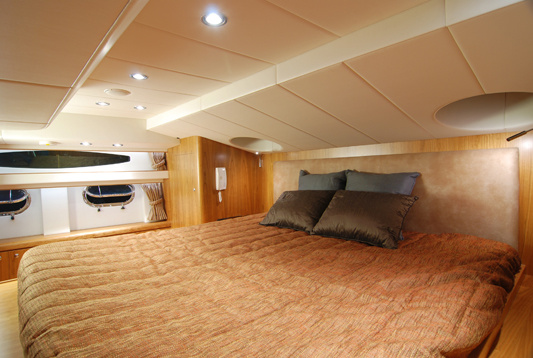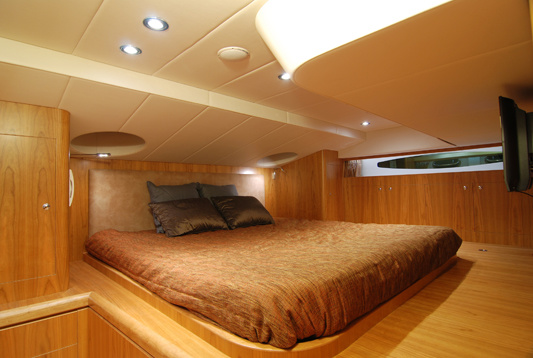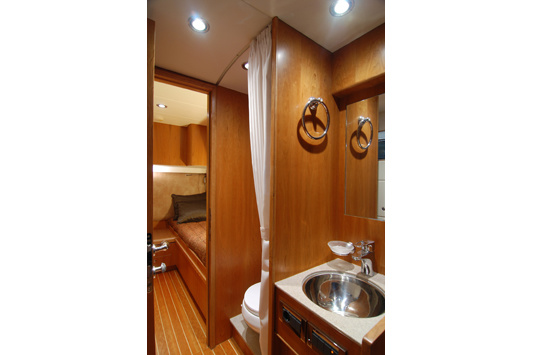 Choosing a solar-powered catamaran-type hull looks logical because the large superstructure roof allows for a large photovoltaic cell block. They provide 6 kW of power, which allows the yacht to walk on electric motors while the sun is shining. The batteries have enough power to support any activity on board the yacht. Dark time energy is stored in 48 kWh batteries. This yacht has enough power to cruise for eight hours.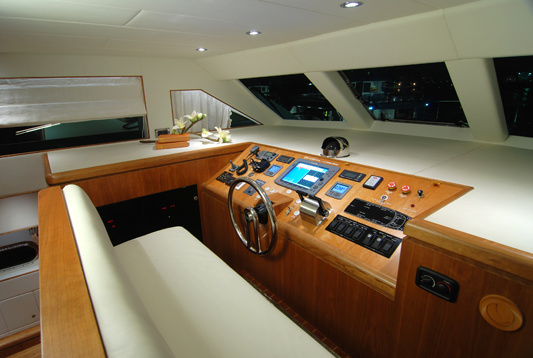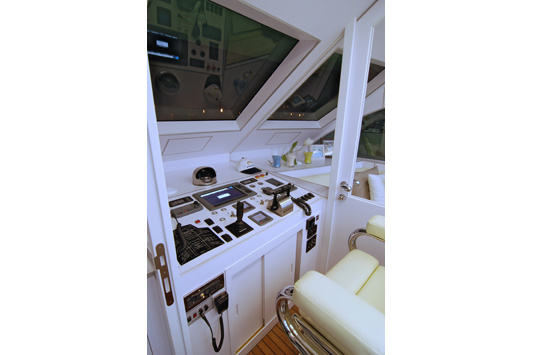 The next hull of the Horizon SC46 series is already under construction, but it will already be... a commercial passenger vessel! The SC46 is easy to turn into a passenger version with a width of almost two meters, thanks to the successful seaworthiness and planning qualities of the catamaran hull. On a twin hull it is easy to do so, and passengers get more space on board and wide side aisles along the sides, where they can comfortably walk around enjoying the views and fresh air. The boat accommodates up to 60 people on board and is suitable for wheelchair transport.
The SC46 passenger version has a comfortable modern interior with a large sofa area and a bar on the main deck. It is noteworthy that the bar is already in the yard equipped with all necessary equipment, including beer cranes with gearboxes, built-in refrigerators and ice generators.
To sum up, Horizon Yachts has a great future with these products. And even if she hadn't built anything else, she would already be in the history of world yacht building as the first shipyard to create a fully working and highly functional motor yacht that doesn't need fuel.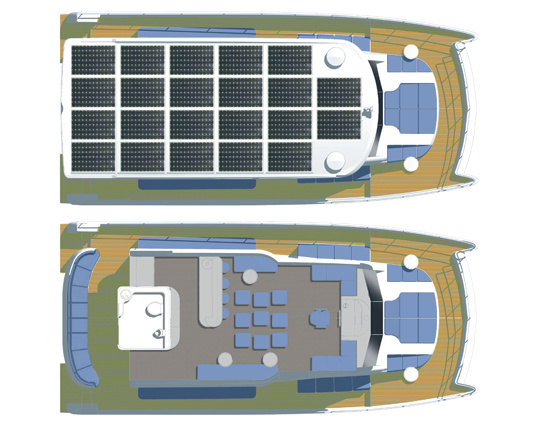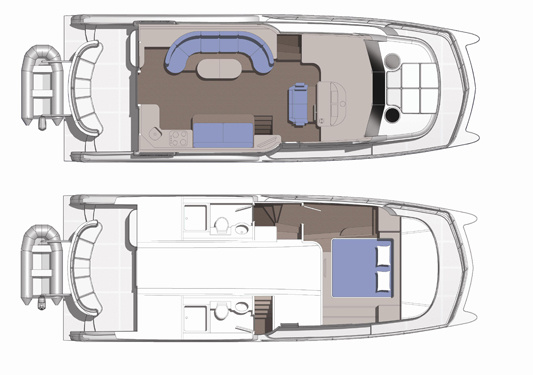 Published in YACHTS magazine #37.