British yachtsmen are quite skeptical about the London Yacht Show, which, unlike the event in Southampton, is held indoors, and thus is significantly limited in the number of boats themselves. However, the Metropolitan Show is an important industry barometer, and yachting only for the superficial viewer is expressed in boats, while active yachtsmen increasingly look at the market for parts, gear, accessories and related services. And there was plenty of that on the London show.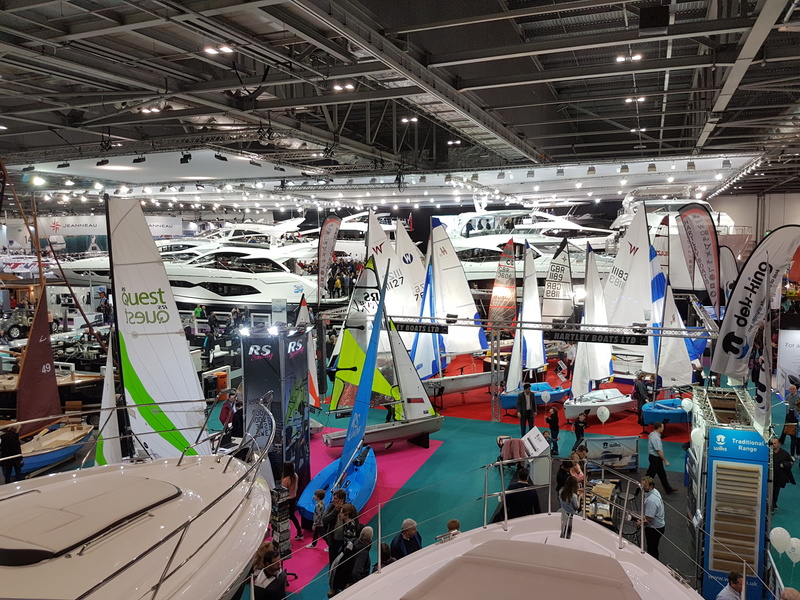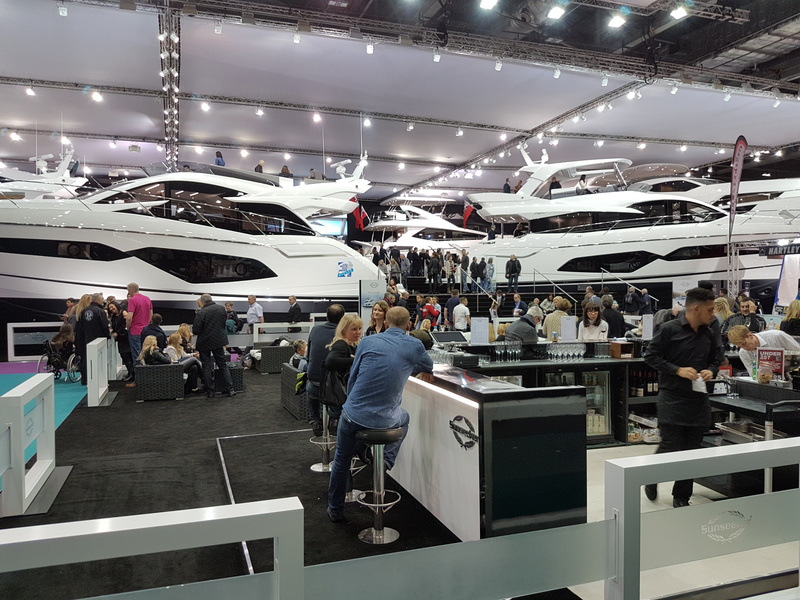 According to official figures, the British yachting industry is growing for the fifth year in a row, with a turnover of £3 billion for the first time since the 2009 crisis.
Almost a third of this amount is exported, including 90 million «to European countries except the Eurozone, including Russia». Although we certainly understand that Russia's share is probably much higher at the expense of those compatriots who buy yachts abroad and keep them there.
In recent months, British companies have experienced a full range of emotions against the background of preparation, holding and reflection on the results of the referendum on withdrawal from the European Union. The questions and doubts of the initial period have been replaced by indignation at the expected exit from the Eurozone «in a bad»way, but then gave way to cautious optimism about new export prospects, heated by the weak pound. The cautious attitude was caused by slow but sure rise in price of details imported to the UK from the European Union.
In general, European - and Russian - customers are expected to get better prices here than a few months ago.
See for yourself, the pound rate from January 2016 to January 2017 spiked from 118 to just over 70 rubles per unit of British currency. When, if not now, to look at what the islanders are rich in?
Sail
I can't hide it, my interest in the exhibition was rather one-sided, with an obvious bias towards sailing boats. And under the word «boats,» I combine their entire range on display: from a dinghy for 1,300 pounds in full gear to 60-foot wagons worth over 1 million pounds. A choice to suit every taste, wallet and level of experience.
Shuttleboats
We'll start with the babies - dingi. This year in London were the most visible brands of Topper, RS and Hartley. Each of them in the range had almost all possible options: a tiny «basin» like the «Optimist» for teaching children (and the TAZ model itself by Topper); models for beginners with sail plans for both one and two yachtsmen; the same models, but with a more pronounced sports bias due to the presence of a spinnaker and larger mylar sails; and, finally, cruise options for those who prefer instead of fighting for medals of club championship.
I can be subjective, but looking at the model range and its prices, I have a rather one-sided impression of each of the three brands. RS is the most sporty and widely used in competitions, but it's probably the most expensive. Most of the models have quite high demands on the athlete. I particularly liked the RS200, which has a long tradition in British sailing schools, and the RS Aero.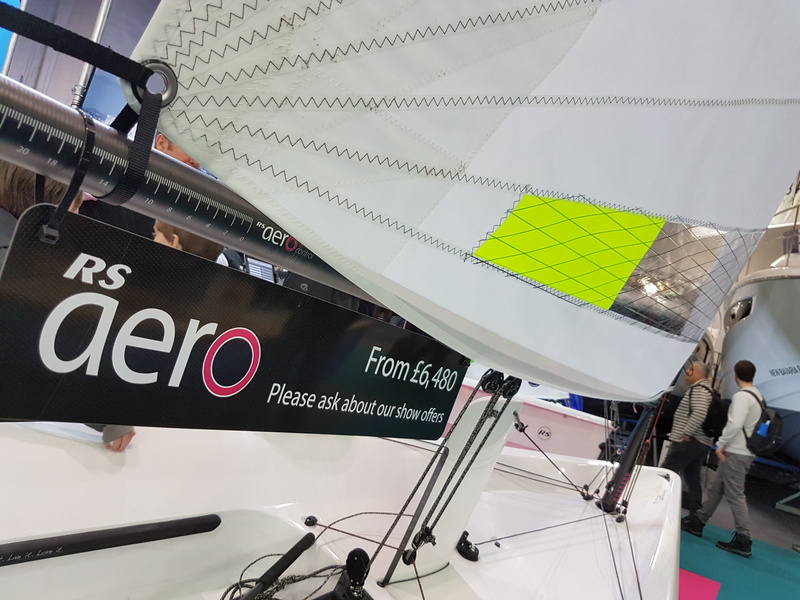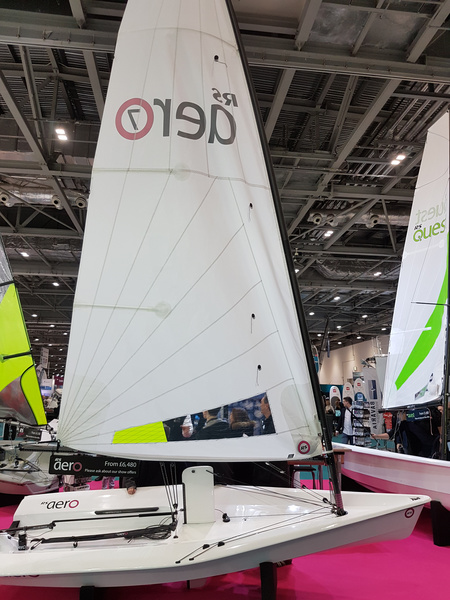 Topper is about the same, but they have a more flexible range. If you're looking for a boat that fits 1 and 2 people equally and is designed to progress from entry level to competitive club competitions (that's exactly what I was looking for), the best choice is Topaz Uno Race X, which was offered at the show for only £3,500. A mylar mainsail and an asymmetric spinnaker are included.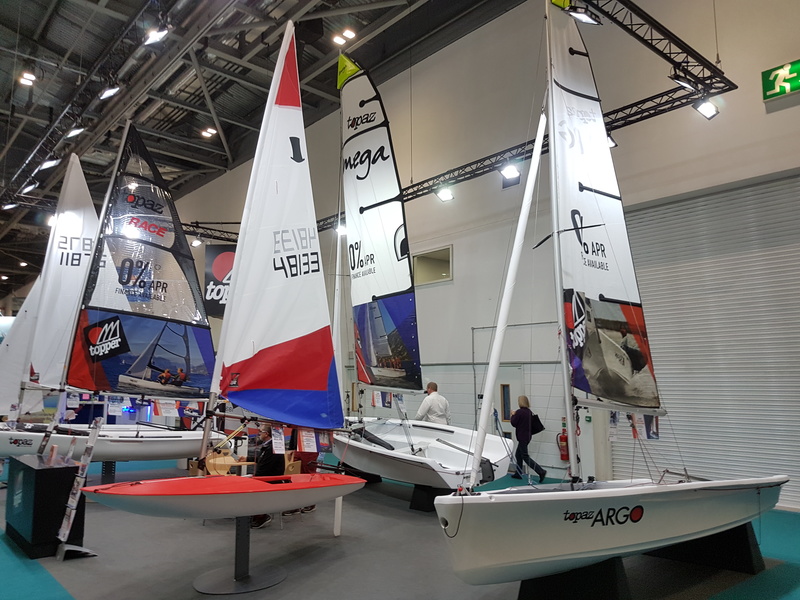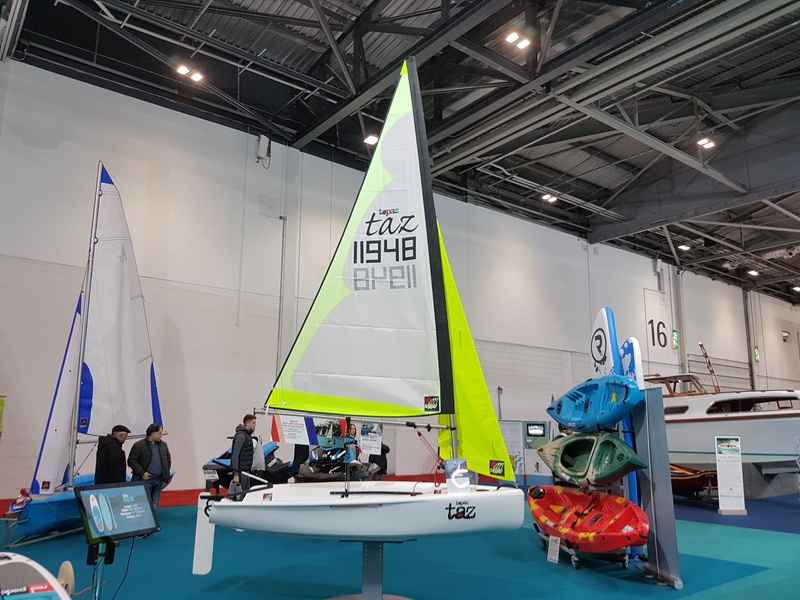 Hartley, against the backdrop of two competitors, is the most versatile with a plethora of forgiving and unbeatable boats at low prices, plus a slightly accentuated sports boat.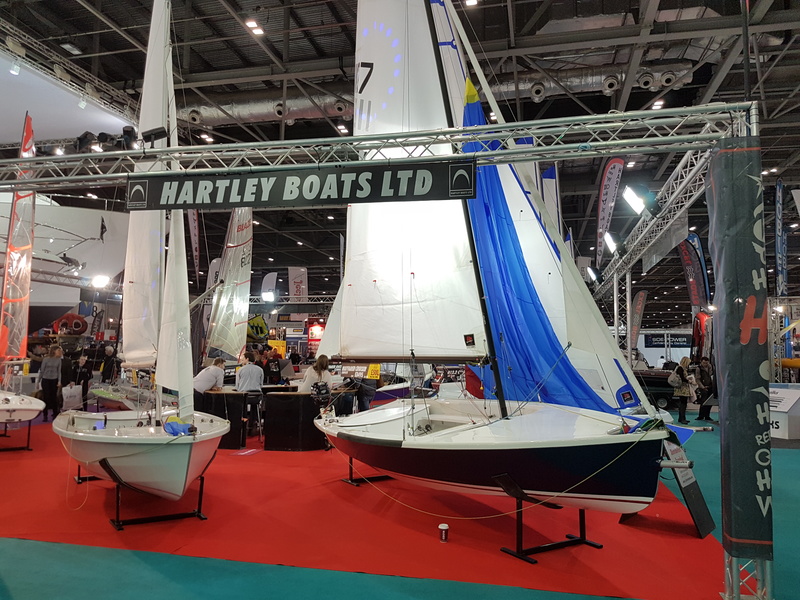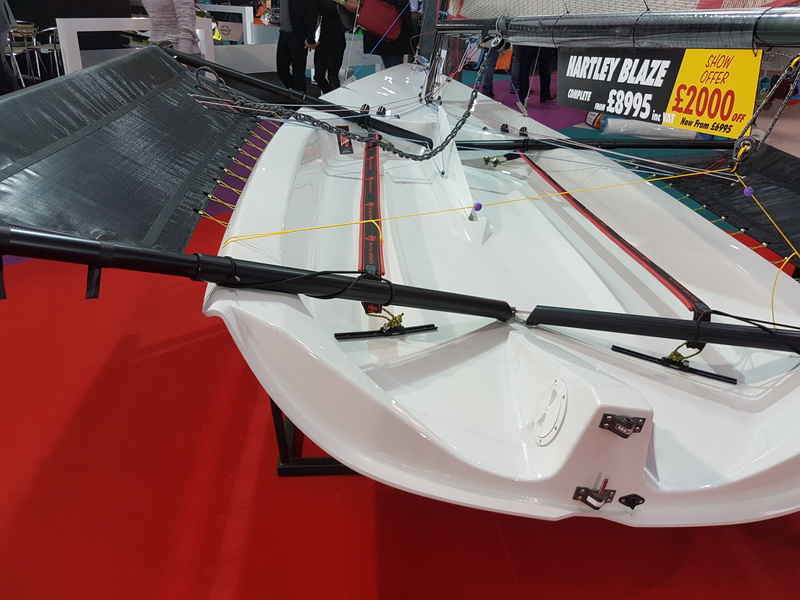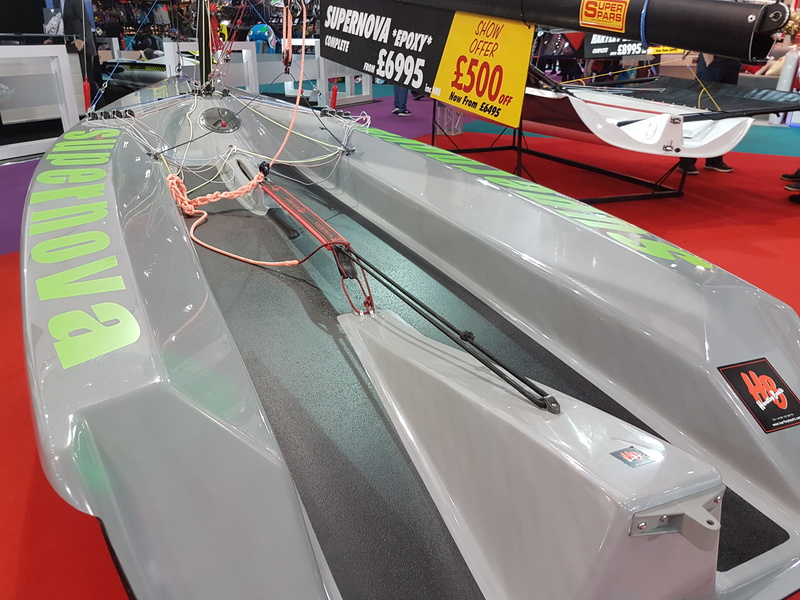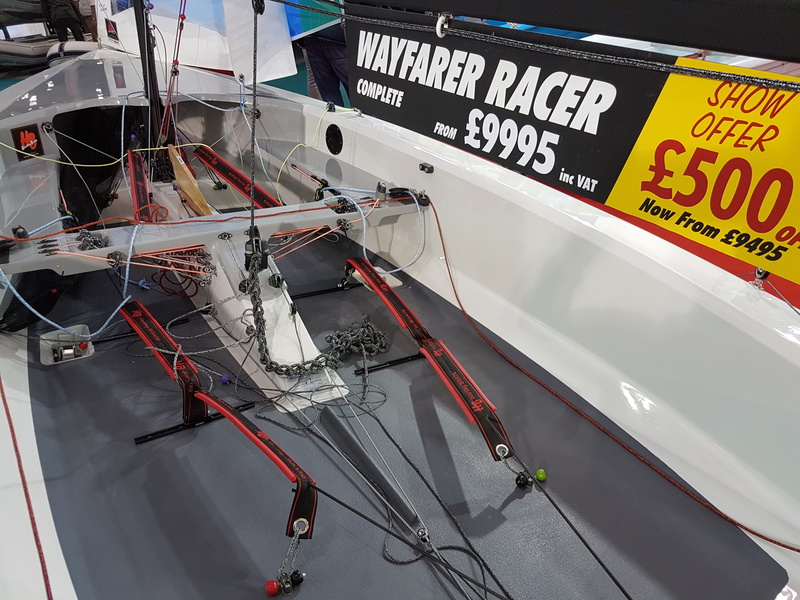 A special revelation - the new sports Wayfarer. This boat was first designed in wood in far 1957 (60th anniversary!) and in plastics is widely used in clubs around the Kingdom as a... tipping trough.
But the basic specifications, with the old ropes and sails, and at the exhibition there was a real sports gear, which regulates literally everything.
Full-size sailing yachts...
Among the brands of full-size yachts at the exhibition were the main grandees of the «mass market»: Bavaria, Jeanneau, Beneteau, Dehler, Hanse and the less known in Europe Marlow Legend. For lack of space each brand presented only 3-4 boats, and some less. There is no point in listing all their features, specifications and prices as they all work in the same segment and the choice between yachts of the same size is basically the same taste or habit as the choice between Mercedes, BMW and Audi. There are only a few curious features and models to mention.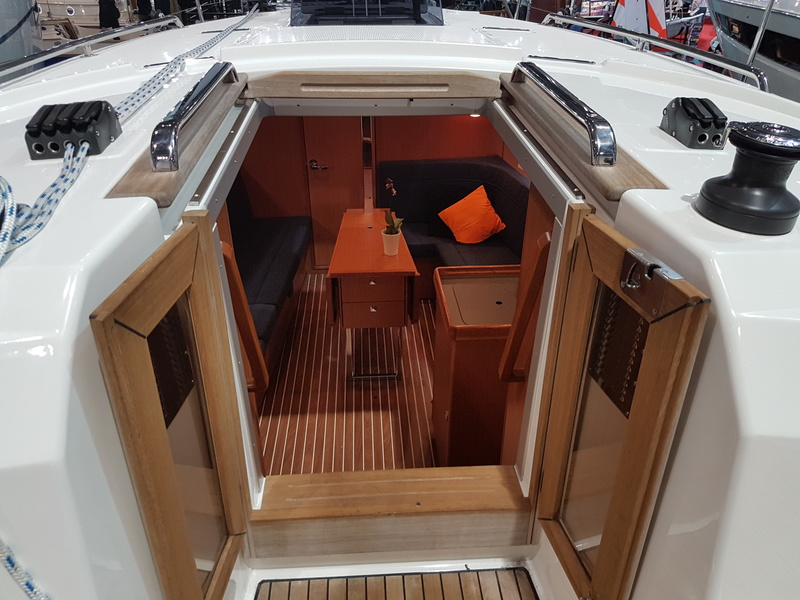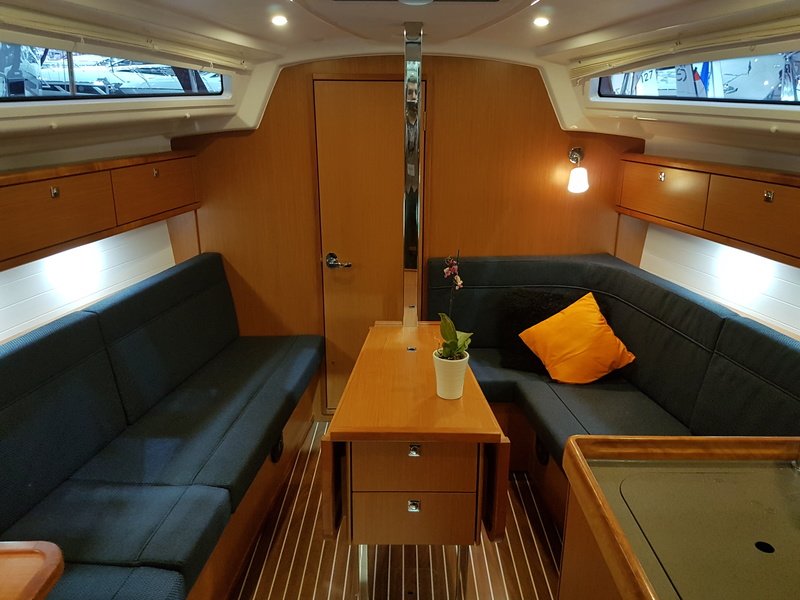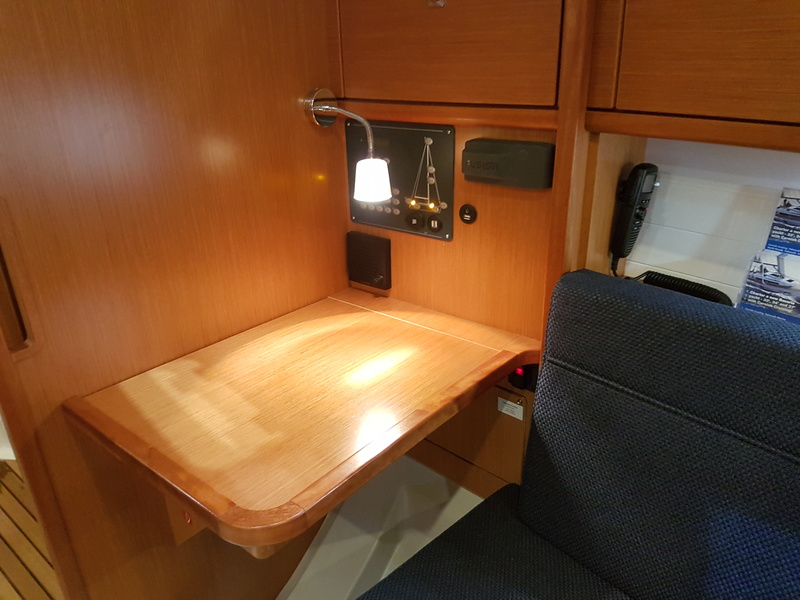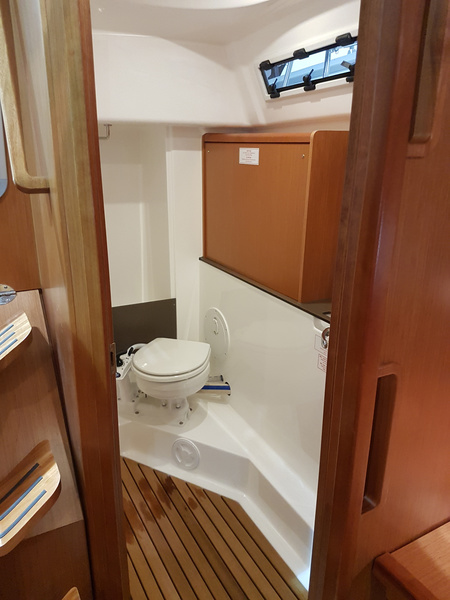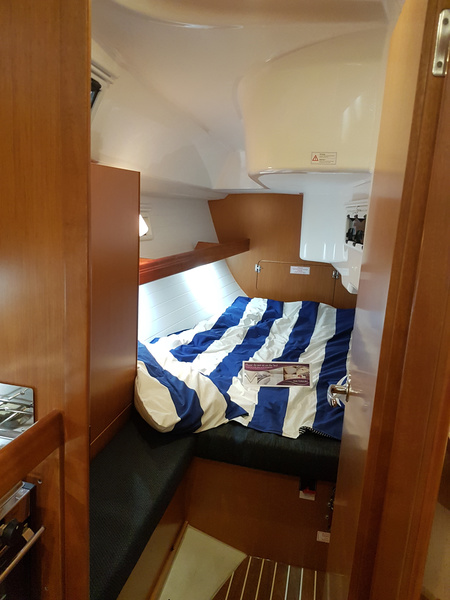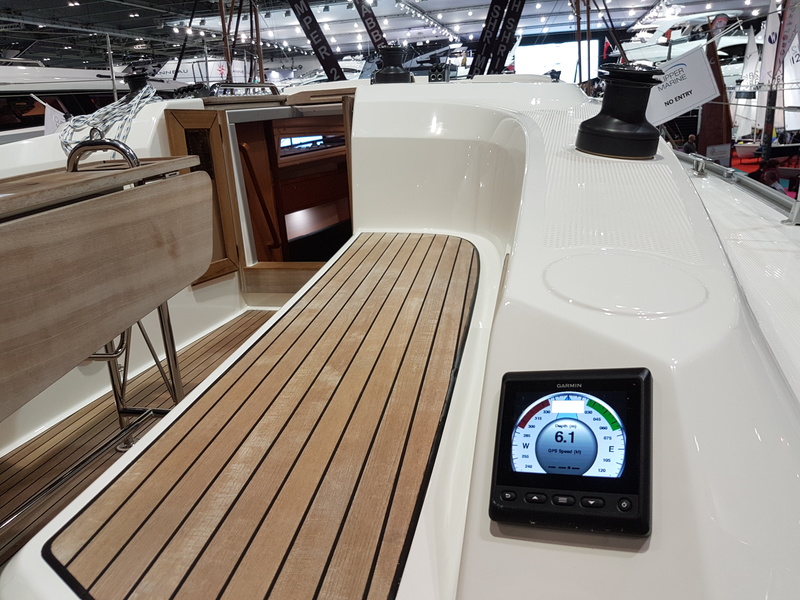 Bavaria
continues to be more active than others in the field of comfort, especially at anchor. «Bigger, wider, softer!» - That could be their Olympic motto. In their biggest models, they even removed the table to work with the chart, and certainly not to save space at 50 feet long.
Why? «Modern skippers navigate comfortably from large screens in the cockpit or from the iPad, they no longer need paper charts»," says a spokesperson at the booth. Most instructors would argue with him and give an example of a million mishaps with a vector route right through the naked rocks, but the Germans know their client better. And Garmin, who was present at the exhibition, would support them very much.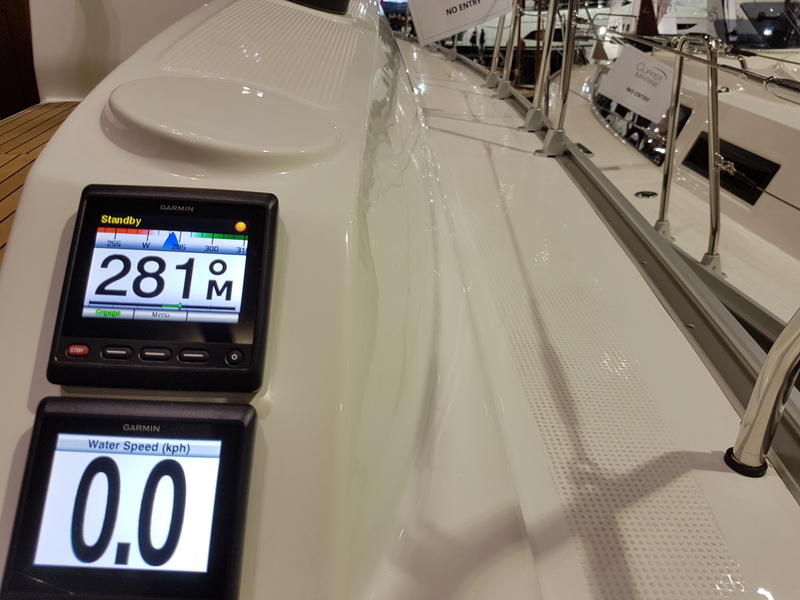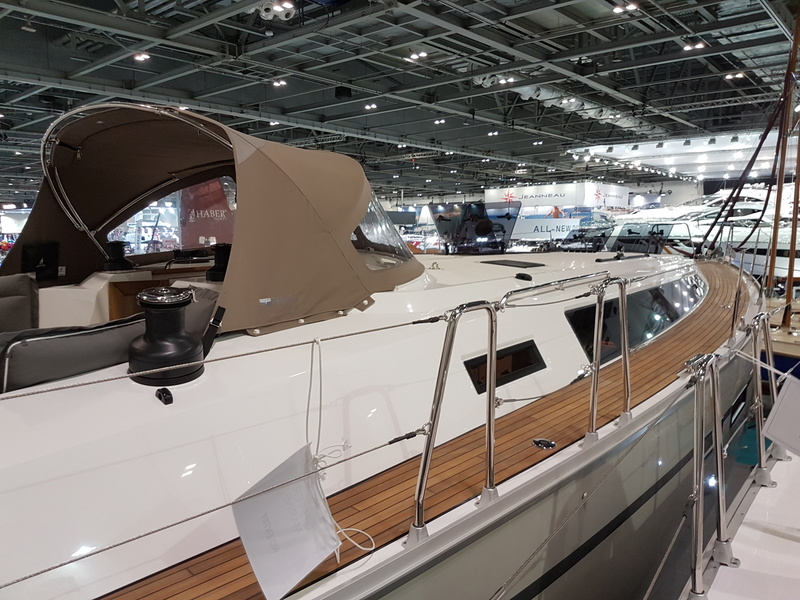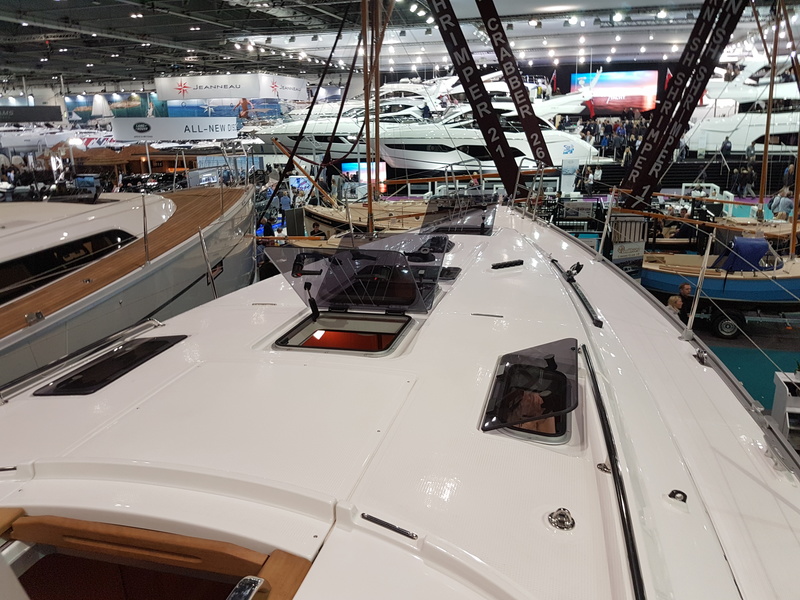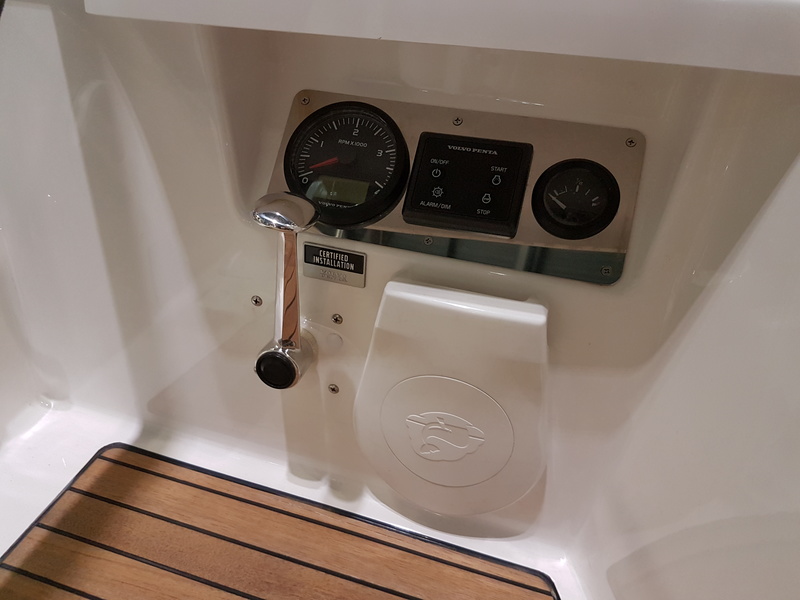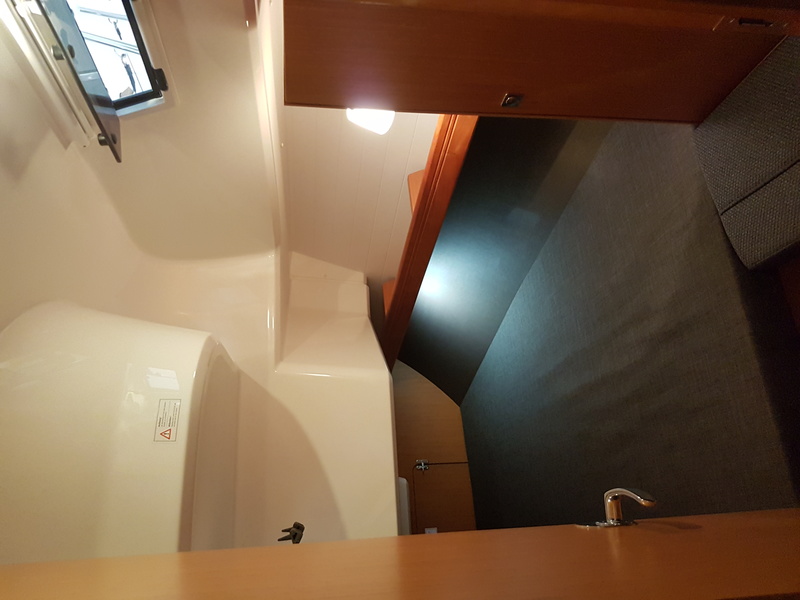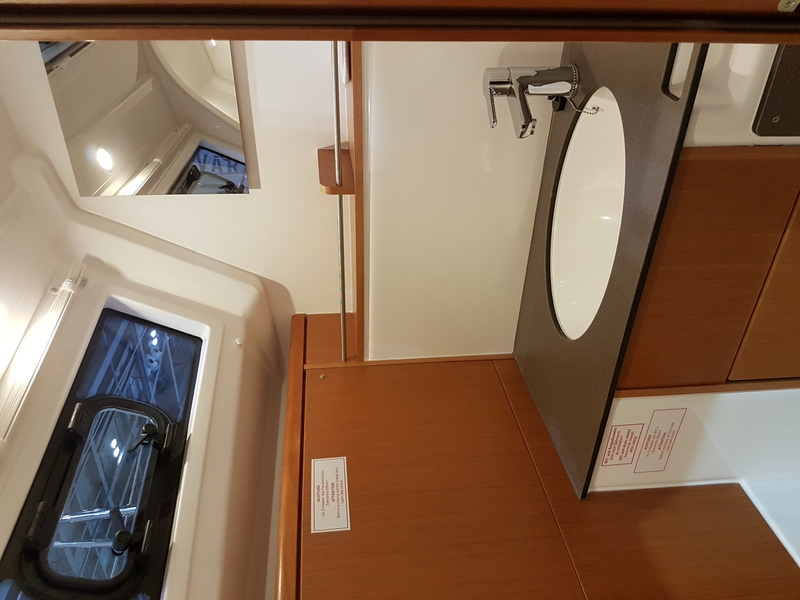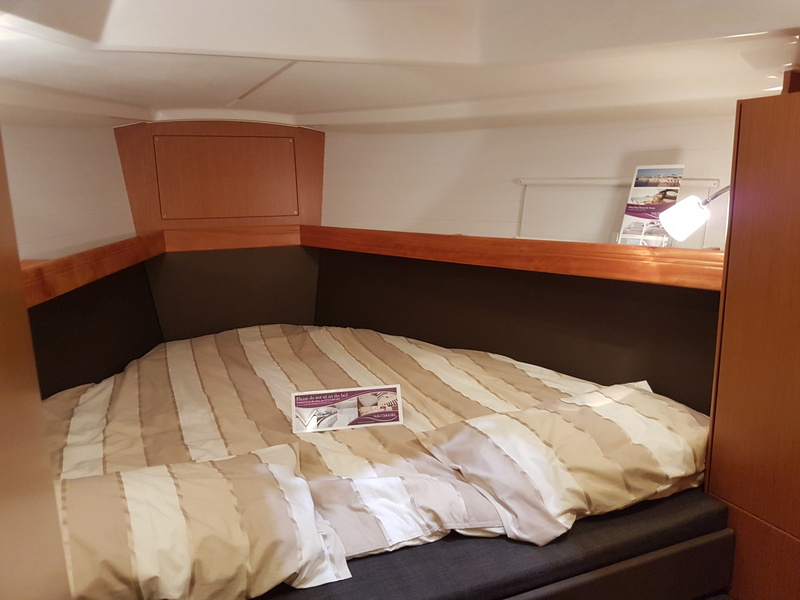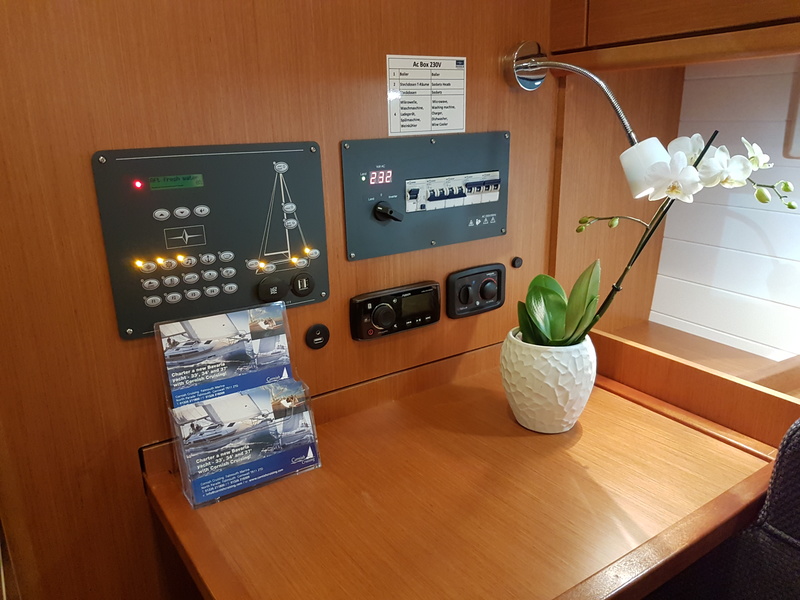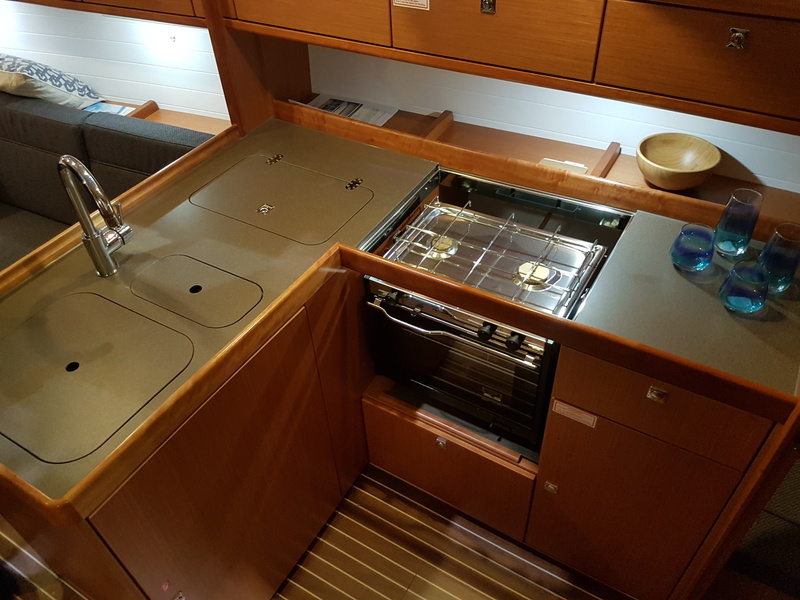 Jeanneau has brought with it a peppercorn, the Sun Fast 3200. Two tilters and two rudder pen, two aft cabins with a pair of sofas in the main cabin, a toilet and storage for sails in the bow. For longer races there is a sink, fridge and tiles. But there's probably all the comfort on this one.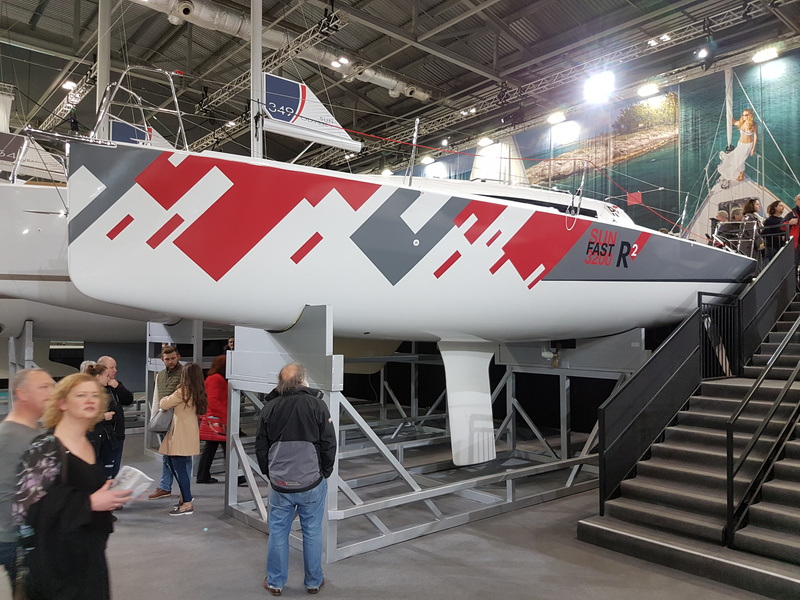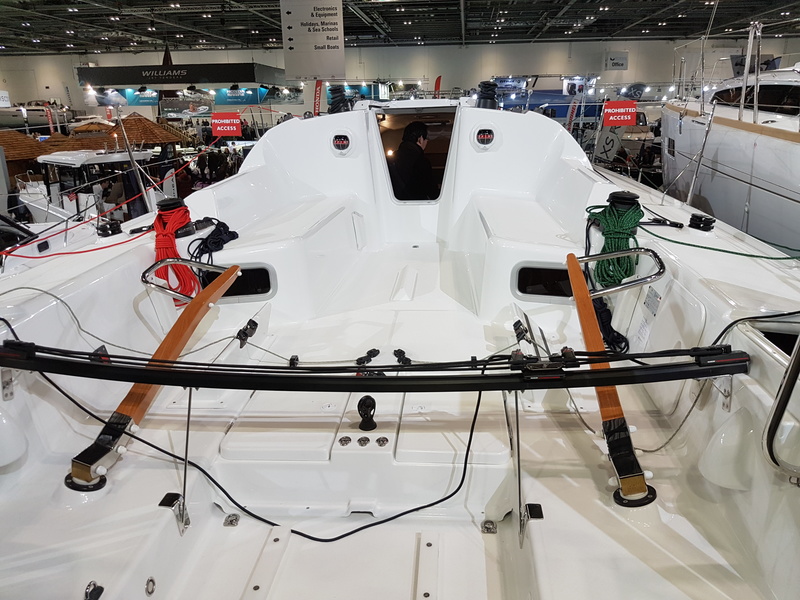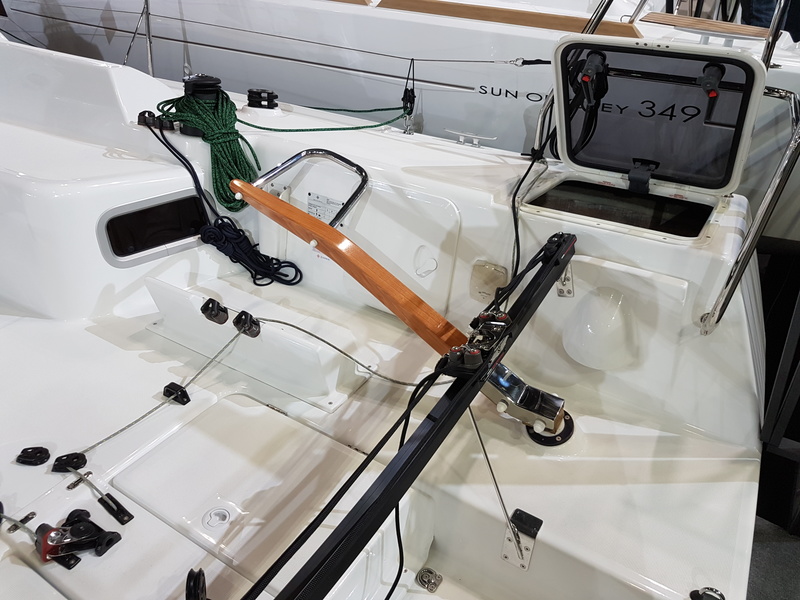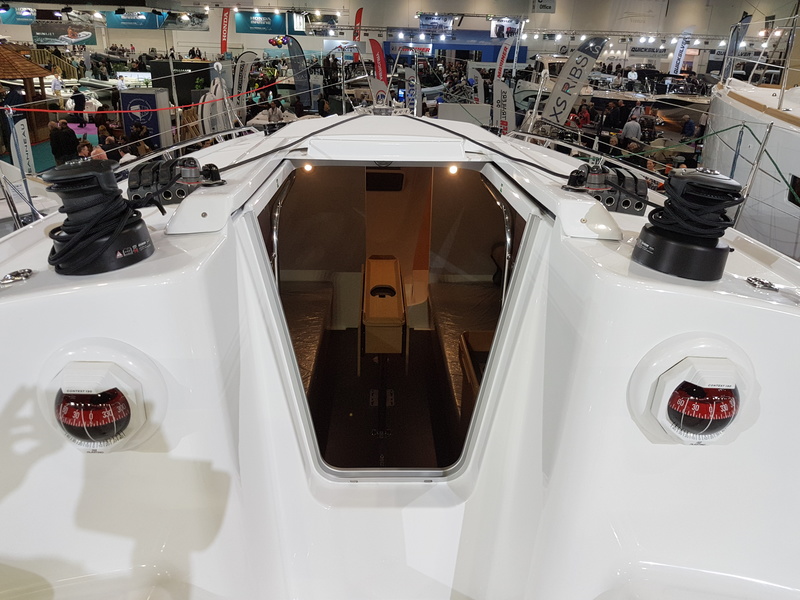 No wooden cabinets or cladding, instead of fabric containers a la IKEA and bare walls GRP enclosures. No teak on deck, of course. All to reduce weight and plan perfectly under the spinnaker.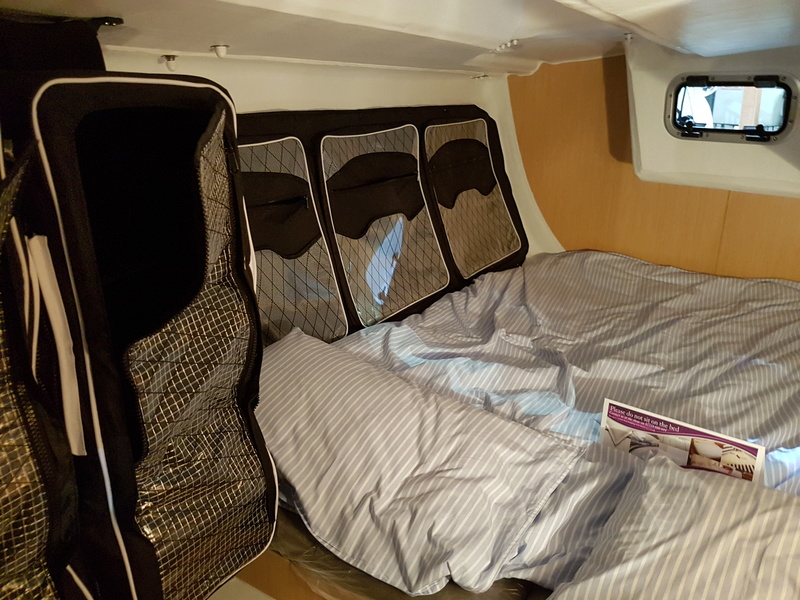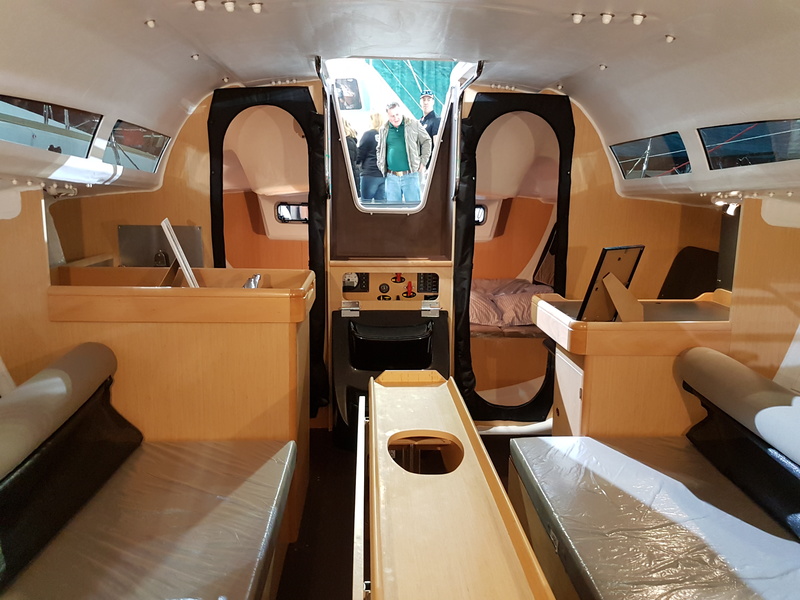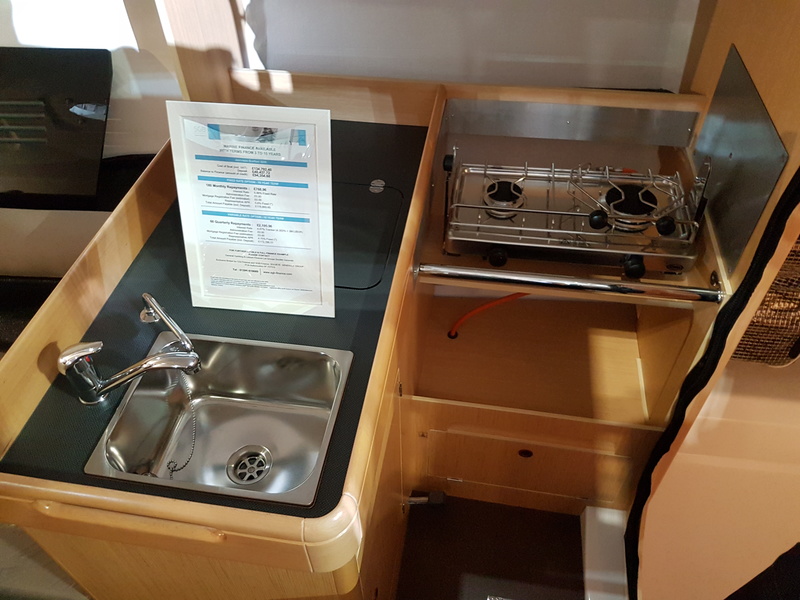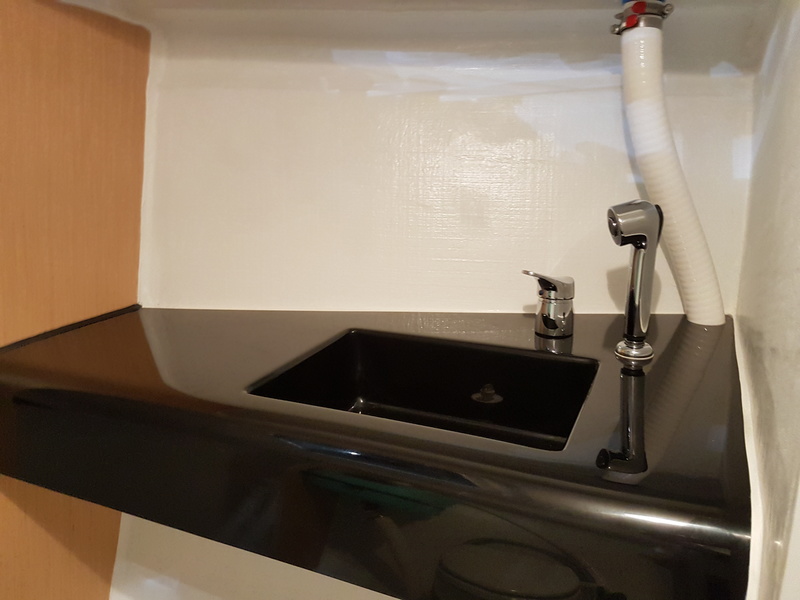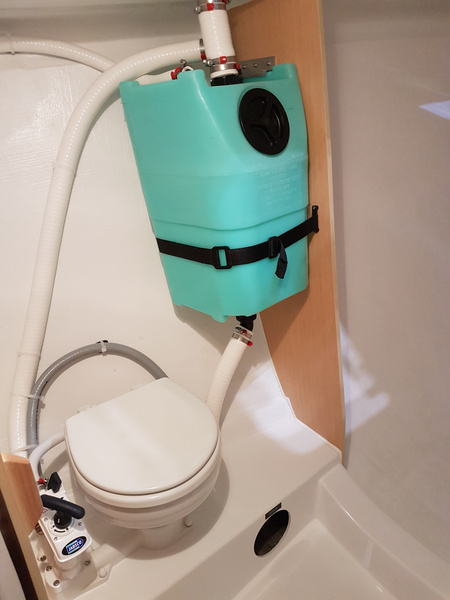 The price at the show was 134,000 pounds, no sails. Did I look closely at the rest of the lineup after that? No, but it's on the level - you can see in the pictures.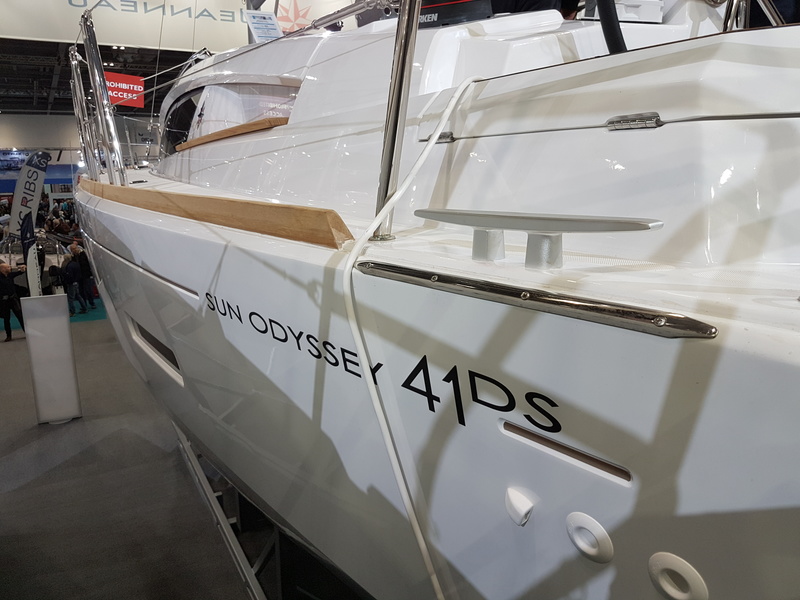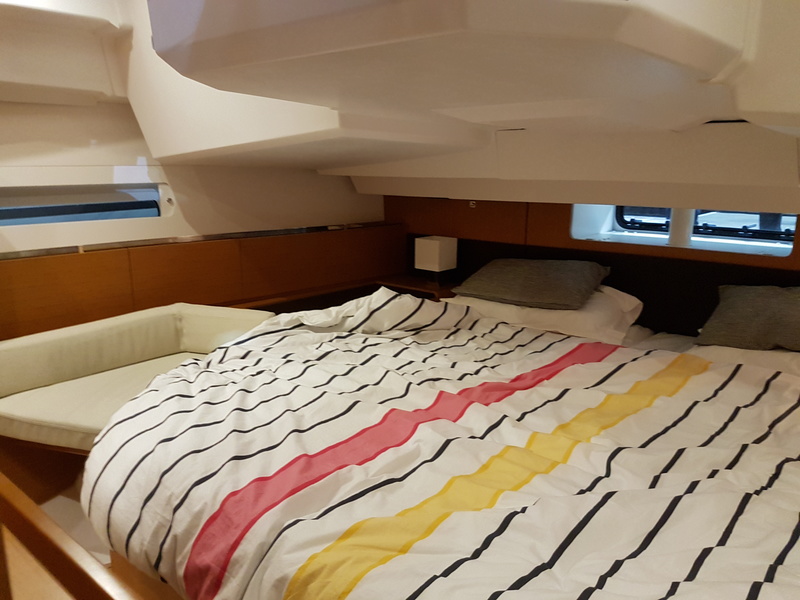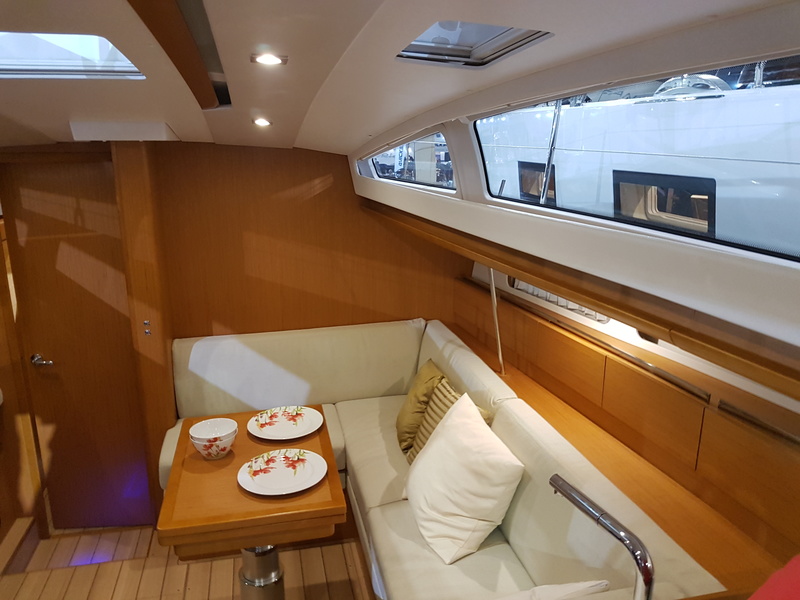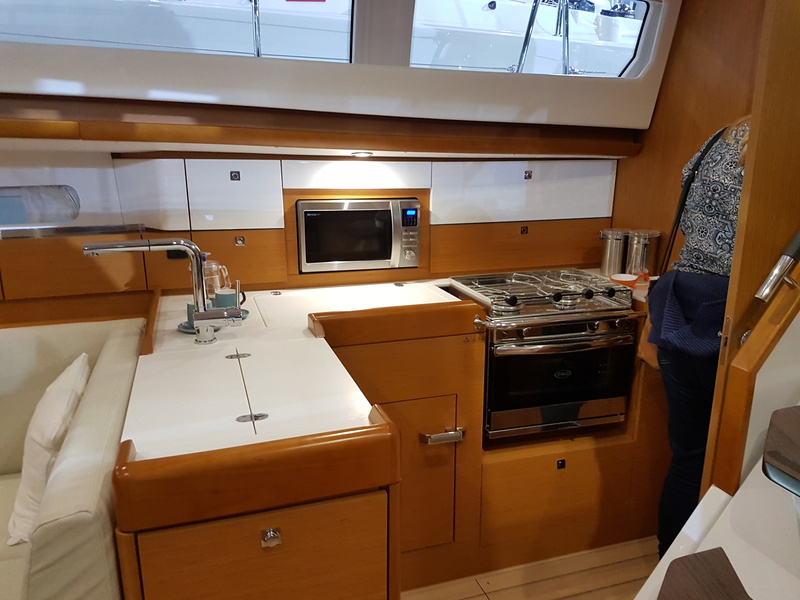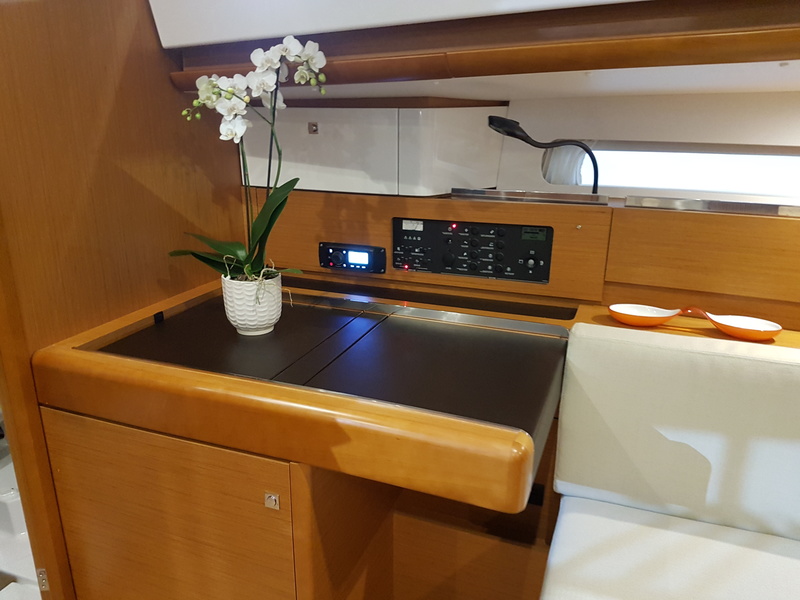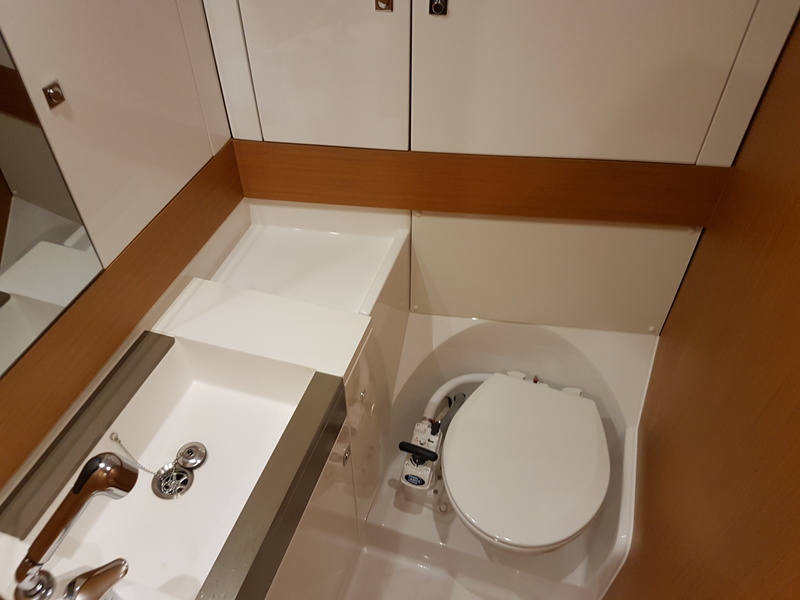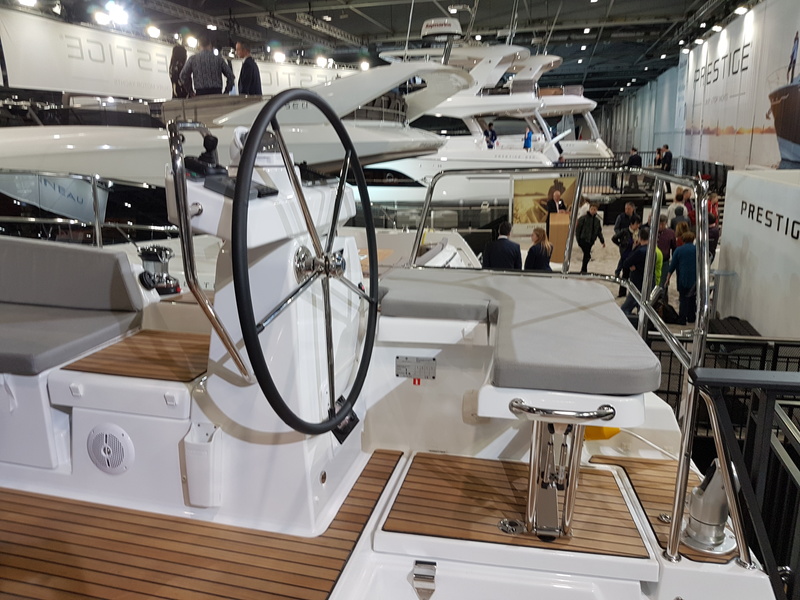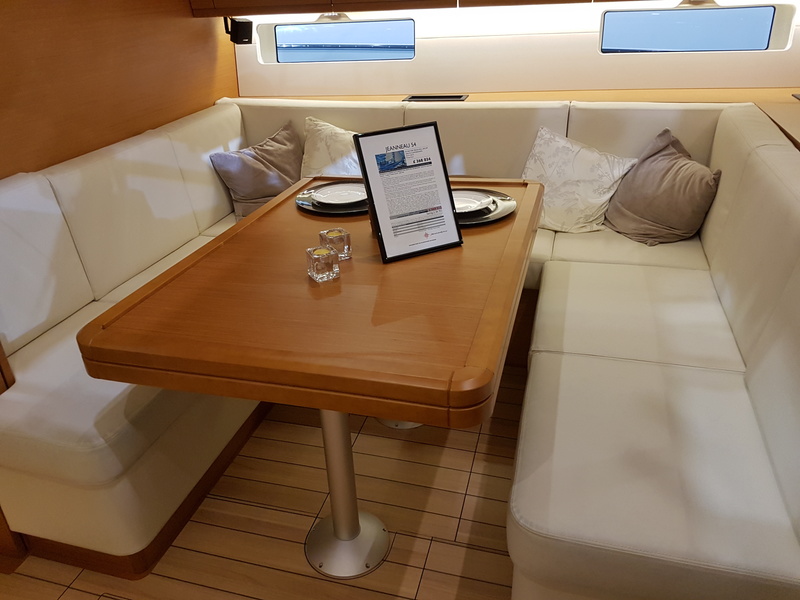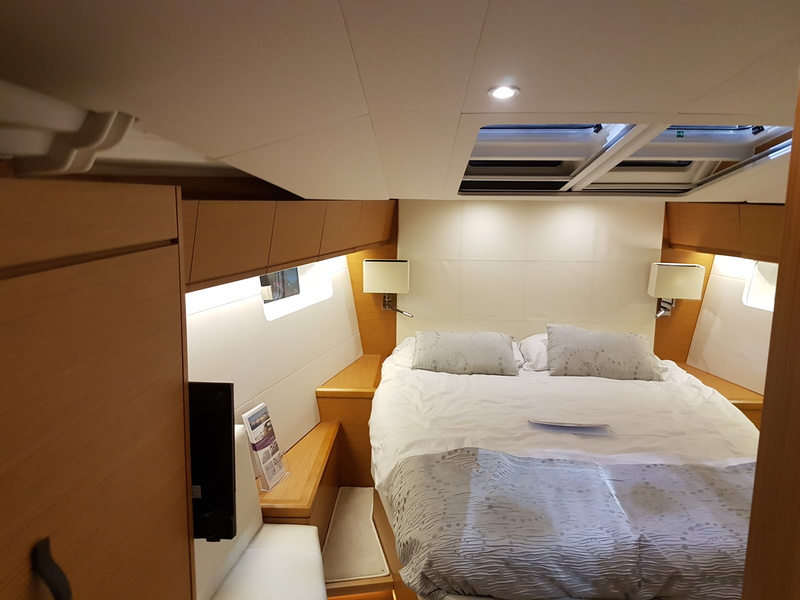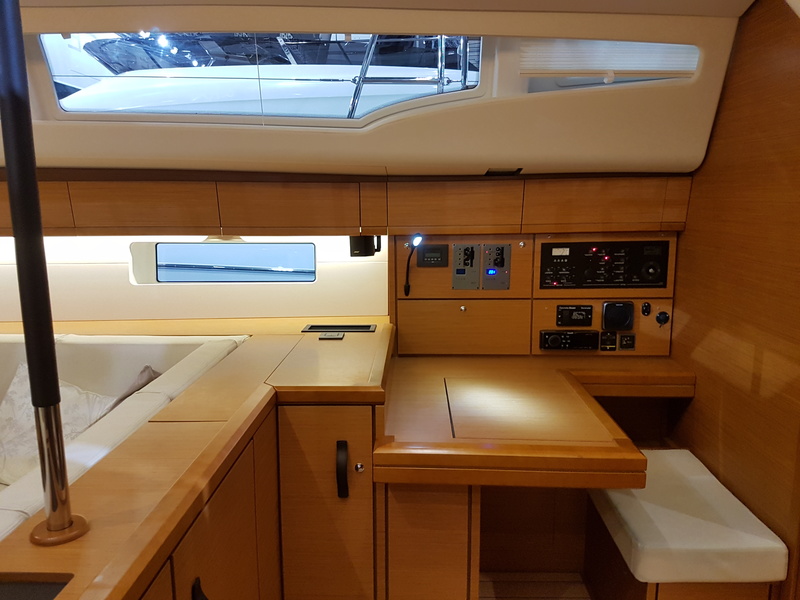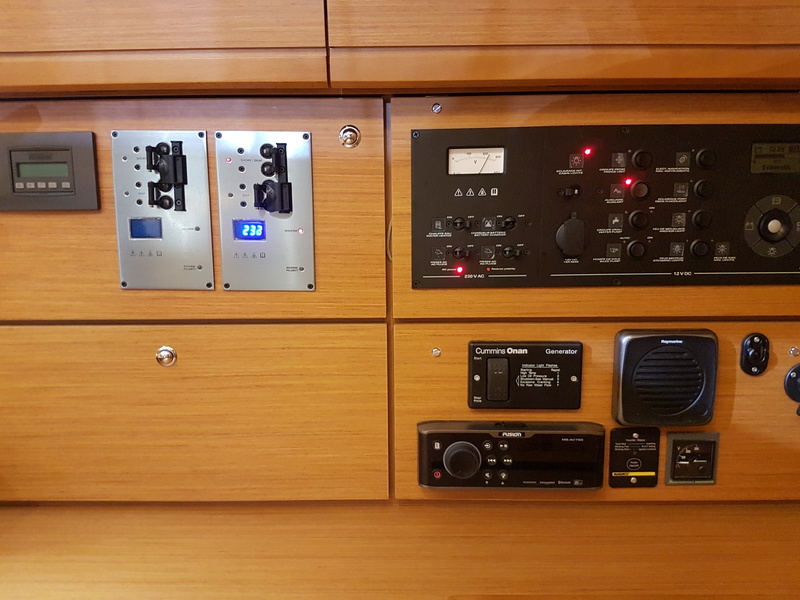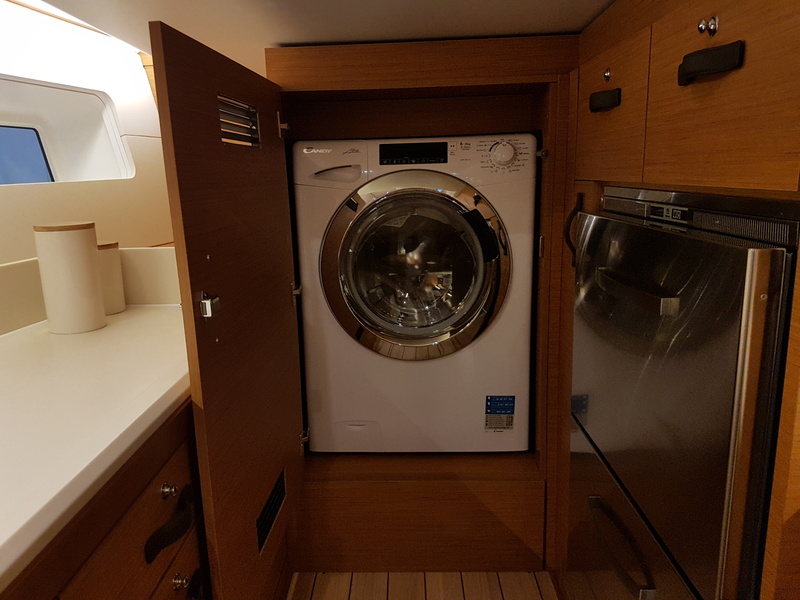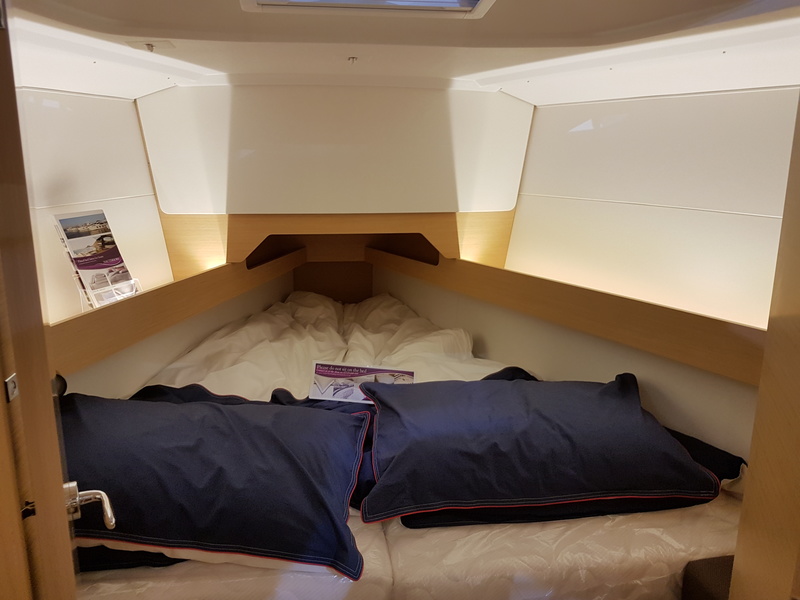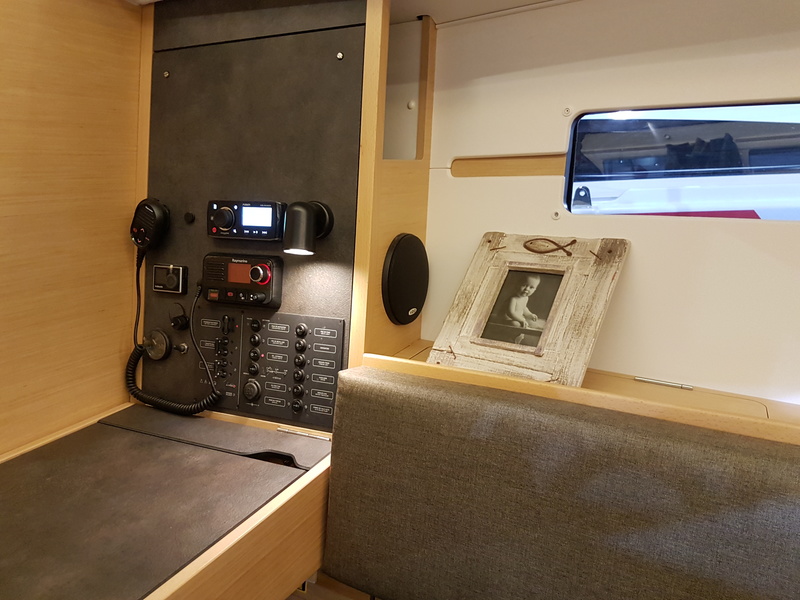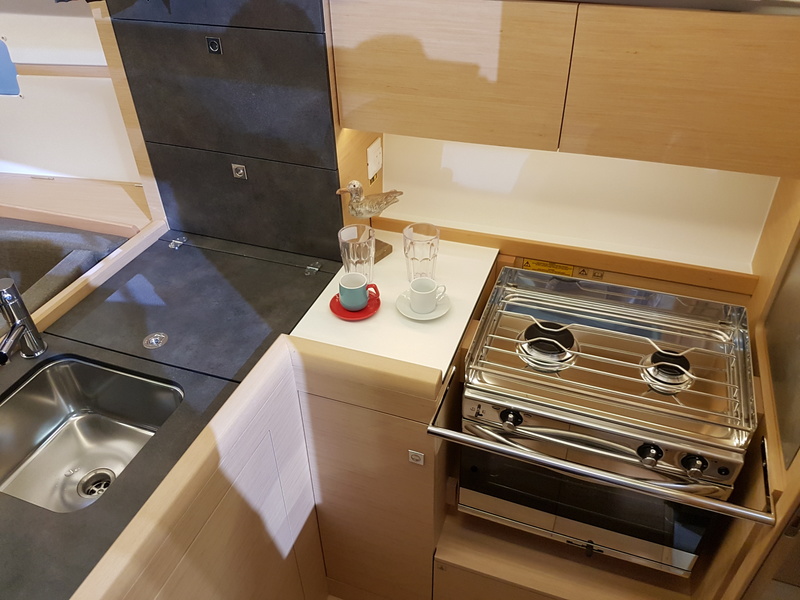 Beneteau was not petty and their smallest yacht on the show was as much as 38 feet long. The yacht is one of the most beautiful up to Sense 57, which is not even remembered for its chic catamaran-style deck veranda, and not the price tag of 1 million pounds, but a very humiliating sleeping place under the left seat of this very veranda.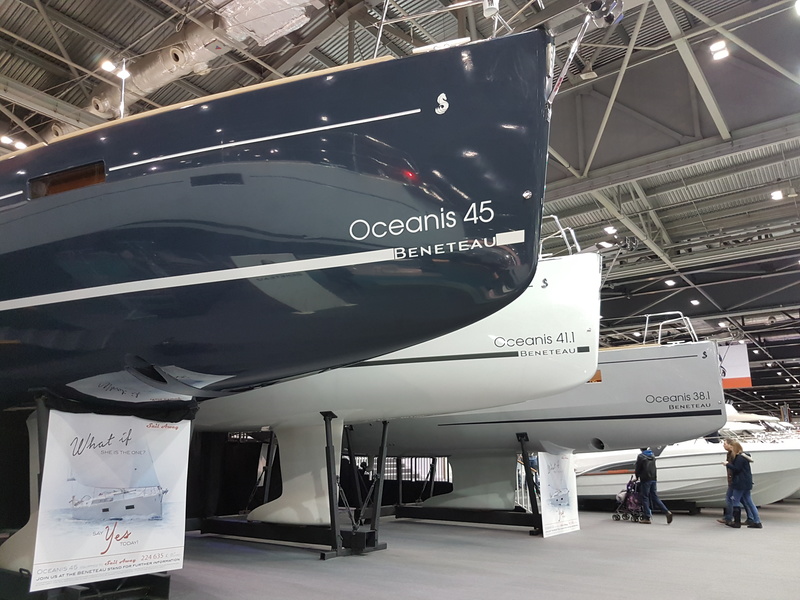 A micro-forest leads to a tiny windowless quarters, either for a maid who will only be taken out of there when needed, or for a hired hired rattler. I love this brand very much, but maybe just a million pound yacht isn't mine yet?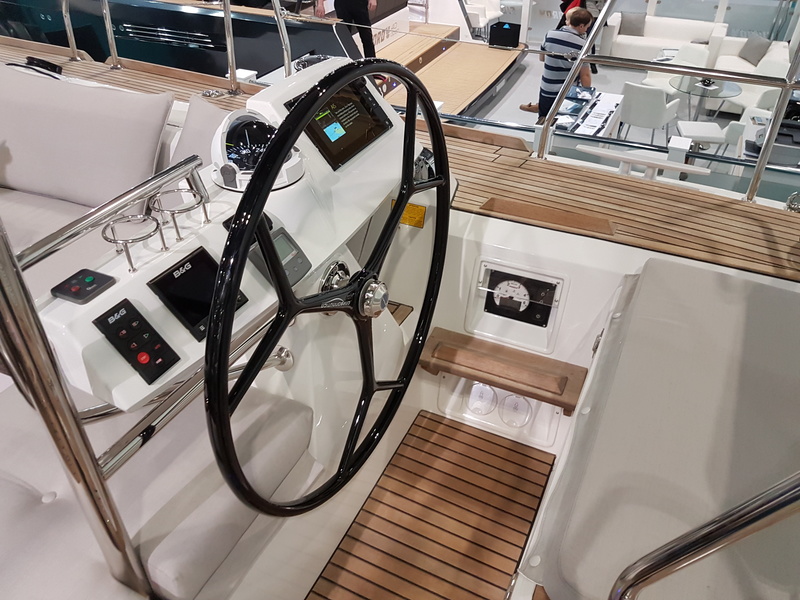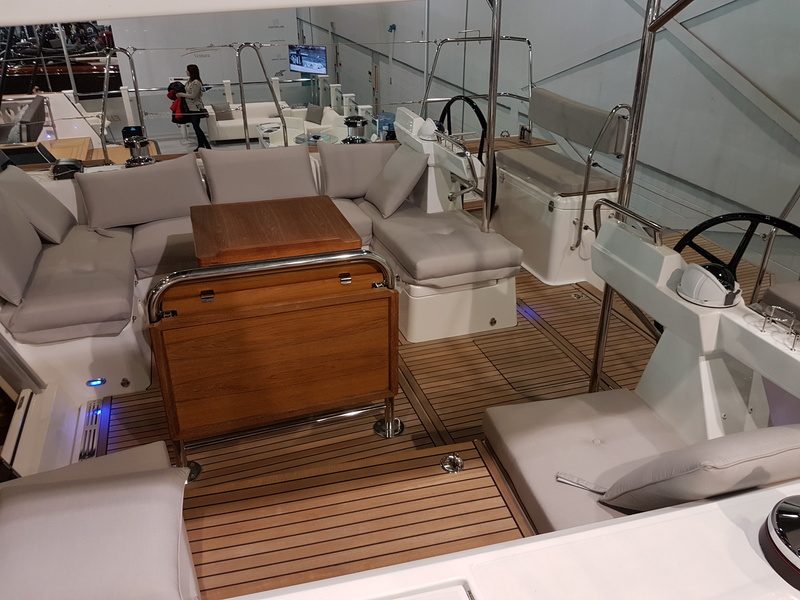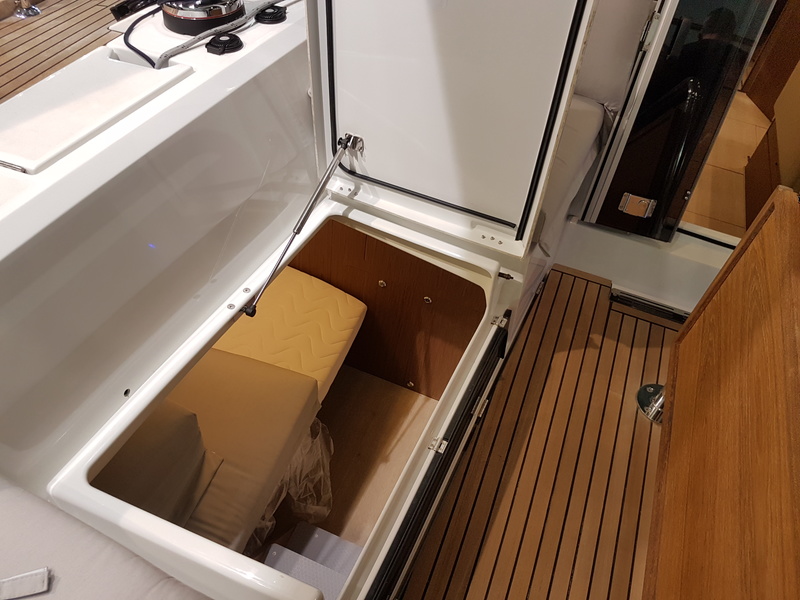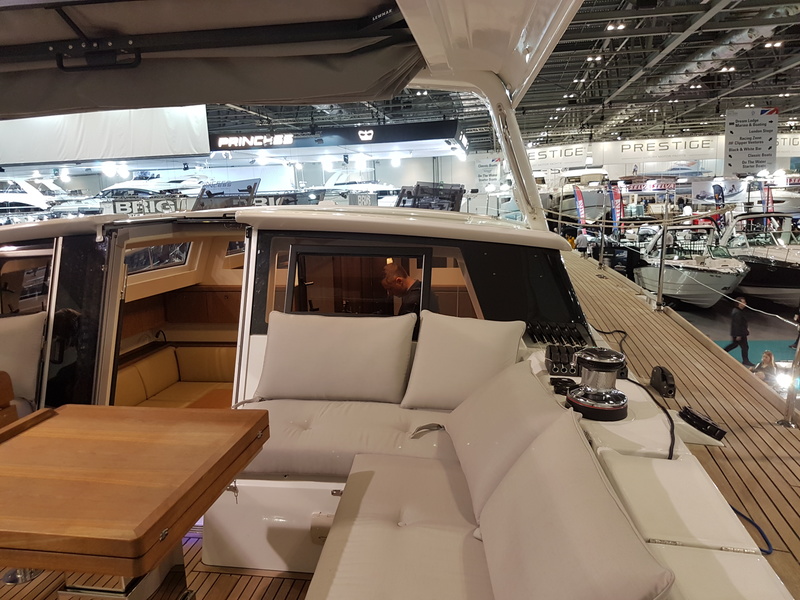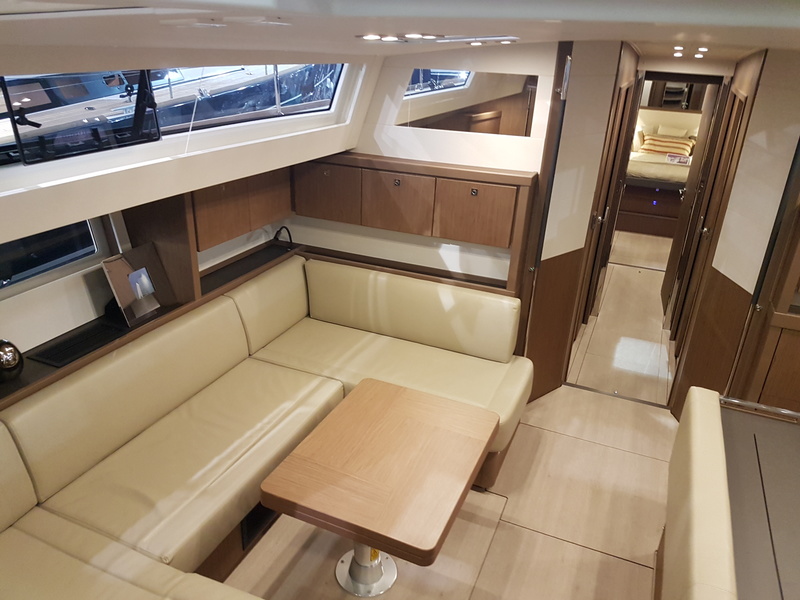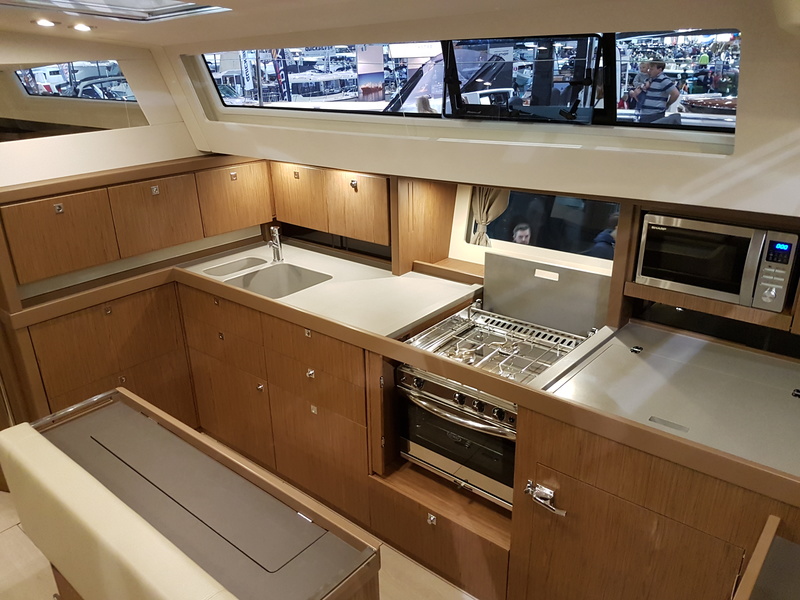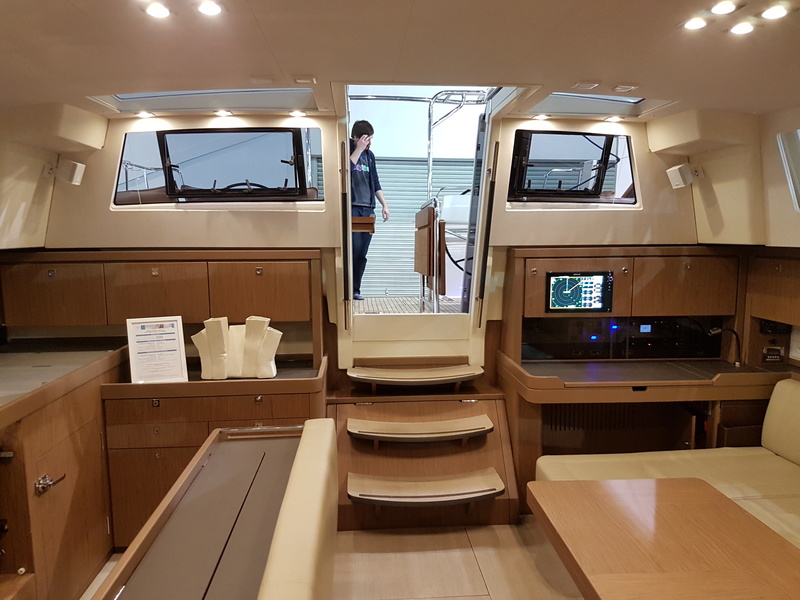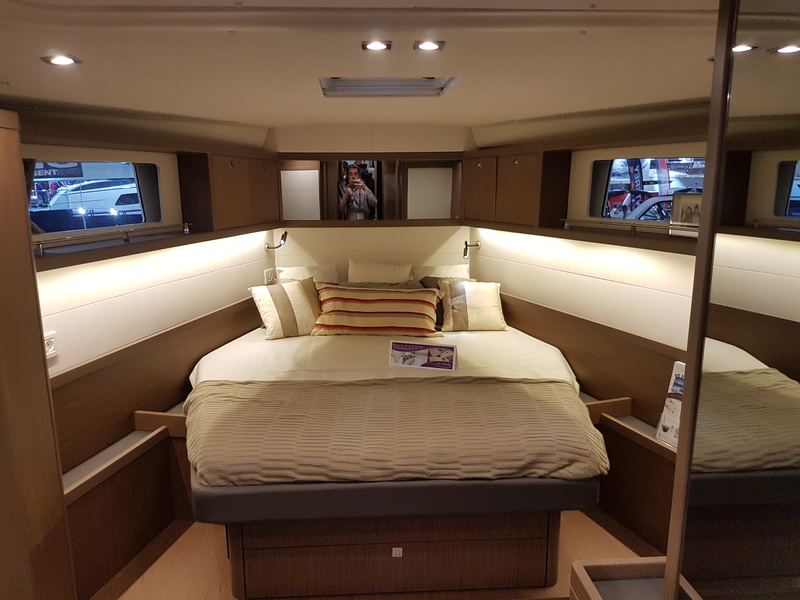 Marlow Legend, an American brand, has only one 40-foot boat on display. Although they have a diverse range (from 31 to 50 feet), the most interesting ones are the larger ones with the Pilot house layout, which is especially suitable for «wild» boating (bluewater cruise).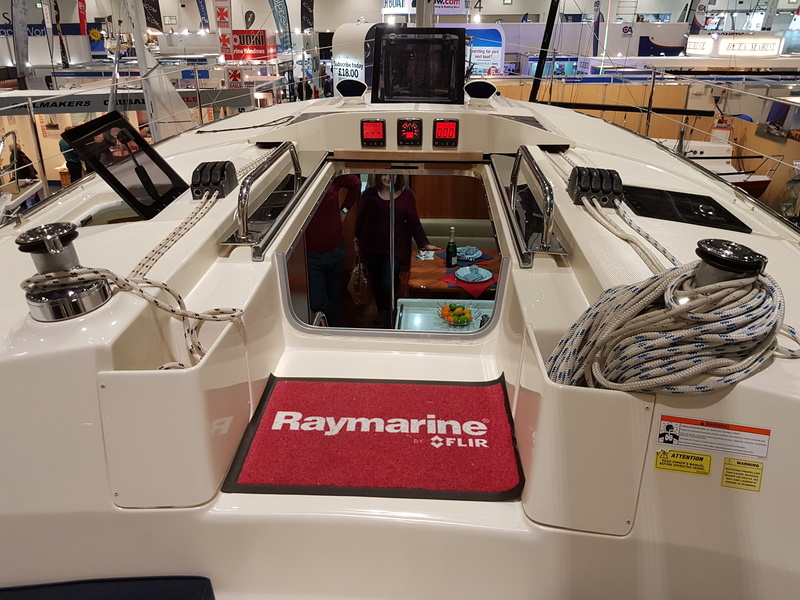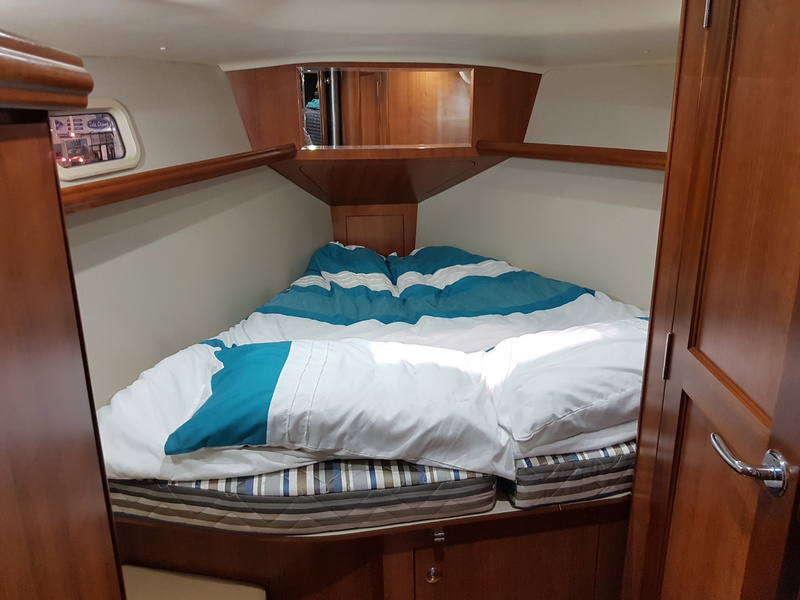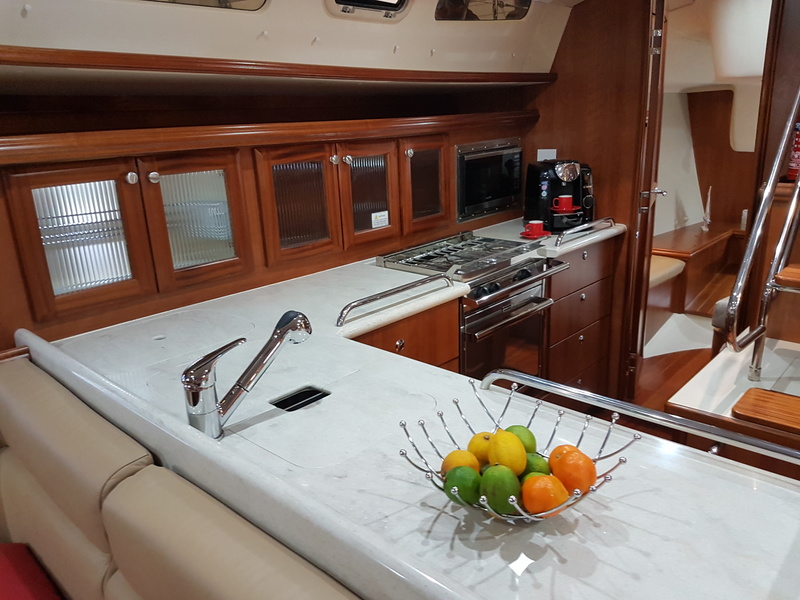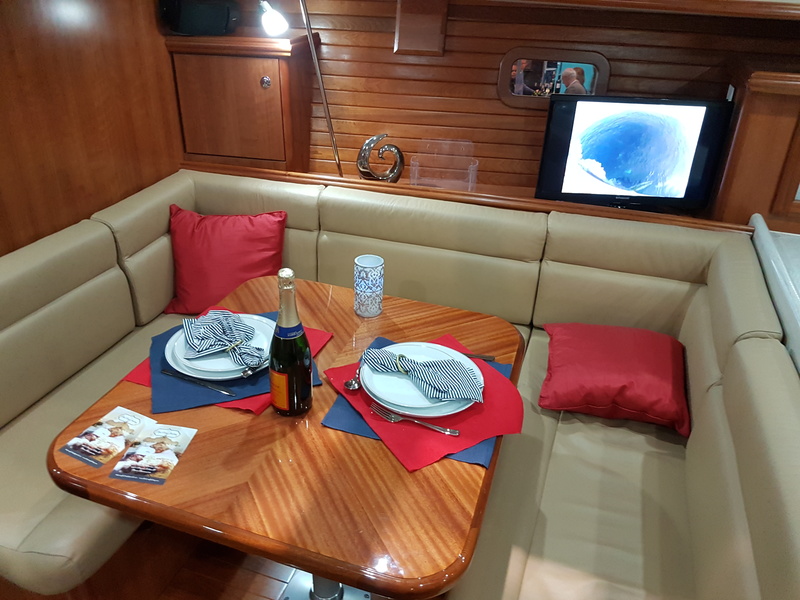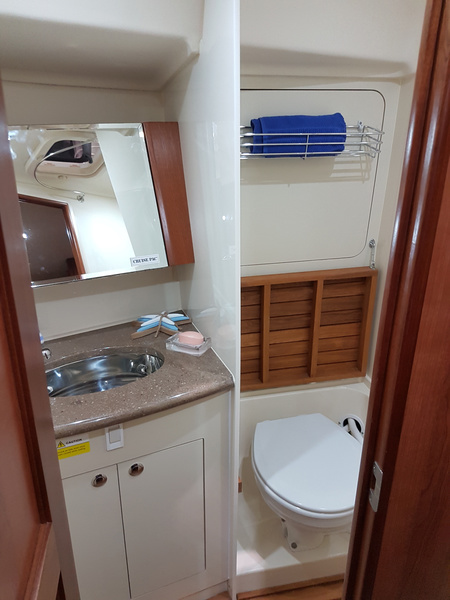 Dehler was adorned with a 34-foot model, which only a lazy man in Britain has not written about in recent months.
Based on the success of the past generation, the new 34 are building a great future.
It is really very well built, alive and fast and has all the necessary keel variations. And a price tag from 100,000 for a fully stocked yacht will make you look even more closely at this yacht.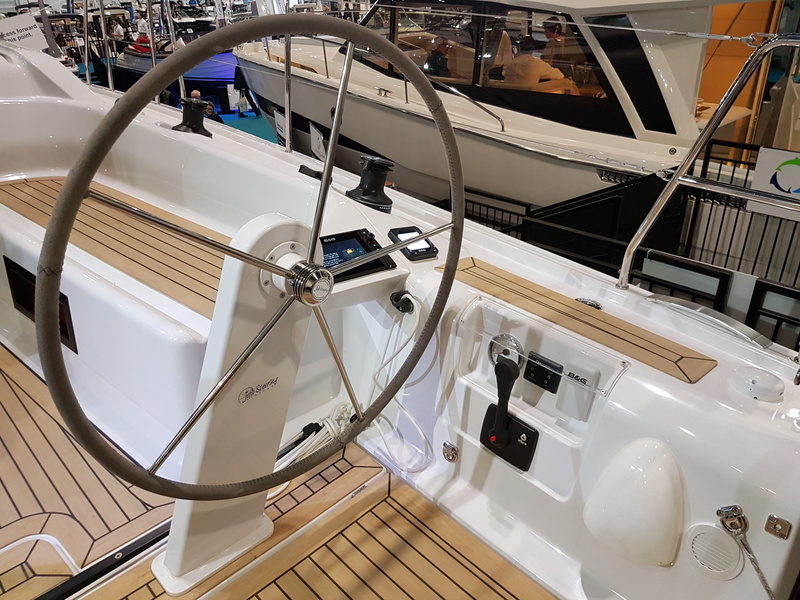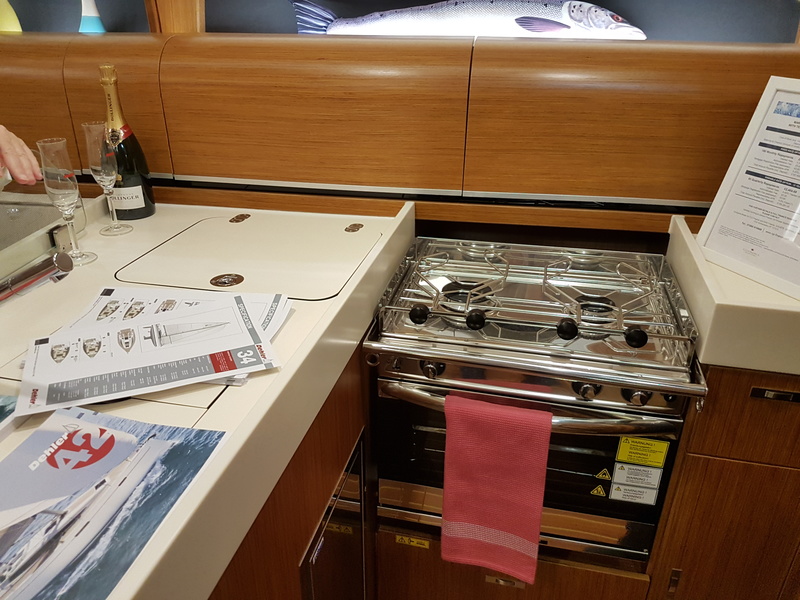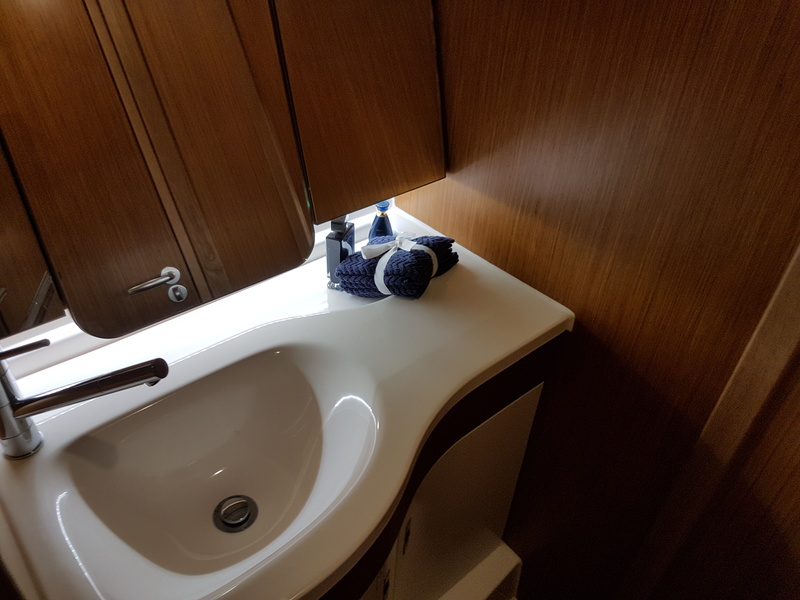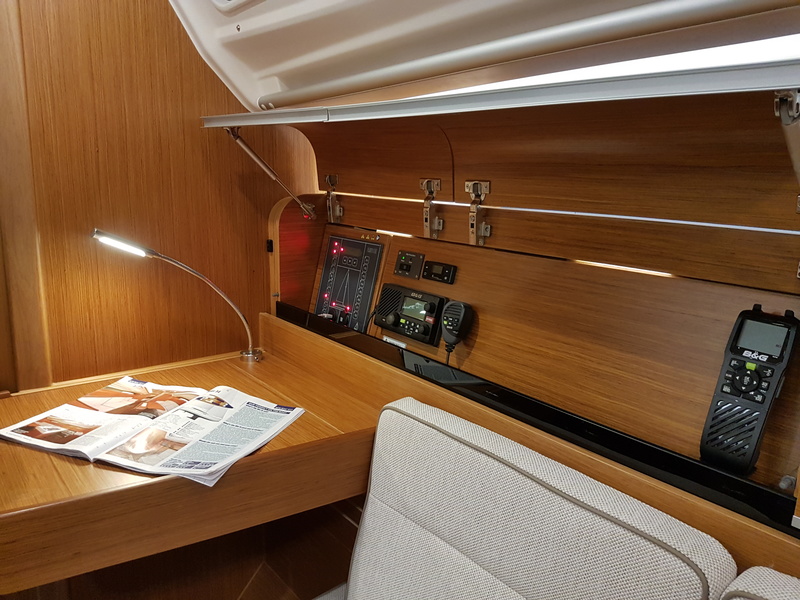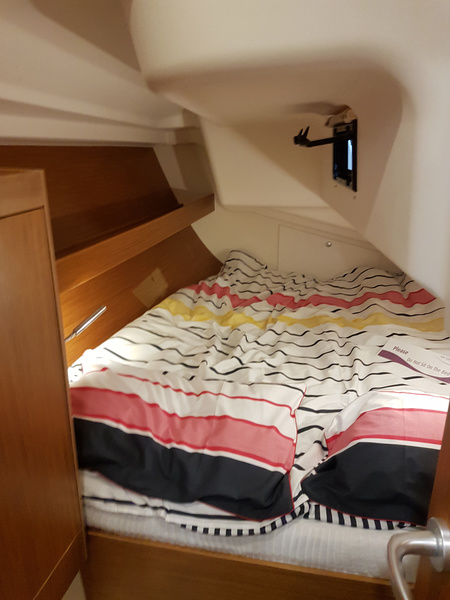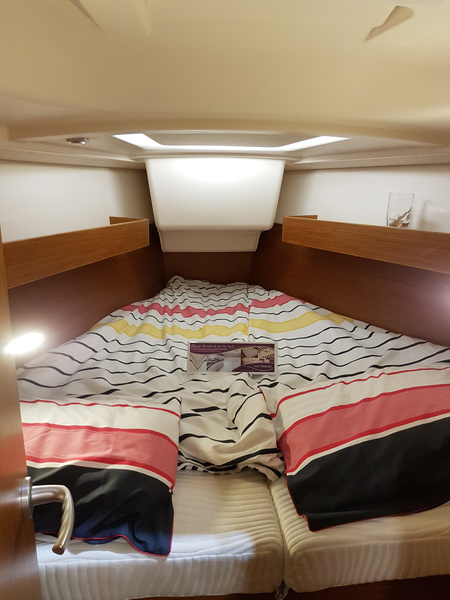 Budget alternatives
Were at the show of the yacht and other price range, for only 30 thousand or so. Of course, a miracle does not happen: you will not see a large meter and expensive types of wood there, but the price will play a crucial role for many.
A striking example of a very worthy compromise - Polish yachts Maxus. The brand has presented a yacht in two sizes - 24 and 26 feet.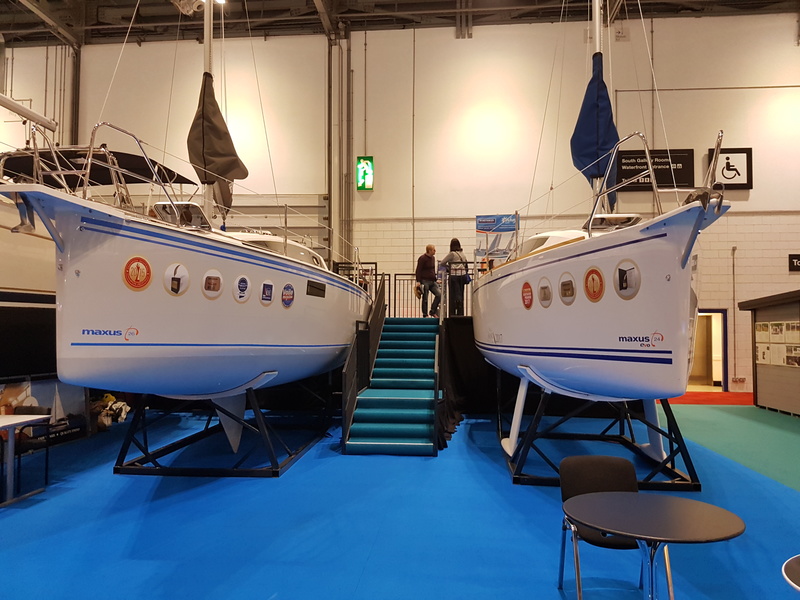 The difference in length and price is not dramatic, so I would choose a slightly larger 26 foot. At 170 cm tall I was able to stand inside the cockpit and the aft double cabin offers the same level of comfort as the other 36-foot yacht from better known brands.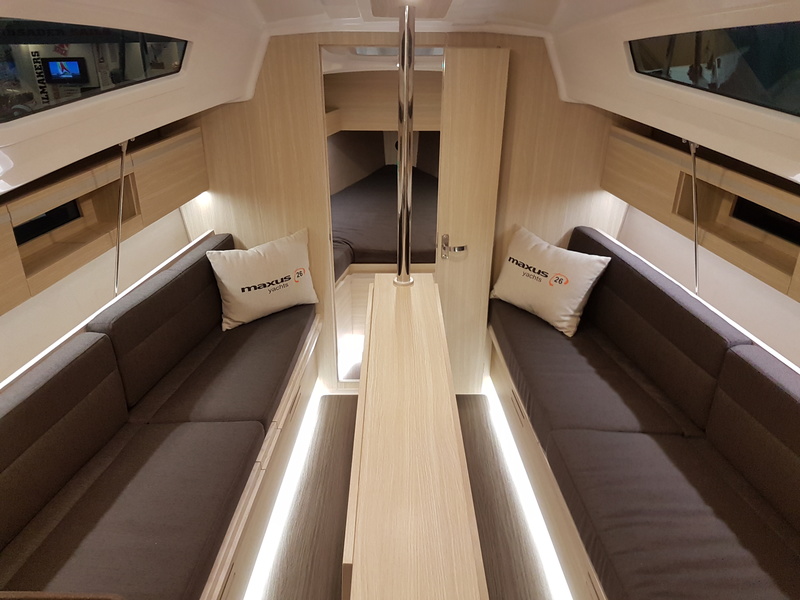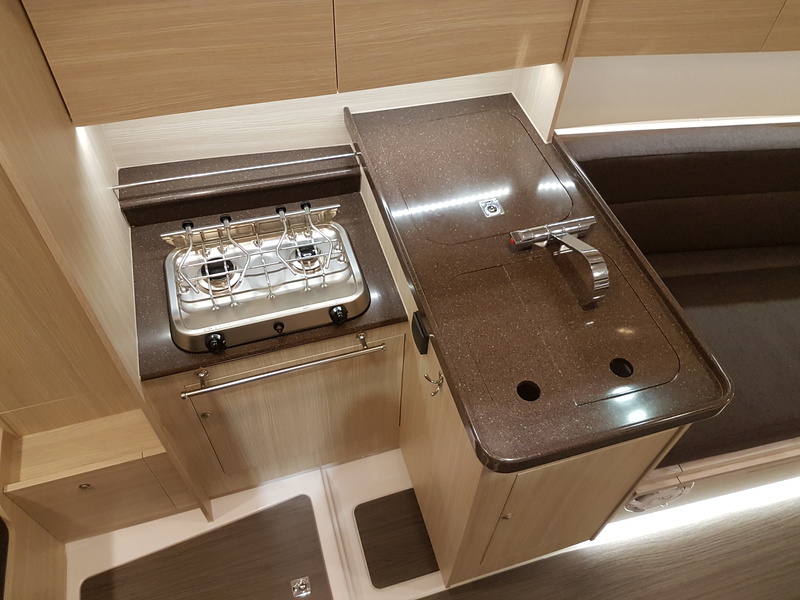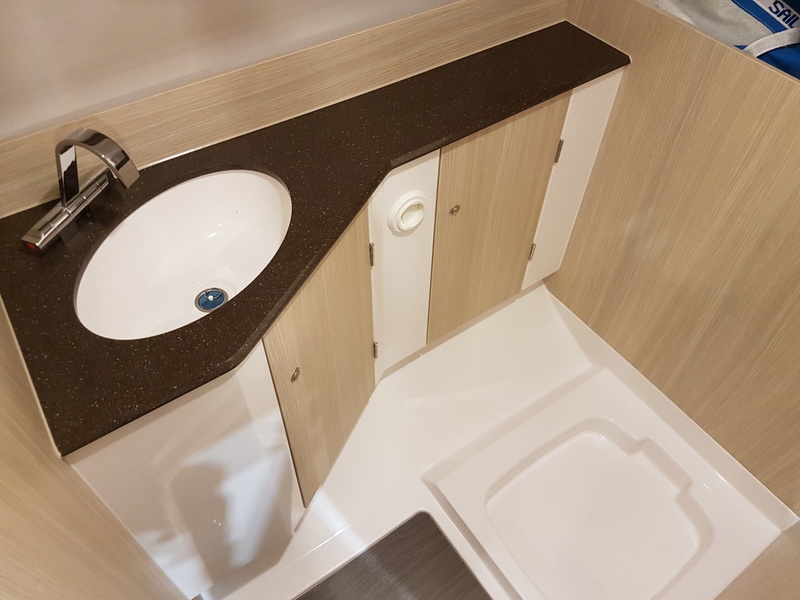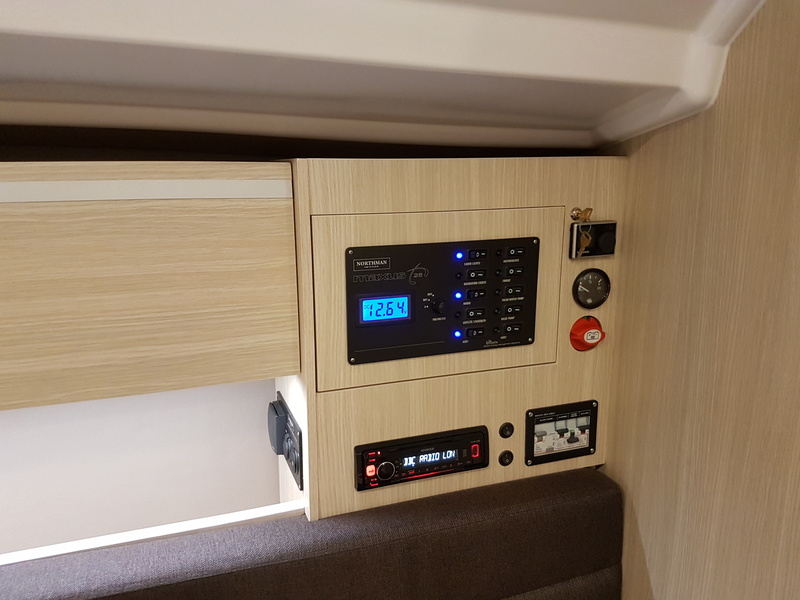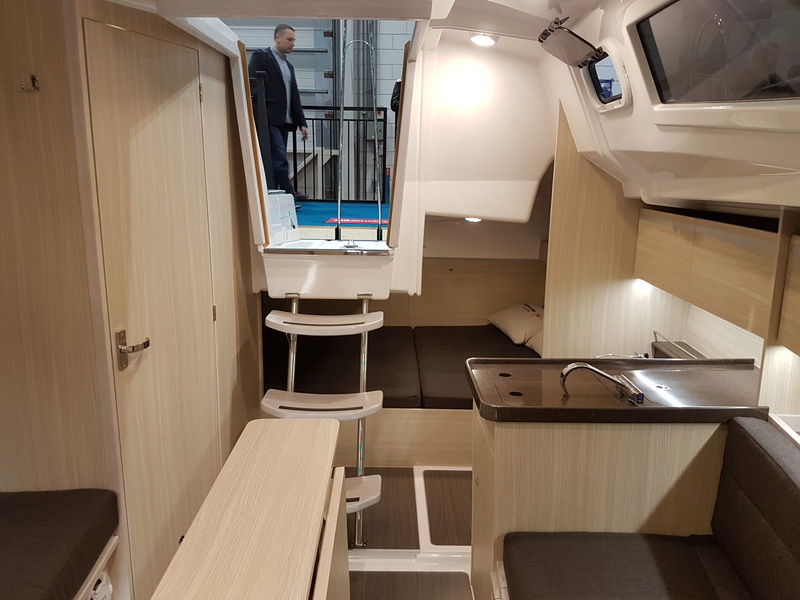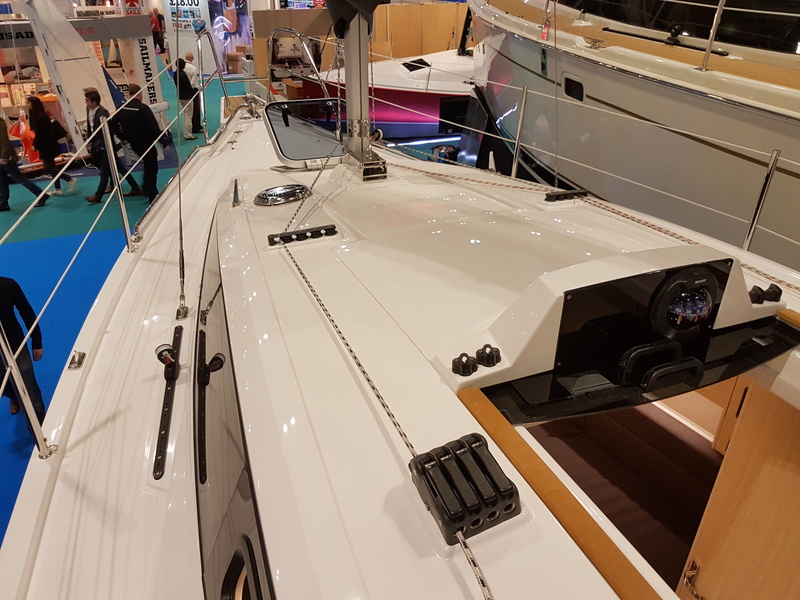 For 33 thousand you could buy a Haber 620. A nice little yacht for four, with chemical toilet and tiles. Incredibly bright inside. With a retractable keel, her minimum draft can reach only 32 cm, making it possible to conquer even the shallowest places.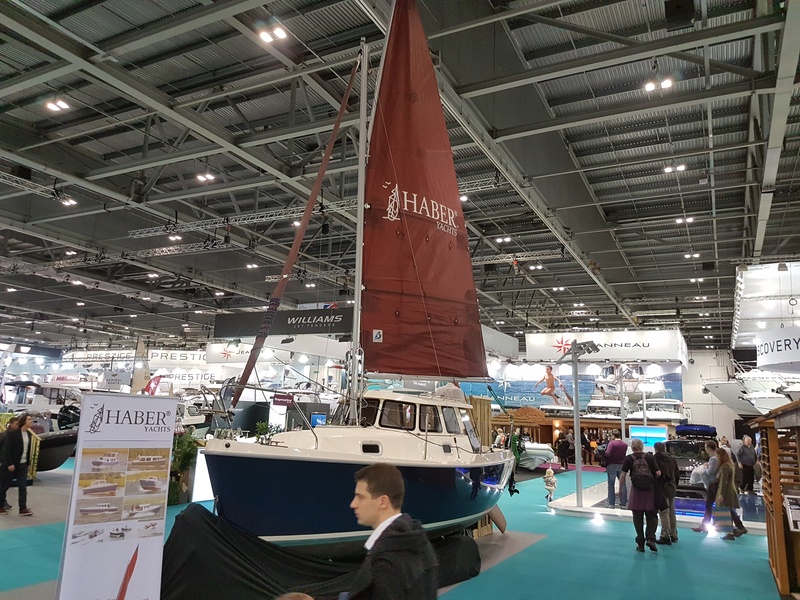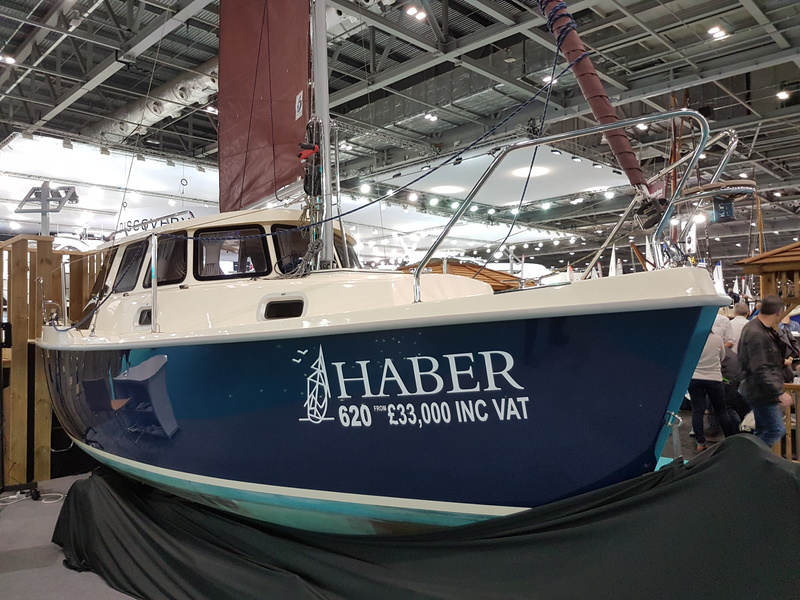 Another alternative manufacturer is Viko. Their 21-foot boat was only worth £22,000 at the show. «The single»hull, but with toilet and tiles, is easily towed from place to place, has a small draft that will allow you to discover the most secluded bays.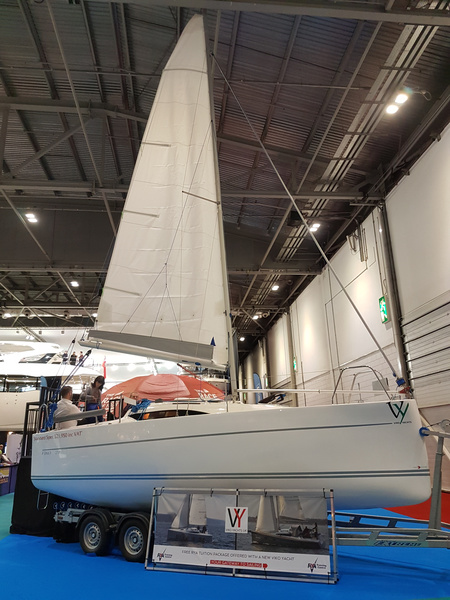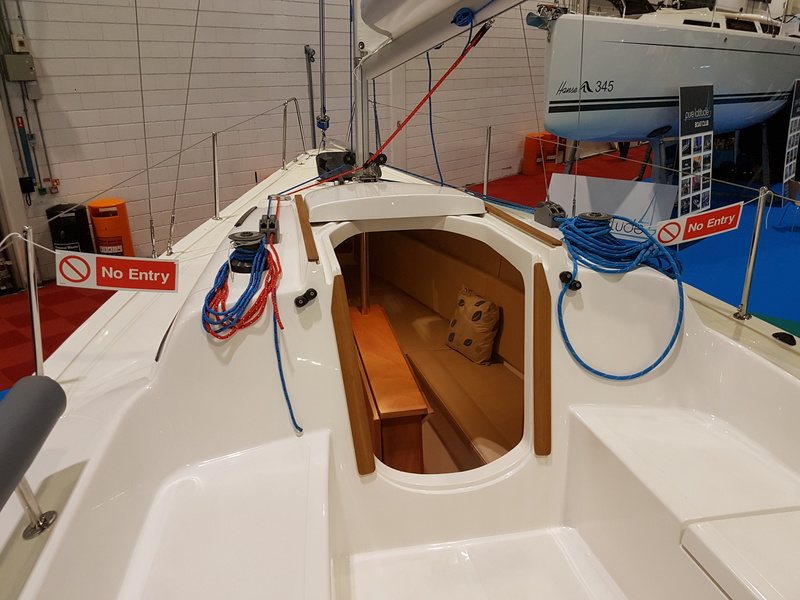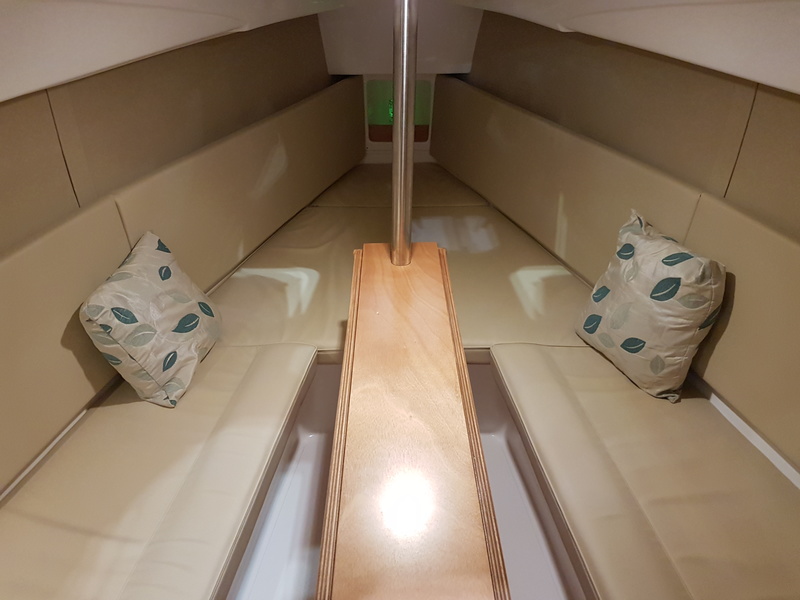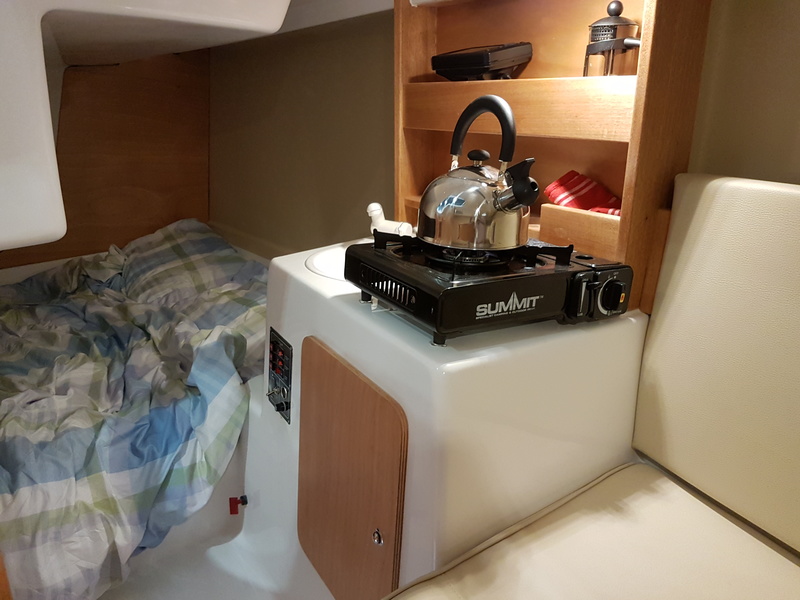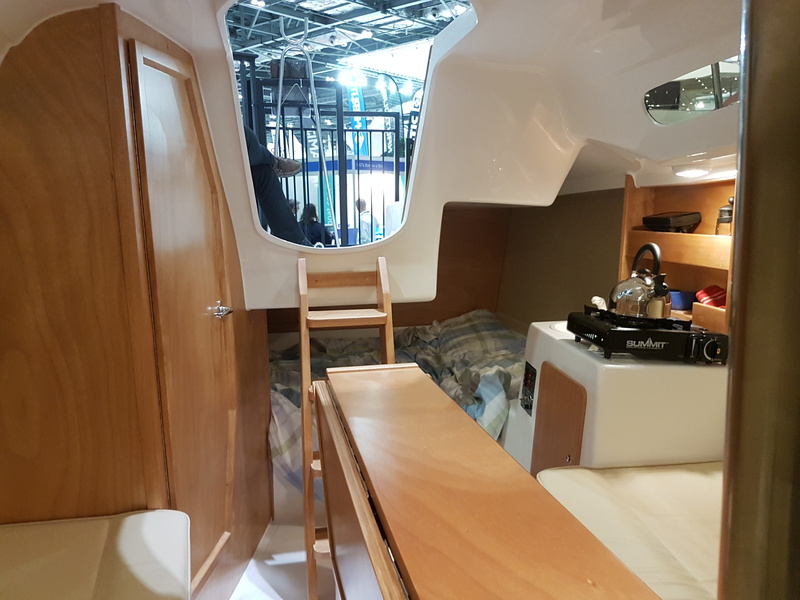 A very different way of looking at things was suggested by the British to the bone Cornish Crabber.
Crabber 26
and
Shrimper 17
have a traditional design and catch the eye, but as many unusual items have a mass of bright pros and cons.
On the positive side - design, comfort, stability. Among the negative aspects: a long bowsprit (= increased attention of the administration of the marina and probably a higher tariff), quite high cost for the proposed internal volume (Crabber), the lack of sporting ambitions even in the most remote plan. By the way, the lion's share «of wooden» parts is actually glued or even plastic, although they look like solid solid wood.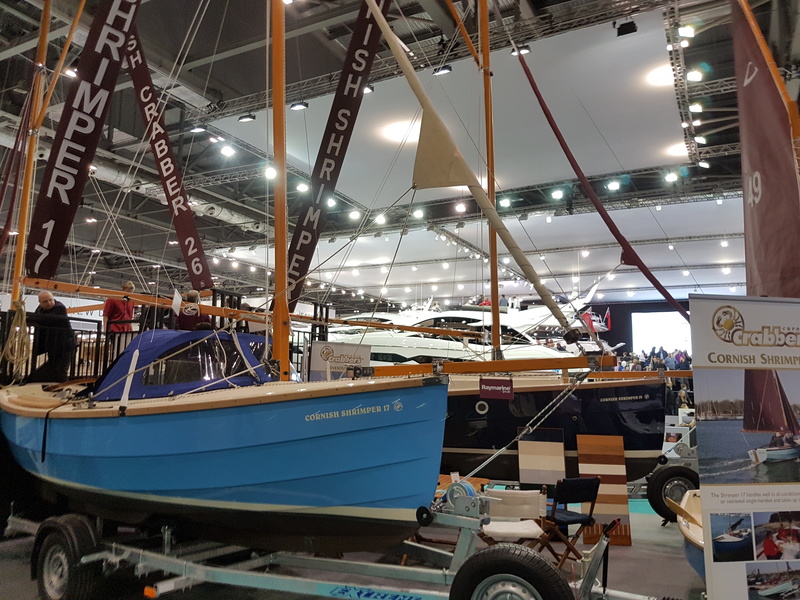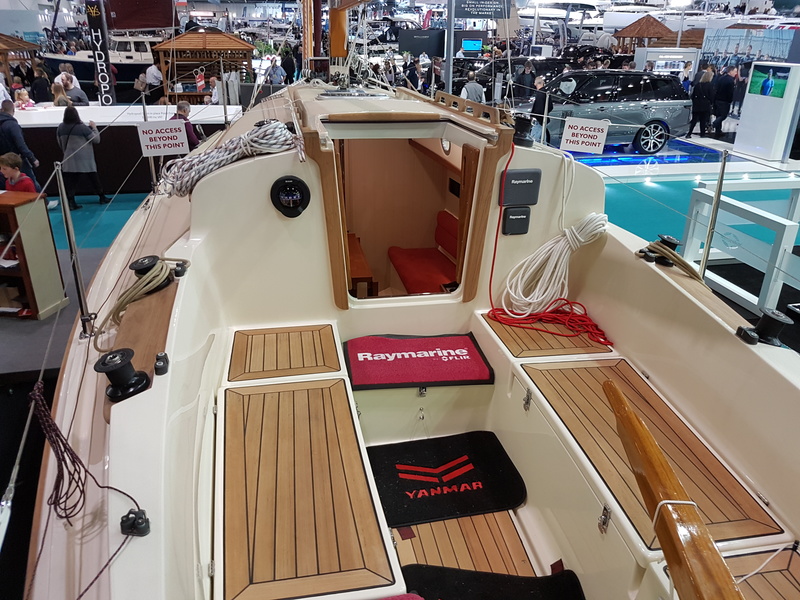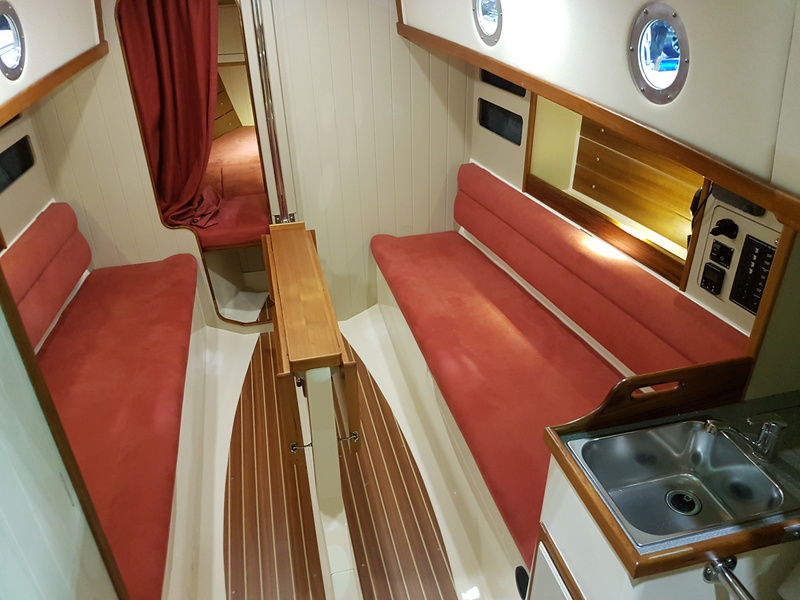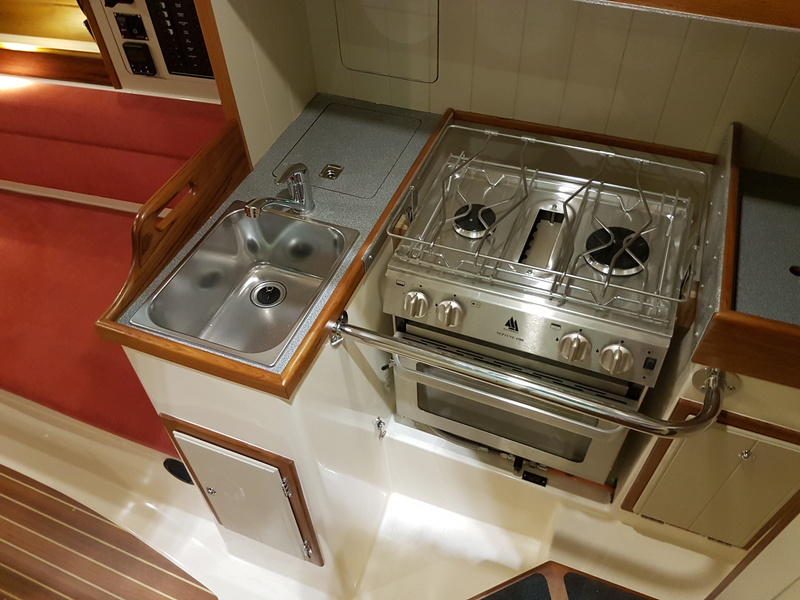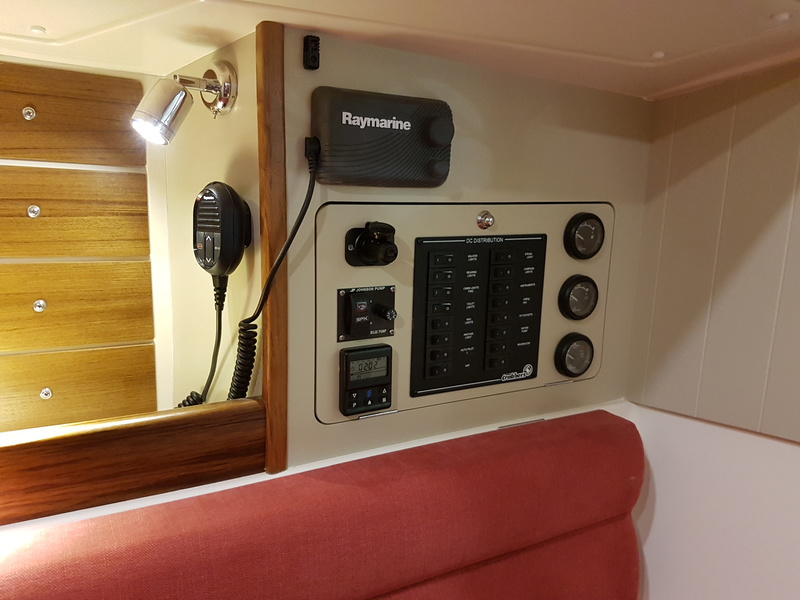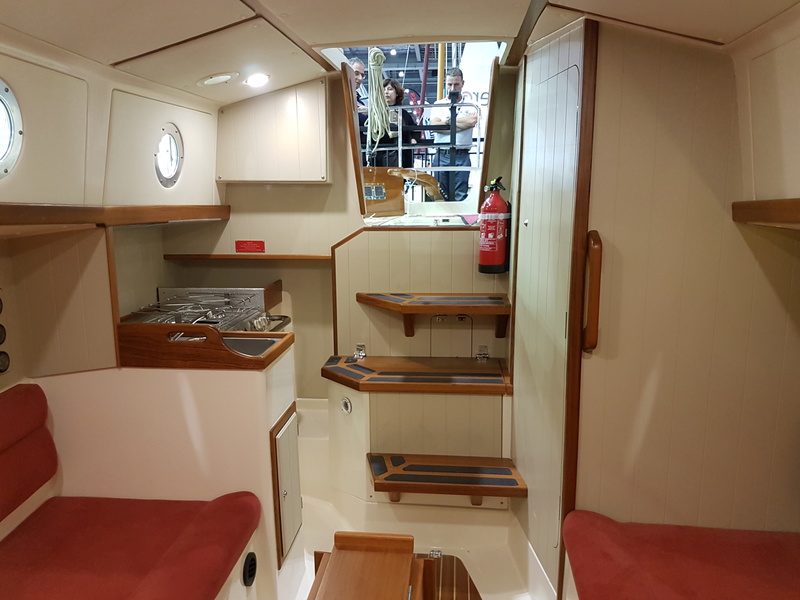 Motors
Despite all my commitment to sailing, the world of engines cannot be ignored at all. First of all, the huge white monsters Princess and Fairline can be seen from every corner of the hall.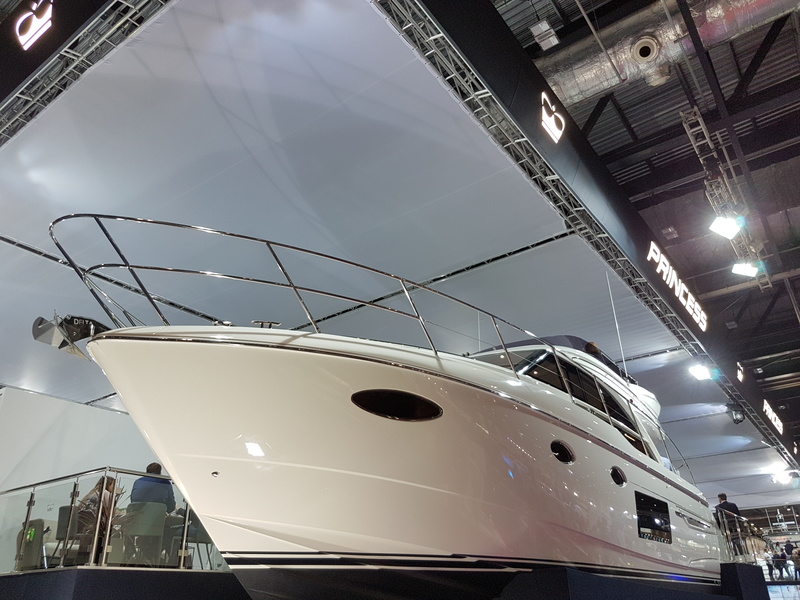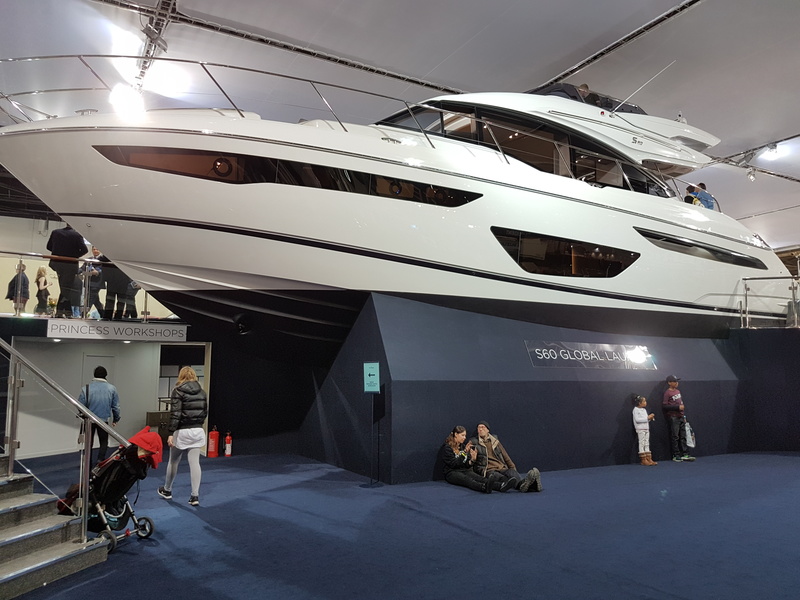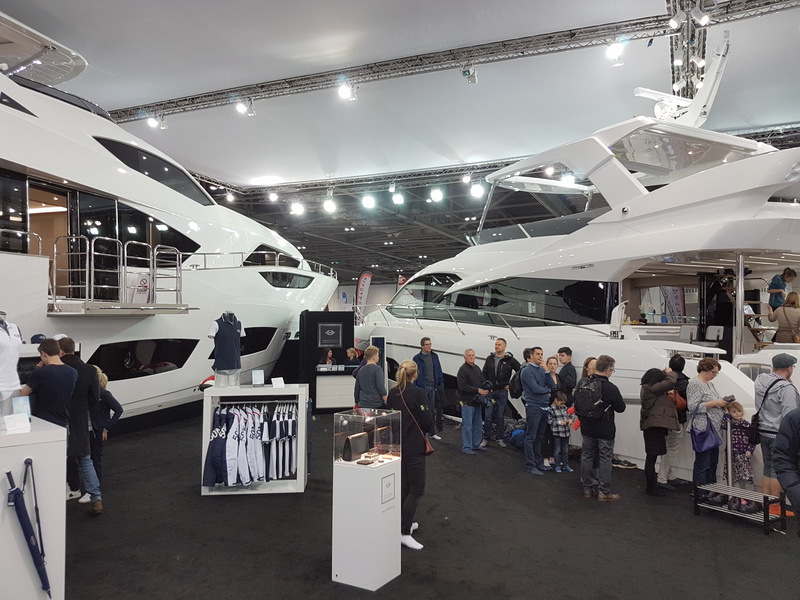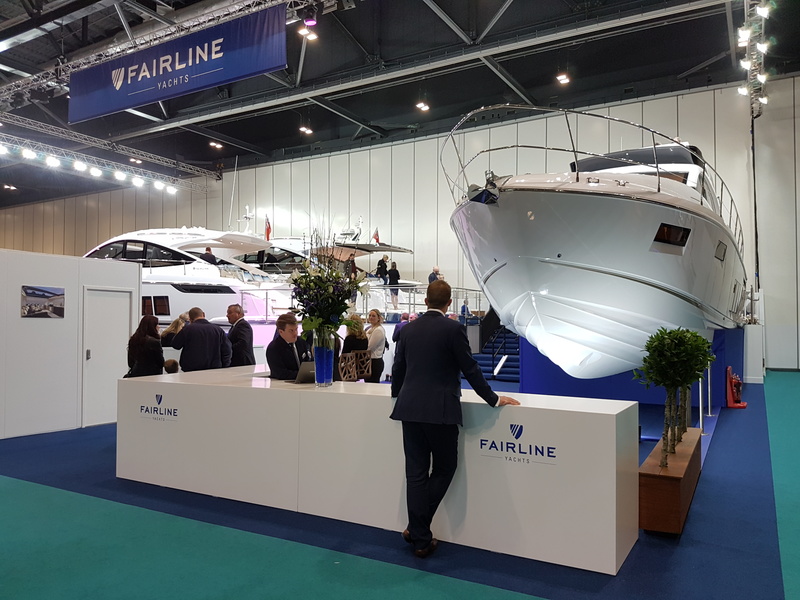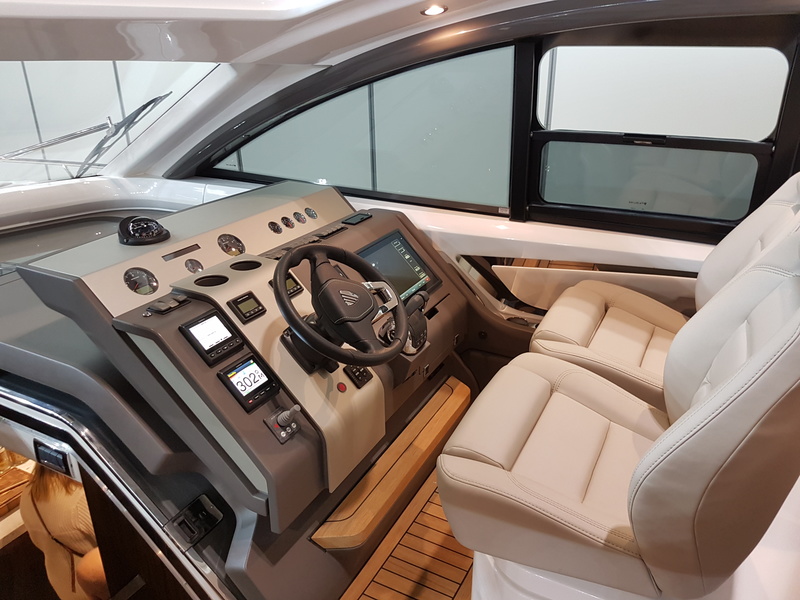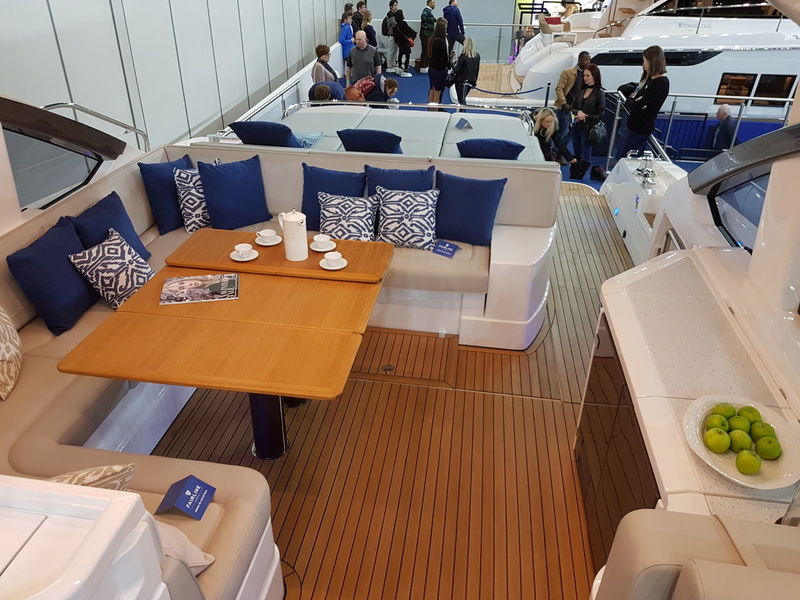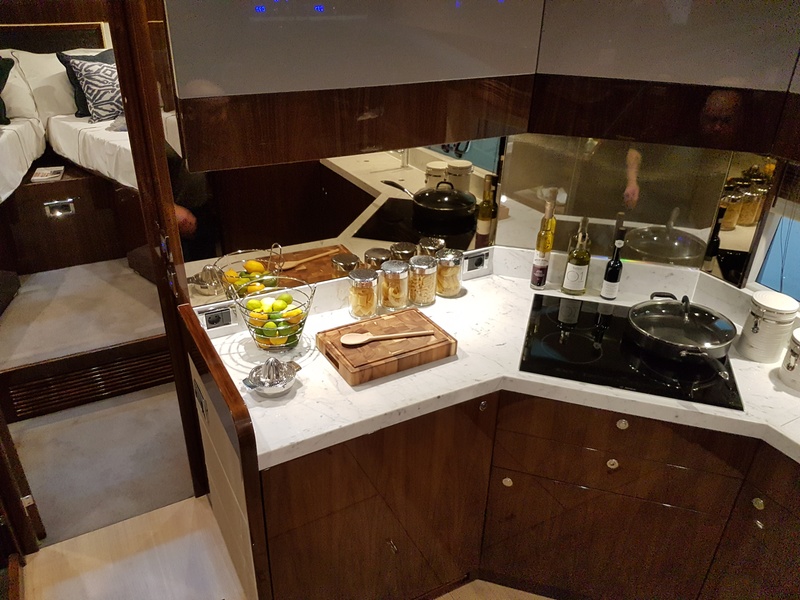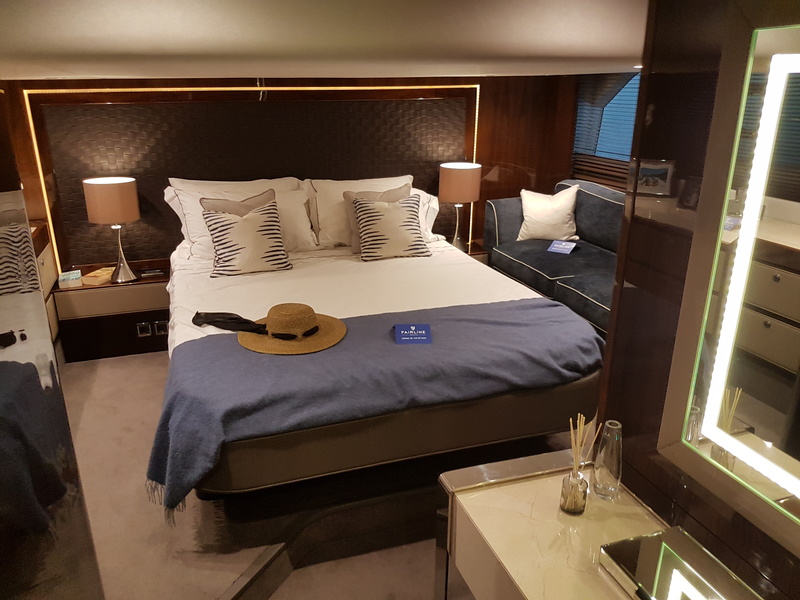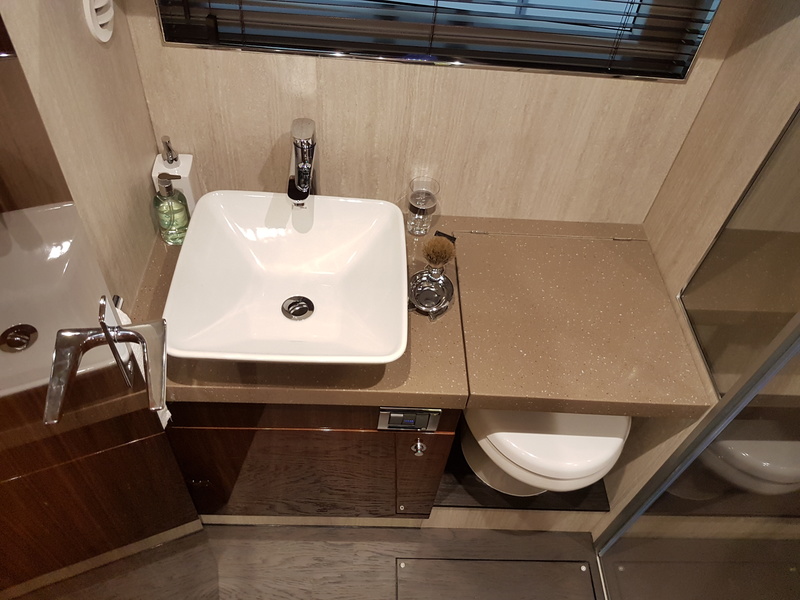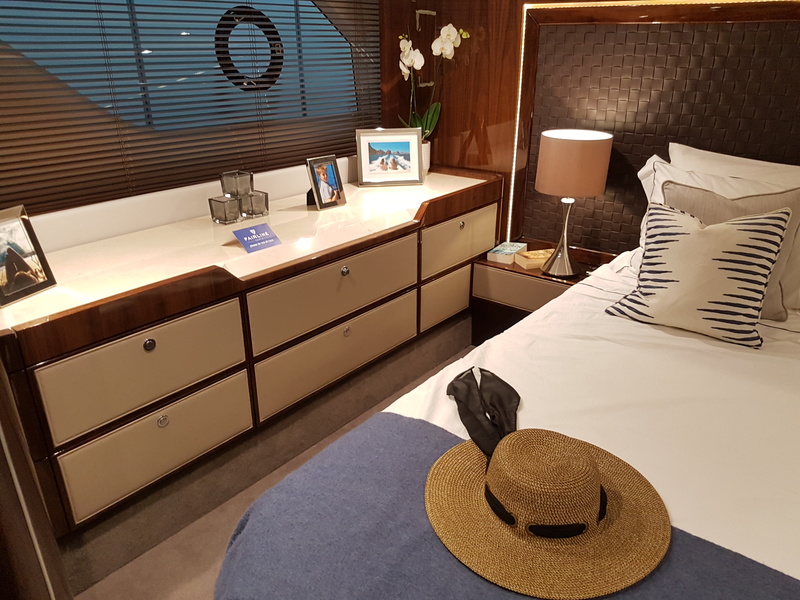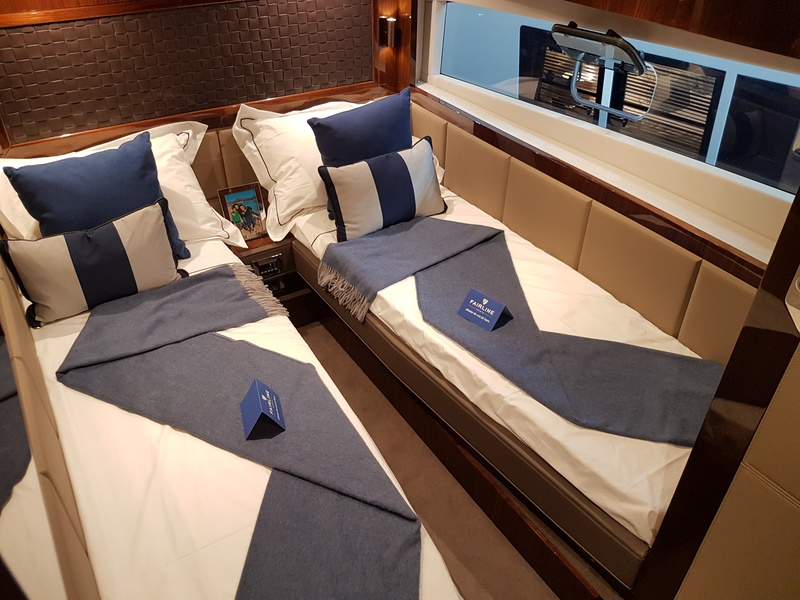 Secondly, it is still about 90% of all yachts sold these days. And thirdly, there were interesting smaller motors.
The larger the motor yacht, the higher the percentage of yawns rather than buyers.
Of course, it's fun to walk around inside and look at the choirs, sit at the wheel (steering wheel?), imagine yourself on one of the sunbathing sofas. But are future customers so valued as those who spend all their money on a cheaper boat?
It's more interesting to look at smaller motor boats. One of the first things that caught my attention was the stand of the legendary Chris Craft brand. Elegant boats with a refined interior and not a small price tag, sometimes comparable to the average size of a motor yacht from Bavaria - from 100 to 200 thousand pounds.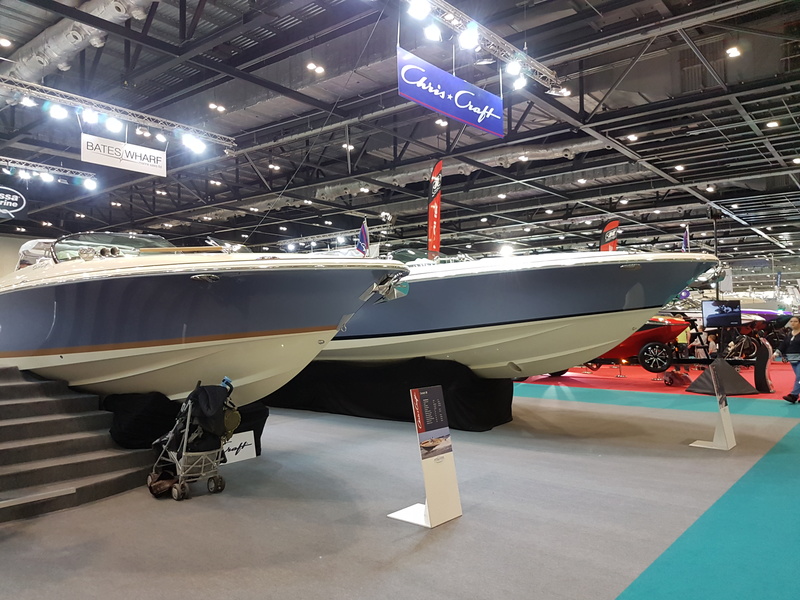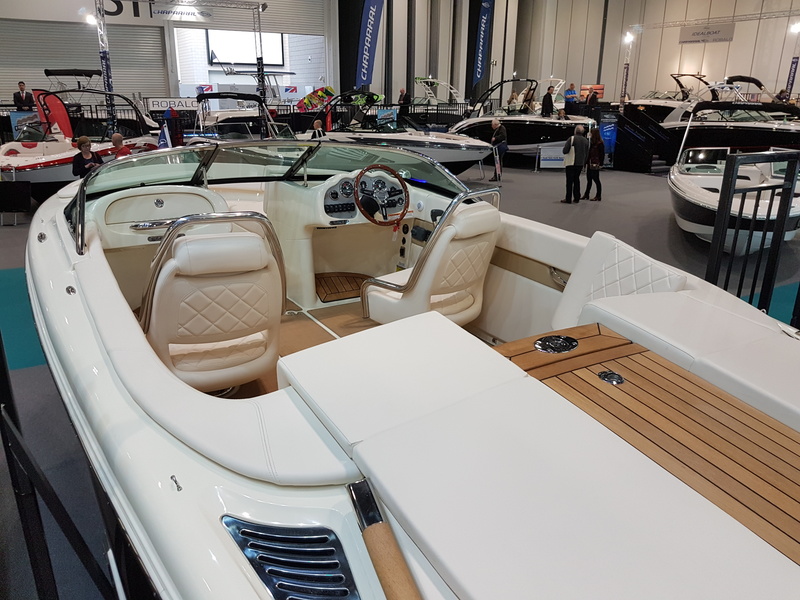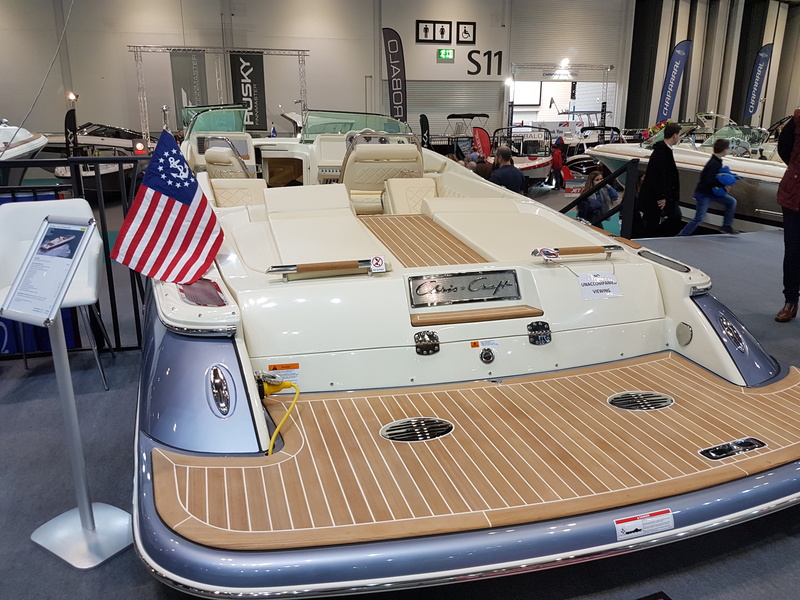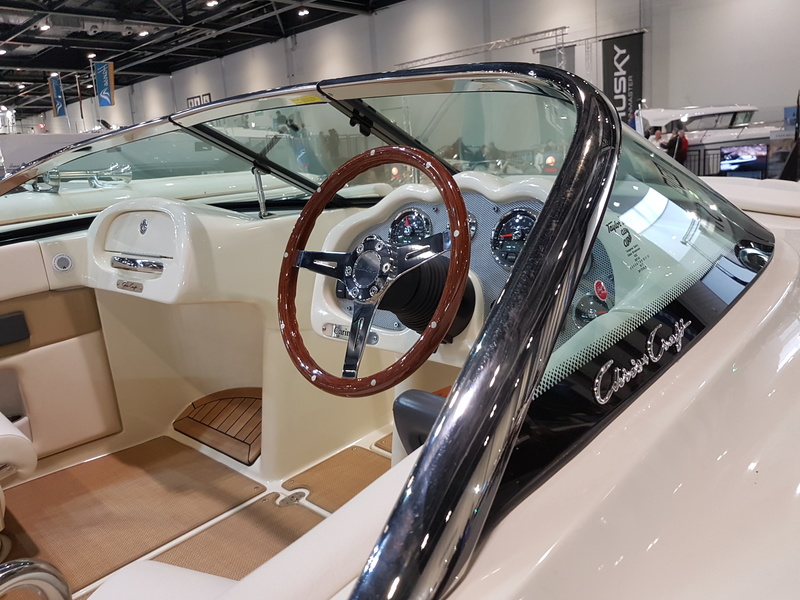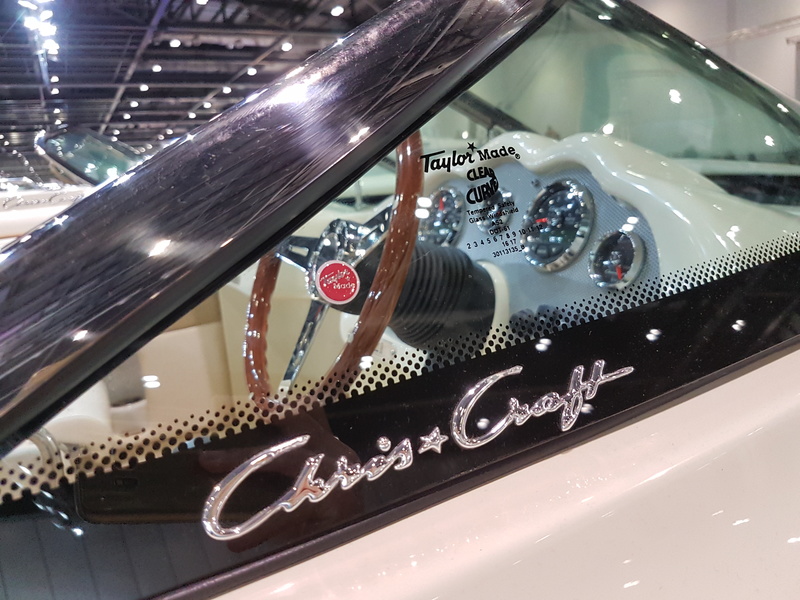 Underneath is the equally famous Riva boats. There was only one boat in the hall, but what a boat! The £334,000 Riva Aquariva Super could have been owned by James Bond, especially since the budget is more for the British treasury than for a regular buyer.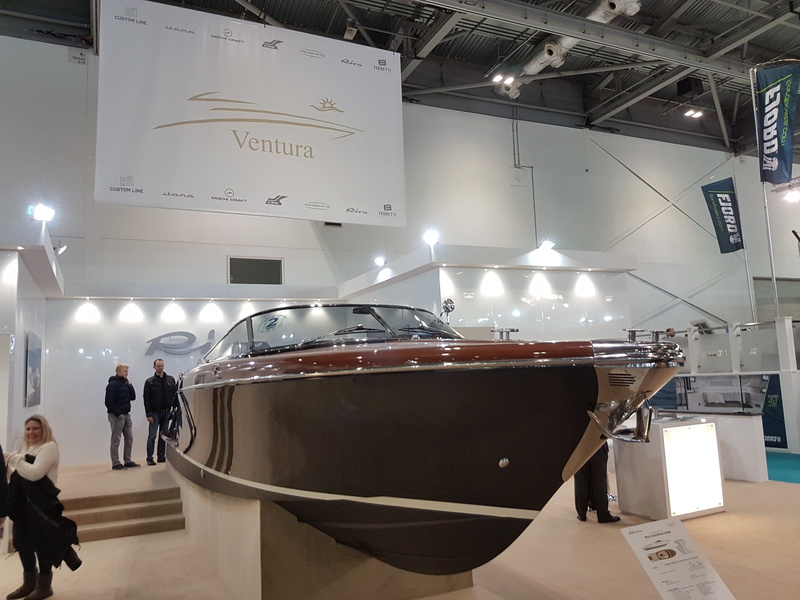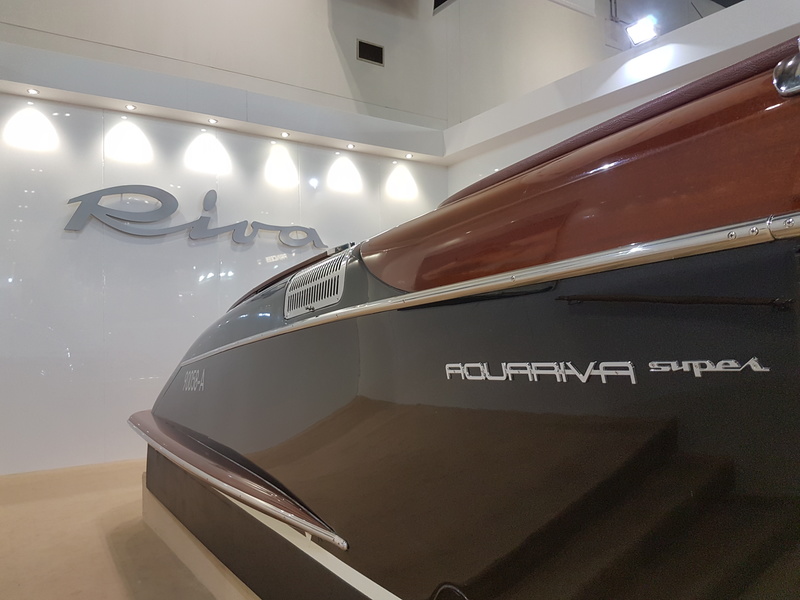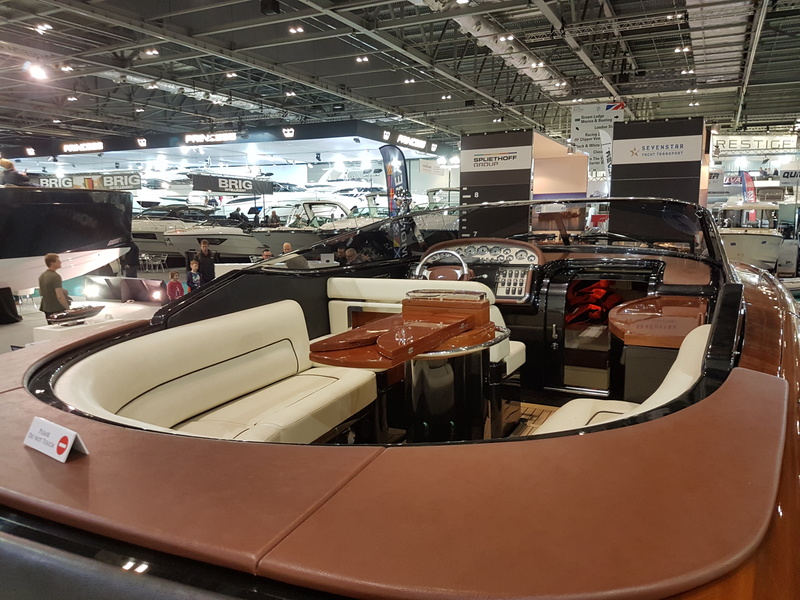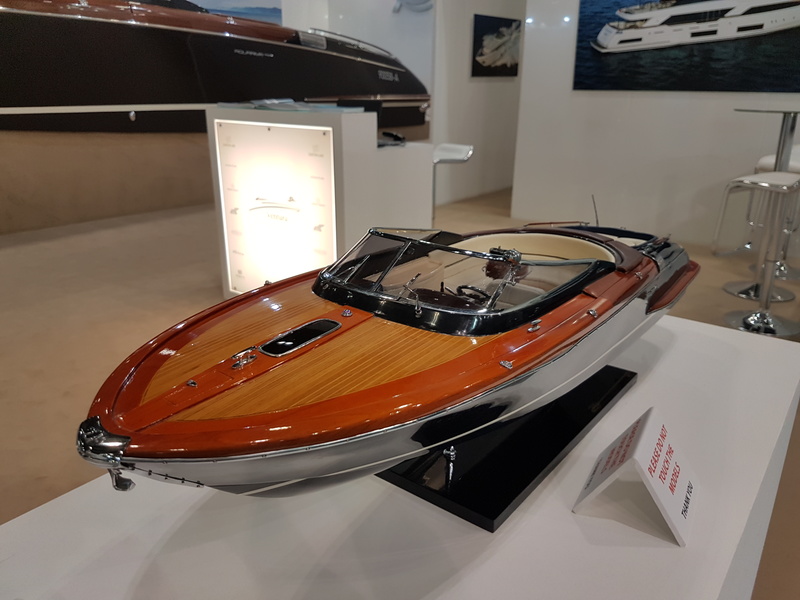 For those who want more sport and below price, there are a number of other brands. First of all I will highlight the Swedish-Latvian brand Marell, which produces aluminium boats in Latvia.
Unlike the plastic models of other brands, Marell looks tougher because of unpainted aluminium and will be more durable in life due to the advantageous use of welding rather than bolts or threaded fasteners.
The price of such a pleasure together with two 250-hp engines will be 100-150 thousand pounds.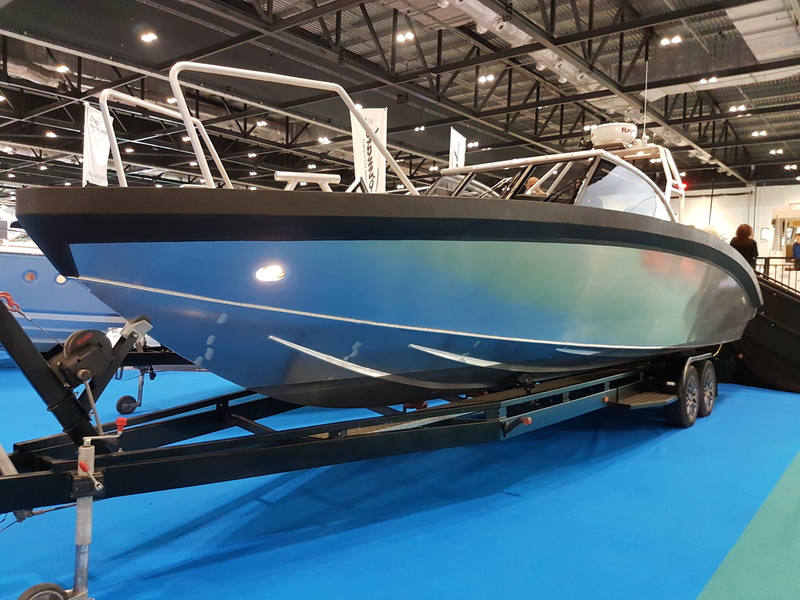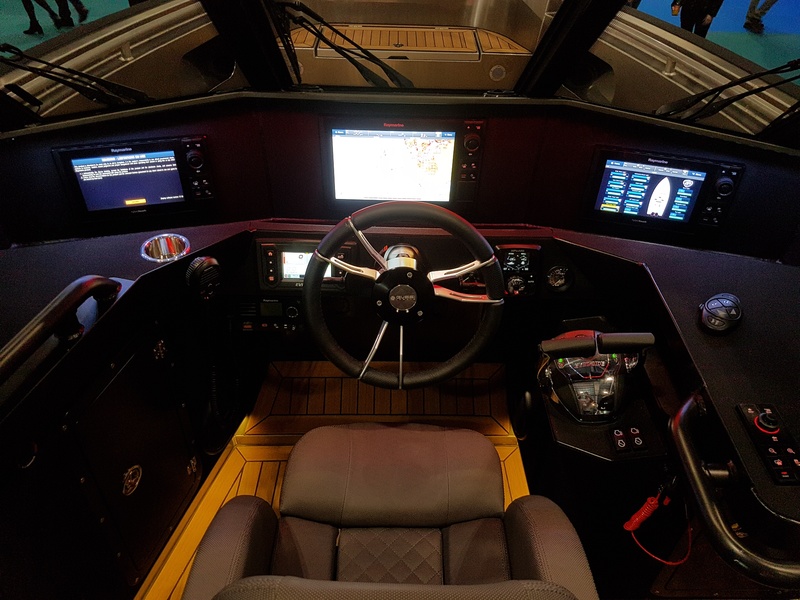 Many high-speed RIBs (rigid inflatable boats) will find themselves in the same range. The Williams and Rib Eye brands had particularly large exposures. While Rib Eye has both a speedboat and a more comfortable one, as well as a tender for a larger yacht, Williams is positioning all its boats as tenders.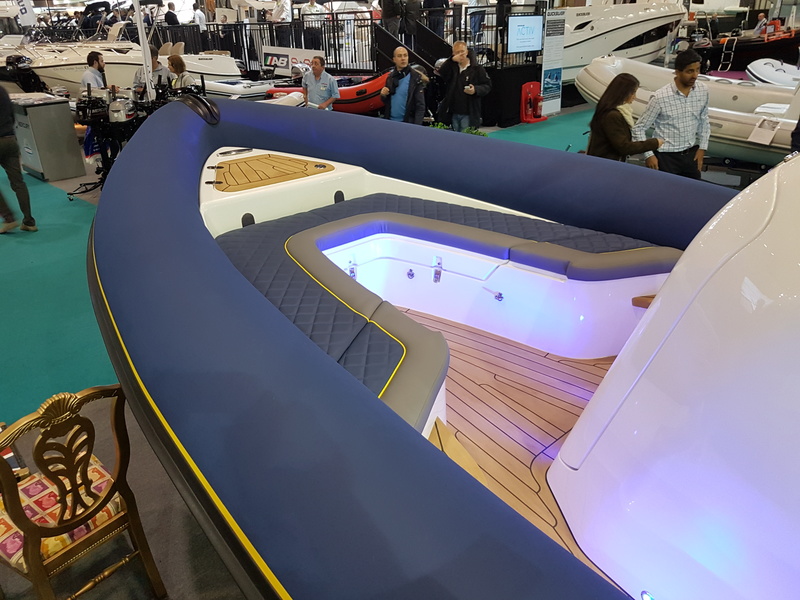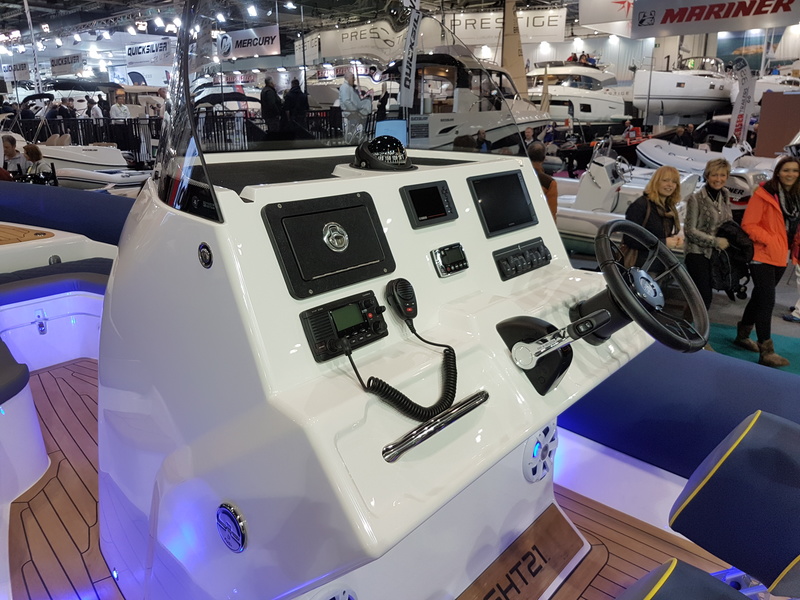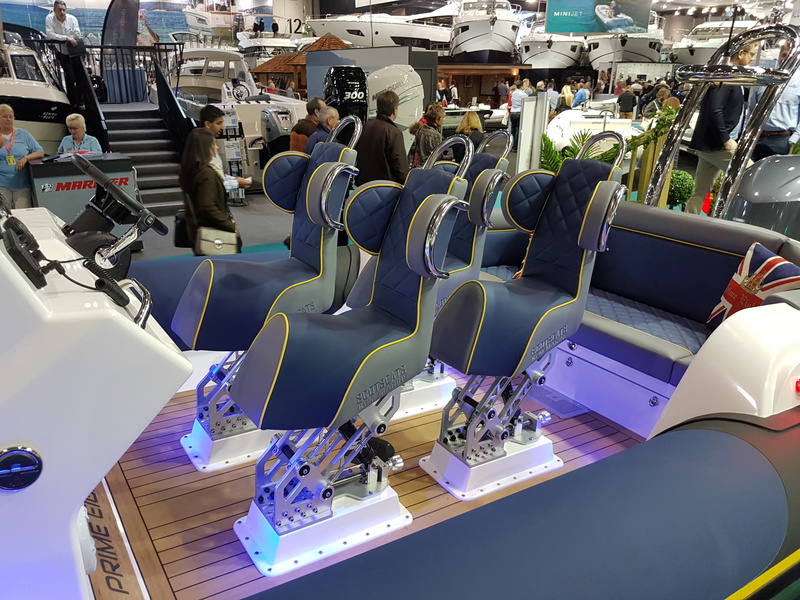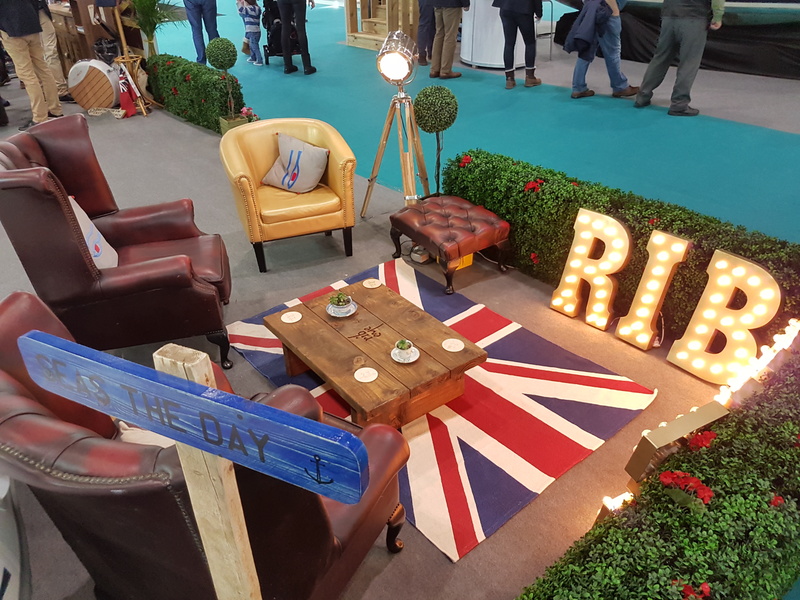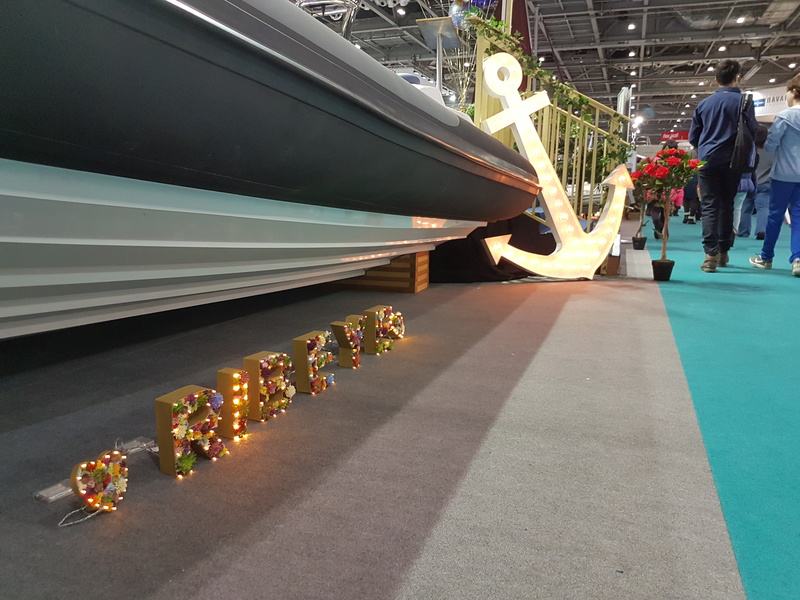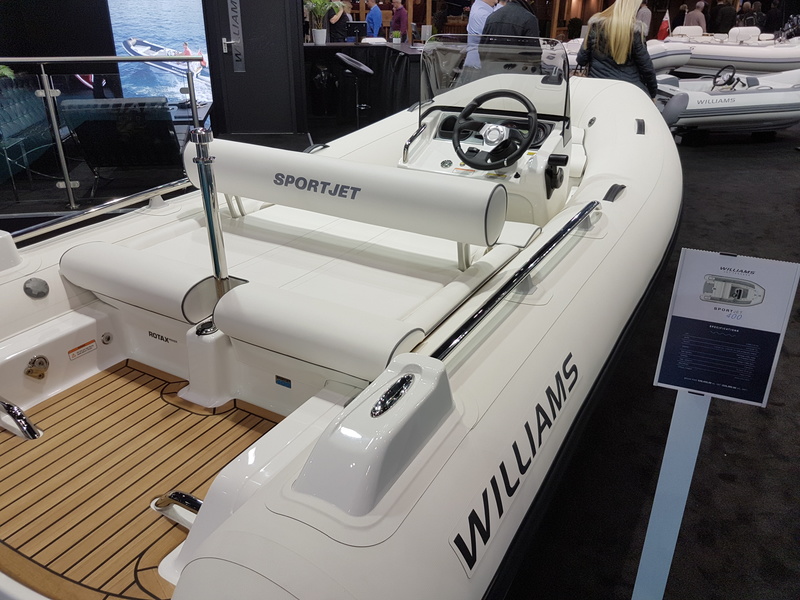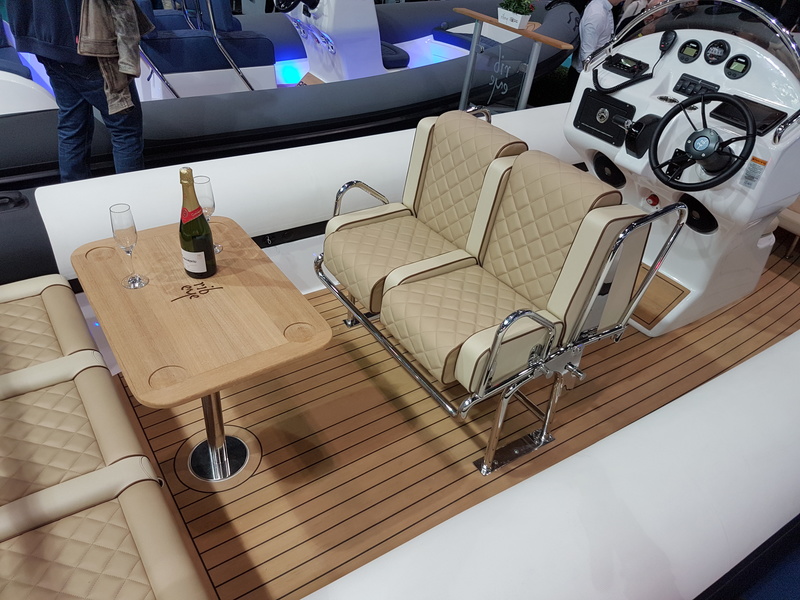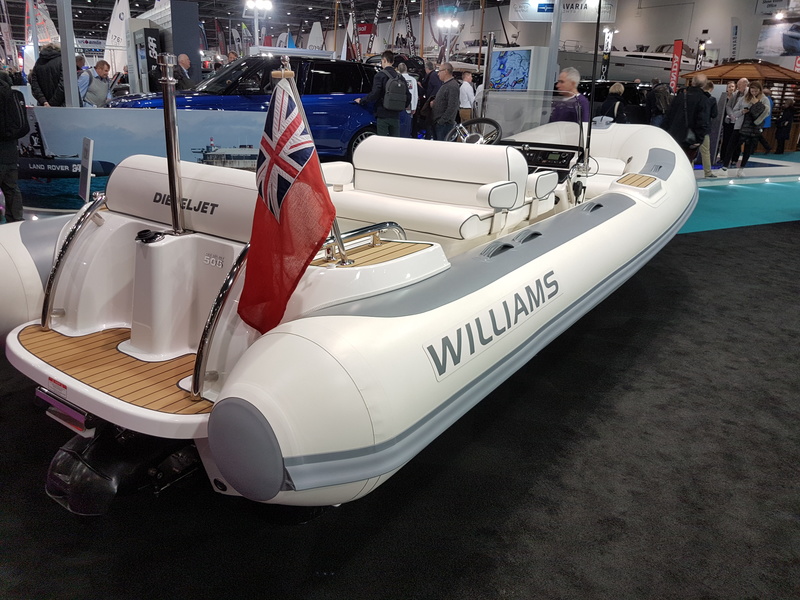 The rest is .
And in order not to make you feel that the exhibition is aimed only at selling yachts, it is worth noting that the good half of the area was dotted with related businesses: engines, navigation and communication, rescue equipment, all kinds of consumables, clothing, charter companies, clubs, books and charts, gadgets, etc.
At the price of £1,400 from a 25km reserve at speeds up to 25km/h, the eCo Lizards folding electric bike is not too expensive for the British bike market to hide in a small box.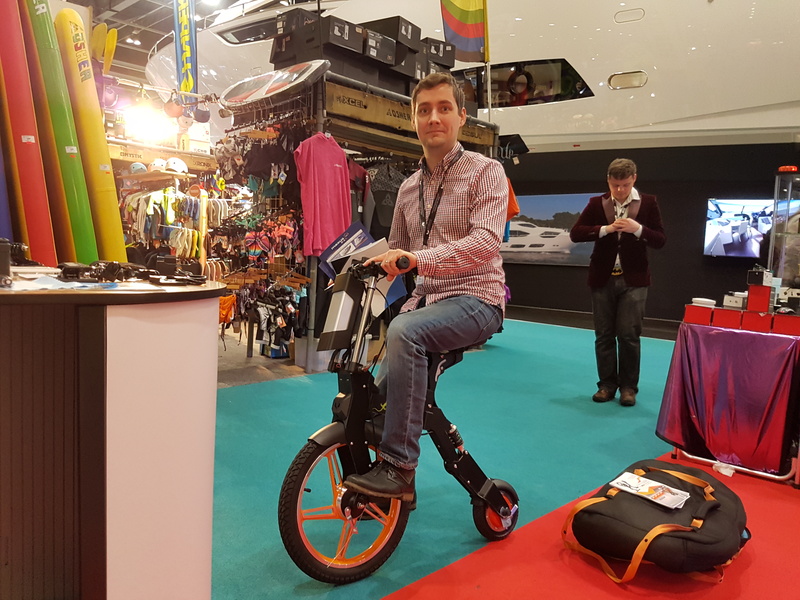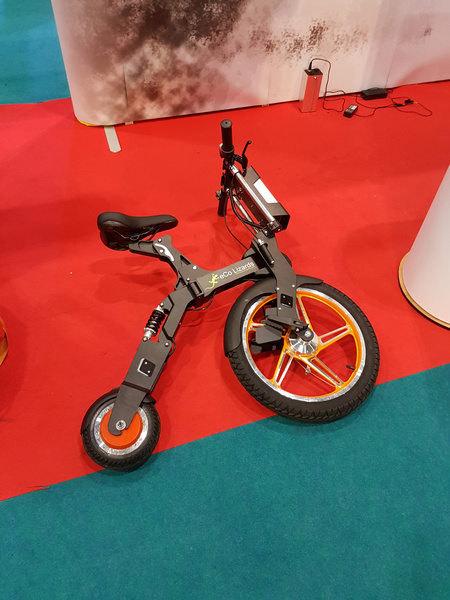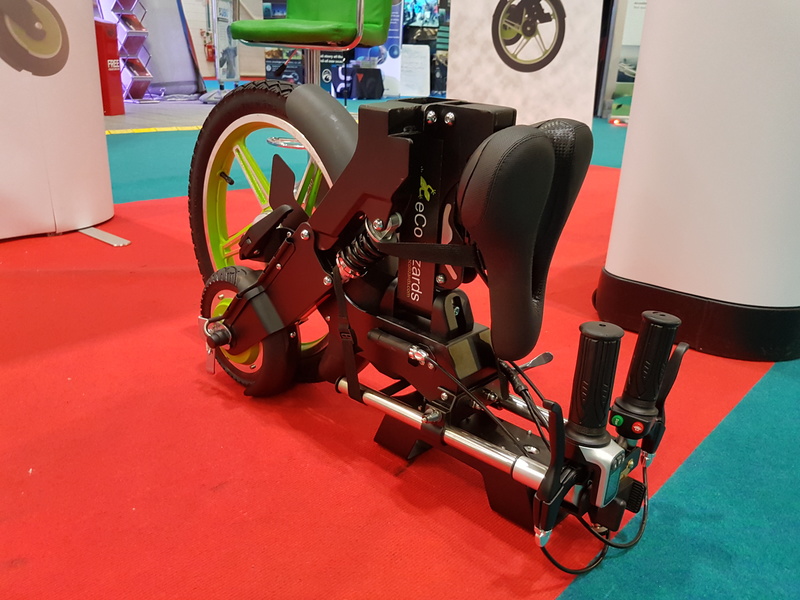 What about clubs like Pure Latitude, which own new yachts and offer membership for £6,000 to £8,000 per year instead of much more expensive yacht ownership?
The list is very long and no article is enough to describe everything you see - it's worth visiting the exhibitions. The nearest is a huge exhibition in Dusseldorf at the end of January and Britain will be looking forward to the Southampton Open Air Show, where there will be no turning back from the number of yachts.