Afloat magazine has published an article written by Troy in which he tells how to get rid of internal demons by going on a boat cruise.
A few years ago, my brother had a serious mental illness. I thought maybe the sea could calm his mind. During the storm, we climbed to the top of the rock and watched the waves beat against its foot below. Inhaling the salty air, we felt renewed.
How seawater and air help is still a mystery. This method of therapy has been successfully forgotten in the era of modern medicine.
We live on a blue planet, which - based on the ratio of land to water - should have been called the Ocean, not the Earth. Maybe we just forgot where we came from.
I persuaded my skeptical brother to spend some more time in the water, and we went kayaking through Sydney «Heads». Unfortunately, he flipped over in the most difficult part of our alloy and I had to rescue him - he was terrified that sharks could get to him.
He wanted to be treated safely on solid ground, but the following week I persuaded him to take a much larger boat.
We went out to sea and spent a couple of nights on it. His mood had clearly changed. He told me that he now feels the strength to overcome his demons.
The doctor, however, did not share his acquired faith in the power of the sea. He doubled his dose of antidepressants and prescribed him a powerful antipsychotic as a sleeping pill.
I couldn't get scientists to test my theory, mainly due to lack of funding. One of them suggested I do my own qualitative research, so I wrote an article about my old-fashioned «marine treatment» in a mental health journal. About 20 people responded to my call to participate in the experiment. It is expected that half of them refused at the last minute, citing ill health. But many were able to overcome their fears.
The first group of women had no experience in yachting, but had a lot of experience in fighting mental illness.
They all lay in psychiatric hospitals and tried many different procedures, but to no avail. Lily admitted that she was on the verge, as her marriage and successful career as a lawyer were destroyed by bipolar disorder.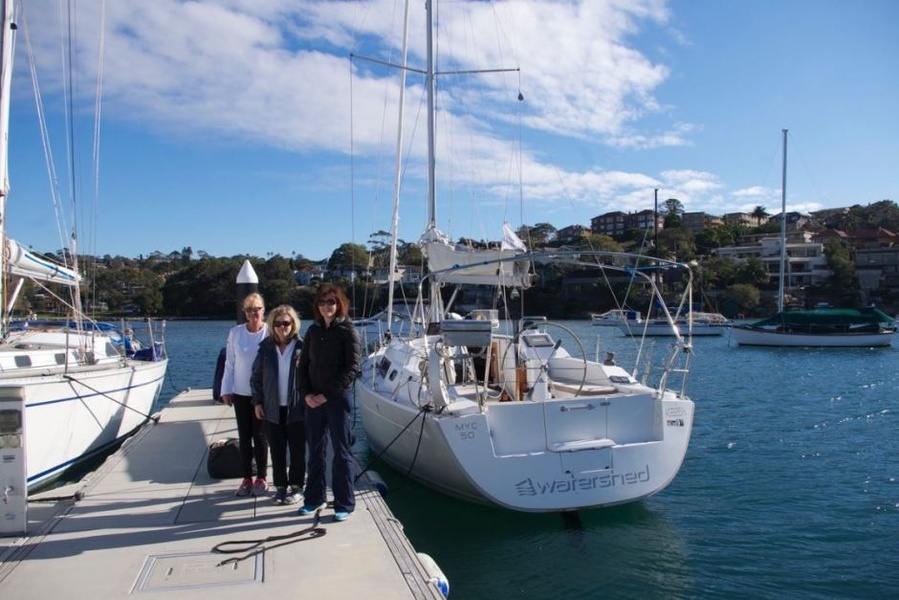 On the yacht I told them that the toilet was called «the Head»». «The toilets used to be in the bow of the ships, as they could only walk in full wind and the smell was always spread from the front.
I decided it was a good time to explain to them the scientific basis of our «marine treatment». I explained that if all the organs could vote which one was responsible for the mental disorders, the brain would surely win. But the brain has a silent partner in the intestines. The colony of microbes, the so-called «second brain» or microflora, produces vitamins and chemicals, such as serotonin and dopamine, which are essential for the functioning of the brain and our immune system.
«New research on microbiota shows that intestinal microflora is extremely important to our health," says Professor Felice Jack, director of the Nutrition and Mood Center at Dikin University. - These small organisms have a strong influence on our metabolism, body weight, immune system and as new research shows, on our mood and behaviour».
Women absorb the basics of a healthy life in a pleasant southern breeze at 12 knots. We cross the Gauls into an empty harbour, and gradually they begin to feel at ease. There is a kind of solidarity between people who have experienced the same nightmare that crushed their lives overnight for no reason.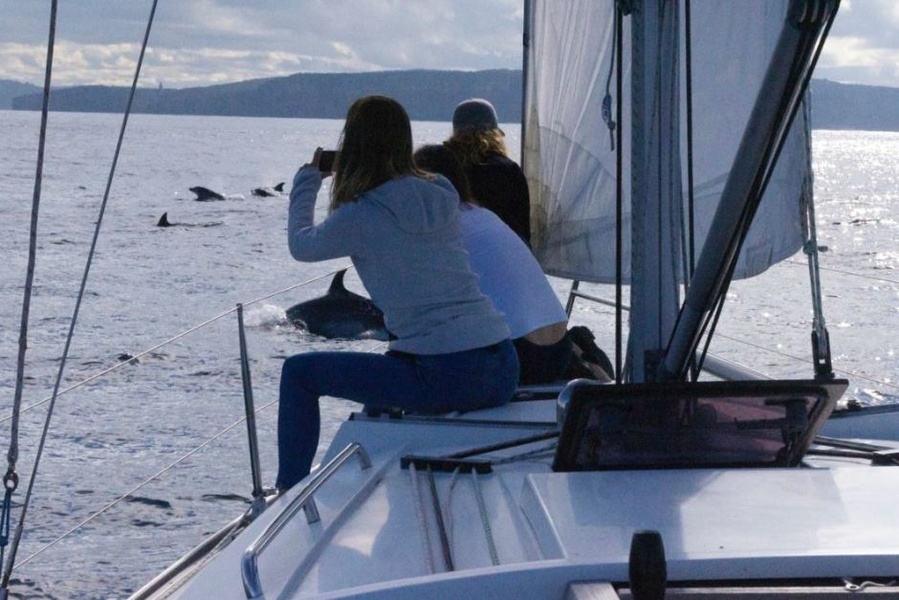 After a few hours of swimming, I explain the next part of the intestinal theory. All good skippers know: to avoid being on a disgruntled grumpy crew, the crew needs to be well fed. The same goes for the germs in your intestines. The food we eat forms a colony of useful bacteria that need a high fibre content. Foods known as prebiotics - onions, lentils, oats, pearl barley - move through our digestive tract undigested. That's what bacteria in the large intestine and intestines feed on.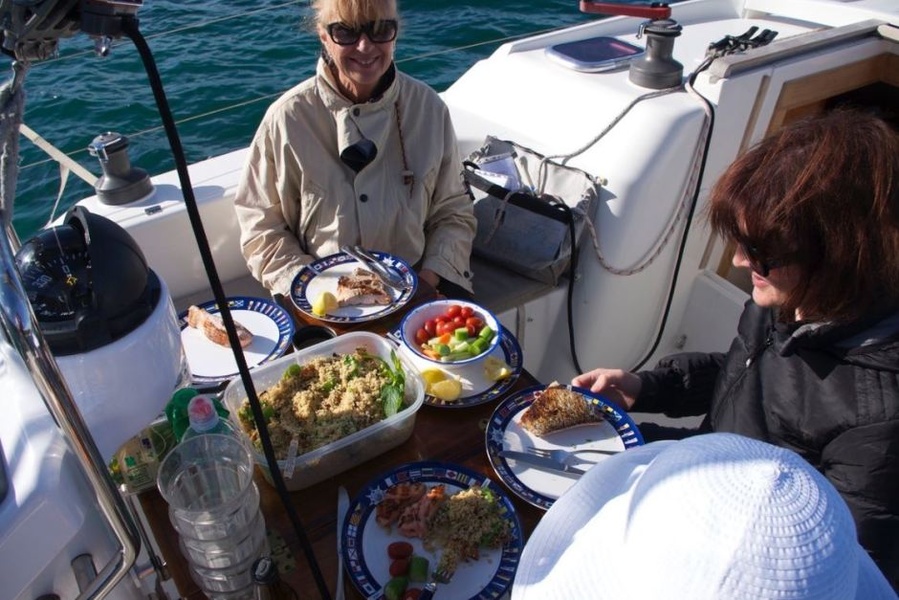 «Mm-hmm, food for bacteria»," they say, and I admit it doesn't sound very appetizing, but it's actually a diet that many people are familiar with. I say this by opening boxes of carrots, celery stems, hummus, and a little cheese. Besides being good for the intestines, this food is easy to eat on the go.
The snack has a beneficial effect on Lily. There's a smile on her face. She admits that this day is one of her rare «good days».
The women feel increasingly confident at the helm, they try to drive the boat with their eyes closed, guided by the feeling of wind on their faces.
We go back to Manley for lunch and for a swim.
By anchoring on an empty Store Beach, Lily doesn't miss an opportunity to let go of a comment: «Where did all the crazy people go? Oh, there they are, in town!»
As a probiotic main course, we have freshly barbecued chicken with a salad of perlovka, tomatoes, cucumbers, fresh parsley, garlic, olive oil, salt, pepper and mint. For dessert - rhubarb, yogurt and dark chocolate pods. They are all pleasantly surprised and want to learn more about how to cultivate good intestinal bacteria.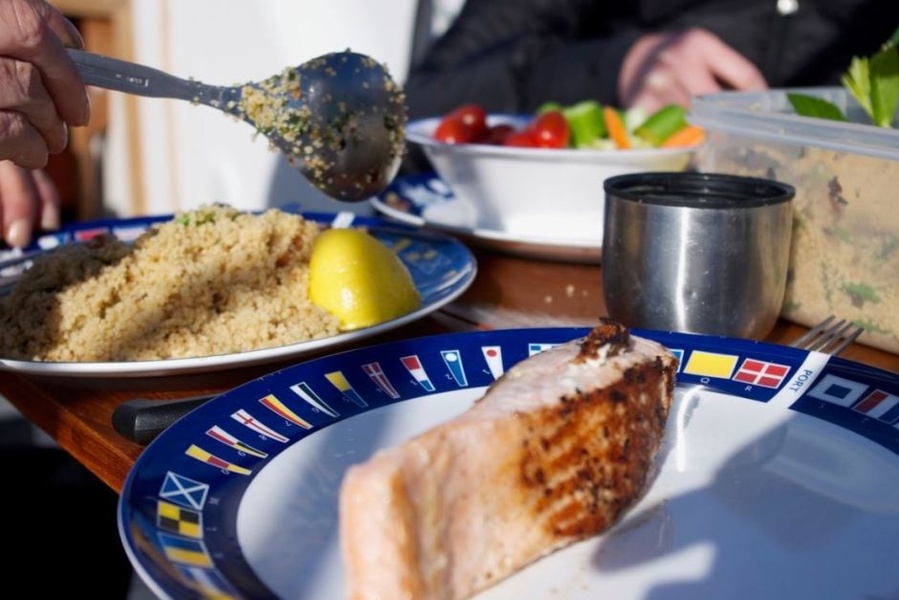 Recent clinical trials at Deakin University Nutrition Center have shown that at least a third of people with depression reported significant improvement in their mood after switching to a Mediterranean-style diet.
«Today we have the results of many scientific studies in different countries and among different age categories, proving that unhealthy food increases the risk of depression, while a healthier diet with lots of vegetables, pulses, nuts, fish and raw red meat protects against depression and related mental health»problems," says Professor Jack.
All three women on board admitted that they neglected their diet and they are not alone.
«In Australia, less than 5% of the population eats enough vegetables and beans. It's even worse among children: less than half of the percentage of children get enough vegetables in their diet»," says Professor Jack.
In a few months, 10 people between the ages of 19 and 61 took part in my sailing experiment. All of the participants reported noticeable and lasting improvement in their mood, and they all began to make efforts to keep their bowels healthy.
One young woman, who had struggled with depression for years, was able to finish her studies and now works as a journalist. As for the first three, Lily moved to her home and returned to work as a lecturer on legal issues at the university, Juliette published a book of her dreams «Cocktails and Mocktails», and Ann - now a busy artist, and admits that she loved cooking.