After participating in the Clipper Race amateur circuit, Meg Reilly and Morgen Watson came up with Ocean Racers, a program that allows yachtsmen without offshore racing experience to get one along with the necessary contacts to enter this closed sailing corner.
They told Sailing World magazine how it all started and what their goals were.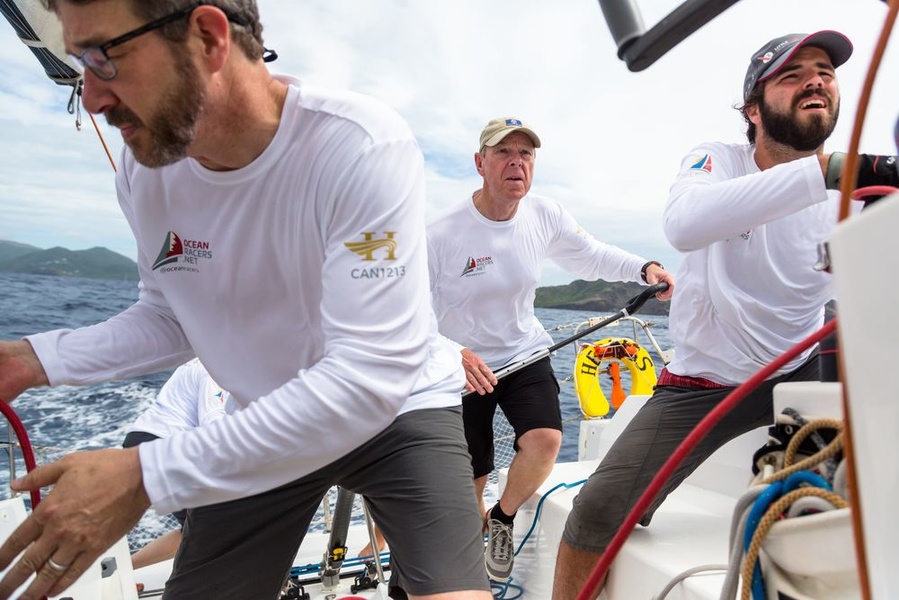 It's 1:00 in the morning and we're halfway to Bermuda. We changed our spinnaker to a stacker and slipped away from two storm sections along the weather front that had been forming before our eyes since the sun set.
Full moon and bright stars, which we had seen all four last nights, when we left Antigua, now hid behind thunderclouds. Without a visible horizon and a clear border between heaven and sea, we walk through the instruments all alone.
Right on course, three thunderstorms, incredibly huge. They are too big to bypass, especially since the wind is weak. There's Chris Jones and Olivier Leduc on deck. Below, opposite the radar screen, there's Morgen Watson, the mentor and owner of the yacht, with her partner Meg Reilly, who looks over his shoulder and talks about the course, which should lead us between two thunderstorms.
Lightning strikes are getting closer and closer, with several thunderstorms merging into one. A gentle breeze not only means that we're walking at snail speed, but also that thunderstorms are moving in the same way. This makes it much more difficult to set up a course on the radar.
The way back is cut off. All we have to do is go to the touch, maneuver through the darkness, hoping to break through somewhere soon.
We enter the storm zone. Because of lightning flashes, the eyes can't see anything in the dark. The streams of rain knock on the roof of the superstructure and Watson has to scream to be heard. He tries to cheer Jones and Leduk up, screaming: «Come on! I need you to be assembled. Got it!»
The nose of the yacht disappears from view behind the wall of rain.
Among the rising tensions, Joel Ross, a rigger from Vancouver, quietly patching a small hole in the spinnaker at a table in the cabin, under the green light of a headlamp. Yes, he's concerned, but there's no panic. The job has to be done, and the thought of doing nothing about what's going on around him is an incentive to get excited. By 1:30, the storm is behind us and the gennaker is up again. In the morning Watson notices in typical Canadian manner: «what night was it, eh?»
We are aboard the Pogo 12.5 Hermes. In the 40 foot class it is one of the smallest yachts in the fleet, consisting of 21 yachts participating in the 935-mile Antigua to Bermuda Race. Veterans of the Caribbean races are making an effort to complete the distance, but most people see the event as an opening season and hope it will give them a good start in the future.
Team Hermes, however, is moved by another motivation. The owners of boat Watson and Reilly consider the participation in the race as a platform for launching Ocean Racers - the project, which helps those, who are strong in their desires but don't have the necessary connections, to get the experience of ocean racing. Beginners pay for sailing to get experience in offshore races.
The goal of Ocean Racers is not only to get people involved in these races, but also to create a community that can help start an offshore racing career.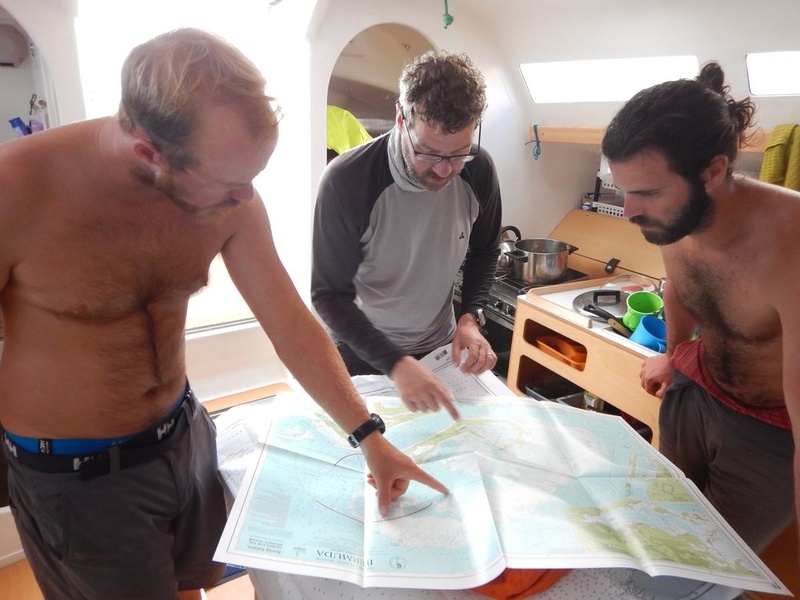 «We're not interested in doing it for people, who perceive offshore races as a hobby, - says Watson. - There are other programmes for that. But if you want to work professionally in this industry, we're here to help you earn the necessary miles».
Watson and Reilly refer to the majority of their clients as «purposeful offshore athletes».
Among them, there are those who do not aspire to become a professional offshore racer, but pursue their own special goals. For example, Jones and Leduca. Jones is a lawyer from Toronto, goes to Beneteau 36.7 and has supported the program since its inception. On this voyage his goal is to learn how to navigate, one part of an offshore puzzle he wants to build for himself before moving on to a larger yacht with more possibilities. Leduca, a hydraulic engineer from Montreal, sails on F-18 and C-Class catamarans. «I have sailed yachts before but I have never been in an ocean race. I'm here because I want to see what it is, to see if I like it," said Ledouk when we first met him in Antigua before the start of the race. - It's a part of the sport that I'm not familiar»with.
The idea of training program for offshore racers was born when Watson and Reilly, both of them 23 at that time, met at the round-the-world race for beginners 2013-14 Clipper Race. Before that Watson had experience of sailing both on big sailing boats and on keel yachts in Vancouver. Raleigh has never sailed before.
They turned their Clipper Race experience into lifestyle and business by buying IMOCA 60 O Canada (originally Spirit of Canada).
This is the yacht on which Canadian Derk Hatfield raced at the Vendée Globe in 2008 until he dropped out of the race in New Zealand. Reilly and Watson found the yacht raised to the kiloblocks in Vancouver and came up with the idea of founding the Canadian Ocean Racing to develop offshore racing in Canada in return for using it.
Having rented a boat for two years at a symbolic dollar value for a year, they have carried out an advertising campaign in Vancouver, Halifax, Montreal, Kingston, Toronto and Quebec, thus attracting first potential customers.
After that they turned their views on the world market. To express themselves in Europe, they crossed to O Canada Atlantic. But there, far from home, their efforts were not successful.
By the time the yacht found itself again in Canadian waters, they concluded, that Open 60 is not suitable for their business concept: the boat is «too big and has too high technical characteristics».
This, combined with a significant budget for the maintenance of the yacht and ensuring minimum living conditions on board (for example, there was no latrine at all), determined the decision to look for another yacht for the offshore training program.
«That's why we decided to invest in Pogo 12.5, which, although not as fast, still has good characteristics. It's a yacht you can race on, but it's also comfortable»," explains Reilly.
Later, they found other advantages in choosing a less speedboat.
«I like to involve everyone in every aspect of the art of sailing," Watson said. - That's how the team is built, communication on board is improved, and all the clients are provided with new experiences. If we were managing a yacht with a crew of 15 people, it would be simply impossible».
For Hermes, the maximum crew size is six, which gives everyone on board the boat the opportunity to take part in the controls:
«They have a great time learning something new, maybe it has nothing to do with yachting, maybe they learn something about themselves. Of course we like to finish in the top three, but having a good time and learning something new is the real thing».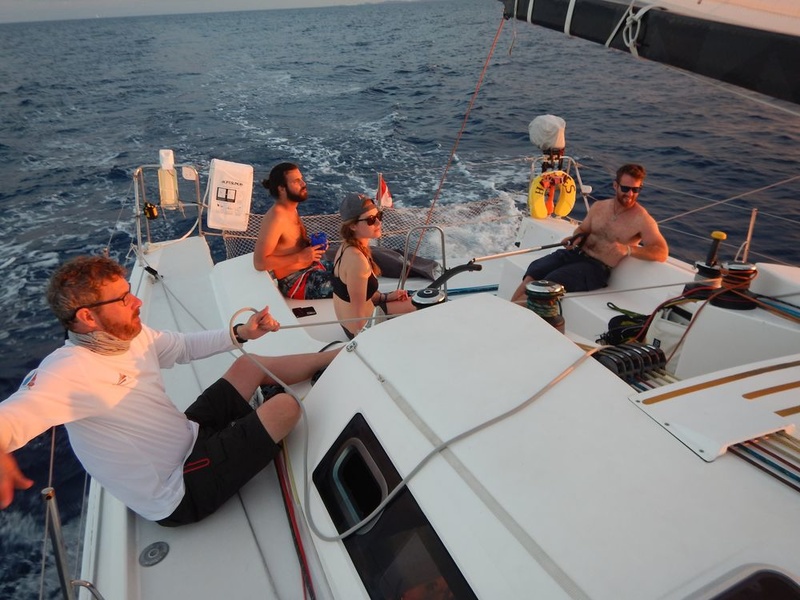 Having watched them in work, I understood what Watson was talking about.
On the way to Bermuda all the tasks were distributed and we were fulfilling them as we wanted to work. Everything except cooking food, what Raleigh mainly does. Leduk spends a lot of time at the helm and helps in laying sails, like me. Jones and Watson hustle near the computer and the navigating table, concentrating on navigation. Ross, on the other hand, helps with the controls and contributes to the repair and maintenance of the yacht and rigging. On one windless evening Ross was preparing the halyard mainsail for mooring and after a simple question from Leduc about how to weave fire, the cockpit became a real lecture venue. Training went on with every mile he walked.
Moving to more manageable and more productive platform, Watson and Reilly spread their marketing activity beyond Canada. Yacht replacement marked the rebranding of Ocean Racers program without reference to the country and helped to find other potential drivers. Ross is one of the successful examples. A former host from the professional Quebec baseball league, he joined the program while still aboard O Canada and was involved in the crossing of the Atlantic on a yacht. He raced in the Caribbean 600 and Fastnet Race. He and Watson had an eye for non-stop racing in Open 40 if they could find funding.
«Our biggest obstacle is that we're young," says Reilly. - People think we're inexperienced because of our age, but Morgen and I have covered about 200,000 nautical miles for two. It turns out we're more experienced and we've done everything, we've overcome the challenges. Especially when it came to finding funding».
But there are miles ahead and miles after that.
«Naivety was our best feature," adds Reilly. - Looking back, I can see that we didn't realize how difficult it would»be.
Because of the fact, that Reilly and Watson couldn't or refused to realize the borders, they appeared where they were. They knew that there were plenty of people, who, as they once were, were looking for possibilities.
At the first glance, Watson and Reilly are a very strange pair of yachtsmen. She is always the main instigator, the figure. She is born in New Jersey, with wide smile, filled with resolute confidence and desire to conquer the world. And yes, she raced the Clipper Race without any past in sailing. The board she took part in won the race, making her the youngest sailor to win a round the world race. The one you've never heard of. She considers herself a marketing specialist and entrepreneur, using her skills to keep Ocean Racers on the move.
On the other hand, Watson looks more like a racer, firmly knocked down, with sunburned hair and beard. He speaks quietly, is industrious and knows the technique, is able to make decisions lightning fast, and at the same time can laugh infectiously on any occasion. In their 27, both shine with unbridled enthusiasm and always with a phone in their hands. They are always connected with each other and with the rest of the world.
In spite of the name, Ocean Racers is not just about racing experience. It also includes crew places for those who are interested in taking a walk.
«There's a woman among us who walks with us from Bermuda to New York," Watson said. - Originally she wanted to go to the race, but she had no experience at all, and I suggested her to wait with it and make this transition with me instead. And after that we will return to the races».
In addition to that woman, there are three other people on the cruise. Watson notes, that such transitions are a bit different from races, here it's necessary to work more as a coach and mentor, as he once had to do in Clipper Race races.
Raleigh and Watson confidently confess, that their business is not an entertaining walk at all.
«If I knew beforehand that I'd live on a boat, eat bread with peanut butter and jam, and barely make ends meet, I probably wouldn't have done it," says Reilly. - But even if I did, it's a great experience».
As soon as we arrived to Bermuda, Reilly and Watson will have a chance to meet the veteran of ocean racing, who invited them to take part in Volvo Ocean Race. Immediately they got the phones, exchanged the numbers, made notes in calendars, and the excitement wasn't limited. The previously scheduled race at Open 40 dispelled like morning mist. There is a new peak on the horizon that has to be conquered and if the previous peaks of this duo mean anything, they will find their way to the next one as well.