British company Yacht Island Design creates concepts for yacht islands, each worth a billion dollars. None of its three existing projects - which is the subject of our article - have been implemented, although there have been rumours about The Streets of Monaco that someone would be willing to get involved in this venture. This does not stop designers - the official website is preparing for the release of two more such creations, one - in the Asian style with elements reminiscent of Chinese junks, the other - in the Eastern: with poppies, like a mosque.
Utopia, in the literal and figurative sense.
«Progress is making Utopia a reality»," said Irish writer and poet Oscar Wilde. And indeed: if you don't think ahead, it won't be easy to move from the dead point. But where is this fine line between a utopia that can be realized under certain conditions and true fiction? No one has ever been able to find it. Looking at Yacht Island Design's latest project, which she has teamed up with BMT Nigel Gee to develop, Standard Island is remembered as a fictional artificial floating island that Jules Verne wrote about.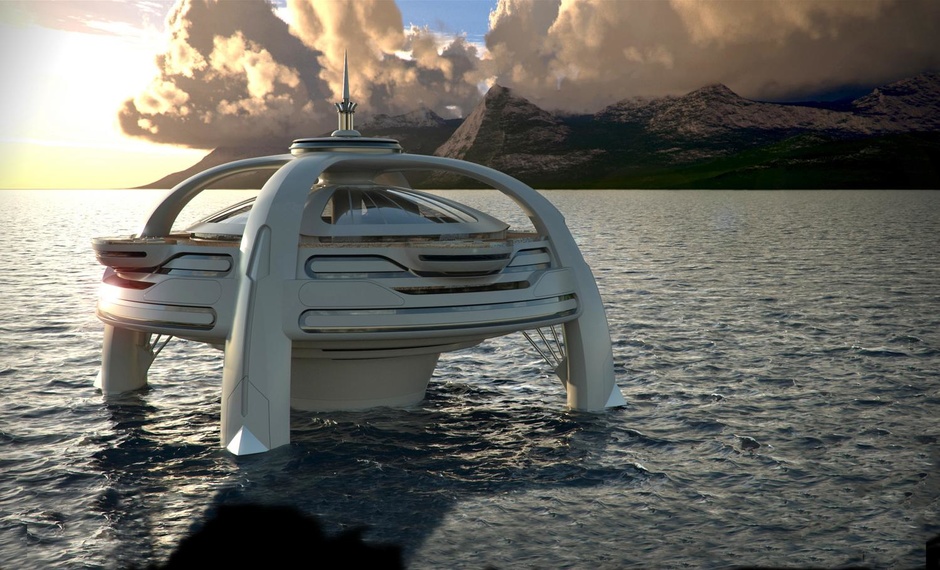 Utopia's UFO-style project has been going on for eight years, and there's still no one rich enough and crazy enough to invest in it. However, on our planet there are less and less free scraps of land, and with ecology becomes worse and worse, so - who knows?
The 100m yacht, «Utopia» Island, has eleven decks and four «legs»and the cherry on the cake is an observatory 65m above sea level. From here you can enjoy stunning 360 degree panoramic views.
Yacht Island loves to engage in such conceptual yachting projects, thus challenging established and accepted norms in the yachting industry.
«The vision of the future is often limited to the present or to thinking about the past. In today's community of designers we have done our best to start from scratch, but in many, if not all, yacht concepts we see a return to traditional forms. The feeling that a yacht should only serve as transport is becoming an obstacle»," says James Roy, responsible for design at BMT Nigel Gee.
Purely constructive, «Utopia» does not even look like a yacht or cruise liner, with which it is quite comparable in terms of space, but rather like an oil-producing offshore platform. Though it is problematic to say anything about the similarity, because «Utopia» is definitely unicum. The helicopter pads and overflow pool are no longer surprising, but here this gentleman's superyacht set is complemented by shopping and entertainment centres with bars, restaurants, nightclubs and casinos.
And what about access to water - can't you swim in the ocean? You can swim, because one of the supports is equipped with a folding swimming platform. Of course, it's quite tiny against the backdrop of «Utopia», but it's better than nothing.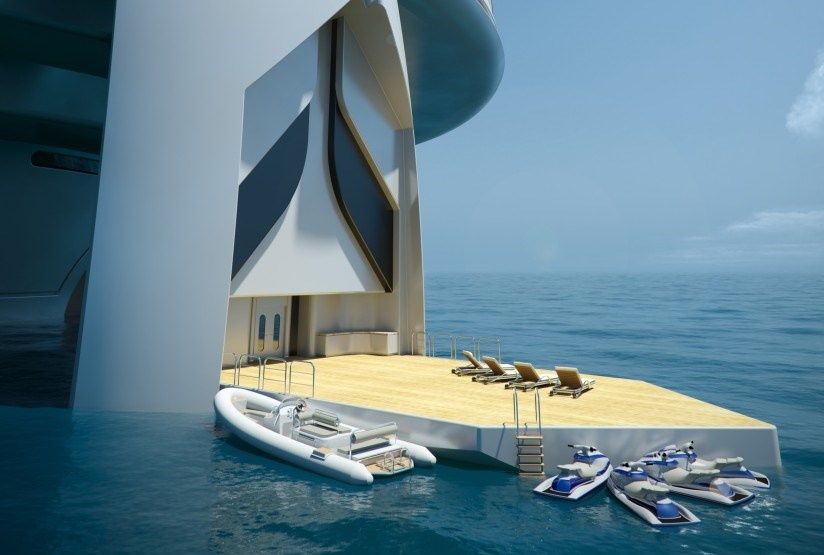 According to the creators' idea, most of the time a floating island should remain static, literally growing into the bottom with tentacles«». At the same time, in the depths of each of the supports is hidden by an engine, so that if necessary, «Utopia is» ready and float. Probably quite leisurely.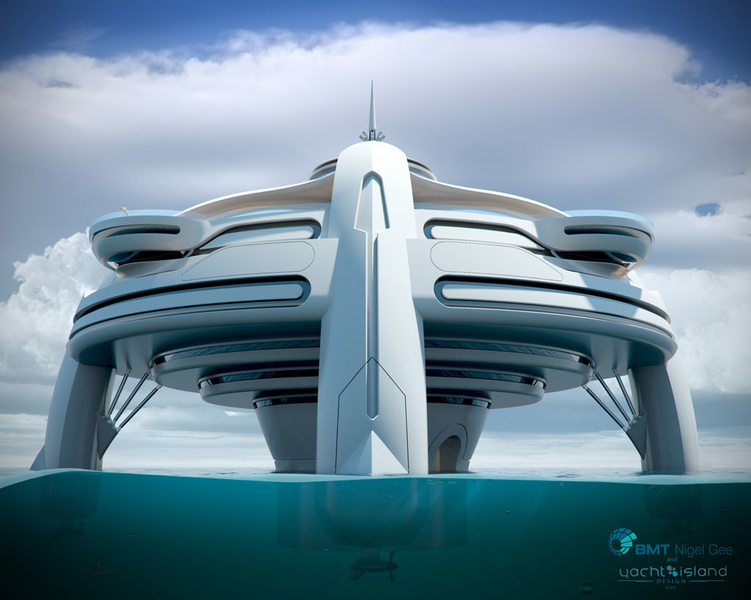 An island paradise going at the speed of a displacement superyacht
«Utopia» is not the only floating island in the Yacht Island portfolio and Tropical Island Paradise looks equally impressive. The name speaks for itself, doesn't it? In front of us, without any discounts, is a tropical island paradise, but only man-made. The 90-metre-high machina is the kind of Caribbean in miniature. Surprisingly, there is even a... volcano on its board - if that's the way it's allowed to be expressed in this case! Of course, it's not the real Mon Pelé, popularly known as the Bald «Mountain, but»the props. Inside «the lava» ejector are luxurious apartments.
From the very top of the improvised volcano falls a cascading waterfall, whose water fills the huge pool. On the main deck there are several bungalows with straw roofs. The vegetation was also remembered by planting scattered palms. We also took care of how to have a good leisure time. Cinema, library, game room, gym, SPA-salon - here everyone will find exactly what he or she wants.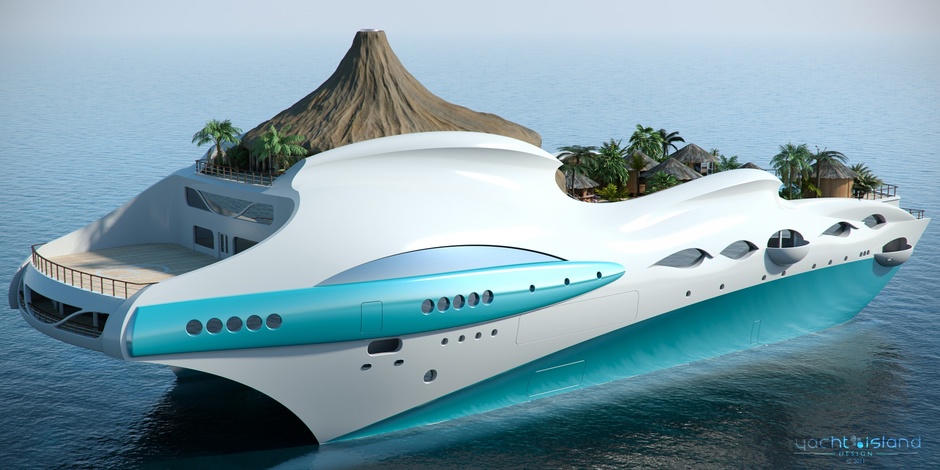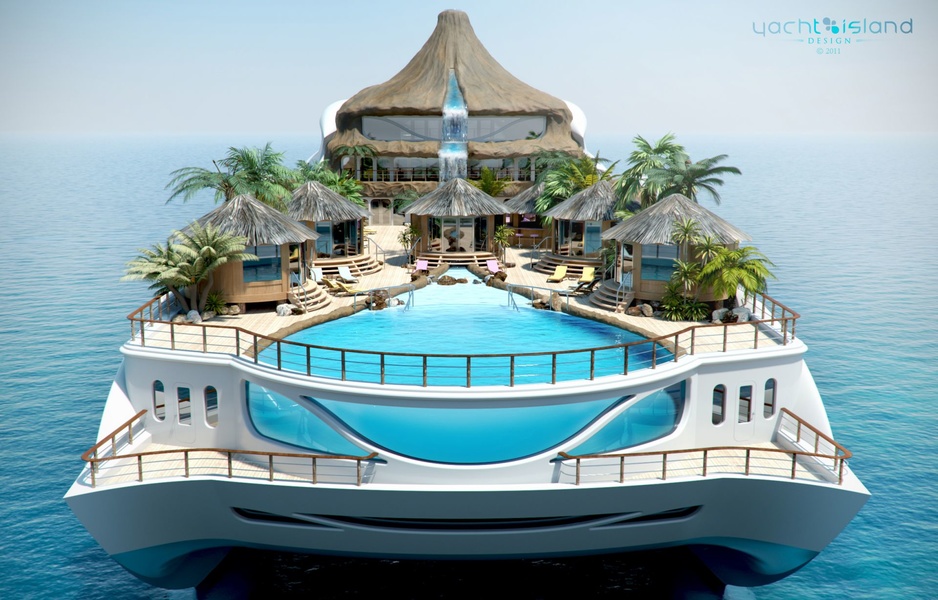 The body, like a frozen wave, is made of steel, aluminum and fiberglass reinforced plastic (FRP). «The tropical» vessel can reach a maximum speed of 15 knots, powered by a diesel-electric propulsion system.
A personal piece of Monaco.
Do you prefer a relaxing holiday in the unspoilt islands of the Caribbean in glamorous Monaco? The Streets of Monaco, 155 metres long, will give you an unforgettable view of the Principality on the Côte d'Azur. It's hard to believe, but until recently rumours were circulating that Turkish Ned Ship would build The Streets of Monaco in metal. Even the deadline was called 2017. It is easy to guess that it didn't work out and the Street«of Monaco project» finally turned into projects.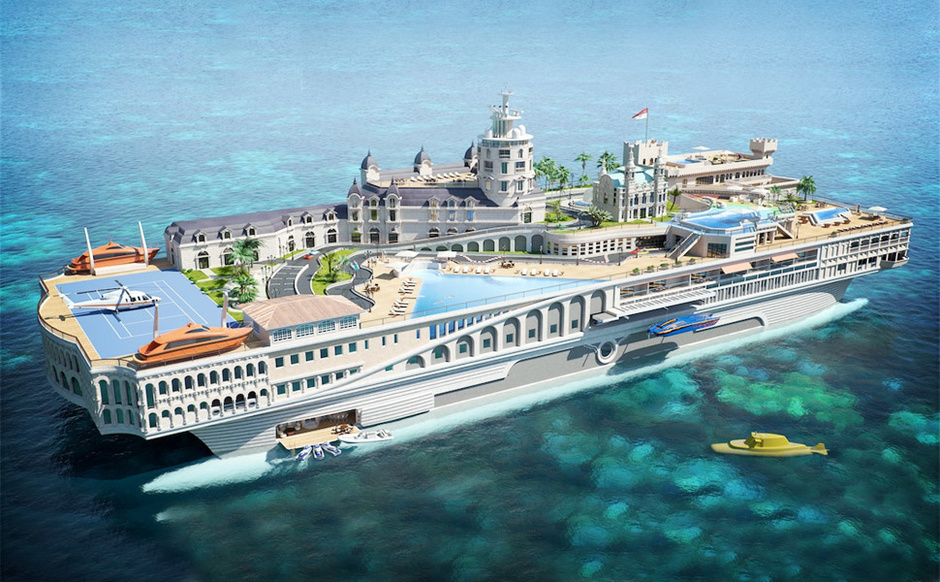 On board the mega-yacht worth more than $1 billion, as far as it is real, there are a number of Monte Carlo attractions: the casino of the same name Monte Carlo, Hotel de Paris, La Rascasse bar-restaurant. Speaking of La Rascasse. One of the turns of the city highway that has been hosting the Formula 1 Monaco Grand Prix since 1950 also bears this name. For the ideologists of the project it was important to reproduce at least some part of the legendary race ring, and they coped brilliantly. And reproduced with filigree accuracy track completely, though, in a reduced scale - for «the Grand Prix» it is narrow, but for karting will go.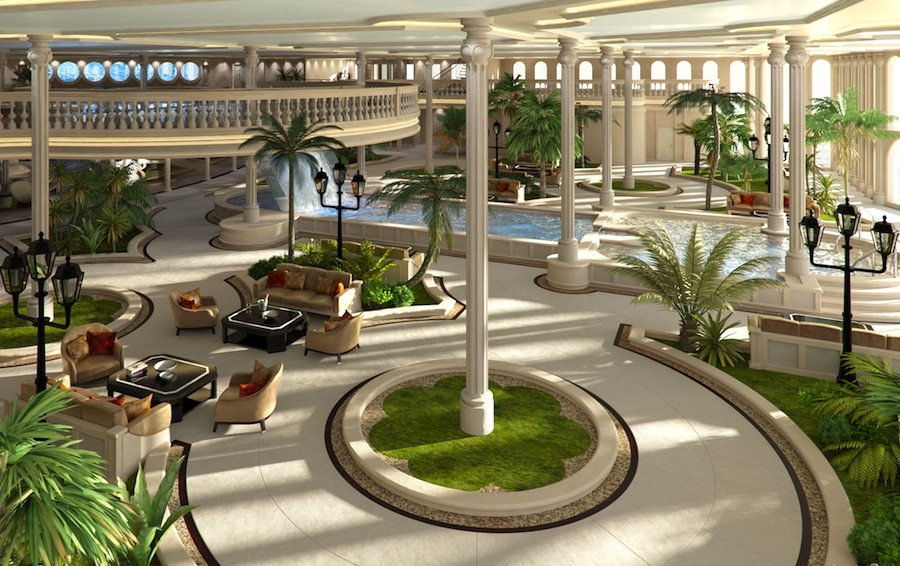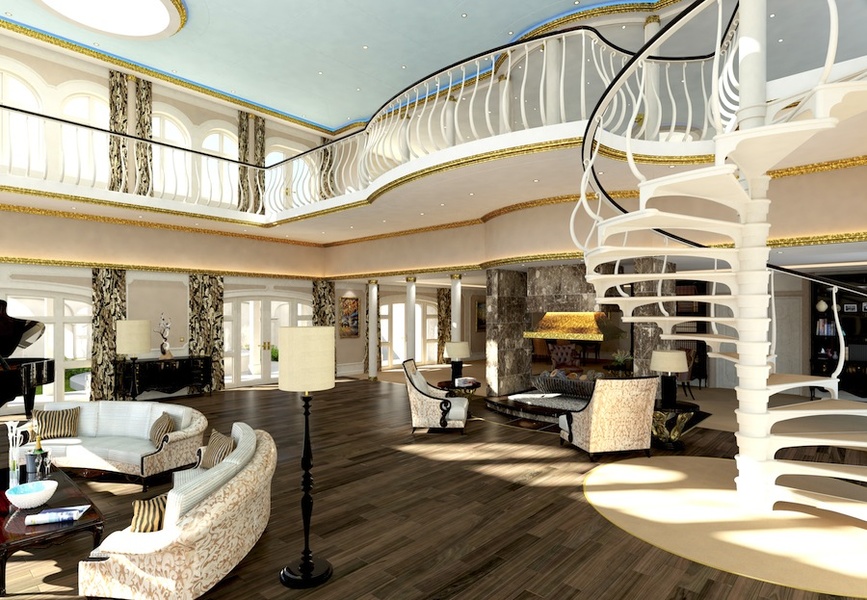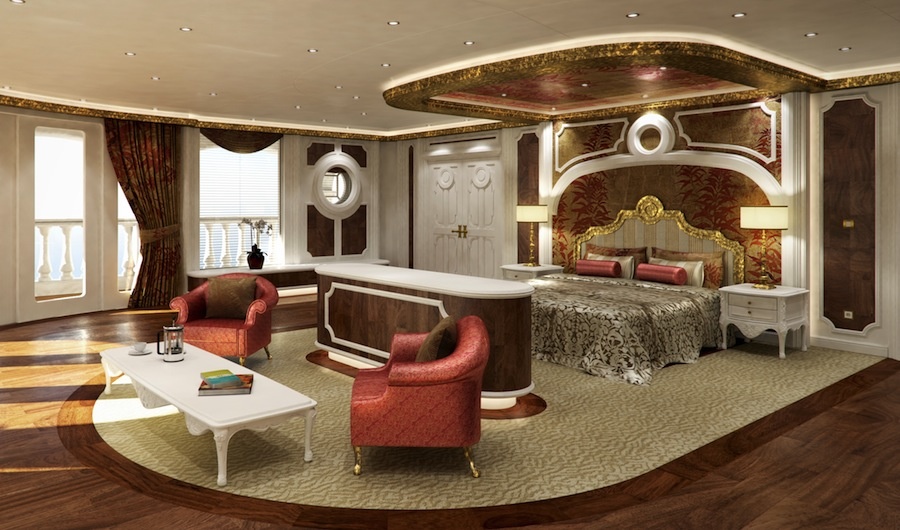 The owner's suite is really an apartment and there's no other way, because it's on three levels. Their vast area allows to organize an office, a separate dressing room, terrace with Jacuzzi. In total, there are seven VIP guest rooms. A large living area is dedicated to the crew and staff, which is 70 people.
Gymnasiums, saunas, pools? How without it, but proud of The Streets of Monaco is another - tennis courts, transformed into a heliport if necessary.
Probably in the future Utopia, Tropical Island Paradise, The Streets of Monaco and other ships like them will start sailing the oceans. Perhaps our descendants will witness this new reality?