The US shipyard Metal Shark has been building steel and aluminum vessels from 4.8 to 91.4 meters in length for many years. However, the company's customers have always been the military, rescue services, firefighters, and pilots. It wasn't until 2020 that Metal Shark had a division called Metal Shark Yachts which would build private leisure boats.
The first three expedition catamarans in the range of 30 to 70 meters were the M30, M48 and M70.
M48
The middle-sized model with a length of 48 meters was the first to be launched. The Magnet was designed by George Wallner, who has been collaborating with Metal Shark for more than a decade.
The basis for this tri-deck multihull was the Australian Incat Crowther catamaran. For the Metal Shark, the hull was optimized so it was capable of showing maximum range and speed. In addition, the Magnet design has inherited much from the military patrol boats produced by Metal Shark.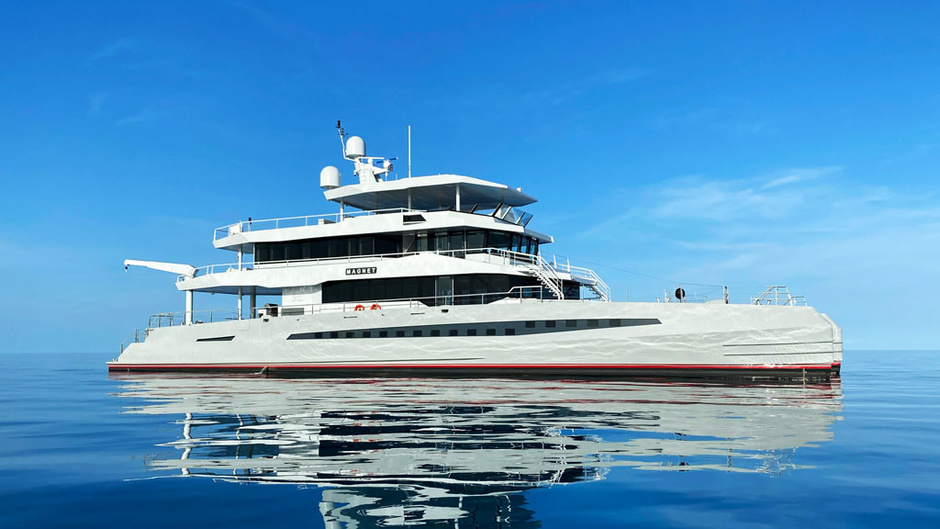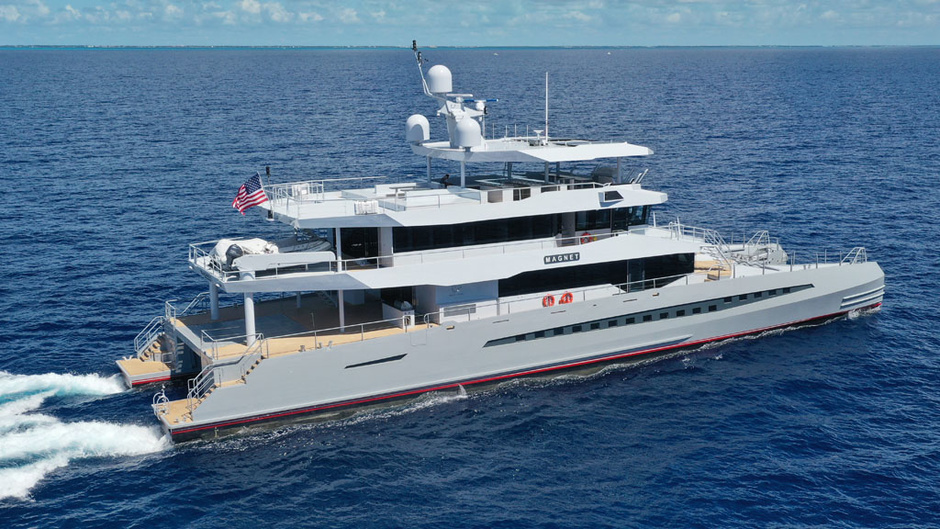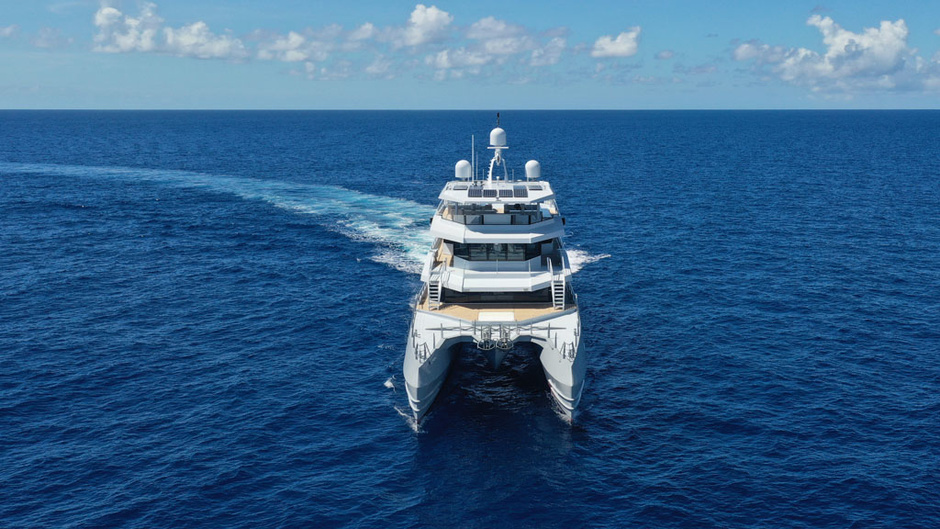 «We focused on functionality instead of trying to reach new heights in couture interior design»," the builders honestly admit.

Magnet is 12 metres wide and has a draught of 2 metres and a displacement of 275 tonnes.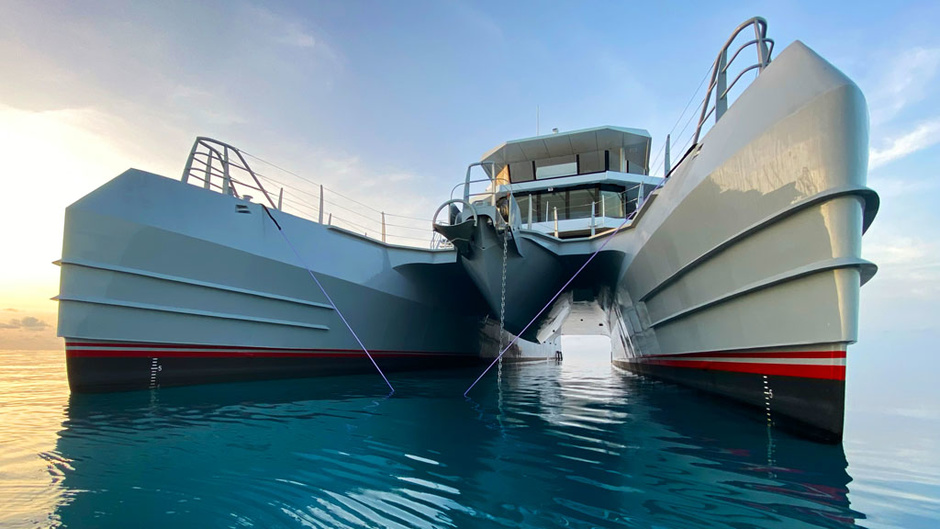 With a fuel capacity of 110,000 liters and a pair of MTU 16V 2000M 96L engines ( Tier III compliant ), Magnet can travel at an average speed of 10 knots to 11,000 nautical miles without refueling.
Maximum speed that the catamaran showed during the sea trials was 27 knots.
Enough performance to make it fromNew York to Miami in 48 hours, or cross the Atlantic at an average speed of 17 knots without a second thought.
Magnet's creators have successfully coped with the task of building a boat that can reach the place where you can't fly, and then stay there autonomously (including 12 solar panels on the roof will help) and comfortably. And all this without a large crew.
For the exploration of the outskirts of the planet, where the catamaran owner and his guests will go, unfortunately, there is no helicopter on board. But for the storage of different watercrafts and toys a hydraulic platform, capable of carrying up to 2.2 tons of cargo, is built between the hulls. There is no need to operate with heavy equipment manually. A crane with a lifting capacity of 1.5 tons is installed aft.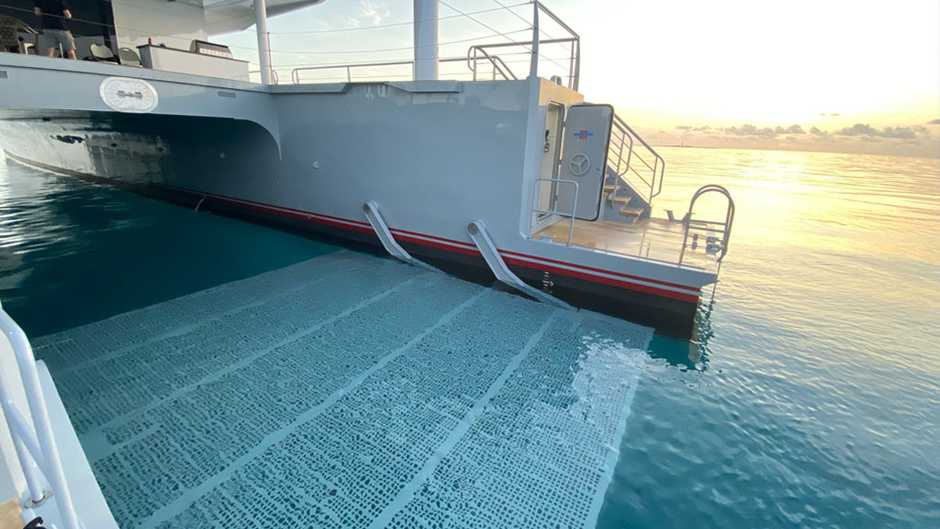 Five cabins, including a master suite and a VIP on the upper deck, will be available for guests. However, on the next hulls of this type the layout may change dramatically. Metal Shark is open to customization of all interior spaces on the catamaran. Their area, by the way, almost reaches 400 square meters.

M30
The 30-meter-long M30 will be 18 meters shorter than the M48 but 1.5 meters wider. Unlike Magnet, the superstructure will have only two levels instead of three. She will be able to accommodate 4 guests and 4 crew members.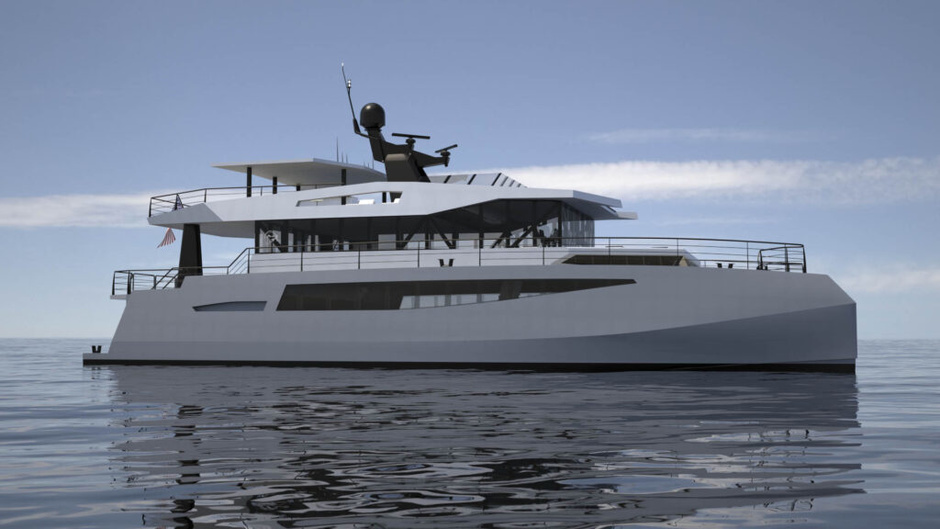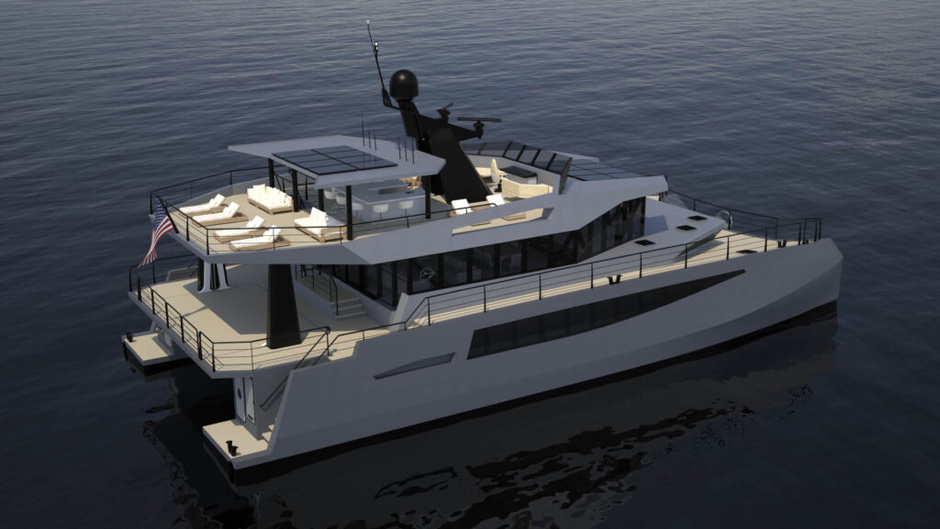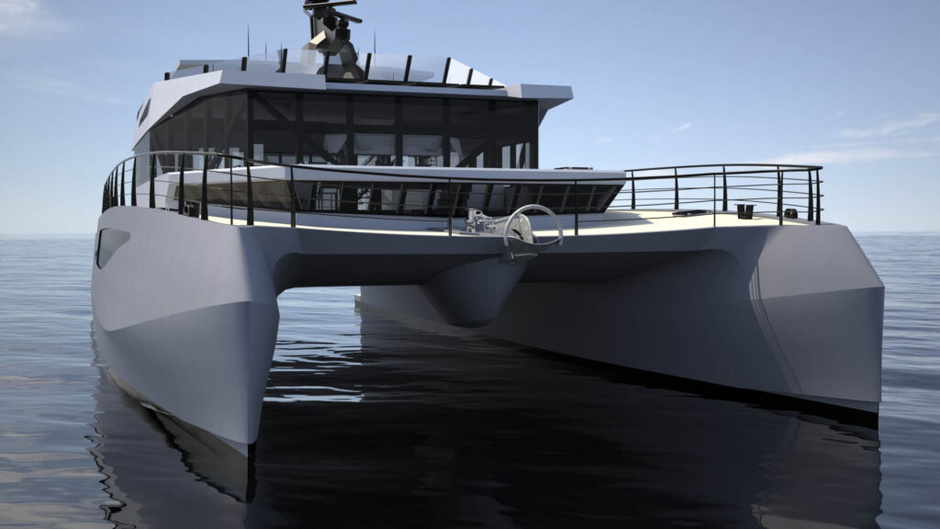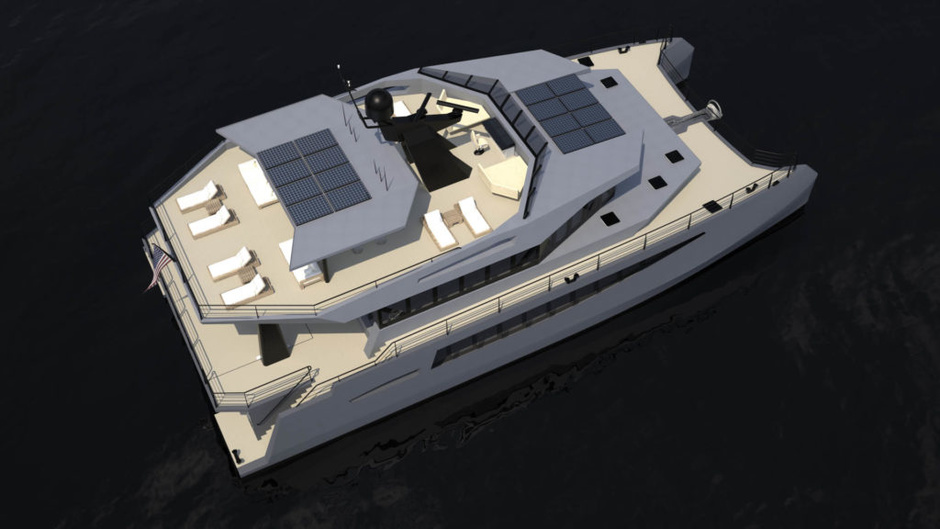 The M30 is expected to reach a maximum speed of 30 knots and a maximum range of 7000 nautical miles at 10 knots.

M70
The largest catamaran in the Metal Shark Yachts portfolio will be a true floating fortress with 70m length, 20m beam and 4 superstructure decks. She will have enough space for a helipad unlike the younger models.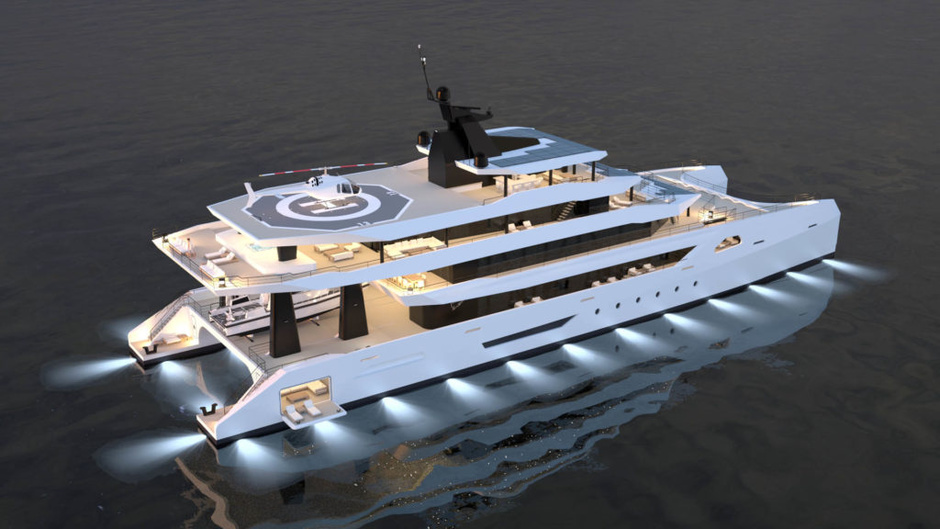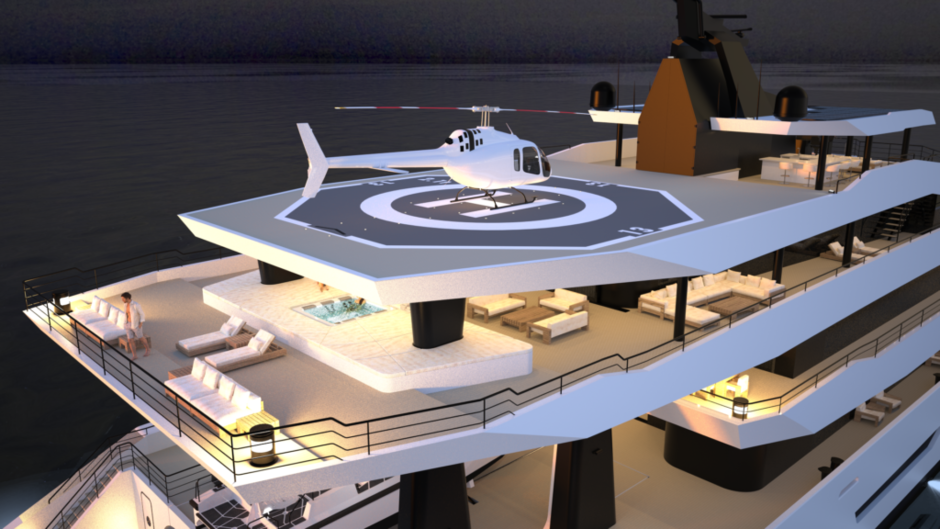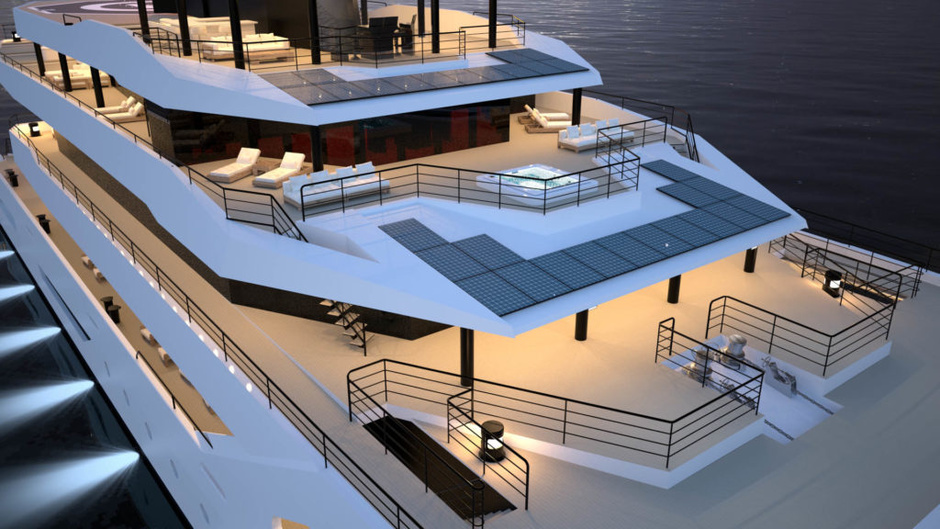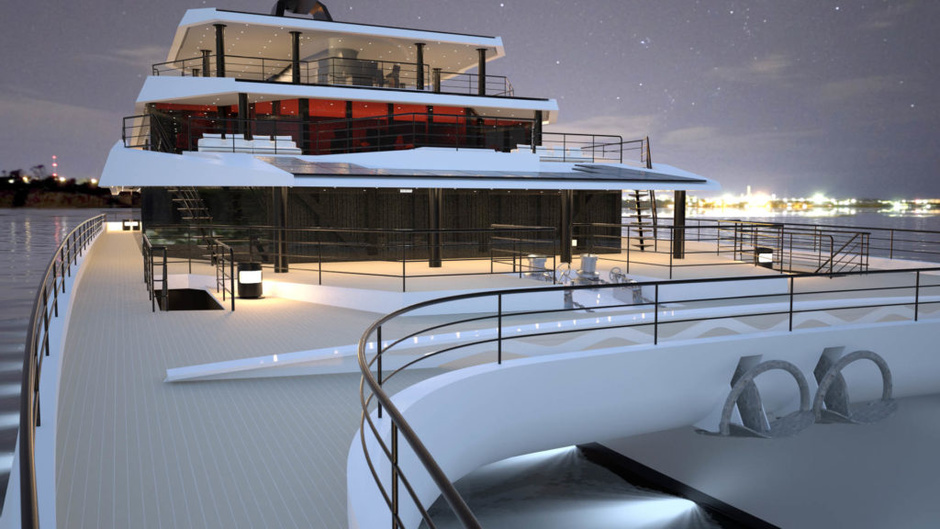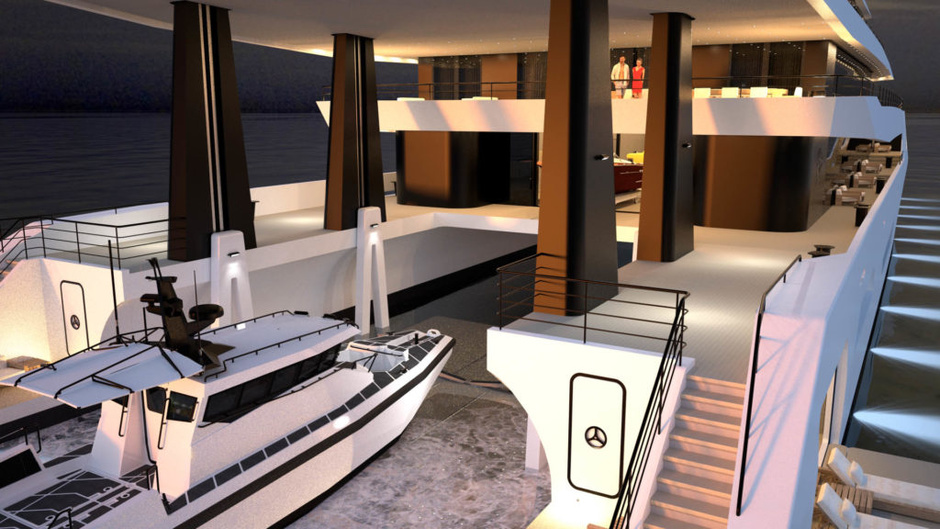 Maximum speed will be the same as for the other models, about 30 knots. But the maximum range is oddly enough expected to be «only» 9000 nm with an average speed of 12 nm - 2000 nm less than the M48.