Construction of the first 41-metre all-aluminium Dynamiq GTT 135 has finally been officially completed. On 8 February Dynamiq shipyard in Tuscany launchedthe boat in Marina de Carrara, after which she successfully passed sea trials. Experts have checked the safety level of the boat one last time, as well as the functioning of her navigation systems and engines, and now they are ready to ferry the golden Stefania to Monaco, where she will be handed over to her ownerin early March.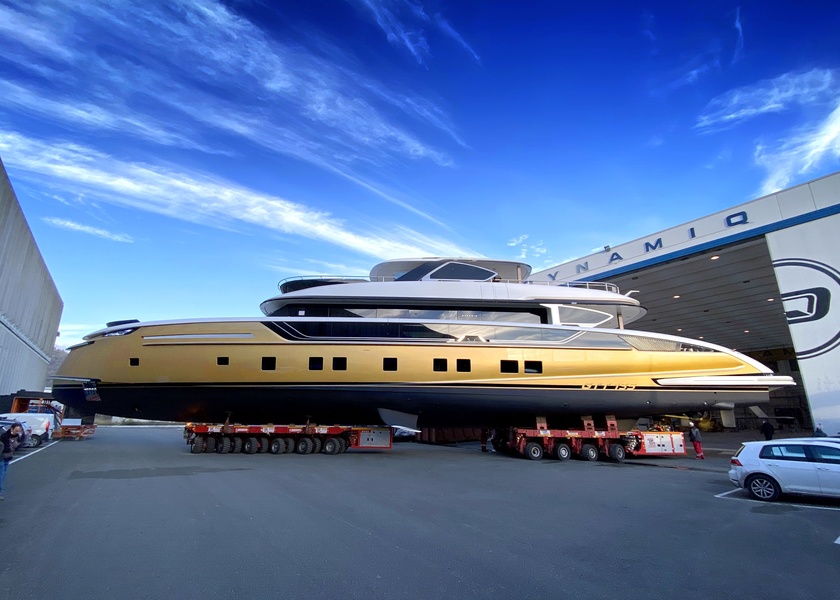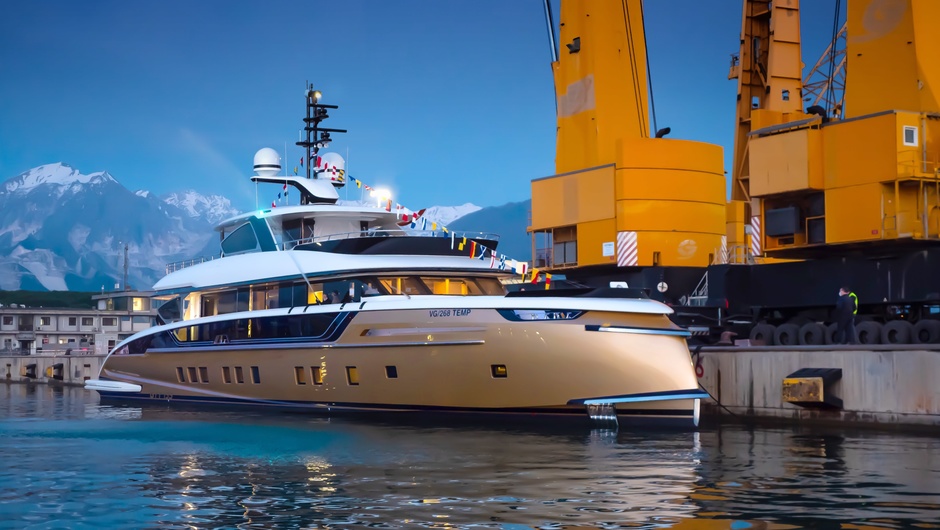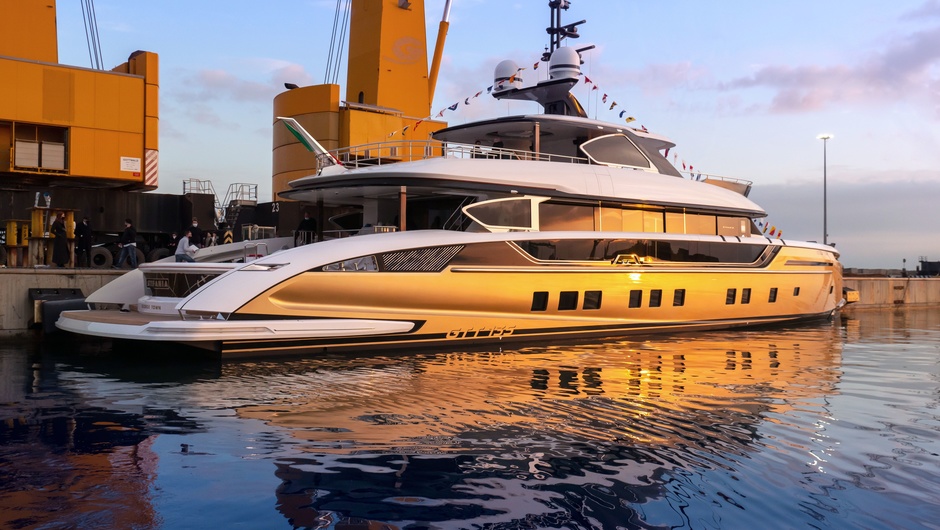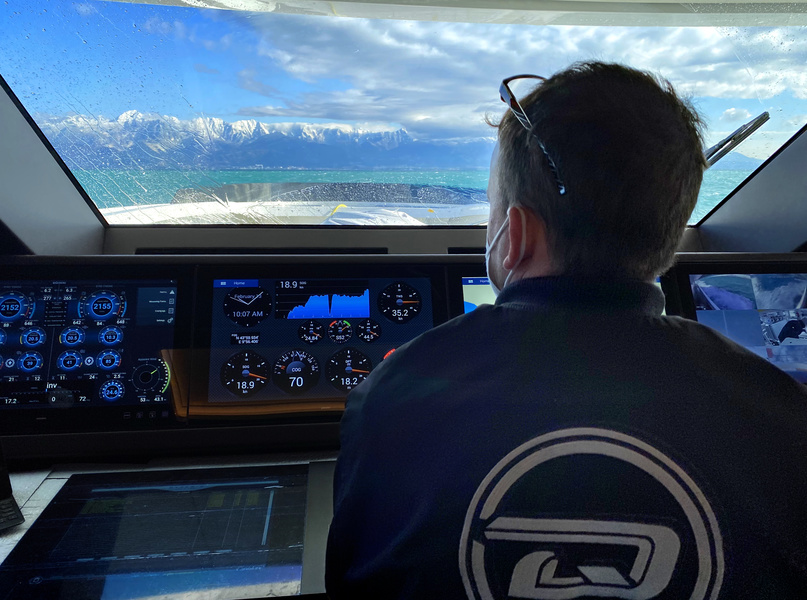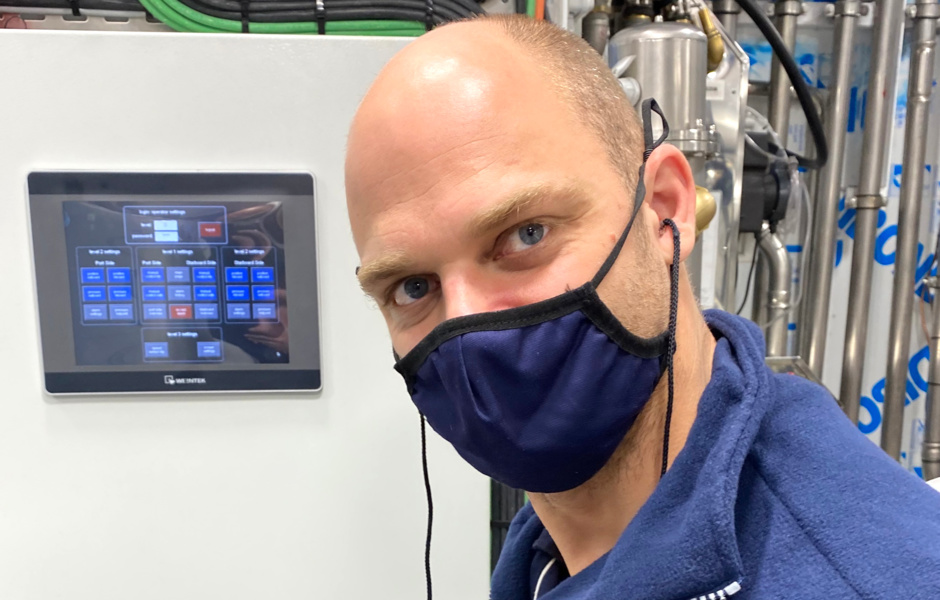 Once delivered she will be available for charter through Arcon Yachts. It is already known that a week's holiday on Stefania will cost from €190k.


With an ocean range of over 3000 nautical miles and a draft of only 1.8 meters, this yacht will be as suitable for Mediterranean cruising in summer as it is for Caribbean cruising inwinter. And there will be no need to spend money on expensive transportation.
Guests will find on this yacht with exterior design by DobroserdovDesign, hydrodynamics by Van Oossanen NavalArchitects and interiors byGiuseppina Arena has the largest sundeck in her class (120 m²), two pools, two bars and even a real fireplace in the salon. Stefania has 5 cabins, all with 2.2m ceiling height.
Her interiors maintain the style of discreet luxury set in the Stefania's golden hull. All details are finished in creamy beige shades ranging from creamy white to soft chocolate brown. The light tones and panoramic windows allow the interior spaces to fill with light and air, making Stefania more like a loft.The interiors are given a particular chic touch by the shimmering metallic details in the colour «champagne», like the mantelpiece or the geometric panel at the head of the bed in the owners cabin.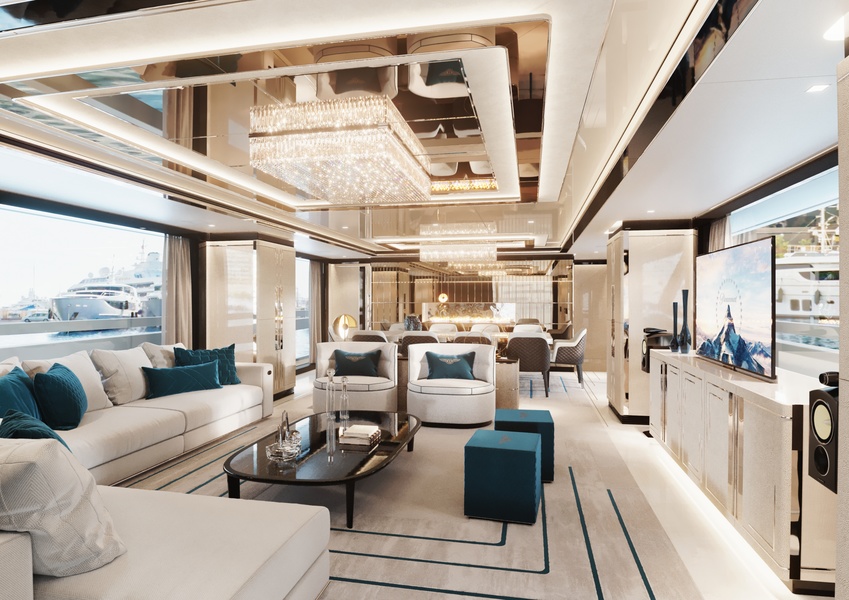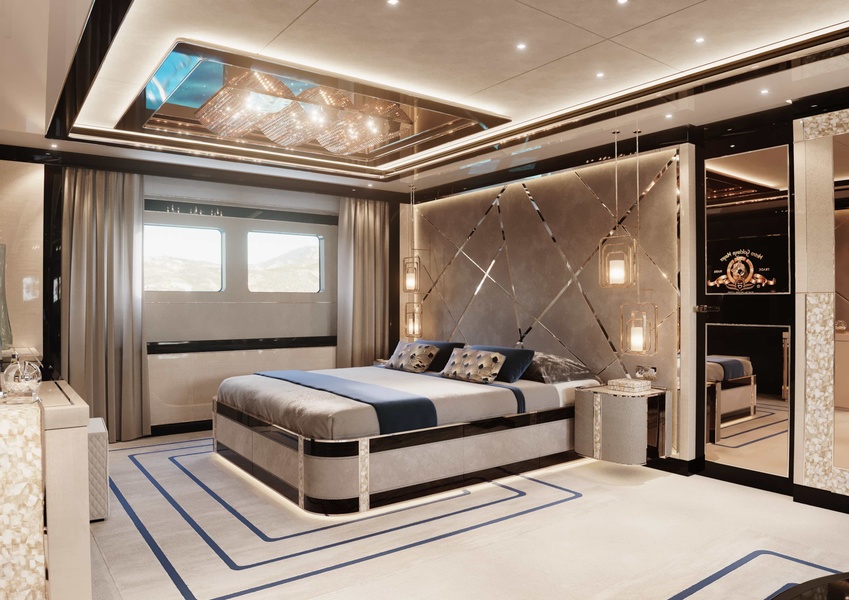 According to the founder of Dynamiq Sergey Dobroserdov, it is precisely the exterior and interior styling preferred by Dynamiq that was one of the main arguments for choosing a yacht and shipyard.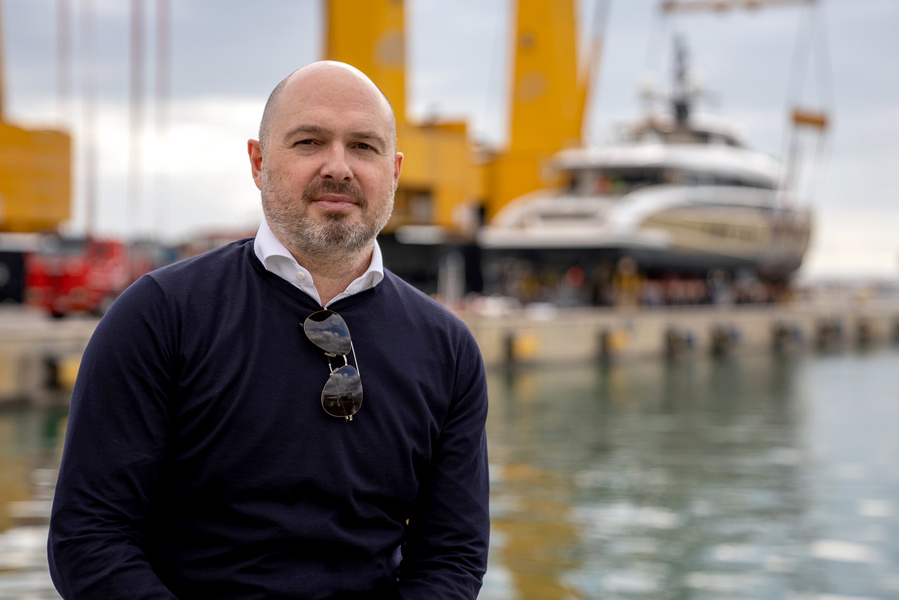 During the launching ceremony of Stefania, Mr. Sergey Dobroserdov said: «We are sure that she will be a source of pride for her owners and will make them feel special.Stefania isthe bestboat in its size in many key parameters: first of all it has an exclusive design, acoustic comfort and economic efficiency. It is the main advantage of a yacht built at a family boutique shipyard compared to the counterparts of large mass-produced manufacturers».
We asked Sergey to tell us what sets the GTT 135 apart from other 40+ meter yachts.
A modern classic
One of the most unexpected things to discover when taking a closer look at Stefania and other Dynamiq boats is that their distinctive exterior design is actually very classic.
Paradoxically, the current trend in motor yacht design runs counter to the laws of hydrodynamics: in order to maximize interior space boats are built with a short, broad and tall hull, while the most efficient hulls are those with a maximally long waterline and a low superstructure.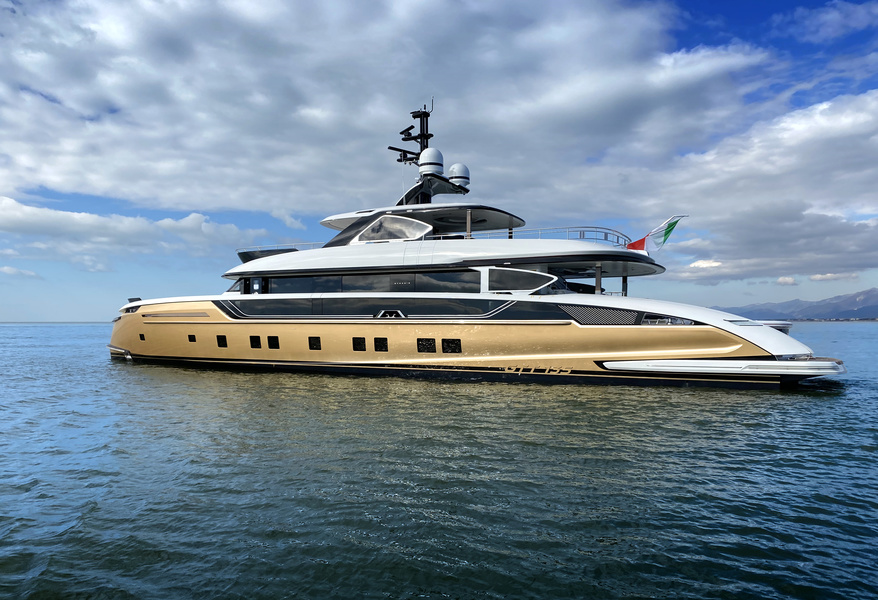 The Dynamiq takes a classical approach to boat design and prioritizes good hydrodynamic properties.
Dynamiq boats are long, with a well-proportioned superstructure and few decks.
«In terms of aesthetics I have always liked boats from the beginning of the last century, from Russian Imperial yachts to American Commuters. So Dynamiq is actually a very classic boat, it's just a modern, non-boring classic»," says Sergei Dobroserdov.
Naval architecture is half of the success
A Fast Displacement hull with maximum waterline length, low centre of gravity, specific round-body contours and fine-tuned weight distribution makes the yacht nimble, economical and comfortable to sail even in adverse weather conditions.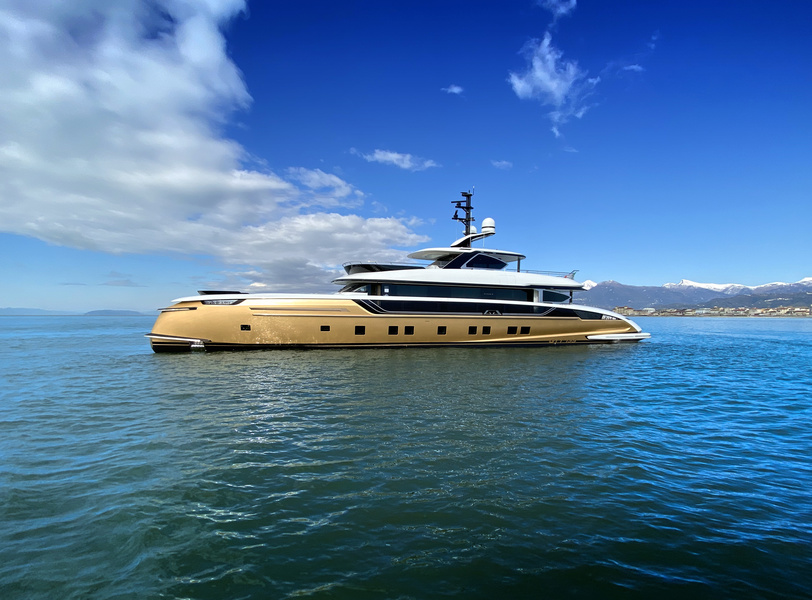 Stefania is fast enough to flee a storm or to travel quickly between the marinas of the French Riviera. Her top speed is in excess of 20 knots. At a cruising speed of 12 knots she is capable of crossing oceans without stopping.
At 15 knots, the GTT 135, at over 200 gross tons, consumes only 190 liters of fuel.
The secret of her fuel efficiency lies in optimized power consumption. Cleverly designed Fast Displacement shapes, an aluminum construction and finely tuned SIP propellers are three examples of this optimization. These alone have reduced the GTT 135's engine output by 20%.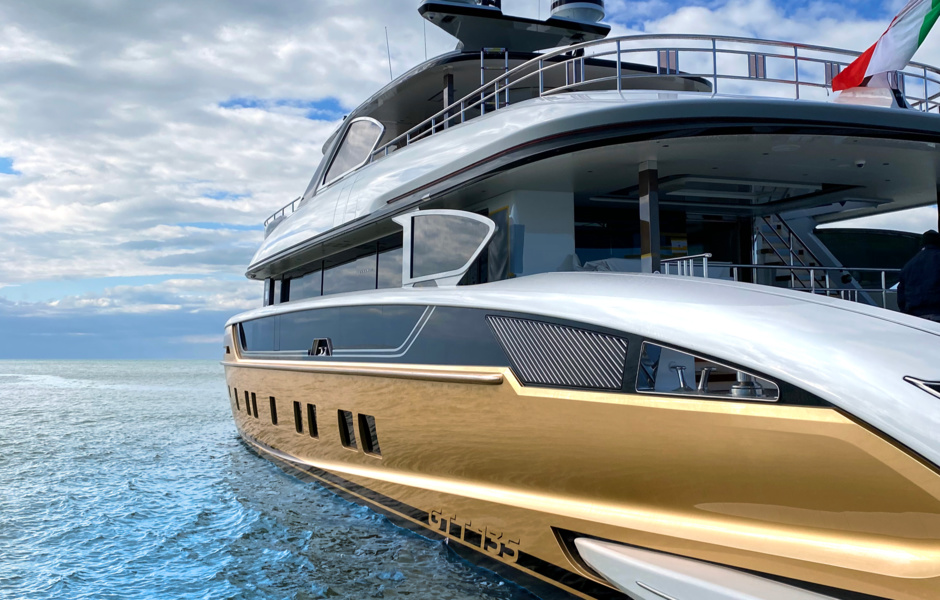 However, these are not the only components that allowed the Dynamiq specialists to create a boat with such characteristics.
«I like to compare yacht builders to cooks. At the end of the day, no boatyard makes its own equipment and everyone uses about the same thing. So in cooking it all depends on the proportions and method of preparation. Of course, we also have our own special ingredients»," says Sergei Dobroserdov.
Stefania's secret technologies
The GTT 135, like the GTT 115 before it, uses a Hull Vane stern underwater wing. It reduces pitching, improves sailing performance and enhances comfort on board, even in rough seas when wind gusts exceed 50 knots.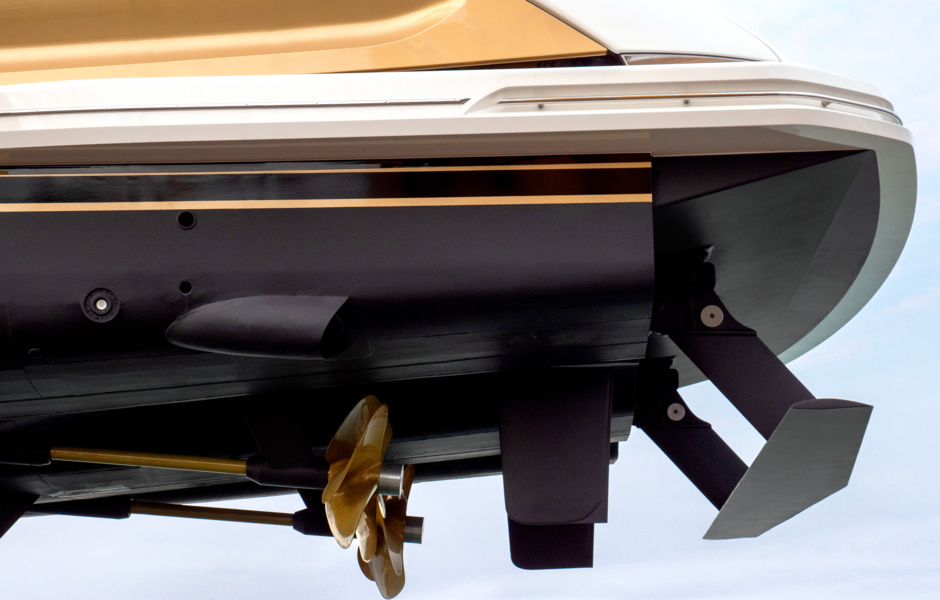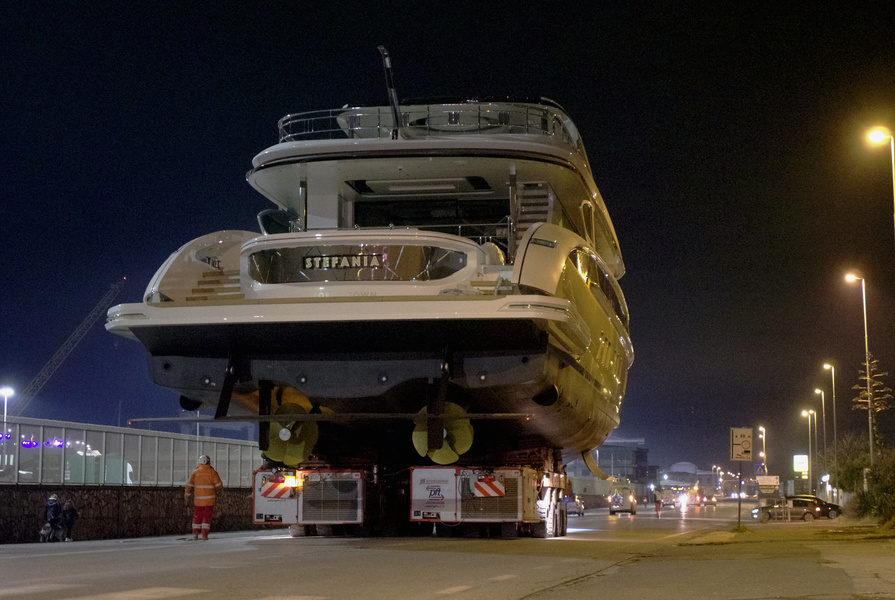 In terms of energy efficiency, the Hull Vane reduces the required engine power by a further 3%.

As a result, the GTT 135's power consumption was improved by almost 30% through propulsion alone.
Another way to substantially reduce the generators' power when loading in so-called Hotel mode is to use more efficient air conditioning systems in conjunction with XIR thermal glazing and motion sensors that raise the temperature when no one is in the cabin.
As a result, the combined power of engines and generators is reduced by 41 percent.
«This translates into reduced fuel consumption, noise and vibration, and CO2 emissions»," Dobroserdov explains.
To fully operate the Stefania, a pair of 1650 hp MAN V12 engines and a pair of 70 kW Kohler generators are sufficient.
«Unique» ingredients of the Stefania's recipe include, for example, a state-of-the-art driveline vibration control system from Rubber Design. It is also part of the high-tech soundproofing system. The Fast Displacement hull and Hull Vane were already used on other Dynamiqs, but this Rubber Design system was also tried for the first time on the GTT 135.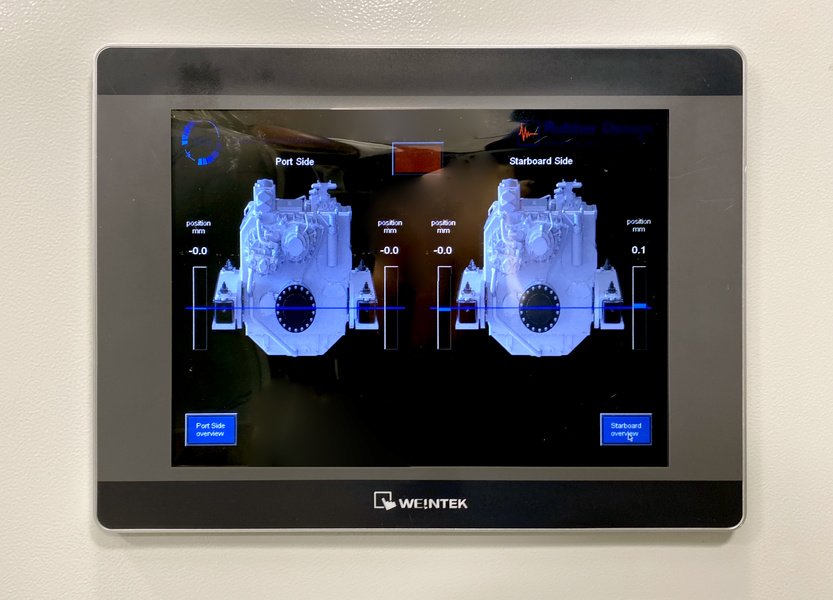 Its efficiency was a great surprise to the boatyard's specialists.
At top speed, the Rubber Design system operates at a noise level of 55dBA, allowing for calm, low-noise communication.
At anchor, onboard systems are inaudible.
The secret of good ergonomics: common sense multiplied by experience
«When we talk about yachts, many things are not based simply on common sense. It takes experience and knowledge. For example, all clients are first and foremost interested in tonnage. But not many people know that simply because of less stringent norms the usable area on a yacht with a gross tonnage of 299 gross tons will be more than on a yacht with a gross tonnage of, say, 330 gross tons. Or that comparatively smaller yachts sleep more comfortably downstairs and the daytime toilets are better placed outside so that one does not have to run wet across the cabin to use them. And so on»," says Sergei Dobroserdov.
Design decisions on the GTT 135, as well as on other Dynamiq yachts, are based on an analysis of many years of experience in yacht management. So, on yachts up to 45 meters in Dynamiq the master cabin is never located on the main deck: always on the bottom, in the quietest and calm area of the boat.

Transparent pricing and delivery times
The second hull of the GTT 135 is available for order and could be delivered to the owner as early as the summer of 2022. All important information about the model, including pricing (from €16.5 million) and build times, is available on the Dynamiq website. And with an online configurator, unique in the industry, you can select the options you need and calculate their cost before contacting the shipyard.

The advice which Dynamiq gives to those who are thinking of building a yacht is to listen to professionals and to trust them.
«In the case of Stefania, our collaboration with Arcon Yachts is a perfect example of how trust and professionalism can lead to an excellent result. And the client gets exactly what he wants», - concluded Sergey Dobroserdov