Lurssen shipyard delivered Norn, a 90-metre luxury yacht, to a couple who previously sailed on a 70-metre Lürssen Skat, which has served them faithfully for over 20 years. The family demanded exceptional design, engineering, and seagoing comfort. The vessel, previously known as Project 1601, boasts a striking exterior design by Espen Oeino, featuring flat surfaces, straight lines, and angular corners that create a unique geometrical precision.
What is Norn like?
Dölker + Voges worked on the interior of the private vessel. The shipyard shares that it echoes the same design themes as the exterior. Norn has several onboard highlights, such as an al fresco cinema and a pool with a changeable depth that transforms into a well-illuminated dance floor. Like all the Lurssen yachts, Norn has state-of-the-art technology and engineering systems, including a dynamic positioning system and zero-speed stabilisers.
Cornelsen & Partner acted as Project Manager throughout the construction process. The German design studio has worked on such new builds as Aquijo, Graceful, and Solandge. They are experienced in yacht refits and participated in the renewal of the interiors of Radiant and Al Mirqab. The shipyard has not revealed any information about Norn's volume, but the yachting media, given the LOA of 90 metres and beam of 14.7 metres, expects it to be around 3600 GT.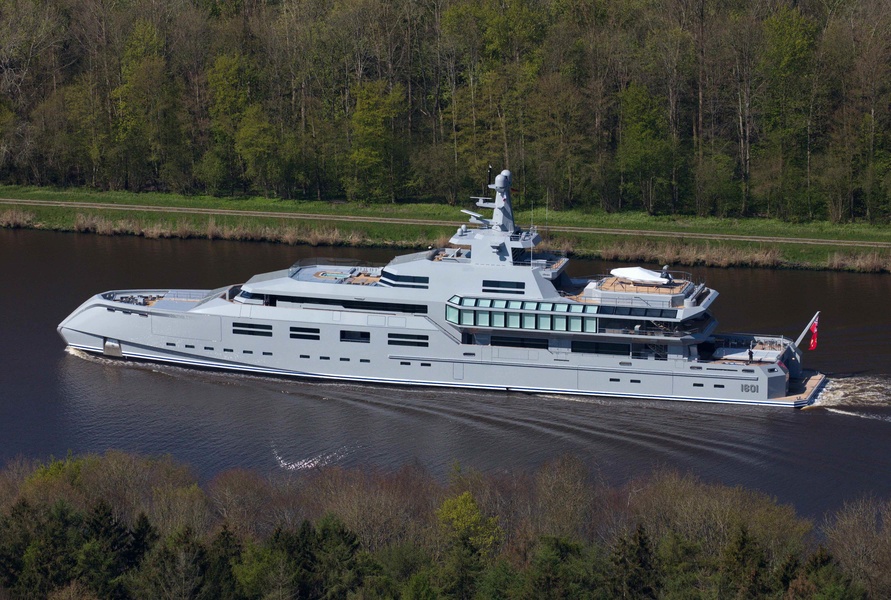 Interestingly, Norn shares several design features with Skat, the 70-metre Lürssen yacht previously owned by the same couple. These include the reverse bow, narrow rectangular windows, and greenhouse-style glazing on the upper deck — the famous Skat signature panoramic sky lounge. Up to the present time, Skat has been an iconic yacht in yachting history. The new Norn seems to be carrying on Skat's legacy with a design that once again breaks the boundaries of traditional yacht design.
Amazing production at Lurssen
Norn was sent down the slipway in Rendsburg in May 2020, and in February 2023, she was one of two yachts launched by the German shipyard. The other vessel was the 145-metre Project Luminance. Currently, the shipyard is working on such incredible projects as the 122-metre Project Jag, due for delivery in 2023, and the 142-metre Project Alibaba.
The launch of Norn is undoubtedly a significant achievement for the Lürssen shipyard, which continues to push the boundaries of yacht design and engineering and finds the right words to speak to its long-term clients, who, in the end, decide to build new yachts with them and not with anyone else.