Sailing is gradually reviving in Russia. The hard times that were experienced in the first 10-15 years after the collapse of the Soviet Union are a thing of the past: although the Soviet level, when every large enterprise had its own yacht club, is still far away, the number of sports schools and sailing sections in the country is steadily growing, as is the number of children who go there. Below we have collected for you a cheat sheet with everything you need to know for a parent who would like to introduce their child to the world of sailing.
In what regions is sailing possible?
The geography of sailing development in Russia is influenced by logistics. Athletes must carry their boat with them everywhere. A small, only 2.3 meters long children's Shuttleboat Optimist «with» all equipment weighs only about 40 kg. Often parents put her on the roof of the car and personally take the young athlete to the training camp. The same with windsurfing - a board and a sail for windsurfing weigh even less, up to 20 kg.While windsurfing is still healthy, the Optimist«»is designed for children up to 15 years of age - you'll have to move on to a bigger boat, which is, in some cases, the need to use a trailer for transportation.
In the European part of the country as a whole it is not difficult to travel even 2-3 thousand kilometers in one direction by car with a trailer, and, training, in St. Petersburg, to appear on competitions in Sevastopol or Gelendzhik (and on the contrary). At the same time, in Siberia and the Far East, a trip that is comparable in time and effort allows you to get only to the neighboring major city.
Due to logistics problems in the European part of the country - in the water area of the Gulf of Finland, on the Volga, on the Black Sea and Azov Sea coast - sailing sport is developing better.
The main centres here are:
Moscow and the Moscow region
Saint-Petersburg
Togliatti
Rostov region (mainly Azov, but also Rostov, Taganrog and Volgodonsk).
Gelendzhik
The largest sailing centres outside the Urals are the Chelyabinsk and Sverdlovsk Regions, and of course the Primorsky Krai.
To see where the nearest children's sailing school is located, you can, for example, on the site of the VPSF.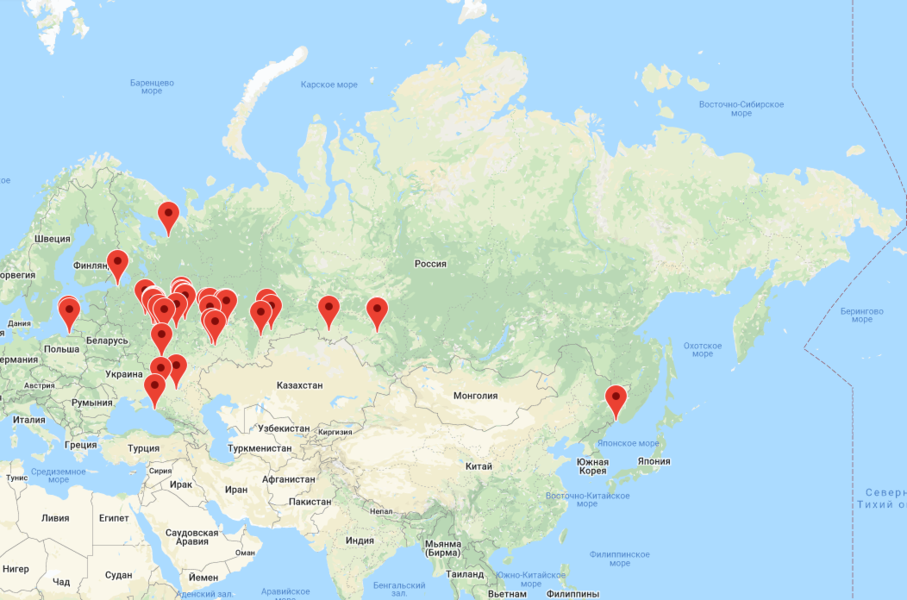 At what age can I start my studies?
Compared to swimming, gymnastics, football, figure skating and other similar sports, in which training begins when the child is 3-4 years old, in sailing a fairly late start.
Russian law allows children to participate in sailing competitions (and thus to get a sports class) only from the age of 9.
Many schools focus on this age. However, there are also some exceptions. More democratic schools and yacht clubs often invite younger children, aged 6-8 years, as well as windsurfing, which, like classic«yachting,» is a sailing sport. Children can get up on the board from the age of 7-8.
The Sailing«Academy of St». Petersburg Yacht Club went even further. There is an early development»« group for children 4-5 years old.
In the form of a game, they learn about the world, natural phenomena and even master their first sailing yacht of the Kid class in a special pool.
It is possible to start training from 4 years also in sailing club Koenigsberg in Kaliningrad. In contrast to the Sailing Academy«, here» you start straight from the Optimist«'s dinghies and straight» to the sea.
«First, we give the little ones a second room, then the coach works personally, as they learn more, they try on their own in calm weather near the shore, -»says the head of the school Albert Kolesnikov.
According to him, the differences in approach are due to the fact that there are more technical possibilities in St. Petersburg. The Kaliningrad school, in turn, tries to follow the example of Polish clubs, where training starts also at 4-5 years old.
It is of course up to parents to decide at what age their child will be allowed to sail for the first time. It is fair to say that not all experts are in favor of an early start.
«I would not recommend to start training until the time when the child goes to school, - comments Anastasia Chernova, head coach of the Russian national youth sailing team. - Still, yacht management is a certain independence. A child must be able to swim in order not to be afraid of water. And there is already an independent decision making. It is necessary to come to yacht club, to change into correct clothes - elementary care of itself. Therefore, it is necessary that the child is still of school age. Because if the child is not prepared yet psychologically, he can just be afraid and then never come to the water or the boat again.

My dad was a coach. He used to put me on a yacht from an early age. First with somebody, then myself. And I got so caught that I wasn't ready, didn't want to, and I was pushed off the shore. I was so scared that I hadn't been to the yacht club at all for several years until I decided at the more or less conscious age of 11 that I wanted to study.
Which classes are available for children and teenagers?
For kids up to 15 years old the most comfortable for learning and the most popular in the world is the Optimist «Shuttleboat.
Apart from this, the following classes are most often found in Russian children's sailing schools:
«Beam»- national single class, 4-meter dinghy. Weight of the hull is 54 kg. It is distributed on the territory of the former USSR. On it are transplanted at the age of 11 and, if desired, they are chased all their life.

«Laser 4.7», Laser «Standard» and Laser Radial«-»international single classes, 4.2-meter dinghies. Distinguished by the size of the sails. Hull weight - 58,9 kg. Modification 4.7 is used in youth sport. It is suitable for 13-17-year-old yachtsmen weighing 45-65 kg. Laser radial is traditionally considered an adult female boat. It is designed for 60-65 kg. In class Laser-standard at adult competitions men race.

«Cadet»- international youth class for two crews, 3.2-meter dinghy. The weight of the hull is 54 kg. For the first time a child from school can get into the crew already at 8-9 years old. Helmsmen become from 12-13 years old. After 17 years of age, the «Cadet» is changed to Class 420 or 470.

Class 420 - international class for two-crew, 4.2-meter centreboard. Weight of the hull - 100 kg. It is used till 19 years, when the youthful crew has not grown «to» heavier adult class 470.

Class 470 is an international class for twin carriages, 4.7m dinghy. Crew weight - 120 kg. Crew weight - 110-145 kg.

Class 29er - the international class for crews-two, 4,4-meter dinghy.
Hull weight - 90 kg. It is used up to 19 years, until the youth crew has grown
more
«expensive»
than the complicated Olympic class 49er.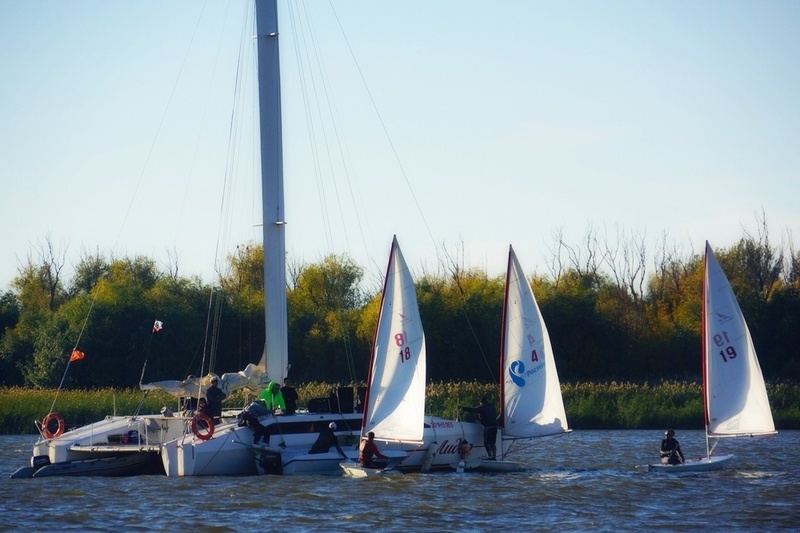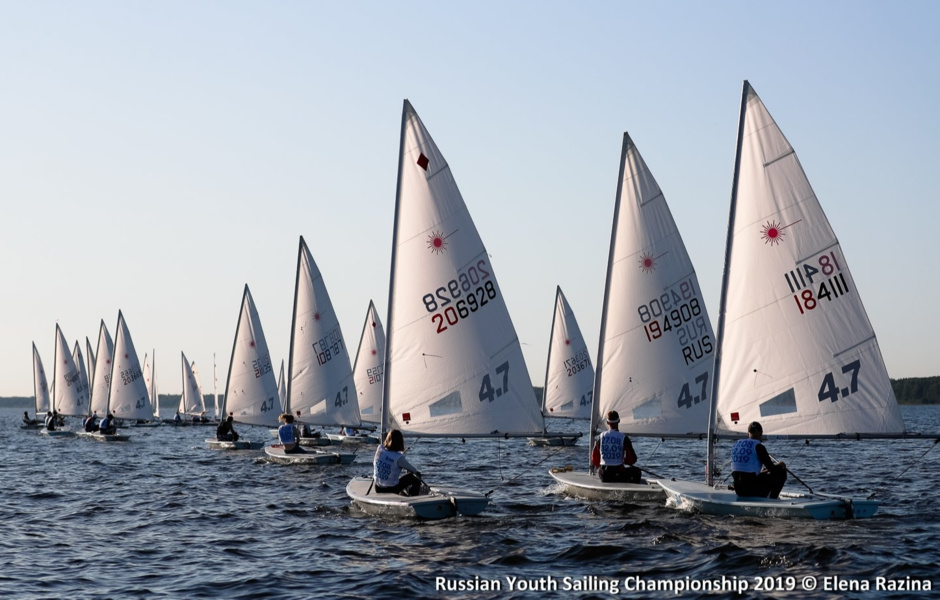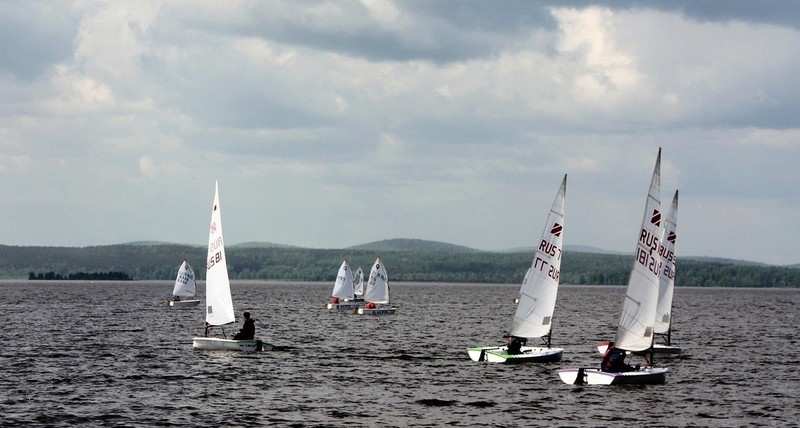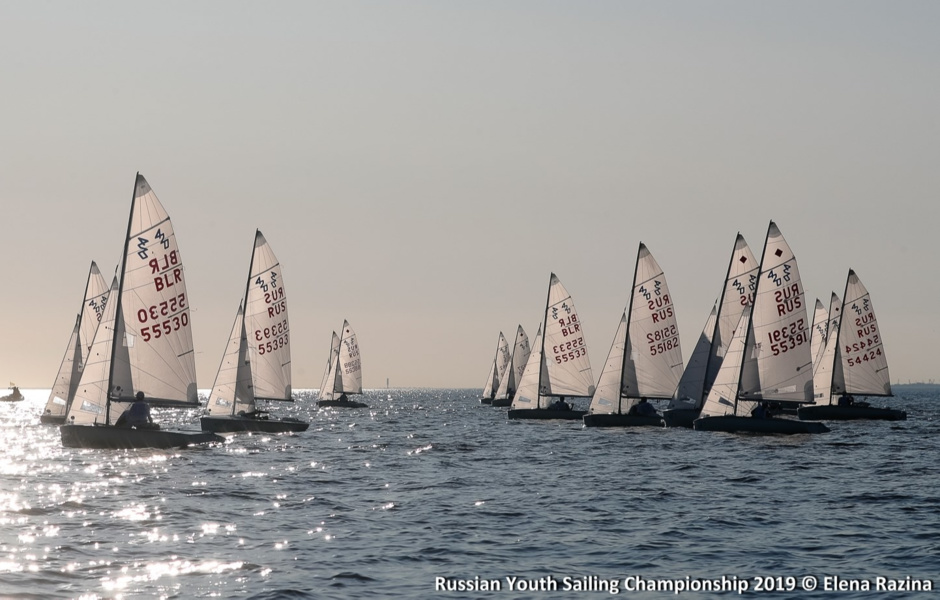 But to train on Nacra 17 catamarans and 49er speed class it will be necessary to try. Not all regions can afford them because they are so expensive. And if a class 49er is in St.-Petersburg, Moscow, Voronezh, Samara, Rostov regions and Vladivostok, class Nacra 17 is presented for today only in the Samara and Rostov regions. Only 5 crews compete in Nacra 17 class at the Russian Championship.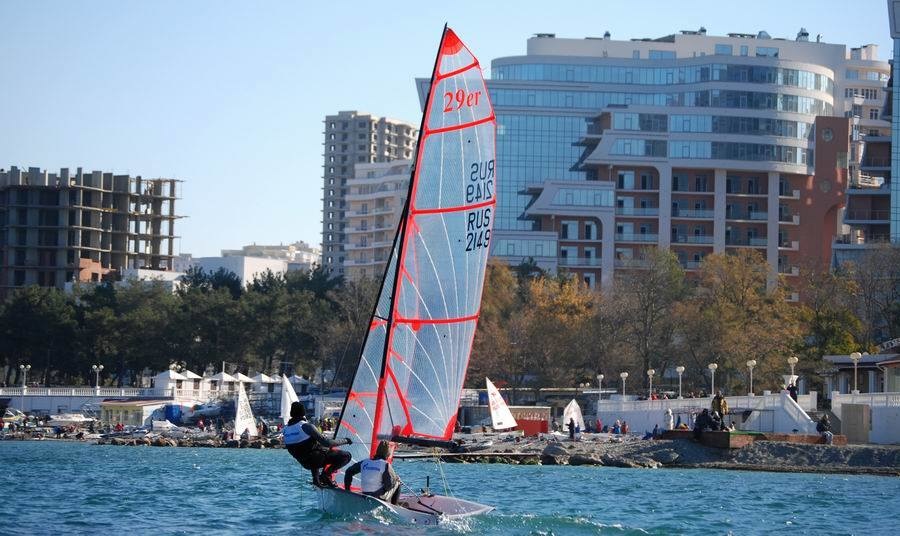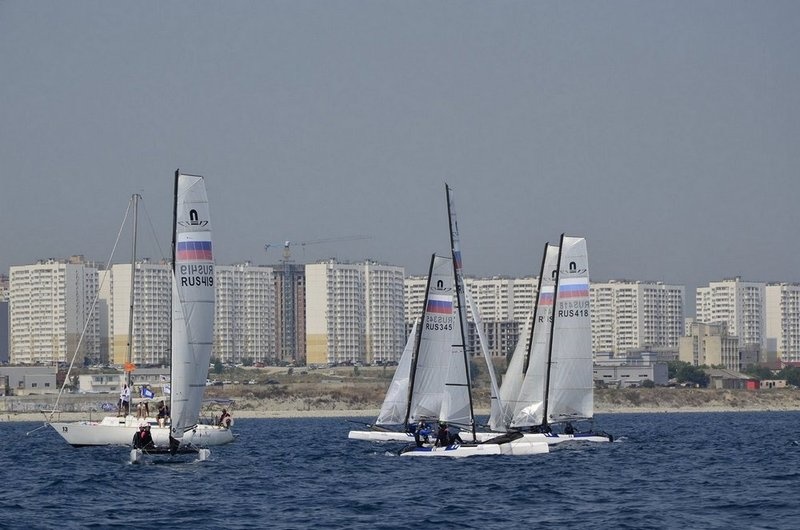 Which class a child after the Optimist «will be in»depends on his or her anthropometry, the age at which he or she started training, and his or her character. The task of the coach is to determine in which class the child has a better chance of showing good results. If the school has a choice, children are given the opportunity to try out different classes.
«Sometimes even by the way the child behaves on the beach, by temperament, by relationships, much is clear. There are obvious loners who do not get along with anyone, but personally can show good results. Someone, on the contrary, shows themselves better in the team. Someone is good at steering and tactics. Someone, on the contrary, is well developed physically, technically - shkotovoj becomes. Sometimes Shkotovy also makes tactical decisions, but basically it is enough mechanical performance of tasks on a yacht which, nevertheless, should be executed perfectly", -»Anastasia Chernova tells.
The windsurfing classes are popular:
RS:X - board length 2,86 m, width - 0,93 m, weight - 15,5 kg. Sail area - up to 9,5 sq.m.

TECHNO 293 - youth class in which it is possible to race till 19 years. The length of the board 2.93 m, width 0.79, weight 12.5 kg. Sail area - up to 9.5, 7.8 or 6.8 sq.m.

Navigator 300 - national class. Board length 3 m, width - 0,75 m, weight - 13,5 kg. Mast height - Sail area - up to 8 sq.m.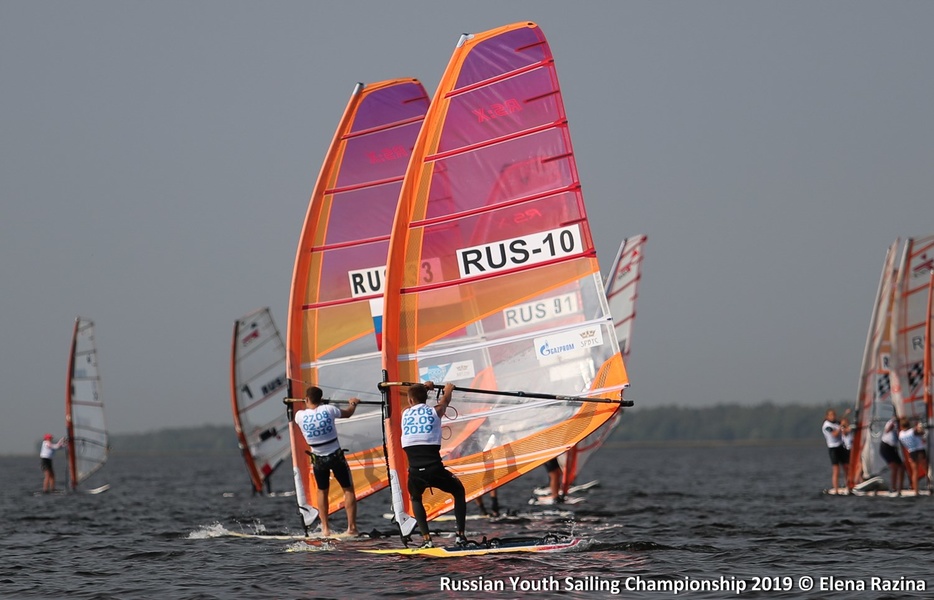 What is the cost of training?
According to the VFSF, a significant part of Russian children's sailing schools is free. It means that pupils do not have to pay for training.
Public schools have their own mattress, which children can use. A beginner is likely to get an older yacht at first, but parents will not have to pay extra.
In this case, the only relevant issues are the outfitting of a young yachtsman: it is necessary to buy a vest and, if desired, gloves. Also, to go out on the water (especially in May and September, when the water and air are still or already cold) you will need a waterproof and insulating layer of clothing. The price of children's diving suits varies from 2 to 25 thousand rubles. Neoprene shoes - another 1-4 thousand.
In some regions, for example, in St. Petersburg, there are programs for poor families, through which schools are able to provide needy children even clothes. This gives them the opportunity to do yachting despite the difficult situation in the family.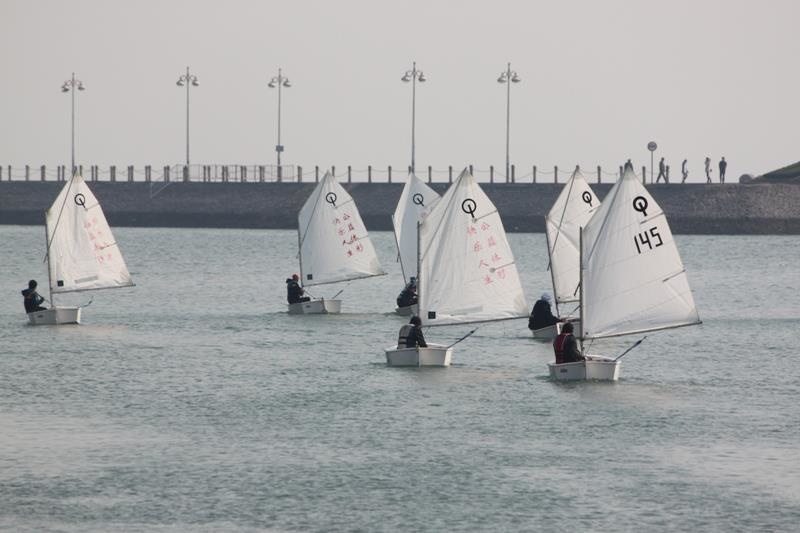 If a student and his parents want to do well in competitions, if a young yachtsman dreams about the Olympic Games, he may have to consider buying his own boat.
In the case of the Optimist«», to build a new dinghy at the official Russian manufacturer Politermo «will» cost about 2 thousand euros (≈ 140 thousand rubles).
In a complete set with the yacht there is one training sail. It is necessary to buy additional yachts separately, so to spend from 10 to 35.5 thousand rubles for each.
For comparison, the cost of building «Cadet» in Russia will start from 220 thousand rubles, and Lucha «- from»235 thousand. To order Laser 4.7 from the main European supplier Laser Perfomance (which, however, in 2019 seriously quarreled with the international class association) will cost already 6.2 thousand euros (more than 430 thousand rubles). A complete set of equipment in 49 er and Nacra 17 classes will cost at least 25 thousand euros (about 1.7 million rubles).
Sails for Neilpryde's RS:X production cost 39-59 thousand from the official distributor of the company in Russia VneshTradeService. Boom arcs can cost all 70-80 thousand, fin - 40-50 thousand, and the board itself officially costs 2.8 thousand euros (about 200 thousand rubles).
Naturally, you can always try to find a used boat or board in good condition. Then you can get your own sailing boat cheaper.
In private schools you will have to add 6-8 thousand to all the above for a monthly training fee and contribution to the development of the section. The good news is that in some sections money is only collected during the summer season, when it is time to go out and there is a need to rent and fuel escort boats.
Can all children yachting?
Availability of selection and nature of the entrance test before the start of classes varies greatly and depends on the school. Somewhere (first of all, first of all, in Schools of Olympic reserve, focused on education of future champions) are guided by the «Federal standard of sports training in a kind of sports sailing. Control exercises include running for 1 km not counting the time, swimming for 50 m not counting the time, lifting the body from the lying position on the back, pulling up (for boys), squatting (for 15 s), push-ups and long jump from a place.
But many yacht clubs and schools are happy to see everyone who has no special medical contraindications. Even learning to sail in advance is not required everywhere.
Do not forget that, there is such a direction as Paralympic sailing. People with disabilities use class 2.4mR.
In the future, in order to move to senior groups, children also often pass sports regulations. A child has to have certain skills in order to be able to cope with himself and his boat even in strong winds.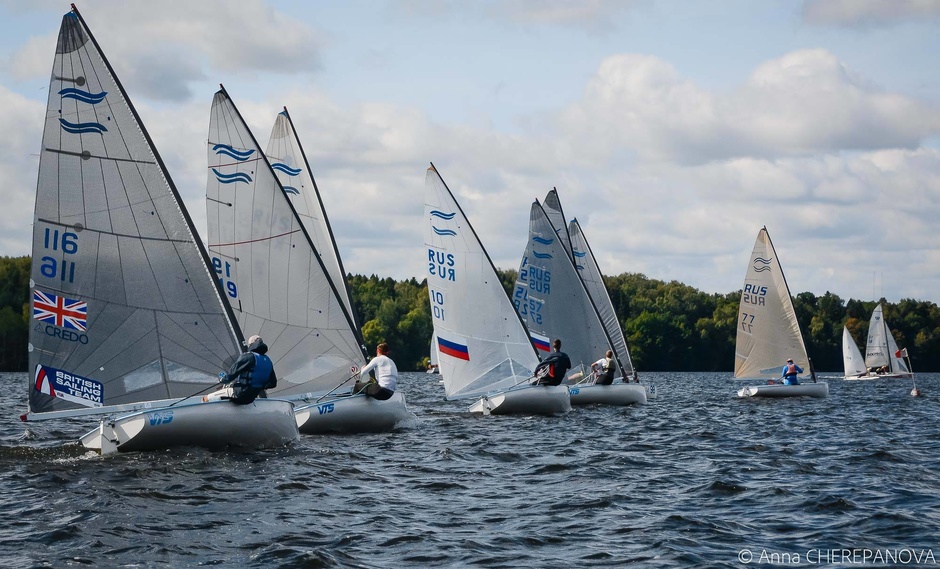 What is the focus of a particular school (a sport of excellence or rather the promotion of yachting) can be indirectly indicated «by a board of honour,»which can often be found on the website of the yacht club or section.
In terms of physical development, up to 15 years of yachting can and should be combined with other sports.
Up to this age, sailing training, although it provides some specific exercises, is generally aimed at the overall harmonious development of the body, so any sport that helps to develop muscles, flexibility, coordination is welcome.
«Many come after the pool. I myself, when I started sailing, trained on the ski base in parallel with winter and was in the ski section, - remembers»Anastasia Chernova.
I know how to sail a boat. Maybe I'll be the coach for my kid myself.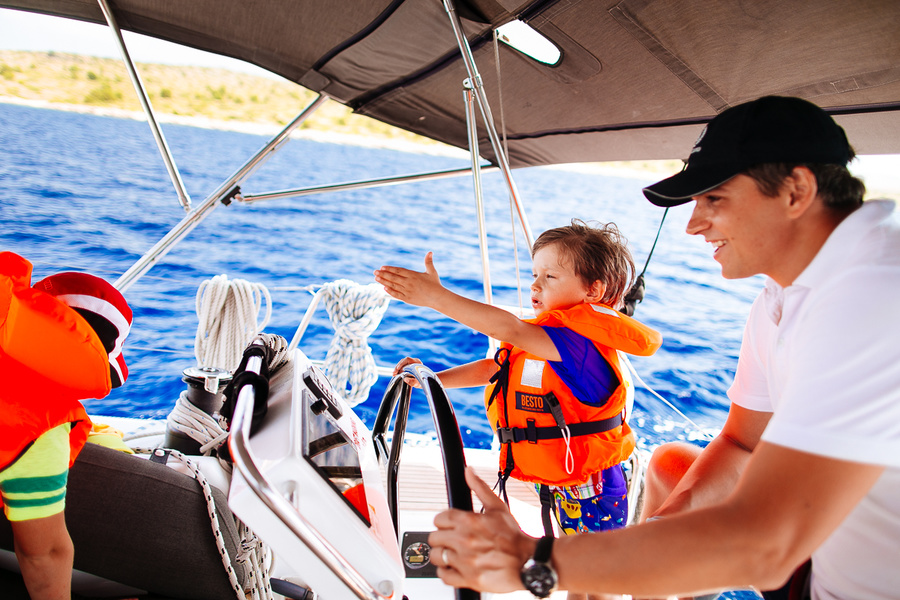 If you and your child are dreaming of a sport of excellence, it can only be a good idea for a certain time.

One day it will be difficult for a young sailor to separate a dad/mum from a coach. When it comes to a teenage rebellion against parents, this can have the most negative impact on results. Agree, a situation where a coach demands something, and his ward takes the mentor seriously or even deliberately acts the opposite, can hardly be called a path to success.
In addition, parents often make exaggerated demands on their children, trying to make sure that the child realizes their own ambitions and dreams.
«I watch the national team. Now there are quite a few athletes, children of professional yachtsmen and amateurs. This is of course a
big plus in supporting and helping your child to master sailing. But not everyone is able to find the balance where the parent is and where the coach is. Not everybody gets it
, some part wins, more often -
the parent.
Sometimes it is better to find another coach in time, who will not be the father or mother. He will be respected exactly as a coach, he will not hang out with the child and will treat all the athletes evenly, - explains»Anastasia Chernova.


What about the relationship between high school and high school sailing?
In order to answer this question, parents must first of all answer themselves another: do they and the child just want to learn yacht management skills as a hobby or are they eager to build a serious sports career?
In terms of general and higher education, sailing is no different from other sports. If it can be relatively easy to combine learning and hobbies in primary school, the older the child becomes, the greater the need for prioritization.
«At an age when the decision is made and what is next, where to go to study, there is a very high drop-out rate in all sports around the world. In general, in terms of the number of children who are engaged in sailing in Russia, and who are left to go further to Olympism, I think there is a dropout of about 90% .

Everybody has different reasons. Mostly, of course, education. Some do not have the opportunity to continue: no coach, no mattress, no prospects for sports school, no sufficient funding in the region. Someone left earlier, after the "Optimist".», - says Anastasia Chernova, also noting that at the same time there is a practice of moving athletes to more promising regions.
To do professional sports, spending more than 200 days a year on training camp and training, and at the same time to receive quality education units. It is incredibly difficult to get high scores on entrance exams and then to stay in the university in this case. The paradox is that athletes who have received technical education, favorably different from their rivals. Analytical mindset, developed logic - all this is a great help in sailing, which is sometimes called chess «on the water.
For many young men and girls the compromise variant becomes sports profile high schools. For those who are connected with water sports, the road to Lesgaft University in St. Petersburg, RSUFC in Moscow and Kuban University in Krasnodar region, where there are corresponding departments, is open. In the future this will allow the athlete to work as a coach.
«Firstly, it helps them better understand the training process. In addition, of course, members of the national team are more loyal to these universities. Plus, the sporting events for young men have now been resumed again, if they are in the national team. It is possible to serve in a sportstrotrot to sail without a break, -»explains Anastasia Chernova.
Are there any other pitfalls?
Yes. Russian climate. Unfortunately, the navigation season is very limited in most of the country. It is possible to train in the open water in this situation only from about May to the end of September. During the rest of the year, they are replaced by pool and gymnastics, gyms and other activities, theoretical classes on the rules and basics of sailing...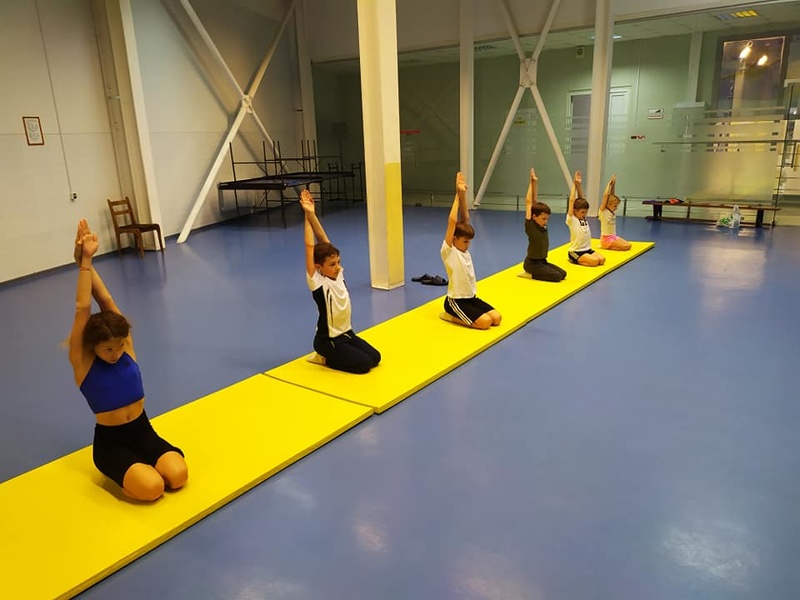 «It can be difficult for a children's initial training coach to explain to a child: "It's sailing that you do! It's okay that we're skiing in the woods or swimming in the pool right now."»- says Anastasia Chernova.
Because of this, not» everyone lives «to see the new season of navigation in sailing sections. The young Russian yachtsman will have to learn patience and only envy his peers, for example, in France, where in seaside cities sailing is practiced directly in physical training lessons and throughout the year.
But here's the good news.
The undeniable advantage of sailing is its cleanliness from doping. In yachting competitions not 100% of the result depends on the athlete's physical fitness. No «magic pill» is able to help a yachtsman tactically correctly work out weather conditions, to predict the zone where he will be able to catch the wind, and where he is waiting for the calm that will throw him at the end of the fleet.
In addition, both during training and competition, athletes spend a lot of time outdoors, in the open air, which also can not help but promote health.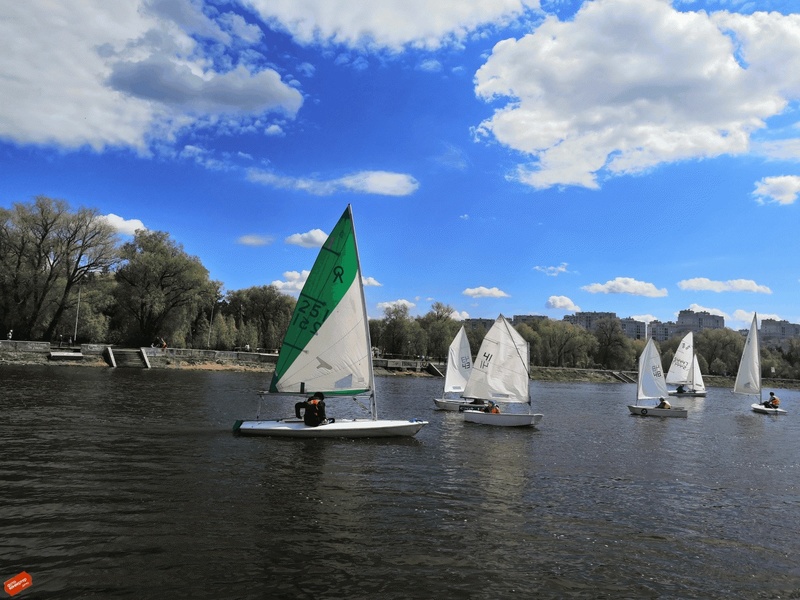 Yachting is a sport that is already developed and year after year it is growing more and more at the amateur level. You will not have to give up your favorite sport at 30, 40 or 70 years old. There is essentially no pension «in this world. Even if he stops competing, a former athlete can still spend time on his boat, sail, travel and be not only a coach but also a professional crew member on charter boats (including abroad).