German Frers
Argentina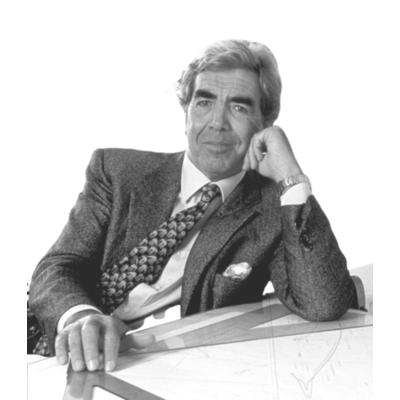 Когда я вижу так много своих проектов на воде, думаю, что мне нужно увеличить гонорар. Но, в действительности, я готов работать бесплатно — так сильно я люблю творить.
Герман Фрерз
Основатель компании
Designer Description German Frers
The history of the brand
Germán Frers, born 1941 in Argentina, began working as a draughtsman at the age of 15 in the studio of his father, a famous ship. In 1965 he got a job in the famous Sparkman & Stephens studio, where he became a leading designer within three years.
In 1970, he returned to Argentina to head the family studio. Herman developed several bold projects that took trophies in local offshore races. By the end of the 1970s, his clients included the Admiral's Cup teams not only in Latin America, but also in Australia, Italy and other countries. In the 1980s, Frers was making a serious name for himself in the world of maxi yachts. His projects win the world championships and his Flyer II is the famous Whitbread Race yacht of the 1981/82 season.
The «America»'s Cup era in Frers' career came in the 1990s. An old client Raul Gardini orders a boat for the 1992 Il Moro Challenge campaign, which wins the Louis Vuitton Cup. The second victory in the selection of Challengers with design by Frers was won by Luna Rossa in 2000.
Philosophy
German Frers' extensive experience with sports yachts has been incorporated into all of its projects, including its motor yacht designs. Often ahead of time, Frers combines speed and comfort on board.
Speciality .
Having won almost all sailing titles, the German Frers studio is active in both the mass and exclusive market. In the late 1990s, Frers became the protagonist of the growing popularity of maxi and megayachts.
Cooperation with shipyards
Among the more than 1000 projects of sailing and motor yachts on the account of German Frers there are many serial yachts. Since 1988 Frers has worked with Hallberg-Rassy and since 1989 with Nautor's Swan. There have also been projects for Dufour, Beneteau, Wally, Sirena Yachts and other well-known brands.
Landmark projects
Apart from the legendary Hallberg-Rassy and Nautor's Swan models and medal-winning racing yachts, the German Frers studio is renowned for sailing superyachts such as the Rebecca cache, the Unfurled IV sloop and of course Hyperion for Silicon Graphics creator Jim Clark - at the time of her launch in 2000 she was the largest sloop-type yacht in the world.
The team .
In the early 1990s, Hermann Frers Jr.'s son joins his father. Thus, the third generation of Argentinean designers is already in the family business.
Хотите получить консультацию?
Хотите получить консультацию?