The CRN shipyard has shown a rendering of the innovative yacht, which is being worked on by the renowned Franceschi Paczkowski(Francesco Paszkowski).
The Italian CRN is considered a pioneer in the Explorer segment, writing a new chapter in yachting. Thus, in 1983, the shipyard created the iconic F100, designed by Gerhard Gilgenast. AlfaRosso is to be the successor of F100. The model will be available in three variants: 45, 50 and 55 meters.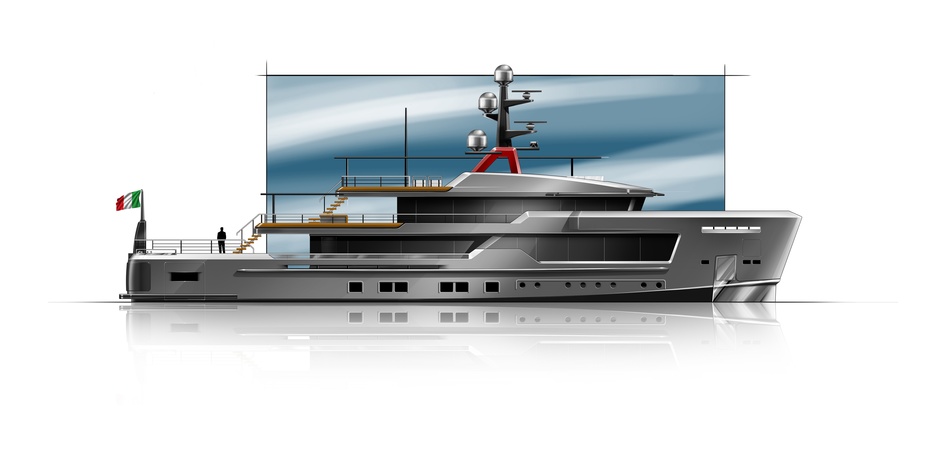 «We are delighted to continue working with such a dynamic industry leader as Francesco Paszkowski Design. Power on water and a sense of unity with the surrounding environment: these are the principles behind the design of AlfaRosso»," commented Stefano De Vivo , Commercial Director of the Ferretti Group, which owns the CRN brand.
AlfaRosso is full of open spaces.
A pool on the main deck, terraces and panoramic glazing - just so you can enjoy the beauty all around you to the full.
For more connection with the water, AlfaRosso is equipped with steel handrails instead of the more traditional bulwarks. The staircases with open steps are minimalist in design. «The decks are covered with teak - a solution considered by the designers as» between tradition and innovation.
Unlike typical Explorer yachts, where technical areas are under the stern and large areas on lower and main decks, on AlfaRosso the space is oriented towards the crew and guests. The tenders are stowed forward.