The seventh and final round of the Extreme Sailing series will be held in Los Cabos , Mexico,from November29 to December 2. The six competitors fromSwitzerland, Denmark , Oman , Great Britain, Austria and Mexico will be joinedthis time by US Team Extreme.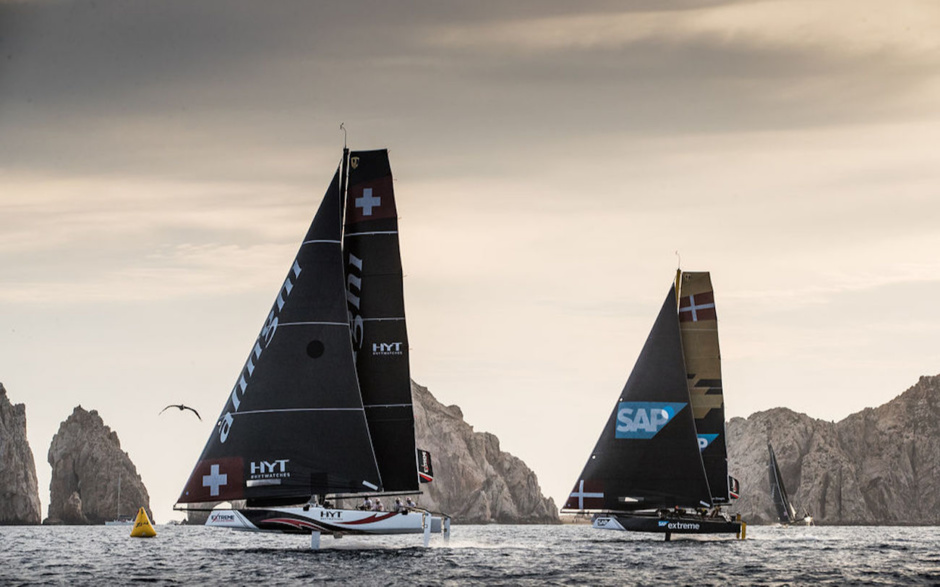 The gap between first and second places is now just five points, so the final race of the series promises to be particularly tight.

Nevertheless skipper and helmsman of Swiss Alinghi Arnaud Psarofaghis keeps his cool head and doesn't seem to be worried at all for the coming race.
« No tension. We are in the best position to win the tour and, of course, the whole series»," he says.
There is good reason to be so confident: the Swiss have finished first in four of the past six stages this year, and in previous years they have been series champions three times.
Unlike their rivals, the Danes of SAP Extreme Sailing Team, the current runner-up in the overall ranking, are a little bit nervous for the start of the final leg.
« We feel the tension. But maybe that's for the best. Hopefully it will make us work harder and help us beat Alinghi and Oman Air»," says Danish skipper Rasmus Køstner.
Oman Air skipper Phil Robertson said his team, currently third in the overall standings, is encouraged by the victory in the previous round of the series in San Diego (USA).
« We didn't have a very easy season, we have had some setbacks. But San Diego gave us a lot of confidence. Now we know we are very fast and we have the morale to deal with the pressure»," Robertson said.
Now nine points behind the top three, the INEOS Rebels UK intend to use «secret weapon in the final». «The team of Will Alloway, Oli Greber andMark Spearman will be joined by the country's most successful sailor Sir Ben Ainslie, Olympic competitor Giles Scott and America's Cup star» Joey Newton.
Team México is the first team from Mexico in the 12 years of the series' existence to compete. And despite finishing in last sixth place overall, the crew finally returns to their familiar waters during the final round and is full of enthusiasm.
« We are looking forward to the final races. There will definitely be a whole crowd cheering for us, so the fact that we have "Mexico" written on our hull and sails makes this stage even more special. We will definitely try our best to finish the season with a good result»," says team skipper Erik Brockmann.