The aluminium motor yacht with raised wheelhouse, which so far goes by the name «Hull 10232», will be custom-built for an American client.
This Baglietto project will be one of the few completely custom projects in the 40m segment and the first fruit of the Italian yard's collaboration with the designer Horacio Bozzo.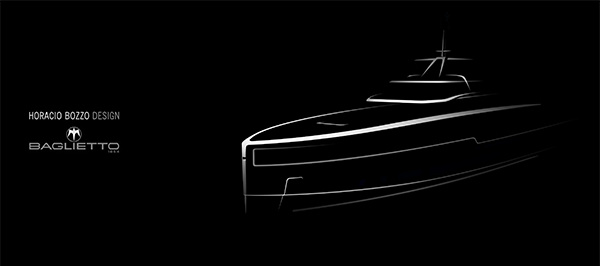 « We are very proud of this totally customized project. It is a new step towards a perfect design, the development of which is our main goal and for which we are putting all our efforts. The project demonstrates once again the yard's will to continue technical innovation and development potential in naval architecture»," says Michele Gavino, CEO of the Italian shipyard.
The exterior design is the sole responsibility of the studio of Argentinean designer Horacio Bozzo . The interior was entrusted to Italian-English architect Achille Salvagni.
At present the Baglietto shipyard in La Spezia, in addition to the 40 metre project, is building four more yachts between 43 and 55 metres long. Among them is another 54-metre-long boat, built jointly by Bozzo andSalvagni, as well as the third «sister vessel», the 48-metre T-Line Silver Fox. Apart from the 55-metre vessel designed by Francesco Paszkowski Design, which will be launched this year, the other projects will reach owners only in 2020.