Italian shipyard Azimut is celebrating the brand's 50th anniversary in a big way. Celebrations and presentations will take place throughout 2019. As one of the anniversary gifts, the company has decided to launch a new range of flybridge yachts- Fly. The first model in it will be the Azimut 76 Fly, which the shipyard representatives told during the Miami International Boat Show held from February 14 to 18.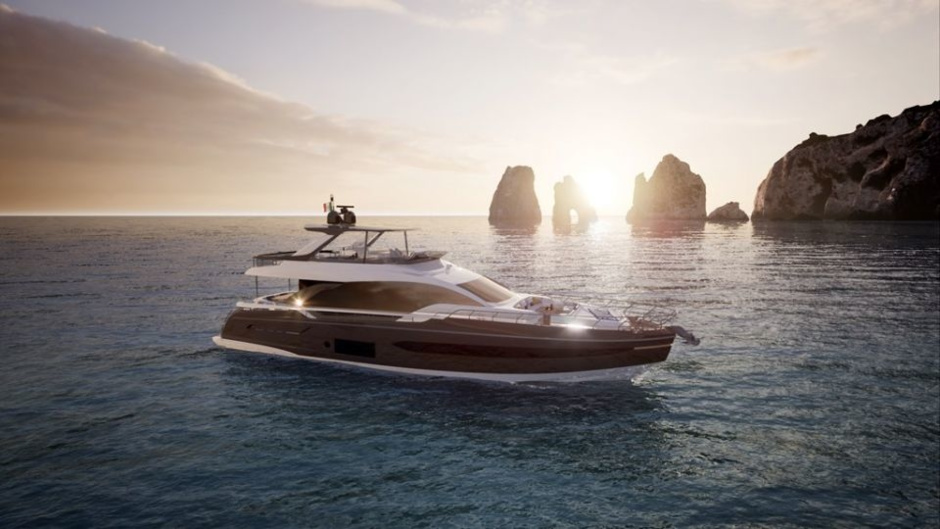 The 76 Fly is the largest of the five yachts in construction at Azimut Shipyards to date.
The boat was designed in collaboration with Alberto Mancini. The designer has collaborated extensively with the Overmarine Group, but has never worked with Azimut before.

From him the boat inherited the characteristic elegant flowing lines of the hull.
The interior of 76 Fly was designed by AchilleSalvagni, who also worked on the Azimut Grande 32 Metri. During the presentation inMiami representatives of the yard showed how the lounge will look like (those pictures were not published yet). The emphasis in her interior is placed on a feeling of relaxation and multi-functionality and each piece of furniture can serve a different purpose: for example, the dining table will easily turn into a coffee table.
The interior space of the boat is used in such a way that it gives the impression of a larger yacht.
From the crew cabins in the bow, there is direct access to the galley and control room. All these areas can be completely separated from the guest and host lounge.
The 76 Fly will be propelled by a Volvo Penta IPS propulsion system. The speed of the boat is still a mystery, but we can assume that with such an engine she will prove to be impressively stable and manoeuvrable.
In addition to the 76 Fly Azimut also presented in Miami a swift, blade-like Atlantis 45 (an evolution of Atlantis 43) and the Verve 47 designed specifically for the American market.