Even the richest people in the world need a vacation, and this week JeffreyPreston «Jeff» Bezos, the famous American entrepreneur and founder of Amazon, decided to take a break and relax aboard the monumental superyacht Rising Sun, owned by producer David Geffen.
Geffen, one of the wealthiest people in the entertainment industry, shared a photo that featured Bezos on his Instagram. In the photo, Bezos was accompanied by his girlfriendLauren Sanchez, former Goldman Sachs CEO Lloyd Blankfein and supermodel Karlie Kloss with husband Josh Kushner.

These aren't the first stellar guests for Geffen, a big fan of life on the water. In the past, U.S. President Barack Obama, TV host Oprah Winfrey, singer Bruce Springsteen and actor Tom Hanks have visited him aboard Rising Sun. Just a month ago singer Katy Perry and actor Orlando Bloom sunbathed on the sunloungers of the 138-metre megayacht.
The boat was built by Lürssen Shipyard on behalf of Oracle co-founder Larry Ellison. In 2007 Geffen bought half of the boat, and in 2010 he took full ownership of it. Almost immediately the boat was refitted.
It cost him $590 million. According to Business Insider the title of the most expensive boat belongs to Roman Abramovich's Eclipse.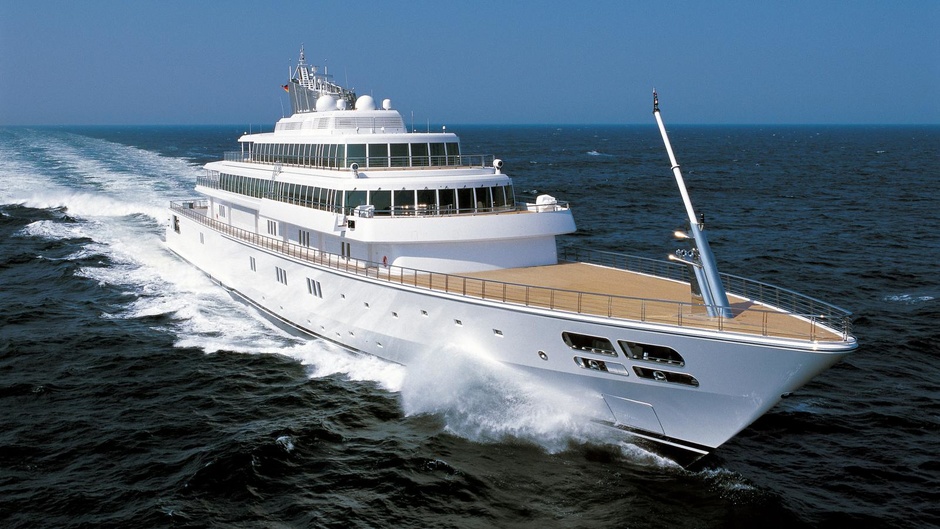 «Rising Sun» can accommodate 18 guests and a crew of 55. It has all the entertainment they can think of: a movie theater, a wine cellar and even a basketball court. The boat isn't idle in port, as Geffen's Instagram shows: he's been on his boat everywhere from St. Barthélemy to Portofino, Italy.
Jeff Bezos' name has been mentioned a lot lately in connection with big boats. This week there were conflicting claims in the press that the American allegedly owns the megayacht Flying Fox- despite the fact that, according to Forbes, «Flying Fox», whose design was developed by the famous Espen Oino, belongs to Russian entrepreneur and chairman of the board of «Domodedovo airport» Dmitry Kamenshchik. Amazon was quick to deny rumors that the Flying Fox belongs to Bezos and clarified that the owner of the aerospace company Blue Origin has never even boarded the plane.