There are many similarities between the yachting and automotive worlds, as evidenced by projects like the Sport Yacht Concept from Lexus or the Cigarette Racing 41' AMG Carbon Edition from Mercedes-Benz. Another and even more daring work is the 13.25-metre speedboat A43 Lamborghini Edition, drawn by Milan-based design studio Officina Armare. The speedboat has adopted the aesthetics of the Lamborghini supercar as much as possible, namely the mind-blowing Centenario Roadster.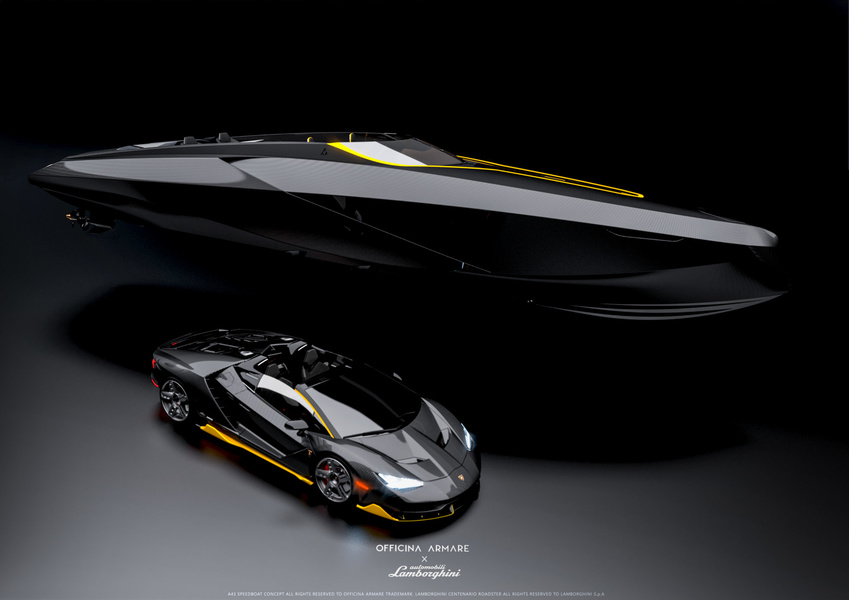 According to the designers, A43 is more than a speedboat. THIS is a special lifestyle.
And if the roadster Lamborghini, whose elements are the asphalt race tracks, equipped with a 770 hp V-shaped 12-cylinder engine, created on its likeness, speedboat can be equipped with both Mercury Racing engines, and the same two atmospheric V12. The list of features also includes bow thrusters and Caterpillar Three60 propeller steering columns.

The huge air intakes have been designed so that they optimise airflow to cool the components - primarily the mighty engines - and at the same time reduce aerodynamic drag with lift.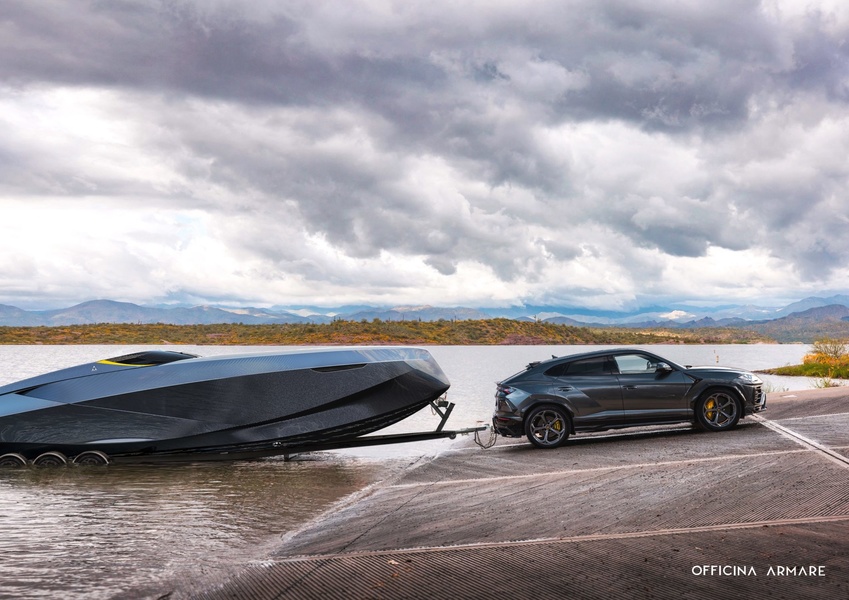 Following its prototype and source of ideological inspiration, the swift A43 Lamborghini Edition is almost entirely made of light and durable carbon fiber. The broken lines of the matt black body with bright, diluting yellow inserts give the image an additional sportiness, as does the sloping windscreen and the narrow, predatory staring LED lights.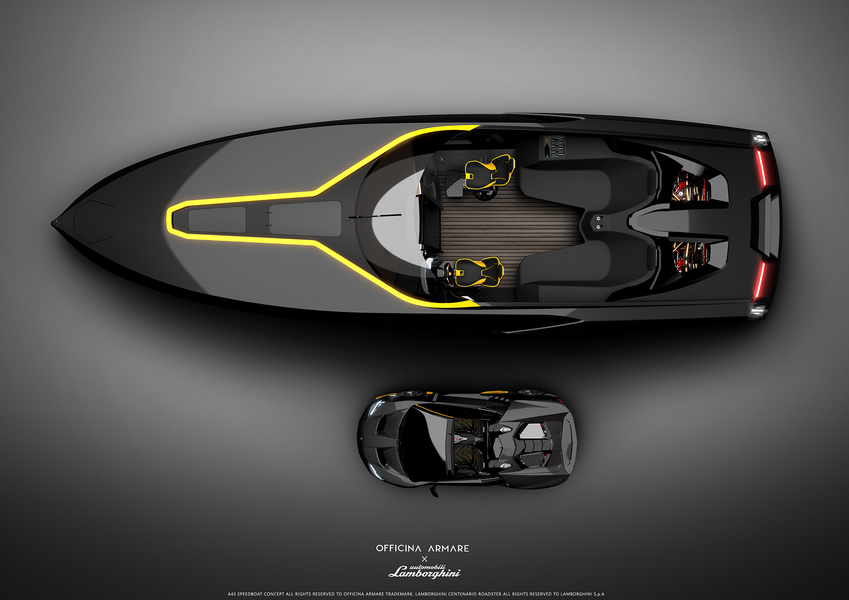 Despite the obvious focus on speed, there is plenty of room on board for those who simply want to enjoy the comforts of the sea.
There is a dining table, sofa, cooker, fridge, air conditioning and a shower room. A special luxury is the aft cockpit with a refrigerated champagne receptacle.
In general, the speedboat's cabin, finished mainly in fine leather, precious wood and carbon fibre, strongly resembles the cockpit of its muse in the form of a roofless two-seater supercar.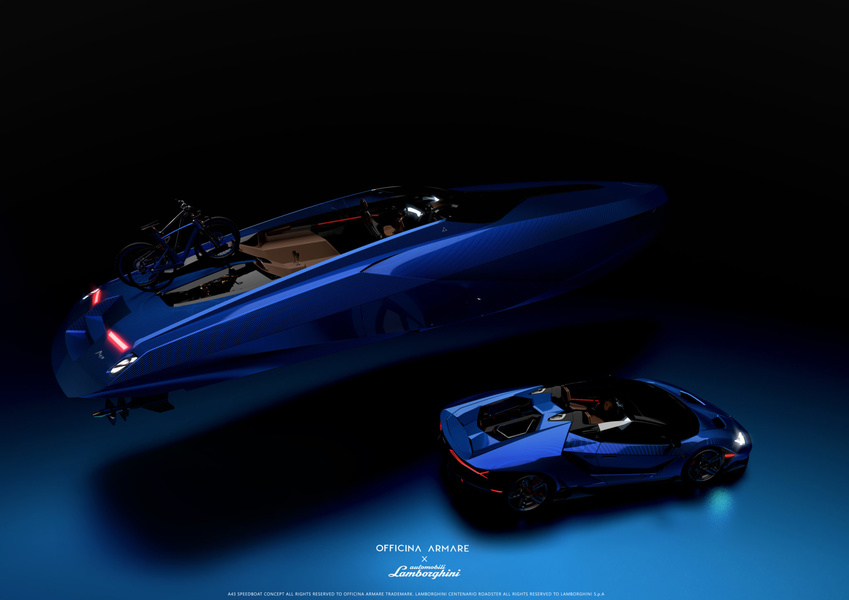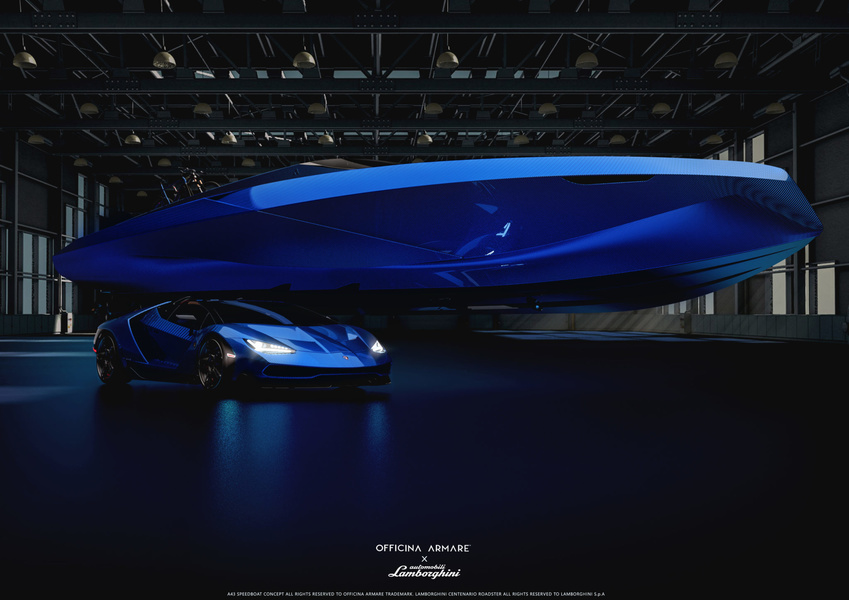 Selfish on the outside and practical on the inside, it carries two«sibobs» and is fitted with special mounts to hold bikes or surfboards.

Although the A43 exists on paper only, the boat is expected to be 13.25 meters long and 3.7 meters wide when built.