As you know, in 2010 WFSU was concerned about the project of distribution of Optimists to children's sailing schools. Today the project is implemented on the basis of 1:1 investment ratio, i.e. to each Optimist bought by the school itself, the VFS added one more «for free, i.e. for free» at the expense of sponsors and funds of the Board of Trustees.
And now it turned out to be reached a certain critical mass, otherwise it is difficult to explain what is happening. This year schools literally flooded the WFSU with their requests: in the first two months of the year they have received more applications than in the whole of last year, when more than 500 boats of this class were sent to children's schools. What is it - an increase in the financial solvency of the schools themselves, an increase in the number of children wishing to sail, or simply an increase in the number of Sailing Schools? Perhaps the answers will appear at the end of the year, when the WFSU will once again sum up the results of this project. But in any case the trends look encouraging. Perhaps we will see the times when at our water areas the horizon was not visible because of the sails.
Another interesting detail - on the basis of one of the yacht-clubs (Vladivostok «7 feet») is proposed to form a charter fleet of Optimists, which will allow to send to Vladivostok for training of children from eastern regions of the country without costly delivery of boats - very correct move.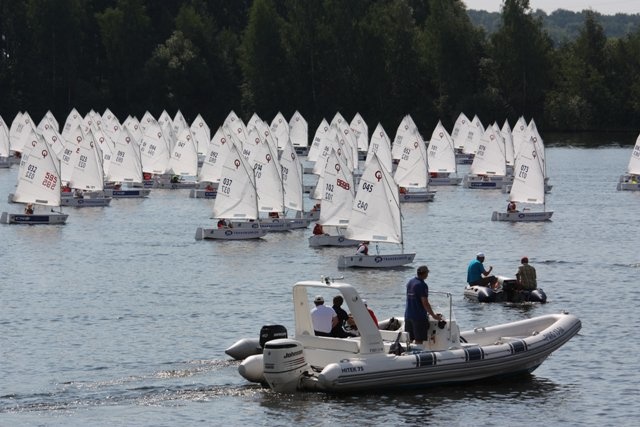 Well, it looks like some kind of purposeful development program (even if it is difficult to win international competitions on dinghies of Polytermo, as acknowledged the Russian Yachting Federation Director himself).
Sceptics here a question creeps in - and then what? Well, we provide Optimalists to all the children who want to practice sailing. What will they do when they grow up? «What classes are prepared for them»?
We, as optimists in life, see that "pelvis" is a typical gateway drug. They will fulfill their task of sifting children through the sieve and getting them hooked on sailing.
After they grow up, everyone will decide for himself whether it is interesting for him to be engaged in this sport. And if there is a desire, there will always be opportunities.