Columbus Yachts has unveiled the design for the Tomahawk Explorer. The 52 metre, 499 gross tonne concept was created by Italian designer Marco Casali.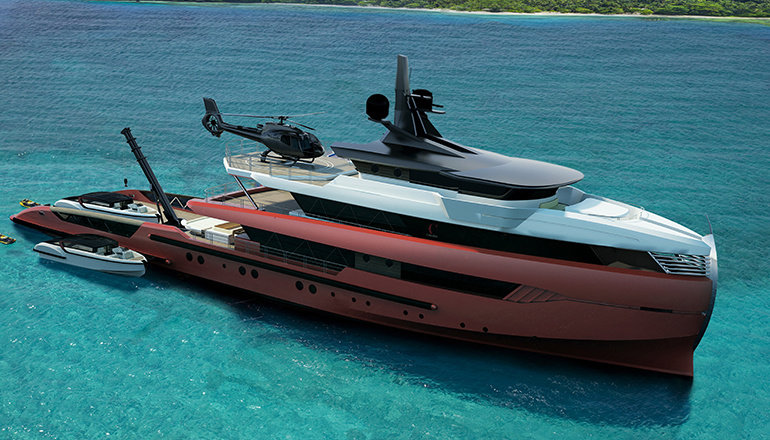 The hull has been designed by Spanish bureau Insenaval to maximise her stability in all weather conditions. The name Tomahawk (Tomahawk is Indian fighting axe) describes the unusual shape of the prow which gives the yacht a brutal and futuristic look.
The Tomahawk concept can be produced in any size from 40 to 100 metres according to the owner's wishes.
«With a length of 52 m, this is an efficient layout," says project developer Marco Casali. - The 75sqm master suite is located forward and has excellent visibility, as well as access to a 21sqm private terrace with sunbeds and a Jacuzzi. Guests on the lower deck have access to the living area, gym and spa. Guests and owner access to the beach club, pool and water, bypassing the lounges. The unique forward dining area features a bar and cinema or karaoke. The crew cabin is also very spacious».
»The novelty has the largest in class three-level beach club of 200 square meters and all sorts of toys «, in particular the stern accommodates two 12-meter tenders, while the garage houses four jet skis, a submarine and several motorcycles.
A full-fledged 6×2.5m pool is located aft. The court can also be used for parties or basketball.
Other unique features of Tomahawk include the ability to have an MCA-approved helipad on the upper deck.