For the first time in the 27-year history of the Vendee Globe solo round-the-world regatta, the participants were filmed crossing the rugged Southern Ocean.
French television station TF1 caught on camera the race leaders - Briton Alex Thomson on Hugo Boss and Frenchman Armel Le Cléac
'h on Banque Populaire VIII - as they passed the Kerguelen Islands.
The TV crew filmed from a French naval helicopter flying from the frigate Nivôse, patrolling the French part of the Southern Ocean. At the time the video was shot, Le Cléac was ahead, leading Thomson at more than 20 knots in 25 to 30 knots of wind.

The Kerguelen Islands are one of the most remote points on the planet. Africa is 2,000 miles to the west, Australia is 2,000 miles to the east and Antraktika is 1,000 miles to the south.
This is the first time since 1989 that the Vendee Globe race has been filmed this far south.
Commenting on the event, Alex Thomson admitted that the arrival of a French warship and a TV helicopter added a nice variety to the course of the race in such a remote region of the earth.
«The wind was 25-30 knots, the sea was awful - gray, icy - so the helicopter was a good distraction from it all. The pilot did a pretty good job flying in reverse as he filmed me unfurling the British flag, I think it came out great. I want to thank whoever set this up," Thomson said. - I had two reef mainsails, a jib and partly a Code Zero. I was averaging 21.5 knots. Not so bad boats without foils».
Alex Thomson's IMOCA 60 collided in the water with an unidentified object and lost one foil.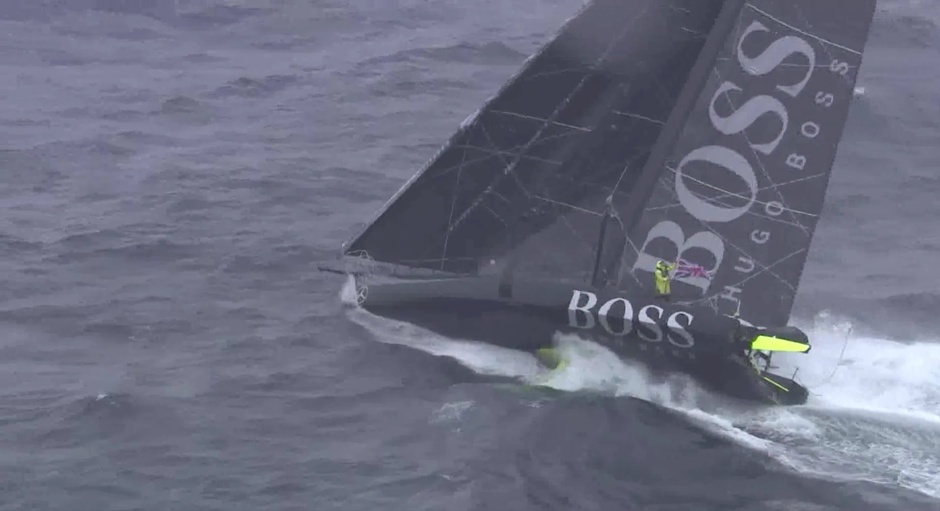 The Vendée Globe round-the-world race started on November 6 from Les Sables d'Olonne. Four competitors have so far dropped out of the race.