Out of 146 boys who took part in the European Championship, our Artem Sudakov took 8th place in the Open class and 5th place in Europe.
Now Russian «optimists» have someone to look up to and there is a record to be broken.
248 athletes from 40 countries came to Balatonfoldvar to compete in class «Optimist». For other Russian yachtsmen championship was not so successful. Check out the full results here, and you can see a replay of the races on the TracTrac website.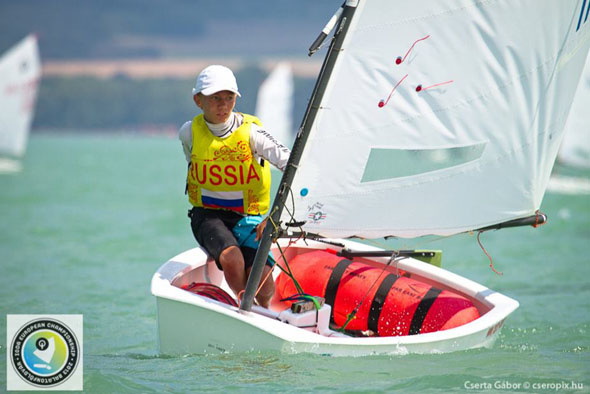 After the championship participants shared their impressions:
Coach Maria Frolova:
Good performance. Artem has the best place ever. And the overall result is high. Good job everybody. We did what we wanted to do.
Artem Sudakov:
Everything is great. I set a record. I guess I was nervous. I was a little bit tired and homesick. Haven't been home in a month.
Mikhail Ushkov:
I have normal impressions: neither good nor bad. It's a shame about the last race. I was 3rd. And left the start with 1.
Zoya Novikova:
The mood is normal. Yesterday I sat down and wrote down the things, which I should improve. To come next year and already win.
Next year we will go to Ireland to win.