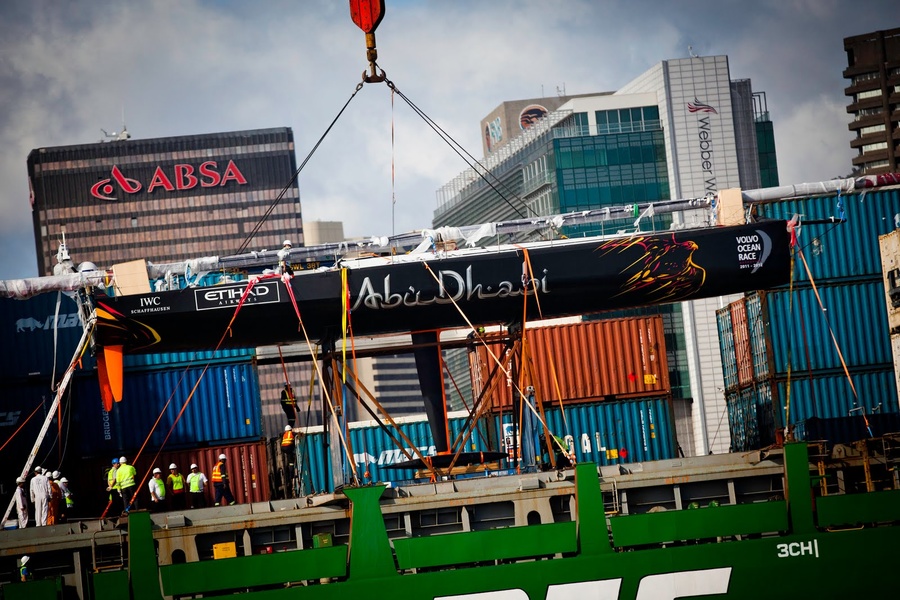 "Volvo Ocean Race logistics champion, Team Abu Dhabi has arrived in Cape Town". It would be very funny if it wasn't so sad.
In case anyone doesn't know, 3 of the 6 boats in the first leg of the Alicante-Cape Town regatta have gone off course. First Abu Dhabi had a mast break on the first day of the race in the Mediterranean Sea. After 24 hours Chinese Team Sanya damaged the hull. Later, when more than half of the route had already been passed, PUMA team lost their mast in the middle of the Atlantic.
All three breakdowns occurred virtually "out of the blue" - there were no collisions, run aground, sudden encounters with icebergs, or emergency surfacing of secret Soviet submarines.
The yachts simply broke "against the water". In stormy conditions, yes, but it's still not normal. The crews and their designers seem to have gone too far in the pursuit of lightweight construction.
Of course, those responsible for this outrage will get their heads kicked in. Of course there will be some emergency corrections in design of the boats. The masts can be replaced by sturdier ones; but it's unclear, to anyone who knows a bit about boat building, what to do with the tumbledown hull of these boats. Sanya, it seems, is definitely dead. Whether Abu Dhabi and PUMA which were counted among the favourites will continue the struggle for the prizes the next round will show which will start from Cape Town this Sunday, December 11.
However, it is already clear today that the current VOR is likely to be the last in this format. When the start was announced with 6 boats this time, professionals were already starting to say that it's not enough for a spectacular and status event. Now it was obvious that the concept of the race has to change. Very expensive breakdowns. It will simply be inefficient for the sponsor to spend such budgets. Most likely, the next race will "return to the roots" - the start will be a lot of amateur boats in several divisions, a big role will also be played by monotype yachts, cheaper and smaller.