Frenchman Sebastien Josse's trimaran Maxi Edmond de Rothschild (ULTIME division) struck an unknown obstacle inthe Bay of Biscay at dawn on November 5th,135 nautical miles off La Coruña, Spain. After the collision, the yachtsman discovered that the forward starboard bow section of his yacht no longer had much of its hull plating. Josse, who had previously been one of the race favourites, will now have to stop in port for repairs.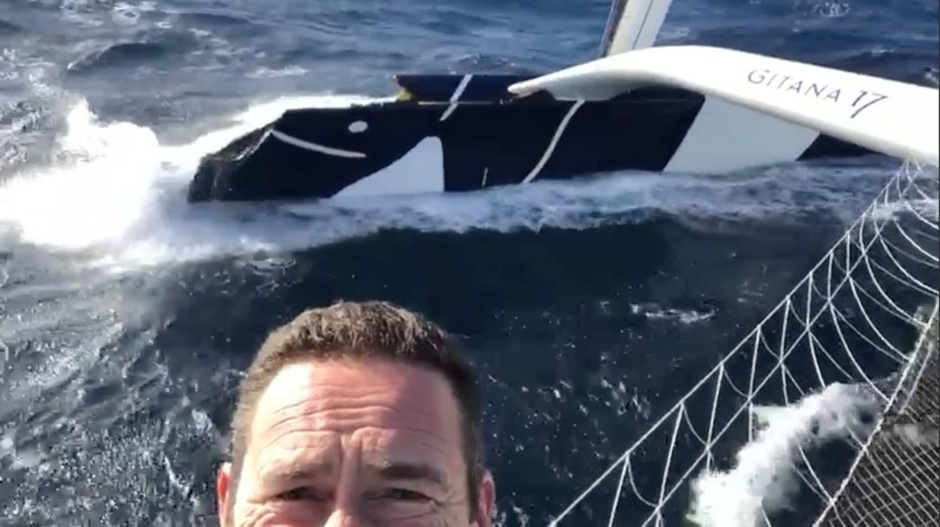 «He got into the racing rhythm well and didn't have any technical problems on board at all. Everything was fine»," said team managing director Joss Cyril Dardashti.
Another unexpected critical malfunction occurred on board of another ULTIME Division trimaran, the Sodebo Ultim by Frenchman Thomas Coville. Coville's front transverse beam was broken. The athlete was also forced to come to La Coruña to have it repaired.
Phil Sharp, the Briton currently in third place in the CLASS 40, had a rough time of it, too. His yacht Imerys Clean Energy had a broken ballast hatch. This resulted in 500 liters of water getting inside the boat. Sharp had to scoop it out and make repairs on the spot.
Problems with steering actually immobilized Frenchman Jérémie Beyou's IMOCA Charal. In the early stages, the athlete was at the forefront of his division, but is now stuck in 17th of 20, and is apparently struggling to get back to shore. He is already 433.5 nautical miles away from the leader in his class, the black HUGO BOSS of Britain's Alex Thomson.
In the other divisions, the leaders at the time of writing are: François Gab art on a MACIF trimaran in the ULTIME class, Thierry Bouchard on Ciela Village in the MULTI50 class, Yoann Richomme onVeedol-AIC in CLASS40, Pierre Antoine on Olmix in RHUM MULTI andSidney Gavignet on Joyeux Café in RHUM MONO.
The battle for first place is particularly intense in the MULTI50 and IMOCA classes. Behind the Frenchman Thierry Bouchard, his compatriot Thibaut Vauchel-Camus is just 4.9 nautical miles away. Alex Thomson is chased by Frenchman Vincent Riou. He is 8.2 nautical miles behind the Briton.
At the end of the first day's racing, which started on Sunday from St. Malo, France, the division leaders received a prize from Brittany Ferries 24-Hour Trophy. In addition to Gabar, Thomson, Antoni and Gavignet, Lalou Roucayrol in the MULTI50 class and Luke Berryin CLASS40 received it. Roucayrol is now in last, sixth place in his division, and nestled between Vigo and Lisbon, France. Berry continues to race in fifth place out of 53.