During the recent Miami International Boat Show - 2019, the Cigarette Racing 41' AMG Carbon Edition speedboat was revealed. It was created by Cigarette Racing Team in partnership with Mercedes-AMG as a result of inspiration «four-door coupe» Mercedes-AMG GT 63 S.
The use of carbon fibre is clearly becoming a trend when it comes to materials used in fast boats such as the latest Pershing 8X.
This 12.5m racing boat, like a powerful road hypercar, is made entirely of carbon fibre.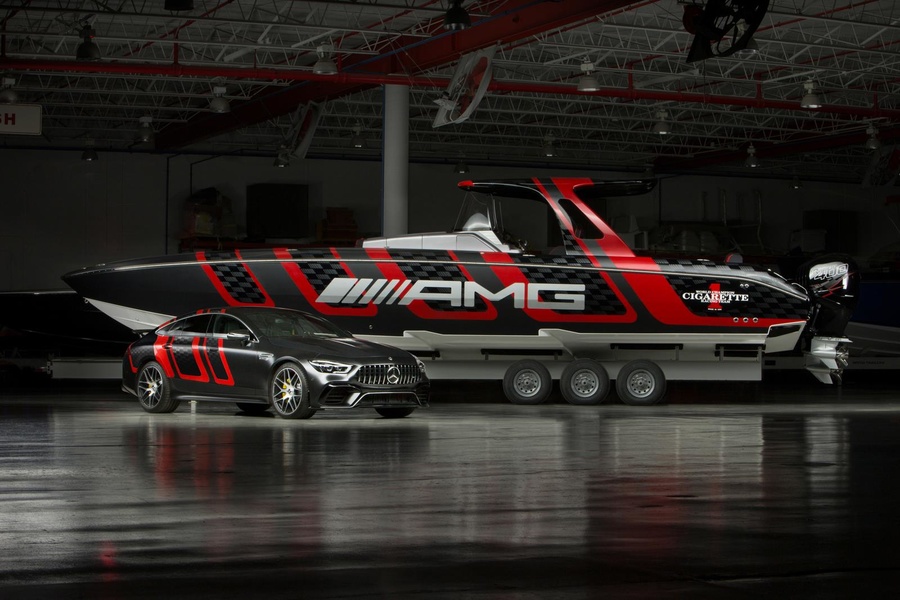 There are many similarities between the Cigarette Racing 41' AMG Carbon Edition and the beautiful car in general.
«As with the car, we modified the boat without sacrificing performance.» We redesigned it, lowered the center of gravity, and used carbon fiber everywhere," says Skip Braver, president of the Cigarette Racing Team.
Even her deck and hardtop are made out of carbon fiber. Using this lightweight but durable material allowed her to lose 227kg compared to a 50' MarauderAMG, another collaboration between «three-beam star» and Cigarette.
Gorden Wagener , chief designer of Daimler AG, adds: « Mercedes-AMG's Performance Luxury ideology can now also be experienced at sea».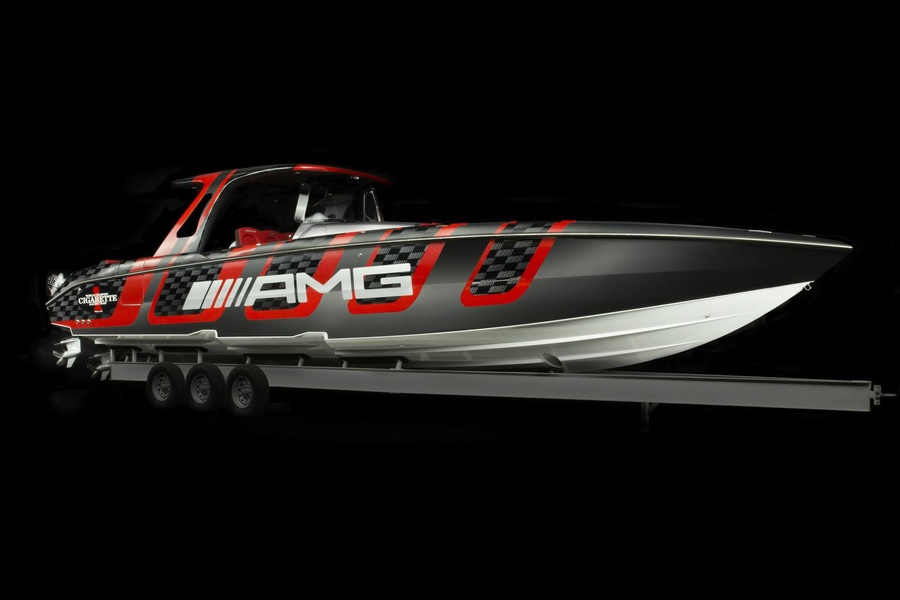 The exterior of the Cigarette Racing 41' AMG Carbon Edition is graphite red. Identical color palette and on the board, though, with a predominance of red only, especially in the case of leather trim: gray under the scorching summer sun heats up more. «However,» the innovative material Cigarette Cool, with which the seats are covered, does not allow you to get burnt. Mercedes-Benz and Cigarette claim it reflects up to 30 percent of the heat.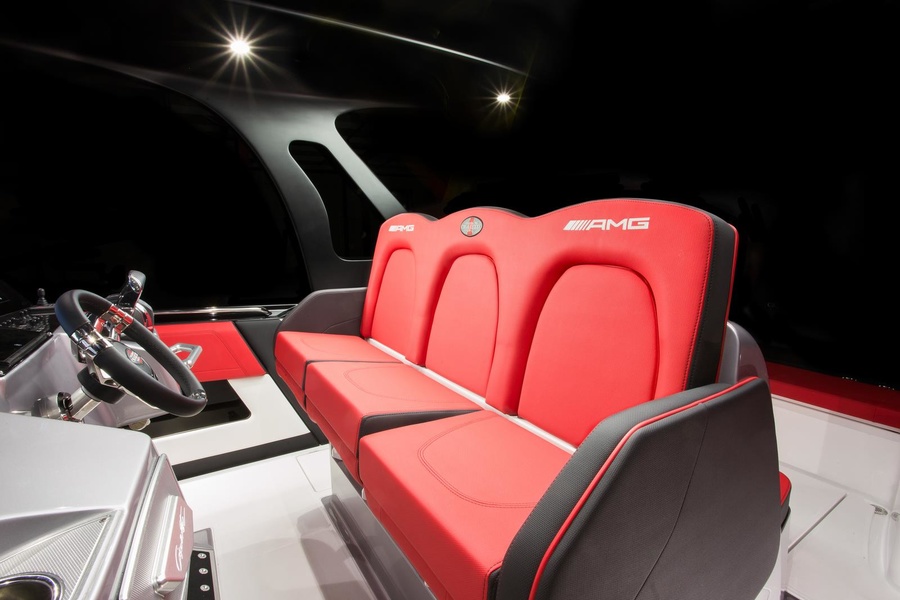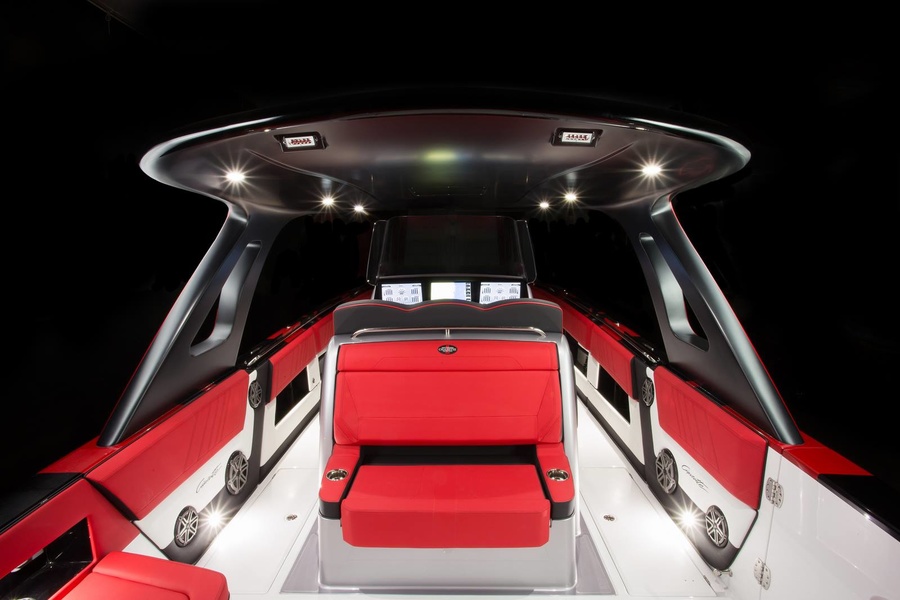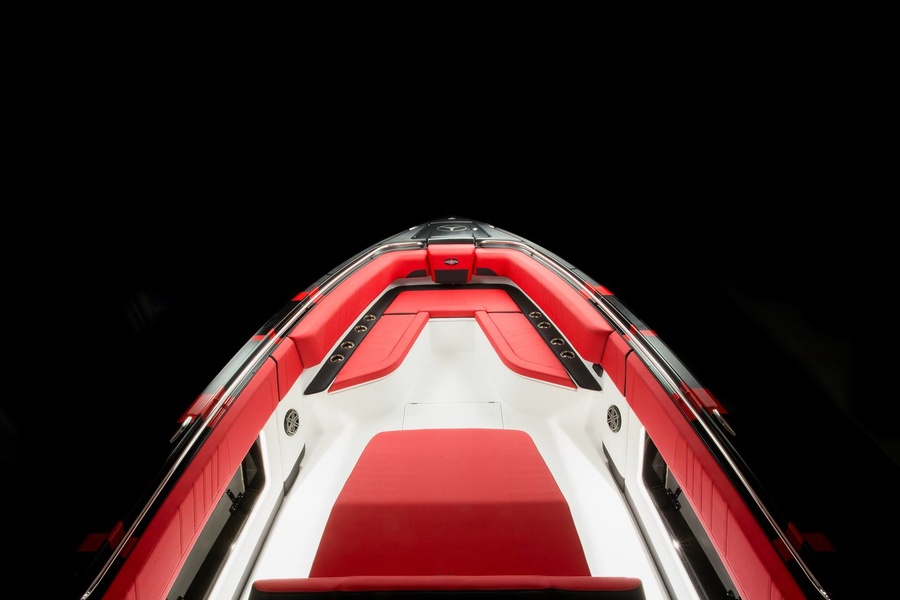 In front of the captain's eyes there are three multifunctional 17-inch touch screens with Full HD technology from Garmin. On them, GPS coordinates, navigation maps and important engine data are displayed.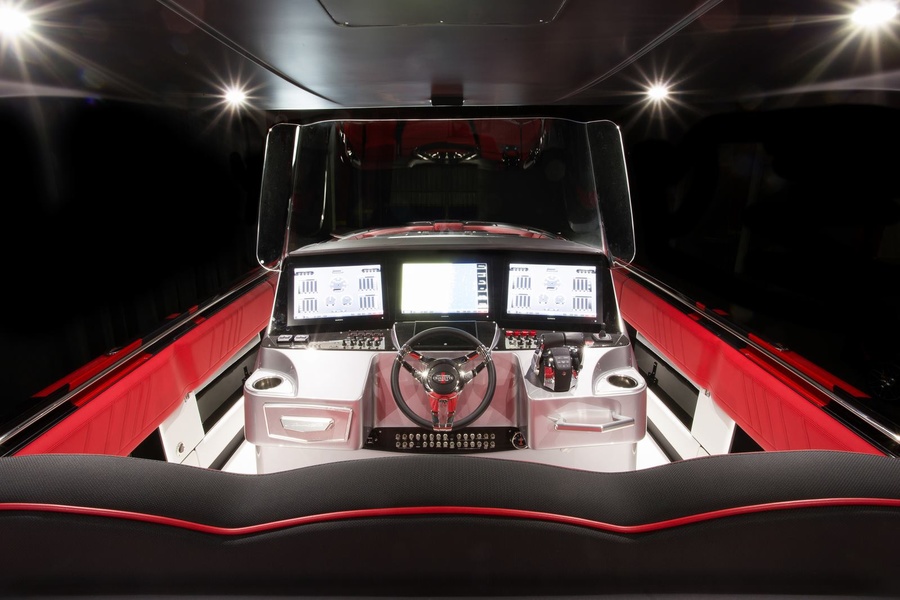 Speaking of engines, this speedboat is equipped with four Mercury Racing 400R outboards with a total power output of 1,600 horses.
The boat is ready to reach 134 km/h at top speed with eight passengers on board.
«In principle, it can hold 20 people, but then «» would have a top speed of only» 102 km/h. The boat is capable of reaching a maximum speed of 134 km/h.
Ordering such a boat, one has to be prepared for a long wait, as it is hand-made from start to finish. It will take around eight months to complete the hull, not counting the paint job (that's a further two months) and another month to decorate the interior.
According to Skip Braver and Tobias Moers , chairman of Mercedes-AMG GmbH, the companies decided not to stop there and continue to write new chapters in the history of twelve-year partnership in such projects. So, another interesting speedboat is on its way!