Construction of SilverYachts Australia's first catamaran will begin in May 2019 at SilverYachts' new shipyard in China's Guangdong province. The 35-meter SpaceCat «will dilute» SilverYachts' line of models, which range in length from 73 to 100 meters.
Fast, environmentally friendly and comfortable - this is the vision of the modern catamaran of Espen Øino, the renowned Norwegian designer who has collaborated with SilverYachts for many years.
His design for the SpaceCat is intended to reduce wave resistance to the hull and increase propulsion and environmental friendliness. According to Espen Oino this is due to the high hull-to-width ratio (35.5m to 13.3m) and the low weight of the all-aluminium catamaran. These features, coupled with four Volvo IPS 1050 engines, will allow her to reach a top speed of 21 knots, with a cruising speed of 16 knots.
Her comfort level is equally well thought out, with 575 square metres of external space and 300 square metres of internal accommodation. There are spacious lounges on the exterior decks and a swimming pool aft.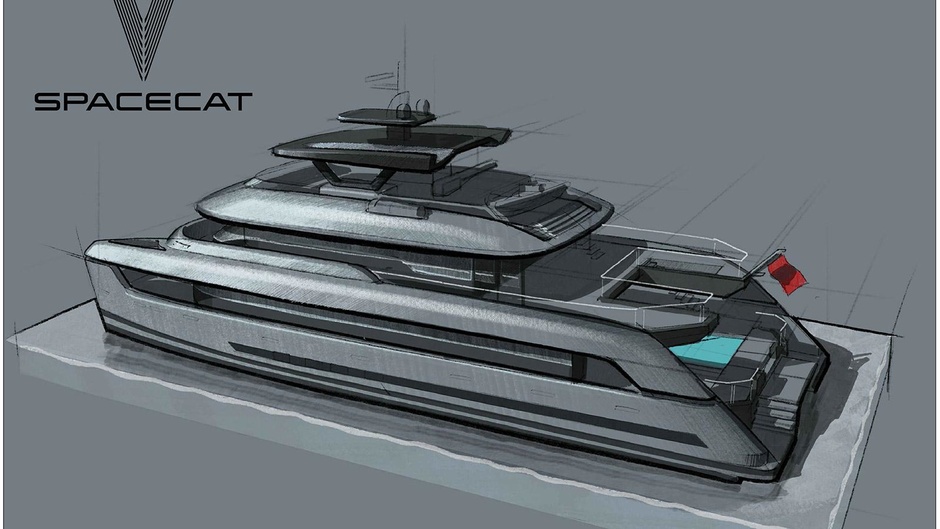 Accommodation for 12 guests is offered in one master stateroom, two double cabins and two twin cabins. The crew (eight) consists of one double captain's cabin, two twin cabins and one triple cabin. All staterooms have amenities.
A total of more than ten SpaceCat series hulls are planned. All SpaceCats will be built at a Chinese shipyard in Guangdong Province. SilverYachts has also announced the opening of another shipyard in China. The rapid expansion in the Middle Kingdom is due to a change in ownership of the Australian company - in 2017, a controlling stake in SilverYachts was acquired by China Zhongwang, a major Chinese aluminium manufacturer.
The entry into the multihull market further confirmed the Australian brand's ambition.
Just two years after founding the company - in 2005 - SilverYachts built the world's largest aluminium vessel Silver (now Rabdan). And in September 2017, the company announced the construction of the Silver Loft luxury explorer.