Italian shipyard Canados has announced a new day cruiser that has no analogues.

The Gladiator 919 RD Series is ready to reach speeds in excess of 52 knots.

One of the RD Series' other key features ability to sail in 1.5 meter deep shallow water at a cruising speed of 44 knots. With its enviable speed, itwill takeless than 35 minutes to get from Saint-Tropezto Cannes orCorsica .
«With this kind of performance, it will undoubtedly be the fastest production day cruiser on the market»," assures Canados.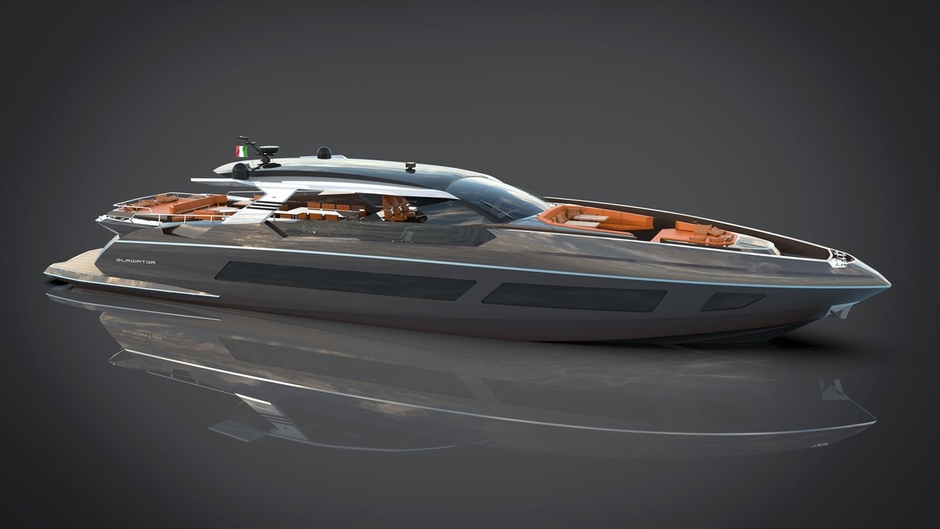 Equipped with three MAN engines with 2,000 hp and air-suck drive, the 27.8-meter Gladiator 919 RD Series gives you the thrill of a sportboat. sports boat feel, coupled with the with the comfort and luxury of a superyacht.
An important aerodynamic feature important role is played by the windscreen, preventing incoming airstreams from hitting the guests in the airstream. from entering the guest area, even «» at speeds close to possible. This solution is borrowed from the world of sports cars.
Buyers who are still afraid of botching up their neat hair would do well to consider the twin-engine MTU variant.
It's nice that whichever variant is ordered, gyro-stabilization systems are included as standard equipment.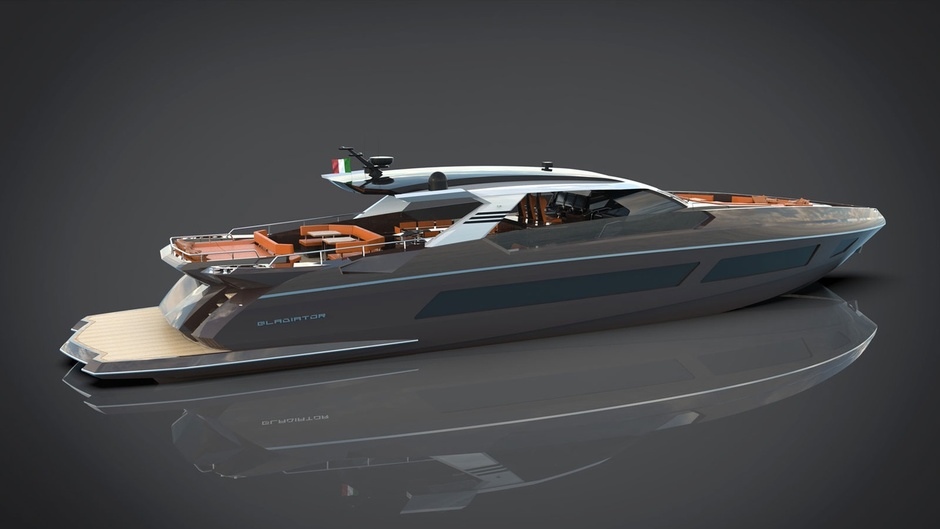 Owners have the right to choose both the stylistic Owners have the freedom to choose interior styling and layout - three or four cabins. Either way, they can choose a three- or four-stateroom layout (accommodating six or a maximum of eight guests). in either case, the master suite occupies the entire width of the hull. width of the hull, the galley is separated from the crew quarters. In any case, the master suite spans the entire width of the hull with a separate galley and a crew cabin with a capacity of three guests.

Plenty of space is devoted to the aft seating area with sofas facing each other and coffee tables. sofas facing each other, coffee tables and even a breakfast bar. « Recessed» sunloungers on the foredeck and bulwarks enhance the feeling of security.

The first hull of the new «Gladiator» will be ready by the summer of 2020 and will be unveiled public at the Monaco Boat Show and Genoa the same year.
The Rome-headquartered shipbuilder Canados produces luxury semi-custom composite boats from 23.46 to 36 metres in length.