Sirius Evenements announced on June 11 the establishment of a new round-the-world regatta for crewed pairs on Class40 sailing vessels. GLOBE 40 - The Grande Route will start on June 27, 2021. The race will be open to professionals and amateurs alike. There will be at least 15 teams on start. The participation fee is estimated at €15 thousand.
«It'll be a doublehanded race, which is dictated by the spirit of racing in Class40, because it allows for the concept of adventure, an experience which two people will share with each other, as two at sea on such a voyage - just safer»- explain the organizers.
In order to make the regatta more accessible, it is planned to allow a change of skipper during the stops between the stages.
None of the stages of the race (there will be eight of them) will last more than 30 days, and the route will be constructed in such a way that technical support will be available for the participants everywhere in the regatta. Also for safety reasons it has been decided to refrain from sailing in high southern latitudes wherever possible.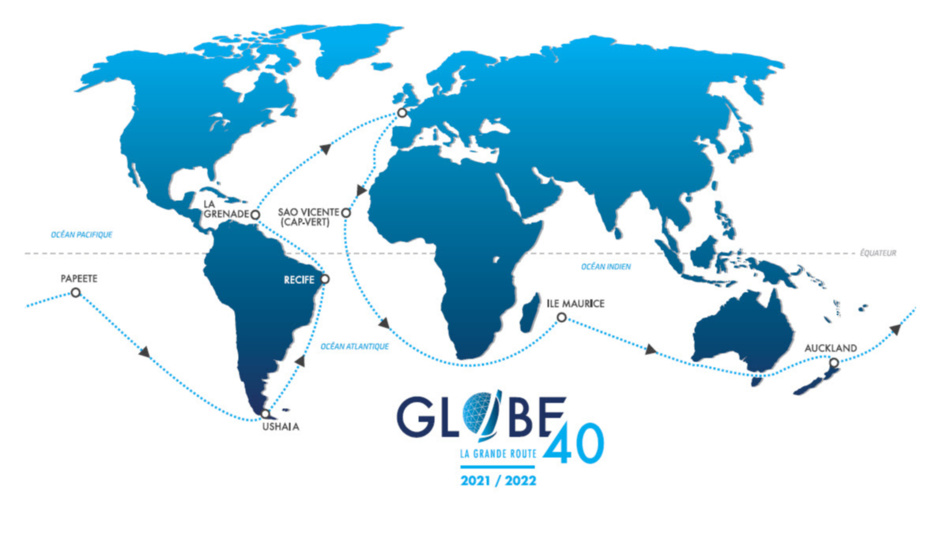 The French coast is now considered to be the most probable place for start and finish, but race organizers emphasize that «will not close the door to proposals from other European countries».
The first leg of the race is expected to take some 2,200 nautical miles. The route will pass by Madeira andthe Canary Islands and finish in Cape Verde. Then the participants will go to the Capeof Good Hope, and after passing it, will turn to the northeast, to Madagascar.
The third leg will start in the Republic of Mauritius and finish in Auckland, New Zealand. From there, the journey into the heart of French Polynesia will begin : the Cook Islands , Bora Bora, the Leeward Islands and finally Papeete Harbour in the LeewardIslands.
In the next leg, the fifth, riders will circle Cape Horn and find themselves back in the Atlantic. They will catch a break before returning to the northern hemisphere, first in Ushuaia in Argentina and then in Recife in Brazil. The route of the last two legs will pass through Grenada andthe Azores. The route of the regatta may still undergo some changes in the future, but according to the organizers, in any case, «it will retain the same spirit».
The first team is expected to finish on March 13, 2022.
The finish line will be open until March 20. Thus, in total, this circumnavigation of the globe will stretch for about 140 days, during which participants will cover about 30,000 nautical miles. On average, each leg will take from 12 to 24 days.

After 2021/2022, GLOBE 40 is expected to be held every four years.