Almost it took almost ten years for the 41.4-meter boat... the 41.4-meter boat, resembling in full-face The boat resembles an alienflying saucer or at least an earthbound spaceship and is ready for launch in Nynnehamn, Sweden. Nuneshamn, Sweden. At the same time she was handed over to the owner, but nevertheless the unusual vessel remains in Scandinavia for the time being , at the docks of the Kockums shipyard. А it all started like this.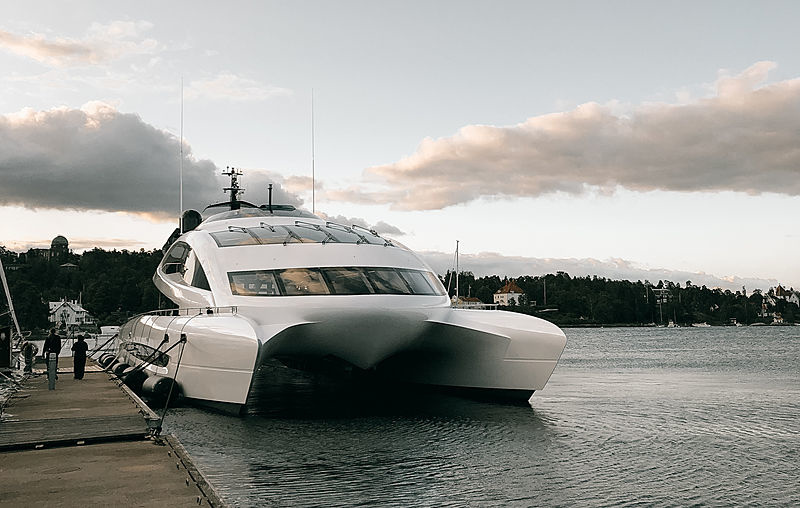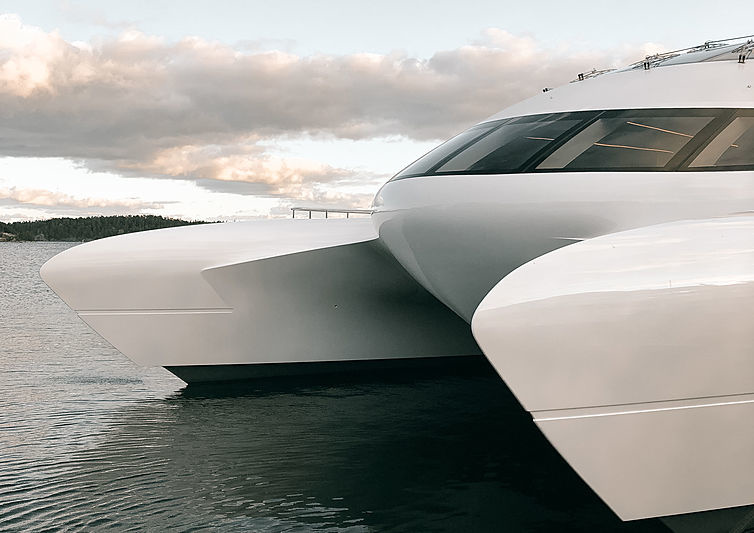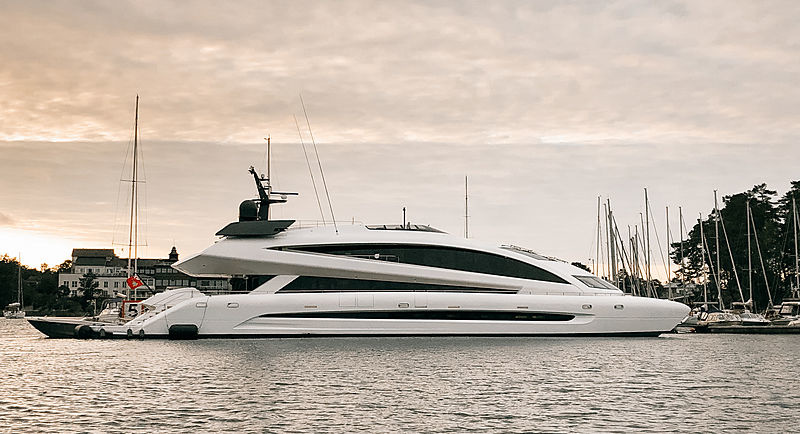 A little-known Singapore-based shipbuilding company. Royal Falcon Fleet in Singapore wanted to create a yacht that wouldn't just EMPHASIZE everyone's « wow!», but had a blast bomb.
Eventually, they decided to call in In the end we decided to go with the Porsche Design Studio, who like to take on ambitious projects in the yachting industry and who were given free rein from the start. they were given free rein from the start with just one small caveat: it had to be a catamaran. The role of naval architect Incat Crowther.

Spacious living quarters are spread out spacious living areas are dispersed across four decks. The main deck, full beam, has a large sky lounge with panoramic views across the full width of the forward section and a dining area on the deck level. panoramic view and dining room with access to the aft deck. The aft deck is the dining area with access to the aft deck. The sunbathing area sunbathing and relaxation area with Jacuzzi, bar and sunbeds on the sun terrace.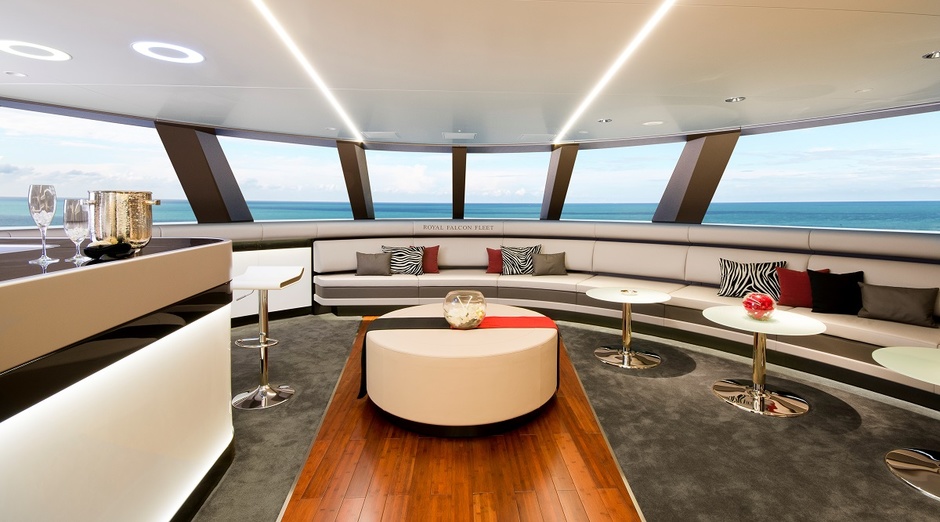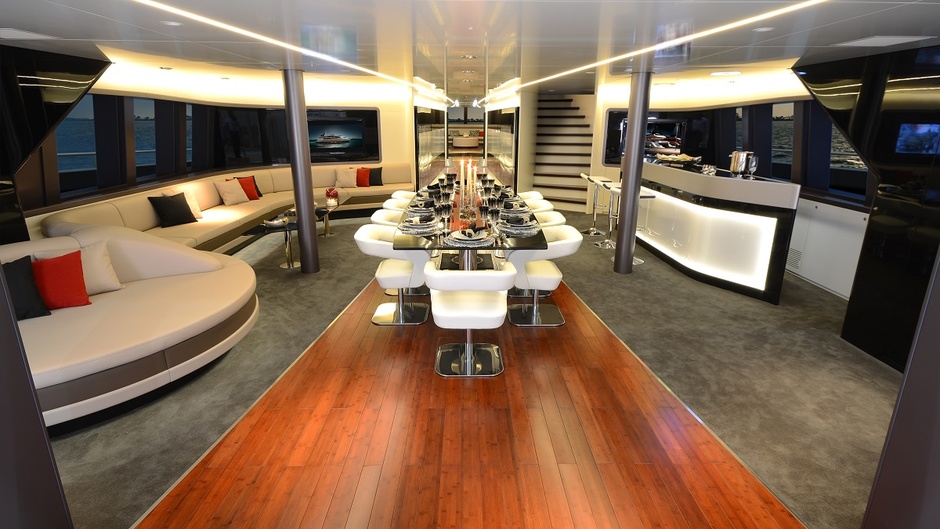 With Royal Falcon One's 135' length the design team wanted to achieve the same deck space as a traditional 210' boat.
She can accommodate ten guests in five very comfortable cabins including a master suite.
В two of the hulls are equipped with crew quarters The two hulls are equipped with crew quarters, while the tender is stowed aft on the main deck.

Royal Falcon One is equipped with two diesel engines MTU 16V 4000 M93L diesel engines of 4,000 hp each, and an equal number of Rolls-Royce KaMeWa. Maximum speed is 35 knots, cruising speed is 30 knots. Promised range of 2,000 nautical miles.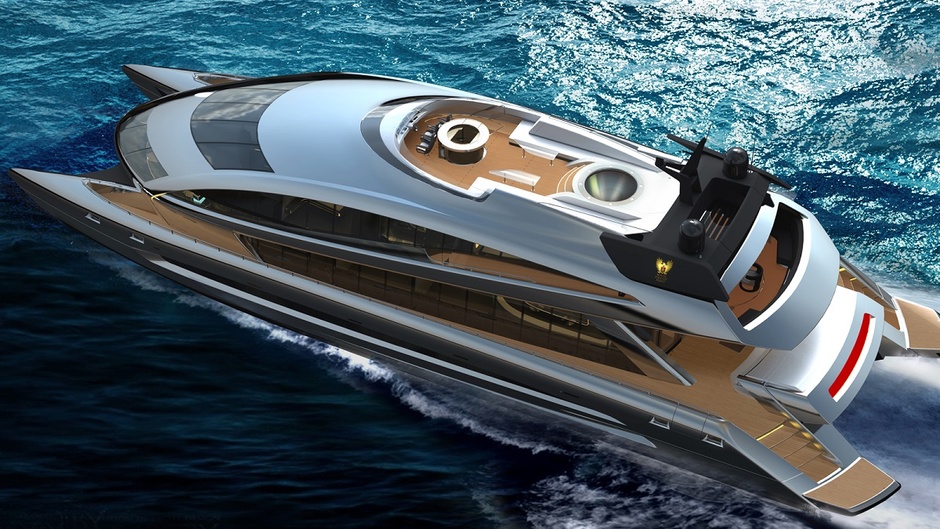 Where the multihull on its maiden voyage for its maiden voyage is not yet clear. There's some speculation that it may be visiting a number of major upcoming boat shows.