Route du Rhum 2018 winner Francis Joyon, a French yachtsman, sailed solo from Port Louis, France, on 19 October on his IDEC SPORT maxi-trimaran.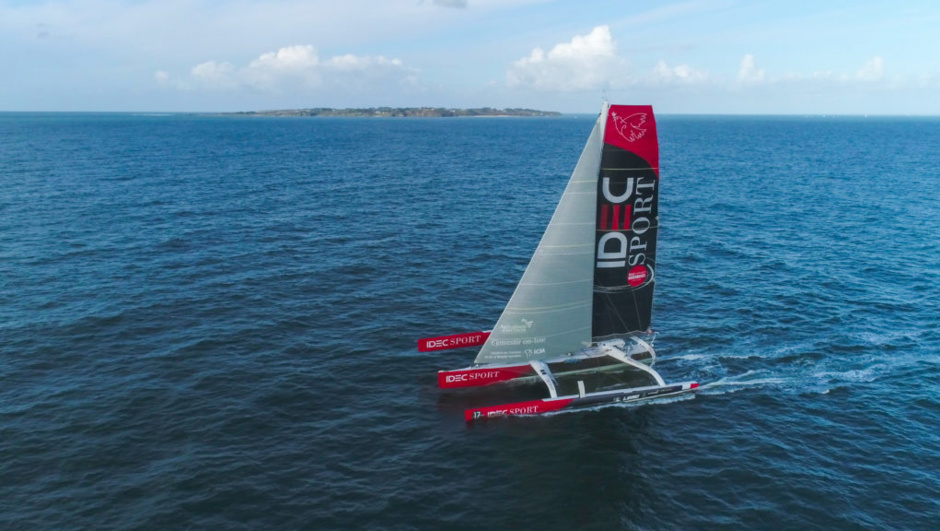 For him and his 31.5m yacht, this was the start of a four-step journey to Asiaand back, which is expected to last until March 2020. During each crossing, Jouyon hopes to set a new speed record.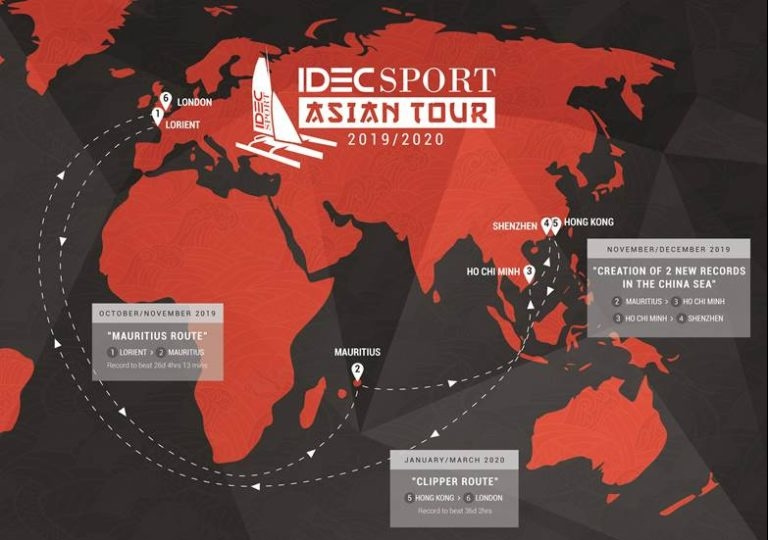 Maurutus Route. Port Louis(Brittany) to Port Louis (Mauritius)
In 2009, Joyon himself at the helm of a 30m trimaran IDEC 2 (now Qingdao China) set a record on this 10,300 mile route. It took him 26 days, 4 hours and 13 minutes to complete the 10,300-mile trip.

«It's a tricky route. The boat is very demanding, the Cape of Good Hope is never easy to round. So why am I doing it alone? I like the idea of trying to improve on a certain distance. I just love walking alone and I get satisfaction from it. This route motivates me»," Jouayon said.
By now we can say that the start of the trip has been successful. By the end of the first day, the «yachtsman had surpassed himself» by 75 miles. However, on the first day, Jouayon had a scare as a squall with winds up to 32 knots caught the IDEC SPORT just as the gennaker was raised on the trimaran.
Mauritius to Ho Chi Minh City ( Vietnam). Ho Chi Minh City to Shenzhen ( China).
The IDEC SPORT crew will be boarding in Mauritius in November. According to Joyon, he fell in love with crew crossings relatively recently - while trying to win the Jules Verne prize for the fastest circumnavigation of the globe (which succeeded in 2017 ).
The shortest time to sail from Port Lui to Ho Chi Minh City and from there to Shenzhen has never been recorded. To turn a new page in the history of sailing, he was joined by his son Corentin Joy on, his friend Bertrand Delesne, Antoine Blouet, Christophe Houdet, the last three circumnavigators of the VendéeGlobe, Arnaud Boissières and, schedule permitting, Bernard Stamm, a member of the IDEC SPORT crew during the 2017 Jules Verne prize race.
Clipper Route. Hong Kong to London.
Shenzhen is Hong Kong's close neighbour. From there, it will be time for the team to head back to Europe. The route, used by multi-sail clippers from Asia to Britain in ancient times, is over 13,000 nautical miles long.
The current record for this distance belongs to Italian Giovanni Soldini. In February 2018, he sailed this route in 36 days, 2 hours and 37 minutes on a 21.33-metre Maserati Multi 70 trimaran.
«The total length of the» IDEC SPORT Asian Tour will be around 28,000 nautical miles, which is comparable to a circumnavigation of the globe.