It hasfinally been revealed which boats ISAF has included in the test programme for the final selection of the two Olympic racing classes: the future multihull and the women's dinghy-double.
The Hobie 16, Nacra F16, Spitfire S, Viper 16, Nacra 17, Hobie Tiger as well as two Tornado catamarans but manufactured by different companies: Marstrom (Sweden) and Exploder (Poland) will compete for the right to become an Olympic multihull at the 2016 Games from 17 to 25 March in Santander (Spain).
For the ladies, the 29erXX, ARUP Skiff, AURA Hartley, Rebel Mackay and RS900 classes were introduced.
Among the multihulls, one thing is immediately apparent: almost all boats are shorter than 18 feet. Not a single vessel of F18 class was selected for the final selection. No AC 18s were mentioned either although they've been campaigning for an entry into the family. And why?

Strictly speaking, unofficially, it's because the developers of these boats weren't satisfied with the ISAF's selection and evaluation system and refused to participate in the ISAF Multihull Equipment Evaluation Trials.
Angrier voices claim ISAF went along with a number of large manufacturers in an attempt to include relatively large production boats in the selection. This will exclude the most advanced racing boat designs including all the latest scientific and racing developments like curved centreboards, wave-piercing hulls, mast-wings, etc. from the Olympics 2016 programme. The fastest and most spectacular classes are excluded - and in the traditionally weak winds of Rio de Janeiro, these would look the most advantageous. And again Tornado hangs up - it would seem that it is not necessary to worry about its prevalence and popularity...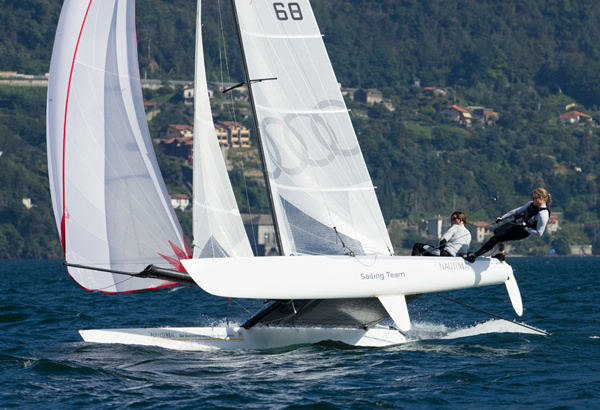 I think ISAF's MNA (Member National Authorities) are leading the Olympic sails to the wrong place, to put it mildly. All these oscillating selections (we exclude Tornado, we include Tornado, we exclude Zvezdny, we include Zvezdny) imply one thing: the absence of a clear concept of Olympic sailing development. And personally to me introduction of classes «for one Olympic cycle» (remember women's Elliott) seems a deeply flawed practice...