Porto Montenegro, a super modern marina project for superyachts, is coming to life before our eyes. Its creators have thought of everything to call a "green" marina.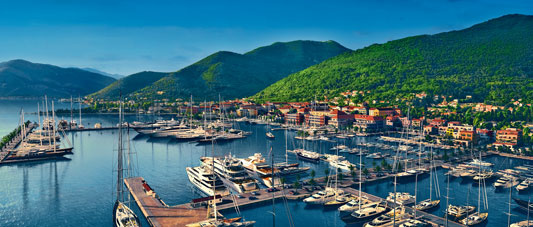 Commencing a major project in Montenegro, Canadian businessman Peter Munk, founder of Barrick Gold, the world's largest gold mining company, assumed that the number of superyachts had tripled in the last ten years. Not all ports in Europe, especially those that have grown from fishing villages like St Tropez, can accommodate large ships. And those that can - are overloaded and astronomical billing. So why not offer better and cheaper? With a time-tested gut feeling for gold veins, Munch found another one in Cotor Bay.
With the support of Montenegrin Prime Minister Milo Djukanovic, Munk has built a remarkable pool of investors - investment banker Lord Jacob Rothschild and his son Nathaniel, LVMH owner Bernard Arnault, Oleg Deripaska, developer Shandor Demjan and his own son Peter Munk. All agreed that something extraordinary can be done in Montenegro.
Anyone who has been to Kotor Bay at least once knows that this is a place of outstanding beauty. The landscape here is surprisingly similar to the Norwegian fjord, with the difference that there is a riot of lush southern greenery. Crammed between mountains, the bay's waters weave intricately for 27 kilometres, mirroring the green peaks and releasing tiny islands to the surface before merging into the Adriatic. It takes a few hours to reach the Italian coast and a little further to reach Greece.
The Bay of Qotor is UNESCO's world heritage and this has given the builders of Porto Montenegro some responsibility. However, they knew very well that the project would not work if the ecology of the place was destroyed.
For the construction Premier Djukanovic proposed a former Austro-Hungarian naval base, which later became Yugoslavian. But the old base was not built at all according to modern environmental standards, and to begin with, the project developer, Adriatic Marinas, disposed of waste containing copper and lead and cleaned up the area. "The green initiatives did not end there. Wherever possible, recycled stone and wood were used.
They thought about using solar energy. Reduced the need for artificial air conditioning. We even thought about the ecology of sound: in the summer months, when the peak tourist season in the bay, construction stops: noisy work is prohibited.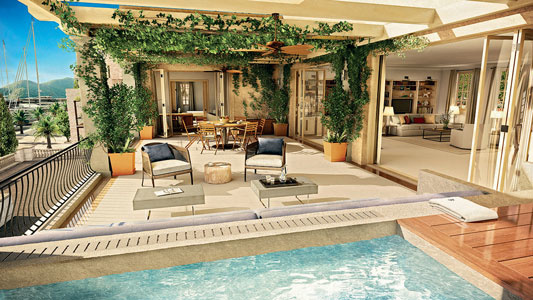 Now the project is in the middle of the road, but its contours can already be seen. Last year the berths for 85 vessels were built, including the largest. There will be about 200 berths this summer. And in a couple of years it will be possible to see all 630 as planned in the project, and 150 of them are for yachts longer than 24 meters. «We could do 1,000 berths," says PR and Marketing Manager Maya Vujaskovic, "but that would be at the expense of the basic concept: to become a superyacht»home.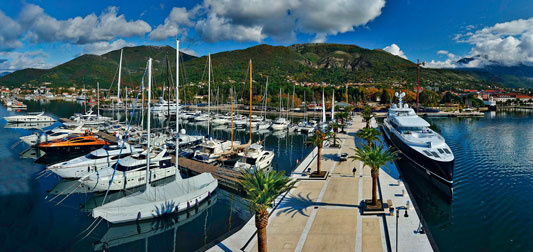 On the already finished Porto Montenegro part, on pontoon bridges, one can see sparkling metal posts at each of the yacht berths. «You will not find such installations in many marinas," says Nikola Banovic, Marina Operations Manager. - We have a vacuum system, which is connected to mini-terminals through all pontoon bridges. If it is time to get rid of grey and black water, you can easily connect to the terminal through hoses and the vacuum system will pump out all the waste immediately. We then purify these waters with powerful filters». Is this service expensive for boat owners? It is free as long as construction is in progress. Oil waste is also recycled here: any captain can get written confirmation here that the oil products have been removed in accordance with European standards.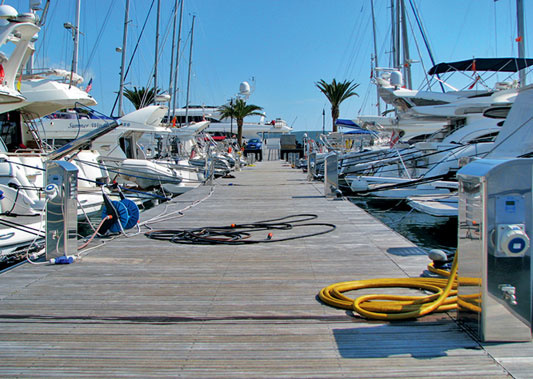 The project has not yet worked out well and the walls of the Porto Montenegro showroom are decorated with sound quotations. "The new fashion port", writes the Financial Times. "Like Saint Tropez before it was built. It's a charming, unspoiled place," agrees George Nicholson of Camper & Nicholsons. "The found paradise. The next Monaco," sums up Fortune.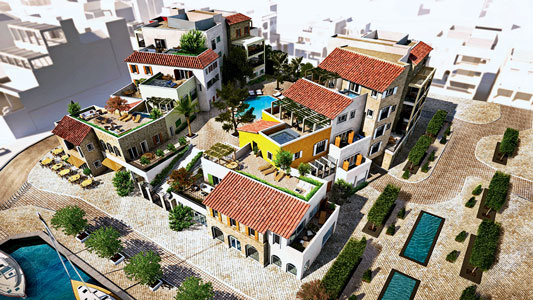 To be the next Monaco, one convenient and cheap port is certainly not enough: there must be life around. Porto Montenegro is also working on it. There is an impressive project to revitalize the infrastructure - the construction of apartments (some are already ready), underground parking, restaurants, boutiques and clubs, swimming pools and sports fields - everything without which a good rest is impossible. All this will not appear instantly, but the temporary inconveniences pay off well with discounts. For example, owners of apartments receive a 75% discount on yacht parking for 3 years, while construction is underway. Another reason to call Porto Montenegro "a charming, unspoiled place".
Published in YACHTS magazine #33.