Last week I received four questions in comments and in the post office to varying degrees about sea sickness. I understand that the holiday season has begun, people at sea want, but there is no confidence in their physical condition. Actually, it is written on this topic to the point, and if you want, you can find a lot of recipes, how to fight this attack. But as long as the questions go on, I think it's not right to leave them unanswered.
So...
1. First of all, you have to understand that sickness is normal.
Ninety-five per cent of the world's population is affected.
It is based on one physiological thing, typical not only for people, but you can ask any doctor about it, better explain. And all these 95% get used to it in a day or two, they get»seasick«. Sometimes it takes a little more time, but it's rare. There are a few characters, there are three percent of them who never get seasick, but it's a pathology. And just a little bit, the other 2% don't get pumped up, which is also a pathology. Our favorite example of sailors is Lord of Light, our Father Nelson. According to the legend, he has never been pumped, even if it is a legend. So it's just that statistically there's not a lot of chance that you'll be in that two percent. Don't worry about it before you know it.
2. In addition to physiology, we have a lot of motion sickness in our psychology. If we're expecting to get motion sickness now... Now, soon I'll feel sick... Sort of nothing yet, but, remember, I got motion sickness then... Yeah, but look, Natasha's already hung up on a lair, what I told you!..! In short, you're definitely sick. And Natasha hanged herself from your conversations on the subject, to your intimate conversation, she felt quite well.
It is true - in a violent storm, when really frightening, no one gets scared, no matter how the ship or the boat is mothing. From here, the main advice is to step on deck and get to work!
It is believed that it is best to get behind the wheel, but if only one can, watch the course, take the pelings, knit knots, wash the deck... Do anything, just do it!
3. Medicine! She'll help us! In addition to the well-known «dramina», pharmacies already offer a lot of things, take different pills to be sure.
And if you think this pill is bullshit, doesn't work at all, put another one in your mouth.
Actually, a «malfunctioning» pill is also your psychology, but go explain that «all diseases are from our heads».
4. An ancient sea custom - a chark of rum or gin, or a mug of grog at lunch - is not an empty place. In the Russian fleet, it was called «the Admiral's hour», and at noon from the Kanchens sounded team «Whistle for wine and lunch!».
Taking on your chest at sea is not for drunkenness, it's medicine for.
In addition to the sanitary function, a strong alcoholic drink is just what would not sway. I do not know what the mechanism is, but 50 grams of rumics at lunch really helps to feel more confident, tested many times on their crews. But! Stay away from the second drink at once. Additional servings of liquor may cause a backlash.
5 An important point is to remember that sea sickness is transient and will pass as soon as the boat is moored.
There are no cases of sea disease on the shore, unless, of course, you go straight to the merry-go-round.
However, if you liked it... Why not...
6. And finally, the more you go to sea, the shorter the pumping period. That's how a vestibular machine works. Remember the TV picture of the first astronauts trained in centrifuges?
So the main advice is to go to the sea!
Walk more, and I'm sure that after a while you will look at the neophytes with sympathy and a slight irony and with the view of the salted sea wolf explain that it will pass, but you have to be patient, and that sickness is normal, sickness is 95% of the population ...
Seven feet, guys!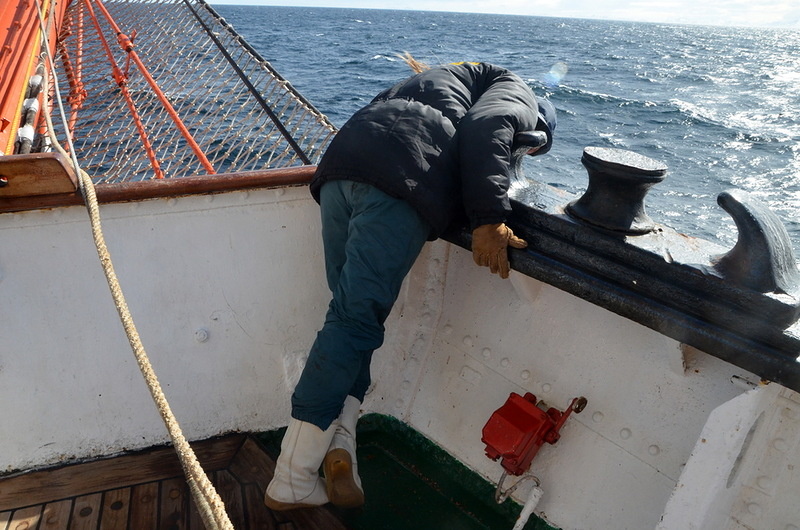 P.S. It's not what you think it is. It's Sebila Om, the great-granddaughter of the same Om who invented the law of physics. Sebilka on watch is a front-runner, looking at the fish under the shaft. She's been on «Sedov»'s watch for 20 years, every year and not one week.
Andrei Sharkov,
president of the Russian Cruiser Club. Author's blog on Livejournal.