From the editorial: In 2010, Scott and Brittany set sail on a yacht in the Caribbean Sea. On the cruise, they had a daughter and then twins, Haven and Myrrh. This article about the difficulties of traveling with children on board Brittany wrote before the birth of twins. As you can see, the hardships didn't stop the young parents.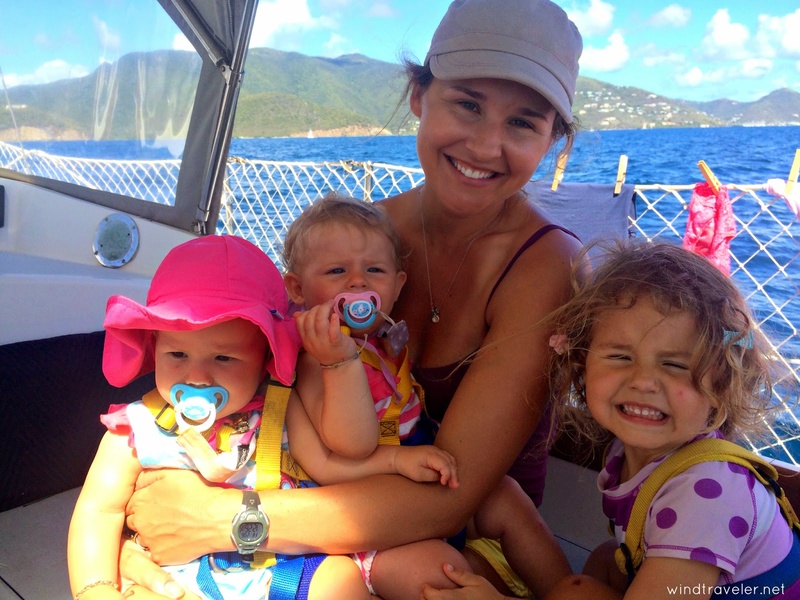 Ever since we had a baby, our website has literally exploded. So the conclusion, guys: if you want to boost the traffic to your blog about yachting, have kids. It's a joke. That's terrible advice. But it's a holy truth that people are interested in reading about kids on board. I suspect it's because most people think it's a form of madness, and seeing a child growing up on a yacht is almost the same as meeting a liger in the wild: cool, weird and probably dangerous. But please do not have kids just to increase your attendance on the site.
Although it was a natural decision for us to raise our children on a yacht (we had nothing to compare it with - we had no other experience), this does not mean it was easy. In fact, it is much harder to live with a child on board than on solid ground: any parent who has tried both will confirm this to you. Will it suit you? Can't say. Some moms can't cope with the extra stress, others take it easy. Scott and I are light, stress-free parents, and it helps us a lot. Besides, we have what's called a troubled child. Your upbringing style, the features of the child, the type of boat and the length of the journey will all affect how easy it will be for you to adapt to living on board with a little person. If you are thinking about doing this, here is food for thought:
Constant vigilance.
Hey, Captain Hindsight! On a yacht, one of the parents has to keep an eye on the baby all the time. We don't have a special «playroom», and fortunately there's no TV to glue your daughter to one place, which means she's totally on us. All the time. I would like to inform those of you who have never been 24/7 with a small child who can't hold his attention on anything for more than 20 minutes and who doesn't have a clear idea of the danger: it's exhausting work. Believe it or not, my biggest worry is not that Ayla will fall overboard (although that too is worrying), but the countless dangers that await her on the boat itself: falling off the ladder, falling into a hatch, hitting her head on any of the sharp corners of stainless steel, playing with toxic chemicals and dangerous tools... The list can be continued. It needs to be monitored at all times. I only have one child, and it feels like a whole kindergarten. It's exhausting. We'll talk more about it when we have more than one... (Sighs)
Berthing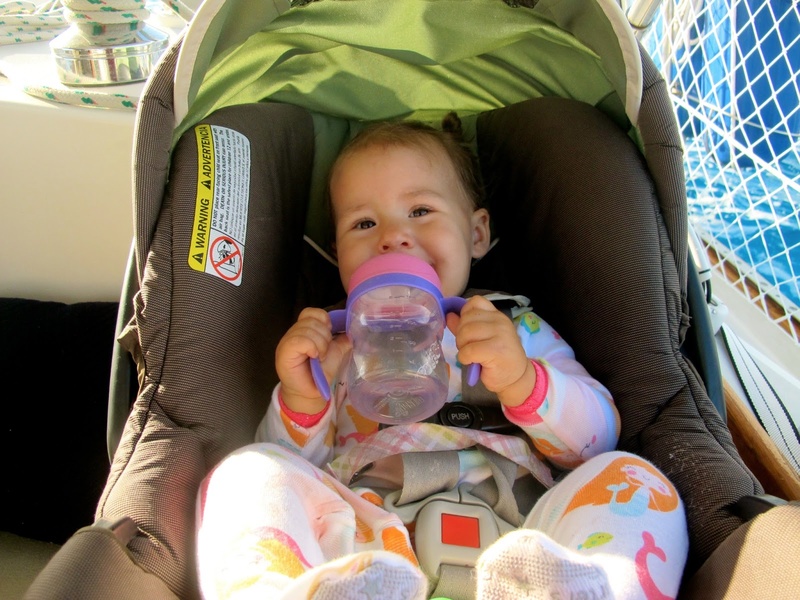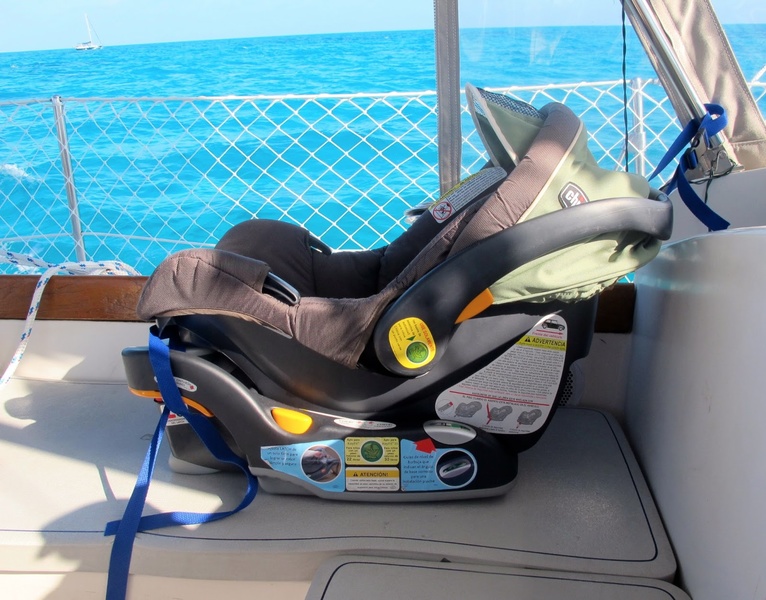 It always happens at a bad time: when the daughter is hungry, sleepy, or completely satisfied with her life and demands to play with her... Daddy is at the helm during the mooring and Mom is on the nose, and we both have to pay close attention to our work, which does not include entertainment of the child. We used to tie her up in a cockpit or a car seat, and she didn't really like it.
Trying to get anchored when your child yells like a cut is a dubious pleasure.
We tried to keep her food busy, but the fruit bars with granola distracted her for a while. That's when I figured I'd put Ayla in an ergory backpack. Now that we're anchored or moored, she's happy to watch our manipulations behind my back. Everybody is happy, quiet and, more importantly, safe.
Planning the sortie.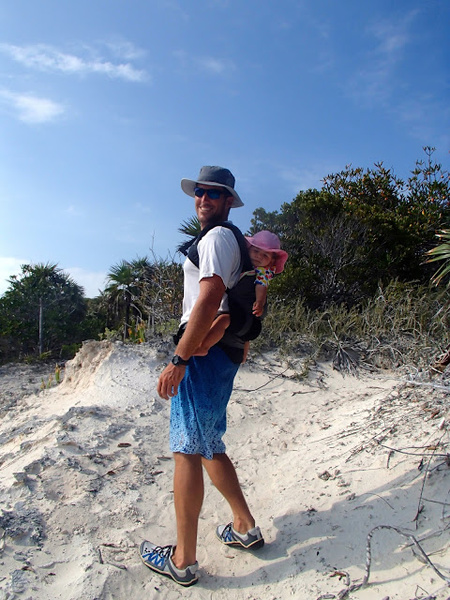 I have thought a lot about this topic and came to the conclusion that sleep is as important to the development of the child as food and love. Therefore, we take sleep very seriously and go for its preservation on certain sacrifices. At 16 months, she sleeps twice a day, at 9 a.m. and 1 p.m., and goes into a night's sleep at 6-7 p.m.
There are small «windows» between dreams for walks, snorkelling and shopping.
Usually, if there is an urgent need to go somewhere, we share and rule. But if there is some kind of entertainment planned, such as a hike or a small tour of the surrounding area, then we try to do it in the daytime, when we have a decent four-hour period of time. Occasionally in special cases we allow ourselves to miss the day's sleep - what is education if not a lesson in flexibility? Some might think that we are crazy about all these daydreams and that we could be less worried about it. Our baby is behaving well, he is happy with himself, and I am convinced that it is better to go out with a happy baby once than three times with a capricious, overworked and scandalous baby.
The socialization of parents
With the advent of the child, we have become somewhat more closed to communication, rather than on our own initiative. While young cruisers are rare, young cruisers with children are doubly rare. So we do not find ourselves among our peers too often. We do not go to jam sessions, rarely (almost never) go to dinner together and prefer to live and have fun on our own schedule (see item 3). Of course, many baby boom cruisers have grandchildren they miss very much, so Aile gets a lot of love, attention and sometimes even gifts from her «pseudo» grandmothers in the marinas.
But Mom and Dad's social life? It's much smaller than it used to be.
We don't party like we used to, we don't stay up late like we used to, and even if we wanted to, we just wouldn't have the strength to do it. Ayla is a very active child, and even if we get into some kind of partying, one of us is always chasing her so she won't get into anything. «It's almost impossible to socialize» in this situation because..: «Excuse me, I have to run - my child eats a snail / climb a tree / put his hand in the paste». Watching a movie in the evening or lying around with a book is the new norm of our leisure time, if we have the strength to do so.
The nanny, or her absence.
I know people who interview nannies as if they were from Google: a few meetings, background checks, probationary period... Naturally, it's important: you can only leave your child with someone you trust: we all know that there are a lot of people «in the world who are crazy». Given that we are constantly moving, it is simply unrealistic to make such a selection. Of course, we left our child trusted friends - but not for a week, and certainly not for a month. If you have a child on board, be prepared to spend every night on your boat.
«A wild orgy» for people like us is dinner with friends, a couple of glasses of wine and come home after 9 pm.
I know, it's boring. Our «social life» looks pretty pathetic, but hell, we're having a good time! Given that we're both a little asocial, we're fine with that state of affairs. On the other hand, our child and I are 24/7, and it has a very positive impact on her development and psyche.

Game comrades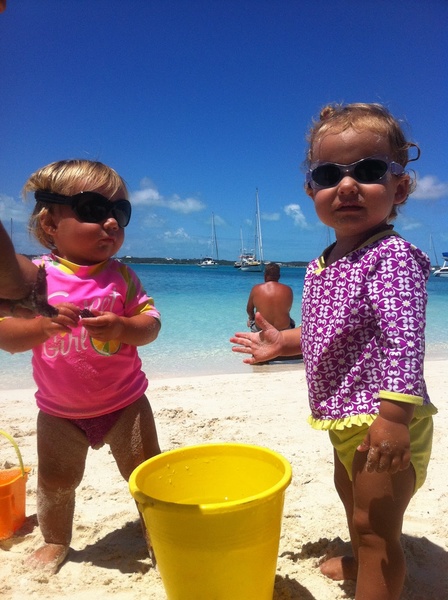 Ayla loves other children. No matter what age they are, whether they speak English or elven, it is enough for her to see, hear or smell them, as she gives them a broad smile and opens her arms to them. Not all children, unfortunately, share her feelings, but it does not seem to bother her. Finding buddies is a big challenge for Ayla, because we don't have the luxury of group activities, kindergartens and hobby groups as we are constantly on the move.
Ayla met a bunch of other children during our trip, but unfortunately they come and go.
Her current buddies are French-speaking brothers and sisters 6 and 8 years old. They have a kind of Ayla's fan club, and as a result our «daughter now perfectly speaks «bon jour» and» replies «or awa» («au revoir» in her version). I don't think she's missing out on anything because of our lifestyle, but that doesn't mean you won't feel that way about your child.
Transition planning
Sailing with a child is already a feat (see point 1). On the way they need to change their underwear, feed, entertain and keep intact. This is not a small feat.
In practice it means that the boat is operated by one of us (Scott) and the other is constantly sitting with the child (me).
Fortunately, our intuition has not failed us and we bought a yacht that is easy to operate by one person. We also have a car seat that can be attached to both the deck and cabin when we need two pairs of hands. Because of this factor, we usually plan our crossings so that we can anchor our daughter at 6am and be back at anchor by the time she sleeps at 6pm. This schedule is not always easy to adhere to: the ocean and weather, sometimes, work against us. But here in the Caribbean, it works because all the islands are close to each other. Night passages with a child can be very exhausting, so we recommend looking for an extra pair of hands for passages that last more than 24-48 hours.
Business as usual.
I'm a fan of cleanliness, so our boat is clean and orderly (well, almost everywhere). I would like to be the kind of person who says: «Ah, the mess», and lives with it in peace. But no. If something isn't right, I will definitely fix it. I wash her toys five times a day. Well, what about the other routine concerning the boat maintenance: changing hoses, checking and changing equipment, polishing steel and cleaning the water line? These tasks have been relegated to the background. With a child, there is much less time left for these tasks, and they are much longer. In addition, it is usually one parent who does the household chores while the other sits with the child. Which means that the efficiency is reduced by half. This season we seem to have to hire someone to get the boat ready for the hurricane season.
Entertainment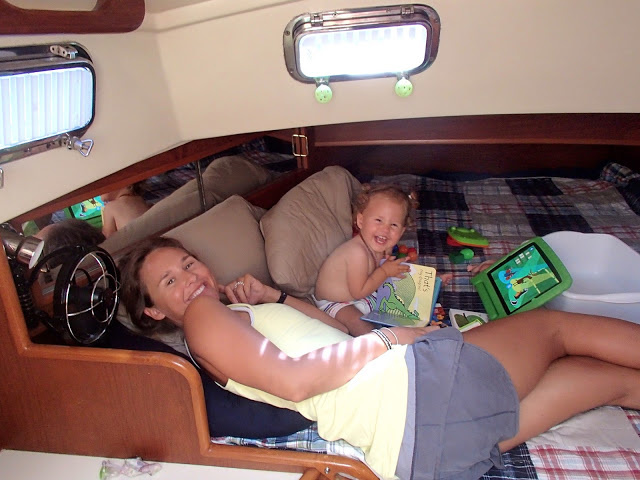 We don't have any mom clubs, music clubs or playgrounds to take the baby to. I'm not even sure if there's a zoo on any of the islands. Before I became a mom, I thought, what's all this for? Now I understand: it's all about keeping the baby occupied. To be on board a boat with a child and to entertain him all the time is not an easy task, especially if there is a heat or heavy rain outside. So you have to be very resourceful. When the weather allows, we go to the beach; when it rains, we go to the mall; ride buses; walk a lot. We do simple things, and Ayla is just as happy catching hermit crayfish as she would be at a playground or a children's club. Besides, there's no playroom on the boat, and there are ten times fewer toys than children on the ground, so again, we have to encourage all our creativity. Personally, I think that Aile only benefits from a small number of toys, but, of course, it can make the game a bit more complicated.
Storm
So far we have rarely been in a storm, but we have some idea about it, and I must say, sailing in a storm is not the best place in the world. The boat is throwing back and forth like a toy, waves are overflowing the cockpit, the wind is howling in the gear. In such cases, Ayla and I usually stay in the cockpit, but sometimes it is not safe, and we go down and lie there with a hug. It can go on for hours. And it sucks. Ayla gets seasick from time to time, so I have to clean up her vomit while trying to keep her balance and at the same time take care of the baby who's not feeling well. It's almost impossible. Actually, it's only happened to us once, but I'm sure it's not the last time.
And, frankly, I'm in no hurry to experience it again.
And yet for us in raising a child on board, the pros outweigh the cons. Just as in the choice to stay home or go to work, use cloth or disposable diapers, give in public or private school, there is no single recipe: choose what suits you and your family. Aile clearly benefits from marine life, although this is not always easy, as you could see above. It is a hard way of life, and children make it even harder, but we believe it is worth it. Of course the problems will change and grow with Ayla and as our crew expands, and one day we may get tired of this lifestyle, but for now it suits us.