There was another fire on a superyacht off the coast of Mallorca. Again - because in June the 27.4-metre Sunseeker Predator 92, leased by Wladimir Klitschko, burst into flames there.
This time it was the 34-metre D'Angleterre, built by Turkish Bilgin Yachts, that became a victim of fire.
She was delivered to her owner in 2008 and refitted this year.

At the time of the fire, which happened last Saturday, the boat was in the vicinity of EsTrenk Beach with 15 peopleon board. None of them were injured. Two ships and a helicopter were dispatched to the boat to tackle the blaze and rescue the people. According toExpress.co.uk one of the passengers stayed on the boat to the last moment assisting in fighting the fire.
It is not known for certain what caused the fire. A video, posted online, clearly shows the stern burning brightly and thick clouds of black smoke rising into the sky.
Rescuers reported that the yacht was being towed to Palma, the capital of Balearic. She eventually sank five miles south of Cabo Blanco.
The boat is now lying at a depth of more than 50 metres.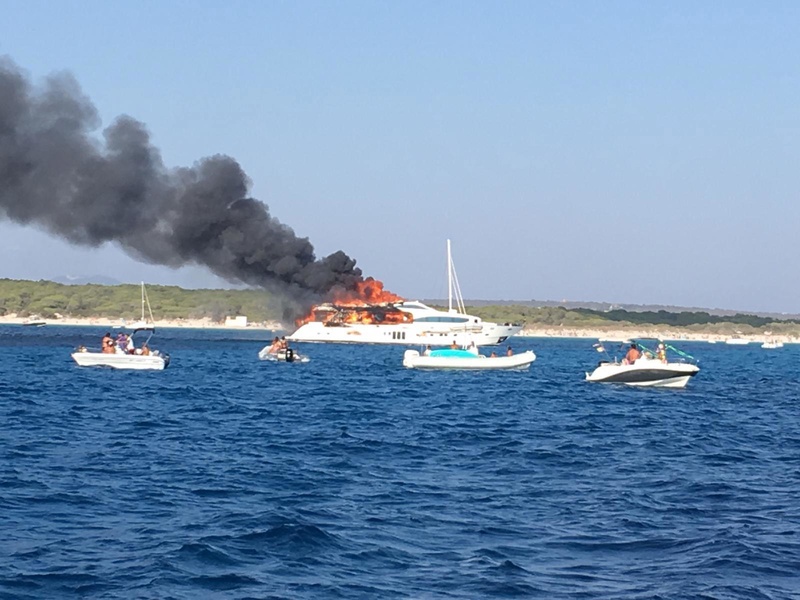 The D'Angleterre had room for 12 guests and five crew members. Her weekly rental cost was €56,000.
Powered by two Caterpillar C-32 diesel engines, the D'Angleterre had a top speed of 24 knots and a range of 400 nautical miles.
Earlier in Qatar, three superyachts of the royal family burned down.