Dutch shipyard Contests Yachts has announced a new version of the Contest 55CS, a 17-metre sailing cruiser. « 55-footer», as the company calls it, is the result of a long-lasting collaboration between the yard and naval architects Judel/Vrolijk & co of Germanyand the interiordesigners of Wetzels Brown & Partners of the Netherlands.The model with the same name was produced atthe shipyard from 1998 to 2011.

The Contest 55CS will change the idea of what a mid-sized ocean cruiser should be, the yard is confident.
Despite her size, she offers superyacht-level comfort and quality craftsmanship, yet is a practical and seaworthy cruiser that should be cruised around the world.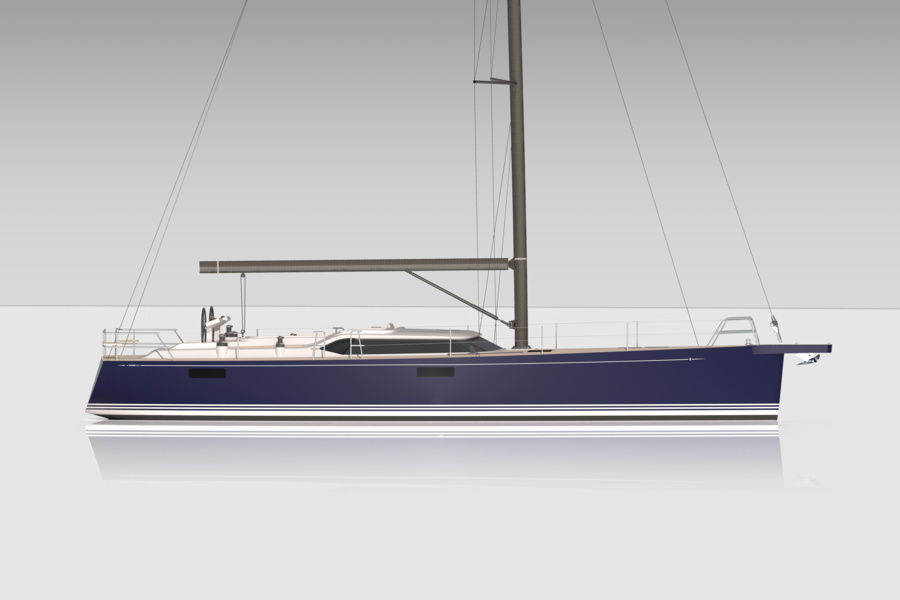 In terms of exterior and interior, Contest 55CS has adopted a lot from her elder sisters: 26-meter Contest 85CS and 21-meter Contest 67CS.

Designers worked on Contest 55CS tried to make her as roomy as possible (maximum width of the boat is 5 meters), but didn't forget about safety. Ergonomic handrails and ledges on the furniture are provided everywhere on the sailboat to grab onto during a rocking session.
The aft master stateroom will provide panoramic views during anchorages by lowering the hydraulic door of the tender garage, which becomes a bathing platform. Passengers in the other cabins will not suffer from the lack of natural light either, thanks to the increased number of portholes and skylights in the deck. When the sun goes down, it will be replaced by a designer lighting system until morning.
THE CONTEST 55CS HULL IS CERTIFIED BY LLOYD'S WITH CARBON REINFORCEMENTS.
This gives the boat good handling, lightness and yet toughness.
The Contest 55CS will be a true chameleon, which depending on the wishes of the future owner can appear to him as tender or sloop, with a carbon or aluminum spars, with in-mast furling mainsail or traditional system grooving. You'll also be able to customize the layout of the cabins.
«A variety of options will enable you to sail the yacht whenever and wherever you wish and to equally enjoy being anchored.Safe, spacious and livable in any waters under any conditions - this is the Contest 55CS», the shipyard concludes.