The photos show not the skeleton of an unlucky pterodactyl, but the latest idea of a young Italian architect named Gianluca Santosuosso. This is MORPHotel - a giant floating residential structure, something between a luxury hotel, a cruise ship and the city quarter on the water.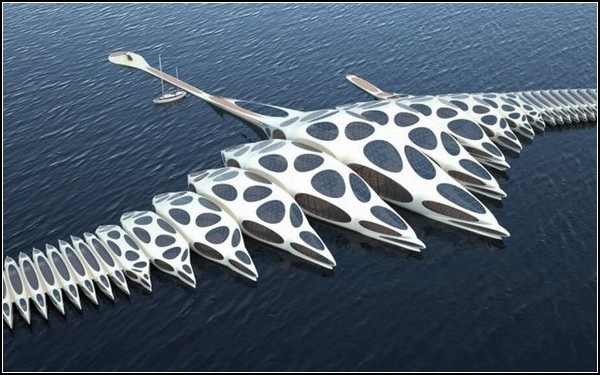 The structure of the object resembles a spine, where individual "vertebrae" modules are strung on a common axis, which allows the whole structure to change its shape, adapting to the weather and other external conditions.
MORPHotel is expected to sail slowly around the world, occasionally stopping at major ports and cities, while becoming a separate quarter. Unlike cruise ships, which always go from point A to point B, the floating hotel has no last destination - its voyage is endless, and tourists can only join at any point of the trip and go anywhere.
The floating city has public areas (reception, boat berth, administrative and entertainment areas) and residential areas of different classes, from standard apartments to luxury modules, which can even be separated from the total massif and swim independently within a given distance.
MORPHotel is a concept as beautiful and brave as it is remote from real life. First of all, it is difficult to imagine how strong the whole structure must be so that it can survive at least a small storm. If the author could see the two connected sides of the boat pounding against each other even on a small wave, he would understand that after the first storm his "hotel" will spread out in the space approximately from Portugal to Greece.
Secondly, the object turns out to be so large that no existing port will be able to take it, which means eternal sticking out on the raid - where, again, there are strong waves that can pump tourists to a complete loss of pleasure from the exotic place of residence. And reliable mooring of such a big boat is also a big problem.
In general, as a beautiful idea and an attempt to think outside the box, the new concept is commendable. Like the Indian floating water parks that have already been written about here, these projects are at least admired for the architect's boldness of thought.