The mesmerizing beauty of the underwater world has always attracted people. In 2014, three influential British underwater photographers - Alex Mustard, Peter Rowlands and Martin Edge - organized an award for underwater photography, which was a great success: in its very first year the competition attracted 2,500 shots from 40 countries. Photographer of the Year - this time Tobias Friedrich - receives a $5,000 voucher from Nauticam, a leading supplier of underwater photography equipment. It is pleasant that the list of winners includes a Russian name. Read about all the winning shots in our material.
'CYCLE-WAR' - Tobias Friedrich.
«Tistlegorm», a British dry cargo ship sunk during World War II, was photographed many times but Tobias managed to look at it in a completely new way: «the bikes in the back of the truck on board Tistlegorm are perfectly stacked. It's very difficult to capture it - the wall is too close, and because of this it's impossible to fit the whole picture in the frame. I had to glue the panorama to get the whole deck of the truck into the frame».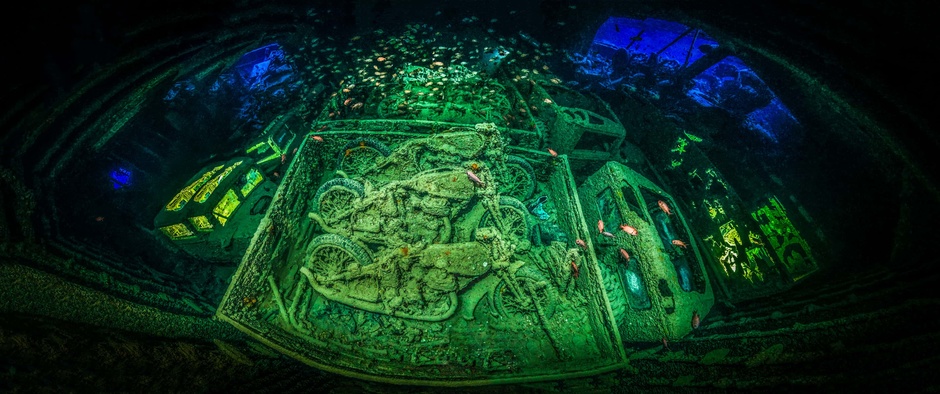 'Love Birds' - Grant Thomas.
«It was midday, the sun was at its zenith, I slowly set in shallow water not to scare the birds. When they got used to me and started looking for food under water, all I had to do was wait for the moment of perfect synchronization and take this picture».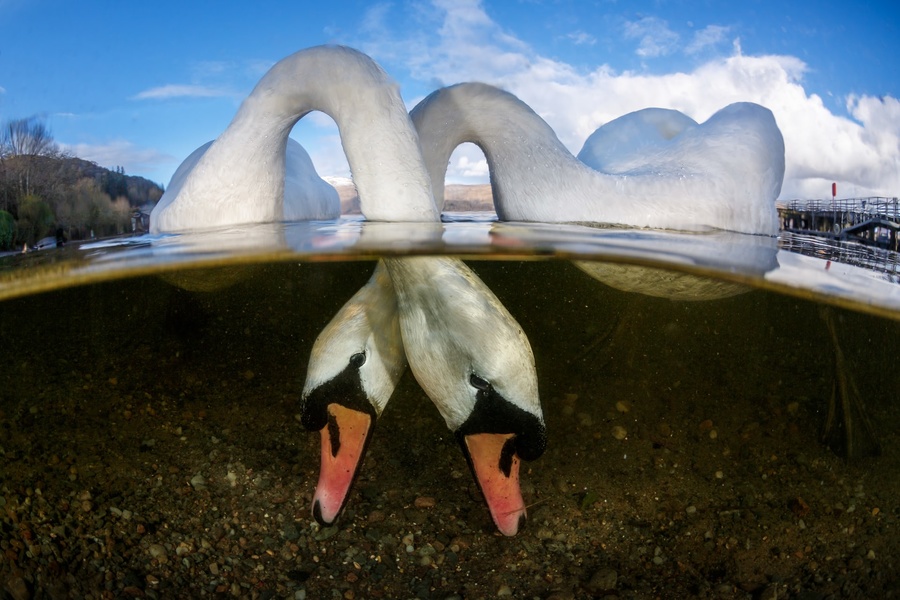 'ROAR' - Man BD.
«I was filming gill clams when suddenly there was a moray behind them. A couple more minutes passed and the second one showed up behind the first one. I figured they could make a good composition. I caught that frame for about 30 minutes, but it was worth»it.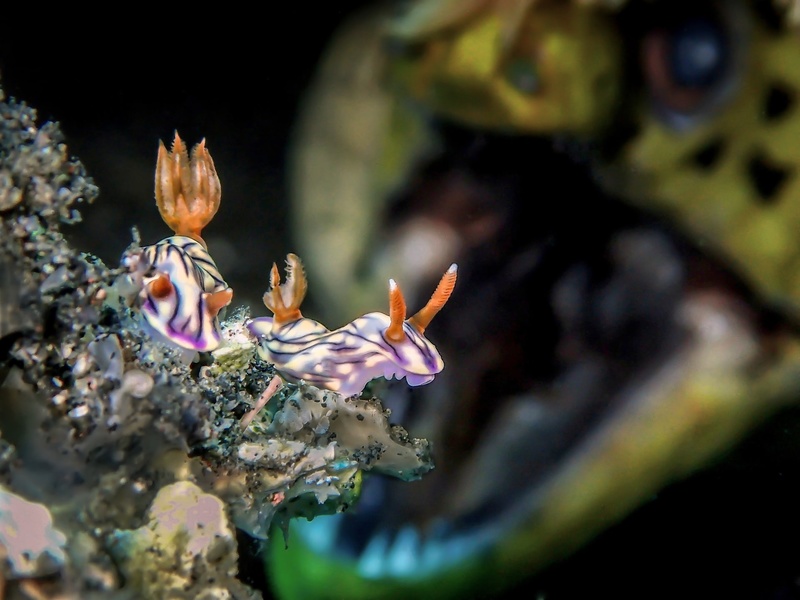 "How many pike? - Tony Stephenson.
«I like to take pictures of the pike. During one of the dives, I met a group of males looking for a female. When they found the female, they started chasing her and paid absolutely no attention to anything else. This allowed me to get very close to them and take this picture».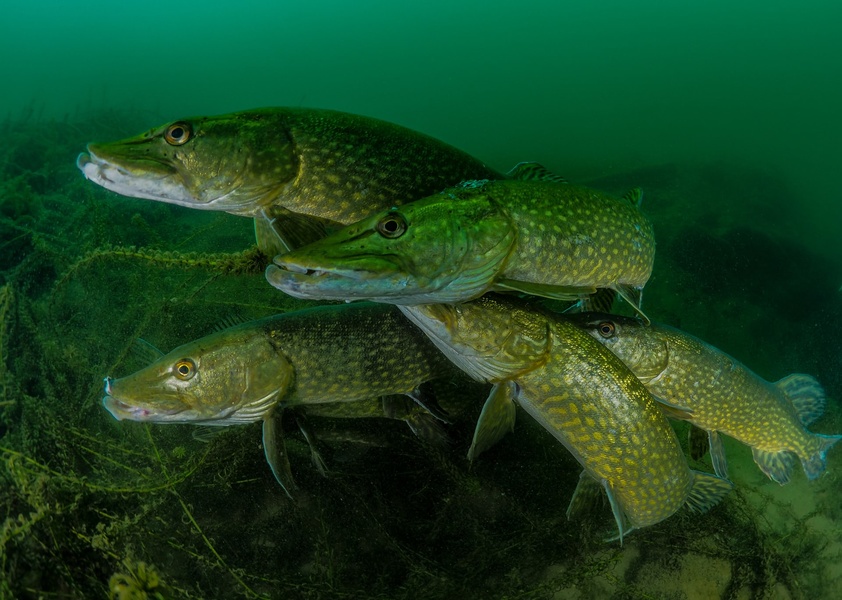 'Humpback whale spy hopping' by Greg Lecoeur.
«Every year I go to the islands of Tonga with a small group of enthusiasts to take pictures of humpback whales. This year we were incredibly lucky to have a group of young and curious whales who came very close to us and demonstrated their ability to keep upright in the water despite their very high weight».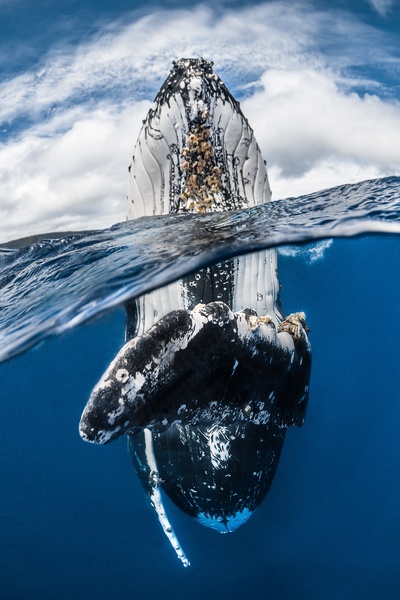 "Seahorse Density" - Shane Gross.
«I had an external stroboscopic light source and an underwater flashlight on a small tripod that I placed behind the three of them. I then waited for the moment when all three seahorses would turn sideways towards me so that only their silhouettes could be seen. The sun was setting, and as it got dark, plankton became more visible. The seahorses began to feed on plankton, and I realized that they felt safe. Unfortunately, I can't open the name of the place where I took this photo as we are still trying to make it a special conservation status».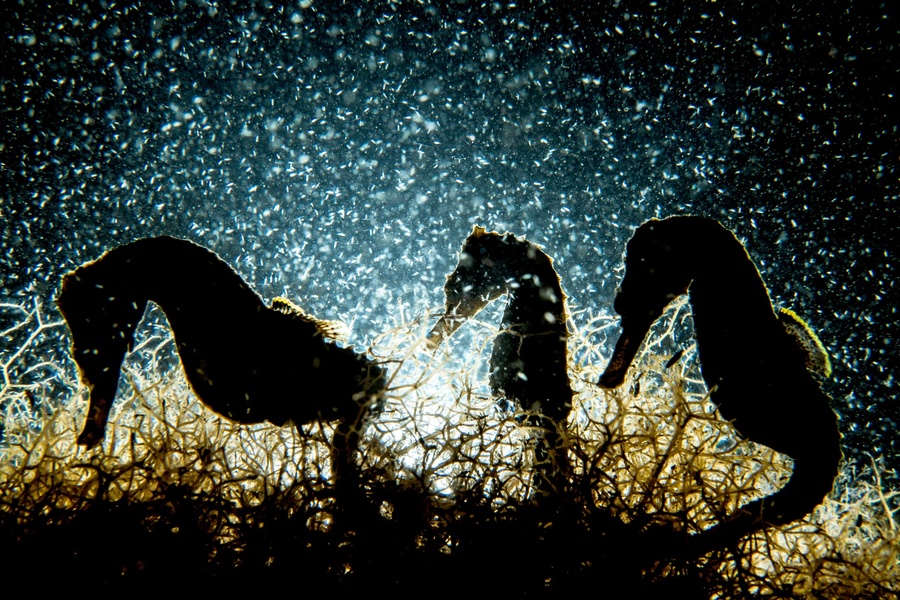 "The Fisherman" - Filippo Borghi.
«In winter, cormorants stop at Izu Peninsula before continuing their journey to China. During my 2 days there, I noticed four birds hunting sardines and were not worried about my presence».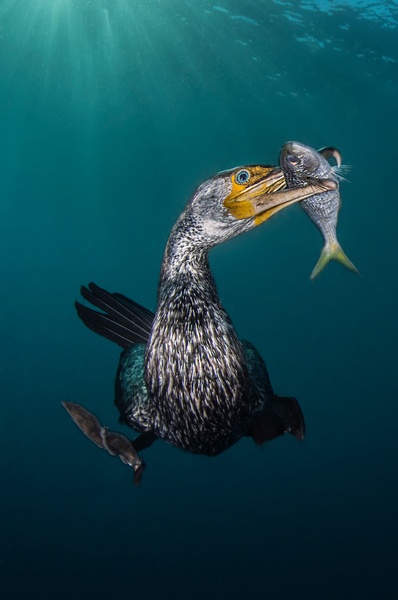 'A sand tiger shark surrounded by tiny bait fish' - Tanya Houppermans.
«I'm always looking forward to exploring the wrecks of the Caribbean Sea and seeing ravenous but intelligent sandy tiger sharks. This time, when I came down to the wreck site, I couldn't believe my eyes: millions of fry grouped into a huge swarming ball near the shipwreck, and a dozen sand tiger sharks were swimming slowly and lazily among these fry. Slowly sailing toward the center of the fry ball, I looked up and saw a sand shark right above me. I swam on my back under it, trying not to scare it away. At one point, the fry moved away, opening up the shark»'s belly completely.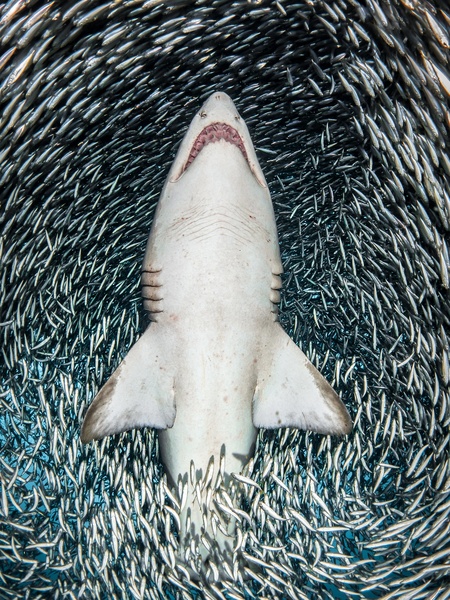 "The Nose" - Mikhail Korostelev.
«This photo was taken on the Kuril Lake - the place with the highest concentration of bears on our planet. Bears don't starve here because of annual mass spawning of nerves, so they are used to people and don't feel danger from them. I used a remote control system with a 10-metre cable. I put a camera in shallow water in the river where the bear trail runs and hid 8 meters from the camera. That day, my camera was spotted by four cubs walking along the trail with their mother. My mother stopped to catch fish and the cubs saw the camera and started playing with it».
This photo won second place in the "portrait" category, but, according to the jury, she could also count on the main prize, if a little more underwater part was included in the picture.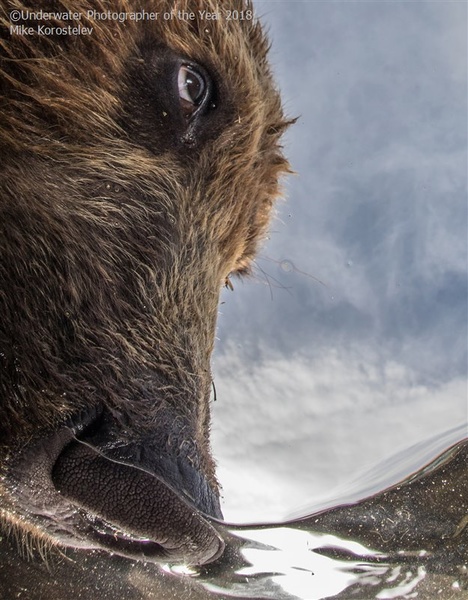 'Crocodile reflections' - Borut Furlan.
«When we arrived at the scene, the sun was already setting behind the horizon and it was very dark in the water. I scrolled out the ISO settings to the max and minimized the strobe brightness to get warm light in the photos. Fortunately, the crocodile helped me in every way and since we were both very calm, there were beautiful reflections in the water. I took a lot of pictures. This one is one of my favorites and it's very graphic, so I transferred it to the BS to emphasize it» even more.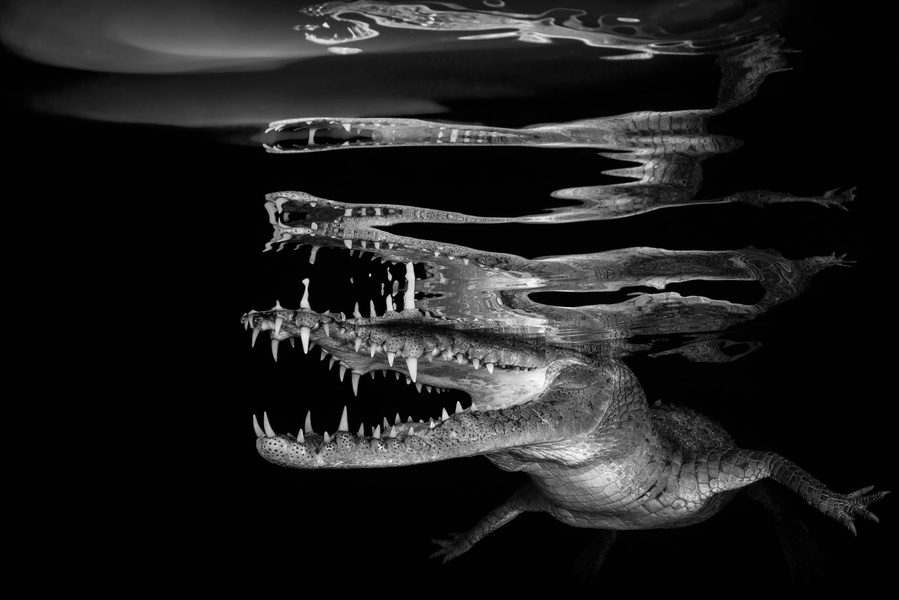 'Dancing with the giants' by Simone Matucci...
«My wife and I spent 5 days and nights at sea near the Tonga Islands swimming with humpback whales. With this pair of adults, which you can see in the photo, we made such strong contact that at times it seemed as if we were really dancing».