Benoit Lecomte was the first person to dare on this adventure. His six-month long and 5,500-mile swim will introduce people to the world's oceans from within.
The idea of crossing the Pacific Ocean from Tokyo to San Francisco came to Lecto a few years ago. Since June 5 this year, he has spent eight hours a day in the water, crossing the largest ocean on the planet. Benoit has more than just sporting goals. Part of the expedition called the «Swim» is the research projects in biology, oceanography and medicine that Lecomte and six of his support team are conducting with teams of researchers from NASA and the Oceanography Institute in Woods Hole.
Swimmer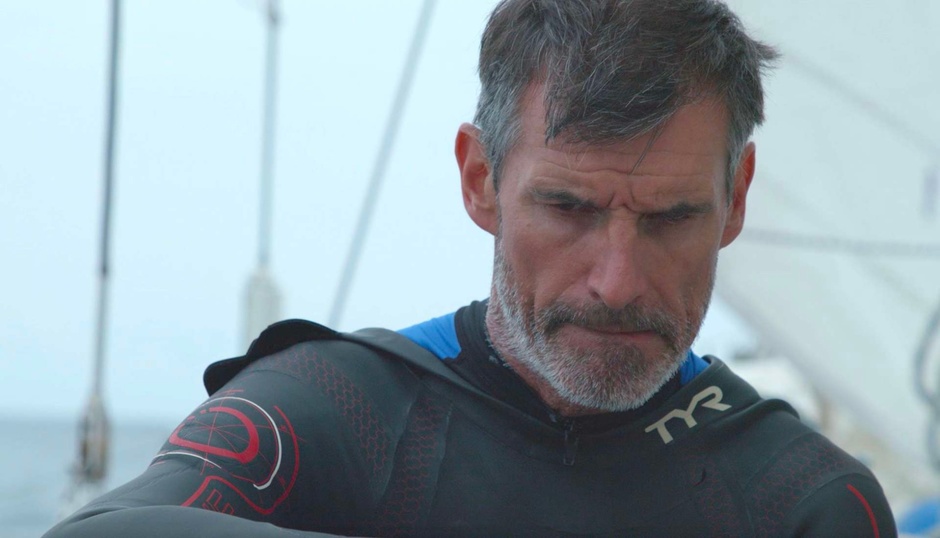 His name may be familiar to you. In 1998, Benoit became the first person to cross the Atlantic Ocean swimming, starting from Massachusetts to the USA and finishing in France, with a one-week stop in the Azores. That swim was dedicated to Father Lecomte's memory and cancer research. The swimmer spent four years preparing for this expedition.
«The ocean is in danger»now," says Lecomte. - We don't really know much about it. No one has ever collected data from one shore to another».
Taking such an incredible journey, he hopes to raise public awareness of human impact on the world's oceans.

Support
From Tokyo Lekomta is accompanied by Seeker, a yacht with six crew members, fully equipped for a six-month voyage. The athlete is resting after the daily sailing sessions and will be able to get help in case of need. The Lekomt sails about 30 nautical miles a day. Every morning, Seeker uses GPS data to bring Benoit back to the point where he was brought on board the night before. In addition to the usual swimming gear - a suit, a mask with a tube and flippers - the swimmer's arsenal includes an electromagnetic device that scares the sharks away and a biometric sensor. The data from the medical sensor transmits information about the Lecomte's health to the crew and the team of doctors on land.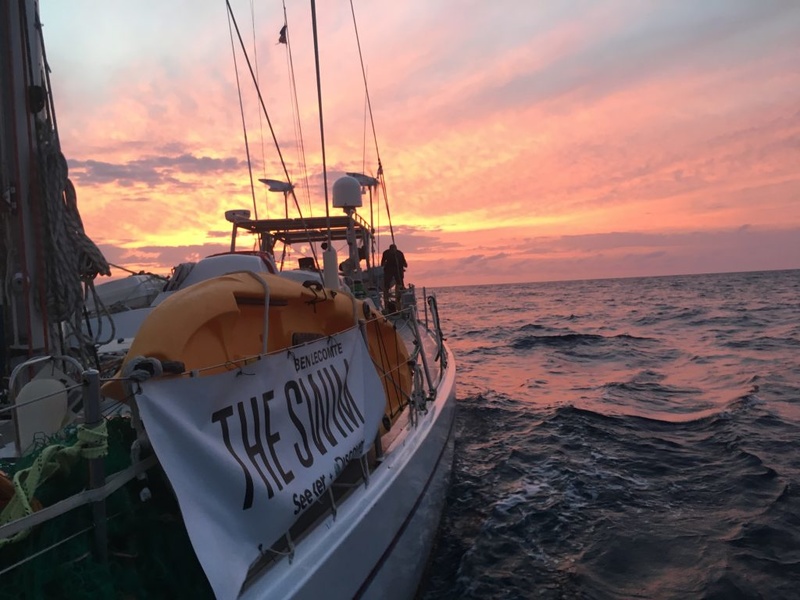 Research .
The sportsman is equipped with research equipment, including a small radiation sensor to search for and measure contamination after the Fukushima accident in 2011. The team also collects data on Pacific Ocean plastic pollution. The summer will see the Big Pacific Garbage Slick with its own eyes.
«This stain does not consist of large plastic elements, but of very small fragments," says Lekomt, "so you can not see its real size from a satellite. The only way you can detect it is to drop the network and estimate its density. That way you'll know you're in the Pacific Garbage Spot».
With the help of modern technology, Benoit is involved in several medical studies. His state of health is monitored by doctors in Texas.
«We are very interested in studying the limits of the human body," said Benjamin Levin, a doctor at the Institute for Sports and Environmental Medicine. - Benoit and his experiment are a perfect example»for us.
You can follow the adventure of Benoit Lecomte at benlecomte.com, Seeker.com as well as on Discovery Go and Instagram.
We provide a description of several memorable days from the Lecomte diary.
One day. June 5, 2018.
Set sail
This day was very emotional: after so many years of preparation, I will finally make my dreams come true. However, it is not easy to realize that I am leaving my family and friends for so long. The first 50 meters we sailed together with my children, Anna and Max, then hugged in the water and said goodbye for a long time. I was left alone with my thoughts, living anew moments before sailing. After an hour of swimming, the temperature of the water began to fall and swimming became less comfortable. At the fifth hour of the first day of the swim, Seeker colleagues reported a five-foot shark they had seen nearby. While our medic Max was kayaking to me with his predator repellent equipment, right behind me I saw a three-foot shark floating in the opposite direction. When I looked around and no longer saw the danger nearby, I continued swimming. Max, who kayaked, measured my pulse and offered to finish for today. Well, six hours for the first day isn't so bad. And tomorrow is a new day.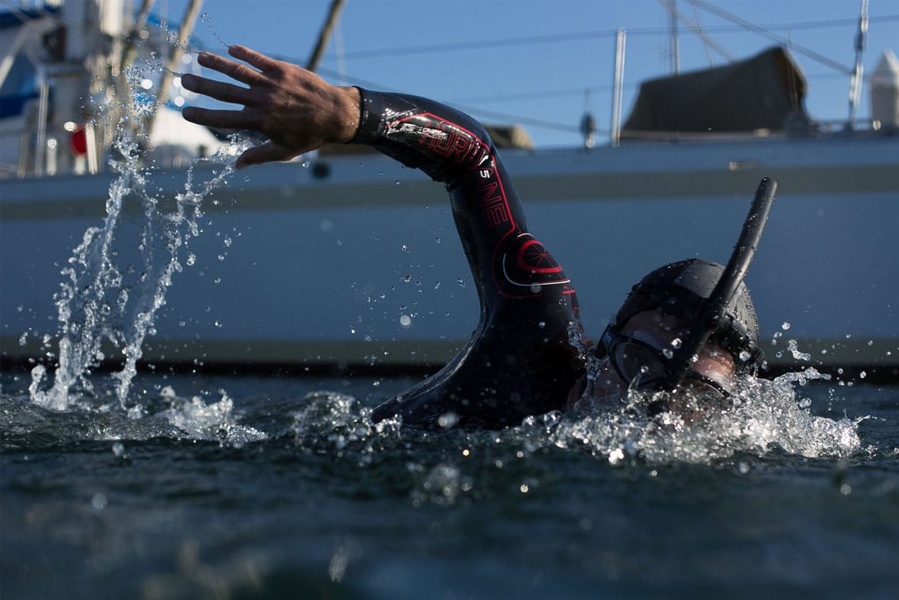 Day 15. 20 June
Unforeseen difficulties
This morning a strong northeastern wind has blown again, raising large waves. Waves were also coming from the south. It was a rather strange combination, and it clearly worked against me. I had to put on an extra layer of swimsuit. Now I put more effort into swimming, but it was much warmer. After the second hour on the water, I was wondering what my speed was. It turned out to be just a little over one knot. I was frustrated - what's the point of sailing all day, and then only a few miles as it was yesterday. We tried to take a little further south, but there was no big difference. Another hour passed - the speed increased by only a few knots. It was no good; I was even more upset. I had to interrupt the swimming today... I hope this weather will not last long.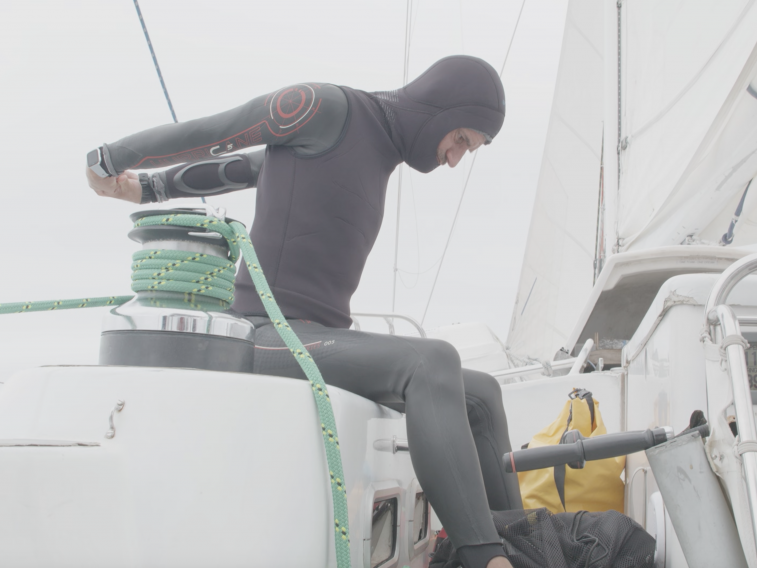 20 days. 25 June A
good company
I didn't get much sleep today. When it came time to sink into the water, it rained. The first two hours of swimming, as usual, flew by unnoticed for me, but I was worried about T and Max, who accompanied me on a kayak, because the rain did not stop. To our luck, a group of dolphins suddenly appeared, raising our spirits in no time. They let me get close, and half a minute I swam in their pack - it was amazing! Sometimes they'd jump out of the water, and I could hear T and Max screaming in admiration. A little later we met another pack of dolphins, but these didn't last long. They must have been interested in the fish at the bottom of the kayak. Such unique moments living together with their loved ones make them even deeper. It was a really memorable day, thank you, friends.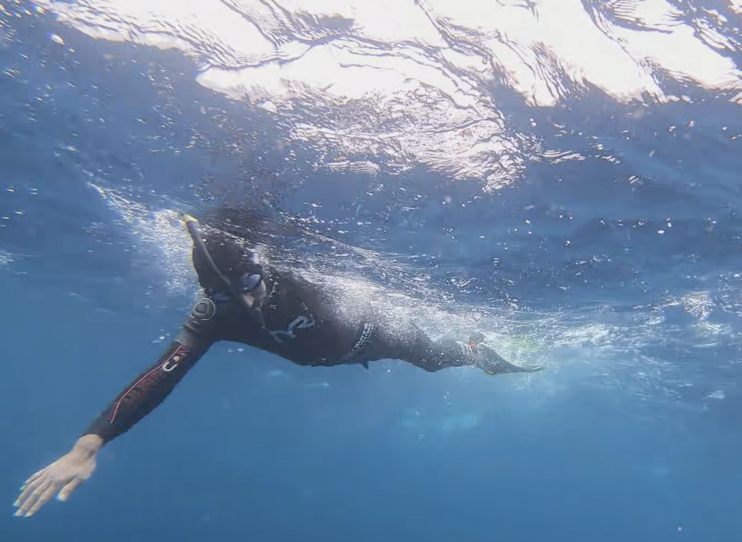 21 days. 26 June
Plastic
Maria, Seeker crew: «As Ben continues sailing, we look after him and the boat crew while watching the vast ocean around. But the picture is not only majestic, but, alas, sad: the ocean is full of debris. Almost every minute we see something that shouldn't be in the ocean - bottles, foam, all sorts of plastic... Frankly speaking, I'm horrified at the realization of how much man has an impact on the environment, and especially at the fact that we do not notice it. Because we do not interact directly with the consequences of our activities, it is very easy to ignore them, pretending that everything is fine. I feel a great need to show people how big a problem is and how acute the issue of human responsibility to nature is.
Whenever possible, we catch some garbage and see how marine life adapts to it, how new ecosystems grow right before our eyes. On the one hand, this miraculous ability of nature to adapt to everything can not fail to impress, but on the other hand, there is a downside - a negative impact, the degree of which we can not even measure yet.
With the help of GPS, we try to record the location of particularly large crowds of garbage.

It's interesting to understand the ways garbage gets into the ocean and what happens to it next. This can help to study the problem, but to solve it we need to fundamentally change our approach to consumption. And it is everyone's personal business - how much plastic they use, how they dispose of it, whether there is even a need for disposable packaging, given the dire consequences of using it.
I'm sure Ben and his crazy "Swim" is a great way to draw public attention to the problem and try to solve»it together.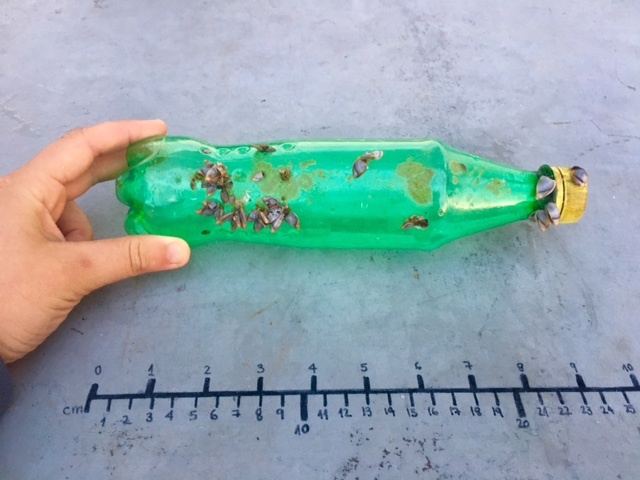 27 days. July 2
Curious turtle
The weather is wonderful again today. Early this morning, Mark spotted a turtle on my right. It swam very close, looking at me. It was followed by a colony of about 20 fish. After making a nearly full circle around me, the turtle and its entourage dived into the depths and dissolved without a trace. A couple hours later we saw them again, but not so close. In the evening we noticed the dolphins, but they wouldn't let us swim up.

45 days. July 20 Nausea
The weather was bad that morning and, according to the forecasts, no improvement was expected. Sharp gusts of wind and rain are not the best conditions for swimming, so Max suggested I take a moment to rest and eat enough, which I did. But I wasn't used to being on a yacht that was thrown up on the waves, so I started to puke. There's a big difference between being in a worrying sea in the water or on a yacht. In the second case, the body has to adapt to the rhythm of the boat, which can be quite unpleasant to throw on the waves, while in the water the same waves gently lift and lower you. So in the harsh seas I have to get used to being on board for a while, and sometimes, as now, it is accompanied by nausea.
48 days. July 23 The
appearance of whales

«Whales!» - Max screamed, pointing overboard. This morning Paul was at the helm, I was standing on deck with him. The whole crew gathered upstairs in a moment, and Paul turned the yacht around where the splashes were coming from. We all saw a great picture, with birds circling the water and whales splashing up and down. Paul stopped the yacht nearby, and within minutes there was a jet of water a few meters away. Max grabbed the GoPro and jumped into the water.
This footage is one of the best in our journey.
64 days. August 7
Connection to the ocean
When I swim in the heart of the ocean, I don't need wi-fi, for there is a more subtle connection. In our age of the Internet and social media, we often forget how important it is to be alone with ourselves for a while. In this respect, I was lucky to be in the company of the ocean most of the day. It is important for me because I can ask myself many important questions. How can I better express what I am experiencing? How do I make people hear the real voice of the ocean? I have never felt so close to this unknown water universe, and I hope I can convey that feeling to people. Maybe together we can find a way to protect it.
65 days. August
8thWhat am I looking for?
I don't mind plastic, I'm responsible for its use. I'd hate to put extra weight on the shoulders of the next generation. Like many today, I'm trying to reduce the amount of packaging I buy. And I'm probably not ready to give up plastics in my daily life yet. But what I see in the ocean today makes me think about how to solve this problem. I hope that those who read this blog will hear me.