During the Transat Jacques Vabre race, the IMOCA 60 yacht Hugo Boss capsized 82 miles off the Spanish coast.
On 31 October, Hugo Boss skippers Alex Thomson and Guillermo Altadil activated the beacon. A Spanish Coast Guard helicopter flew to their location 82 miles off the Spanish coast. Both skippers were brought ashore safely.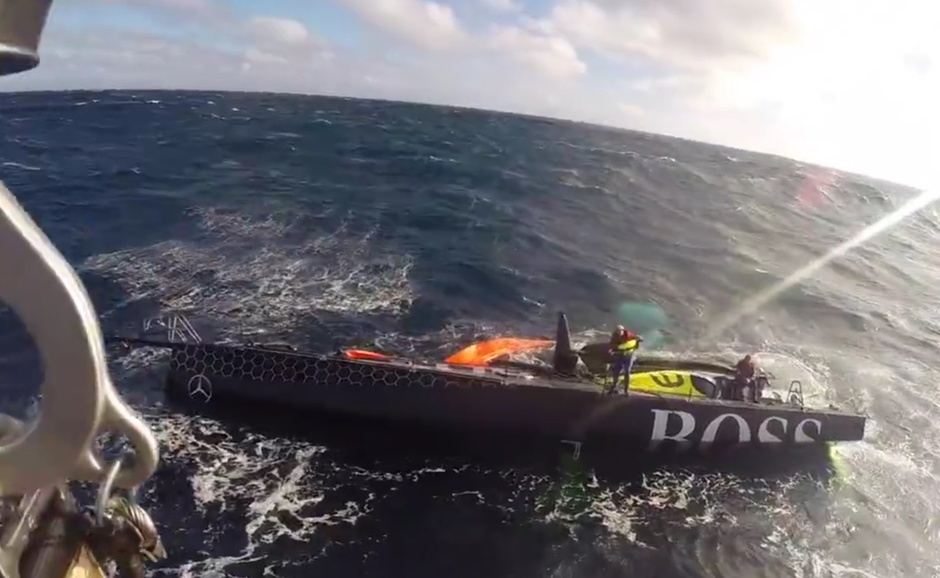 On November 1, Alex Thomson went to the Hugo Boss wreck site with a technical support team to tow the boat to shore. The vessel needed to be examined to find out what happened to her: She sustained structural damage when she capsized in high waves.
We learned about the structural damage of the IMOCA 60 monohull on the third day of the race. The skippers repaired the boat and decided to head for La Coruña, where a technical support team was waiting for them.
For 36 hours Thomson and Altadil sailed in strong winds and waves. They again made repairs and drifted in anticipation of better weather to rule out more damage. At this point a large wave picked up Hugo Boss and the yacht capsized. Alex immediately pressed the emergency keel flip button, which allowed the boat to return to normal position. The yacht had scooped up a lot of water and her equipment had sustained significant damage.
The situation required the boat to be abandoned. « This was a highly unusual occurrence, we have to understand how it happened in the first place. The waves were high, but not enough to cause our boat to capsize»," commented Alex Thomson.
The IMOCA 60 Hugo Boss was launched on October 6. Designed by VPLP/Verdier, the new Hugo Boss is 5% lighter than her predecessors. Many technologies used in Formula 1 were applied during its construction.
Hugo Boss isn't the only boat to have retired during the Jacques Vabre Transat. Three more monohulls were damaged and dropped out of the race, one trimaran capsized and another collided with a container.
A low pressure front in the Atlantic Ocean brought strong winds with gusts up to 40 knots and waves up to 7 meters high.