Australian Mark Sinclair, who was finishing seventh in the Golden Globe Race, a round-the-world non-stop singles regatta, stopped in his home port of Adelaide to clean the hull of his boat Coconut («Coconut») from a thicket of sea ducks and to replenish his water supply. He even had to use an emergency freshener the day before because his tank had finally run dry. Now «Captain Cocos»has officially been promoted to class Chishester.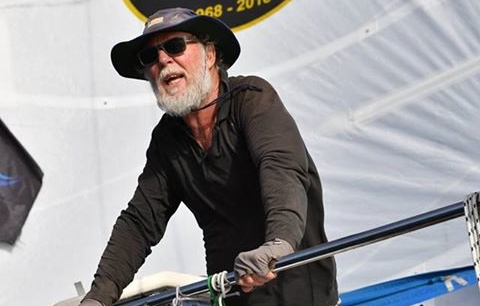 «Australian Border Service met me in St. Vincent Bay to clear customs»," Sinclair wrote around 11:30 a.m. Moscow time.
Russia's Igor Zaretsky, trailing the race fleet and going eighth, still has about 250 nautical miles to go before his pit stop in Albany, southwestAustralia.
According to the latest tracker data, his speed is 2.7 knots. If she continues in this mode, she will reach the port in 3 to 4 days.
Meanwhile, race leader Jean-Luc van den Heede of France is passing La Plata Bay on the east coast of South America. In other conditions he might have been able to admire Buenos Aires , but now time is of the essence. Especially as van den Heede is tailed by Dutchman Mark Slats, who has already passed the Falkland Islands.
According to the tracker, there are now about 1,000 nautical miles between them, with Jean-Luc sailing at 5.2 knots - 0.3 knots faster than Slats. So far, Slats' estimated finish time is January 30 and Van den Heede's is January 18.
During a radio session with the race organizers, Slats said that his incredible speed (IN ORDER TO 15-20 KNOPS) near Cape Horn last weekend was because he was too busy steering the boat in choppy seas and forgot to reduce the sail area.
In the battle for third place between the Estonian UkuRandmaa and British Susie Goodall, who is trying to catch up with him, there are slight changes. For reasons unknown, presumably due to a misreading of his coordinates, Randmaa had cut a little off the corner of the South Pacific exclusion zone . He would most likely receive a penalty watch for this, which would bring Goodall closer to him.
Right now, though, the pair, who are separated by about 380 nautical miles, are worried about something else: They're both about to be hit by a major storm.
The ill-fated exclusion zone will be officially opened for them during the storm. They can try «to hide in it» if it helps them stay safe.
« The barometer is making me nervous. Stop lowering! I dream of calm sea and sunshine. I'm not thrilled about these waves»," Goodall wrote.