«How annoying are those corn sellers on the beaches! » - probably thought the creatives from Aquatic Architects Design Studio, resting one day by the sea in their native Dubai (UAE). They came to an agreement with Carrefour and opened a shop along the beaches of Kayt Beach, Jumeirah and Al Sufouh. Right on the water, on a floating platform anchored in the sea.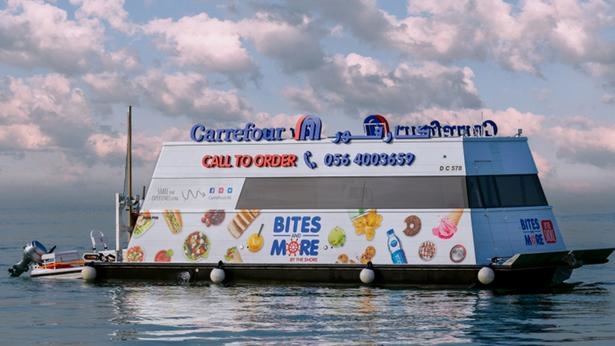 « Dubai has a stunning coastline that is enjoyed by millions of people each year. It's a natural next step to meet our customers' needs for relevant products where that is not yet possible»," Carrefour Chief Operating Officer Miguel Povedano was quoted by Boat International as saying.
Now anyone who owns a jet ski or motorboat can buy some food, a bottle of water or, say, sunscreen without going ashore. In total, there are more than 300 items in the range of the shop.
For owners of big boats there is a delivery service.
All you have to do is call the shop by phone or go to the mobile app, and within 45 minutes the order will be brought in by a small rowing boat right on board. The platform is open six days a week and almost around the clock.

However, in this respect, the idea of the Dubai people is not new. Back in 2015, «pizzeria on the water started operatin»g in the Caribbean Sea .

The creators of the unusual shop also took care about the environmental friendliness of their project, so they equipped the platform with battery-powered electric motors. They are able to bring the shop to the shore and back to the parking lot. In addition, the platform will suck up all the waste floating by into a special storage.