The single-cylinder four-stroke Mercury 5 Propane has five horsepower and is rated at 4,500-5,500 rpm. It is one of the lightest and most compact models of the American company: its weight is only 26.9 kg. Engine capacity is 0.12 liter. It can rightfully be considered one of the most powerful in its class.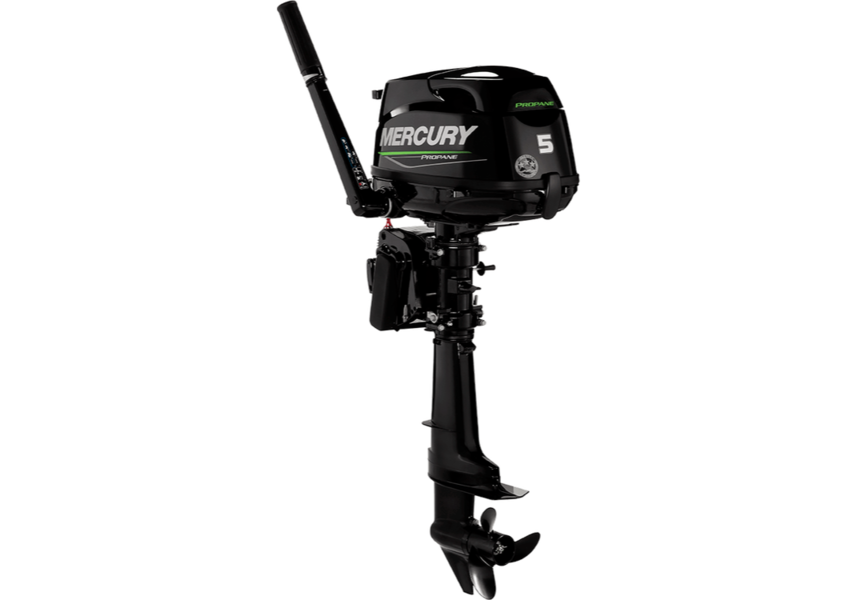 « Propane does not decompose to ethanol and does not contain it, so you do not have to worry about what fuel to choose and how fresh it is. The fuel system is pressurized, so it doesn't need pre-start preparation. The motor is easy to start, and automatic shutoff valves (inside the engine and in the fuel hose connector, itBoat's note) make it safe. All in all, it's a very environmentally friendly, easy to handle, reliable and intuitive outboard motor»," says Mercury manager Jim Hergert , who specializes in outboards up to 60 hp.
The eco-friendliness of a gas motor is that propane produces 30 percent fewer emissions than gasoline. In addition, using gas will be convenient for some users in that they probably won't have to specifically buy fuel for the motor: grill owners can easily fuel the engine with the same propane they use in their backyard.

A 19-liter tank will suffice for a 10-hour trip at full throttle.
A manual throttle is responsible for a quick and reliable start in the engine design, which can be used to improve the gas-to-air ratio, which can be especially useful when the fuel is cold. The automatic pressure reduction system reduces the traction force when using the starter rope.
The motor boasts a handy carry handle and can lock into six tilt positions in the 16 degree range for shallow water operation.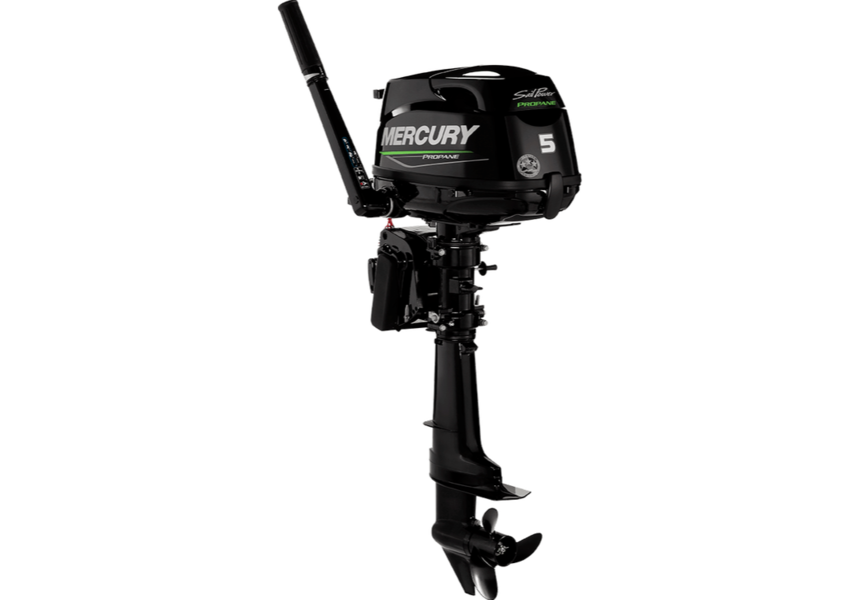 For sailboat owners, Mercury Marine offers a similar slightly larger outboard motor. While the standard 5 Propane has a shaft length of between 38 and 50 cm, the 5 Propane Sail Power has this parameter of 50-63 cm. The weight of the model is also slightly higher (28.6 kg).In addition, thanks to the built-in 12 volt system,«sailing» version adds the option of charging the electronics from the engine. It also has the added benefit of being able to eject the exhaust, creating reverse thrust, and generating more thrust through the propeller. All of this improves controllability at low speeds.