Yacht Club de Monaco was the venue for the launching of Overmarine's new 50-metredisplacement Mangusta Oceano 50 with a steel hull and aluminium superstructure on 17 April.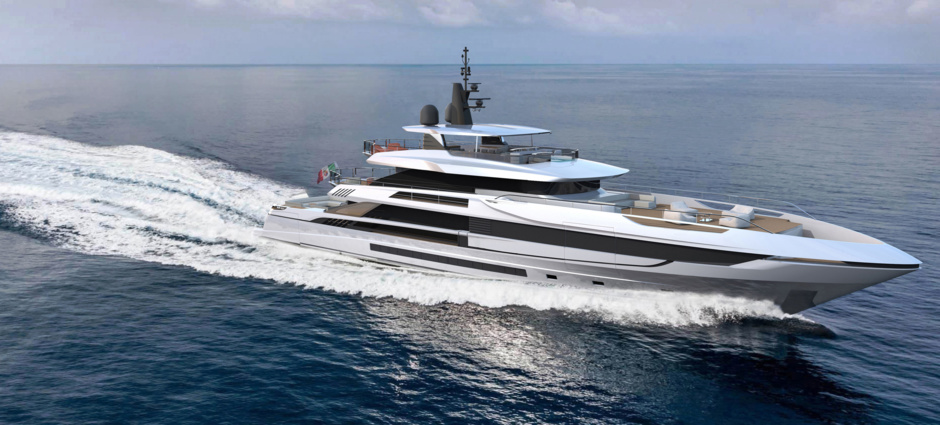 A major challenge for Alberto Mancini and the Overmarine design team was to optimise Mangusta's interior and exterior styling to within 500GT.
According to Alberto Mancini, in this project he tried to play with shadows and reflections, as sculptors do: «It's like pouring aluminum over a living being in motion.». «I imagined that the wind itself had sculpted her decks. Each one overhanging the lower one. But this didn't seem enough and I made slits, as if they were not aluminium, but some kind of light fabric, and lit them indirectly to emphasise the concealed surfaces, to give them even more character.»," said the designer.

The passengers of Oceano 50 will feel as if they are not on a yacht but in a villa with a sea view instead of a lush garden. The main deck saloon offers floor-to-ceiling windows for guests to admire the scenery and the upper deck has recesses in the bulwarks for extra visibility.
The play of light is one of the main features of the project. Sunlight will be sprinkled throughout the open decks and interior spaces. The recessed lighting will add accents to the details. At night it will give the boat «a unique look and charm».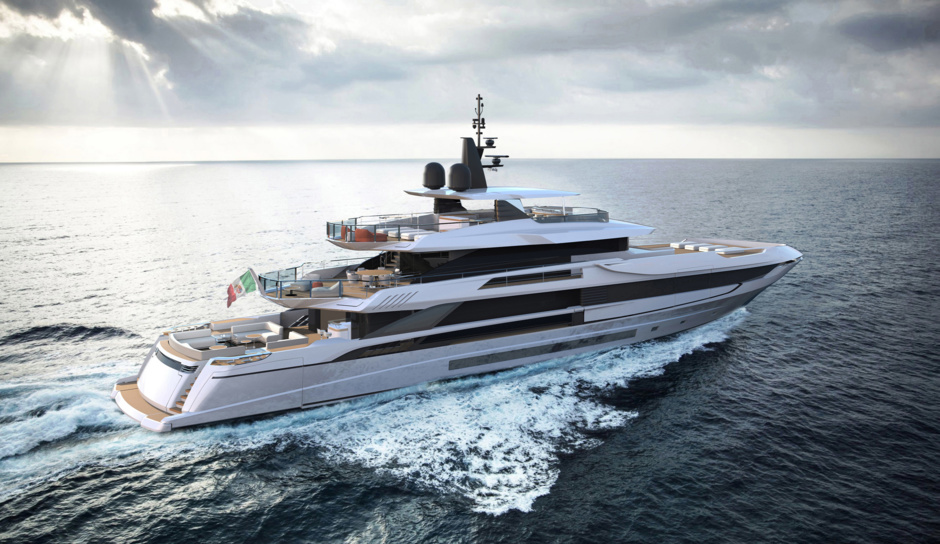 The glossy floor will reflect natural light aft and illuminate the beach club. The garage for the tender is placed forward so this area on the boat will be very spacious. It will be further enlarged by the folding sides and transom which form a swim platform.
When used as intended, the garage can hold a tender over 6 meters long and a couple of jet skis. But once they are launched, the boat will have a pool with a counterflow.
The second pool, or rather jacuzzi, will be installed on the sandbank. Next to it there will be a dining table for 12 people and a seating area. The roof will protect guests from direct sunlight and light rain.
The Oceano 50's interiors will be exactly as the boat owners want them to be. It is known that Mancini is ready to propose a version that harmoniously combines «elegance and soft light colours». This décor will be based on natural materials like light blue and turquoise linen and silk, white marble and sand-coloured oak parquetry. The contrasting finishes will be deep blue ash wood and copper.

There will be five or six booths available for 12 guests. The same number will be for the crew of 9-11 people. There will also be a separate crew area.
In terms of seaworthiness, Oceano 50's creators' priorities were maneuverability, maximum versatility, stability both at anchor and in motion. The boat will be powered by two MTU 12V 2000 M86 engines.

She is expected to reach a speed of 16 knots and at a cruising speed of 11 knots she will travel up to 4000 nautical miles.

Fuel consumption will be very economical and the engines will not generate too much noise or unnecessary nuisance vibration, according to the yard.
Construction of the first Oceano 50 has already begun. It will be launched in 2020.