Competition in kiteboarding at the first World Beach Games, held in Qatar from October12 to 16 , ended with a bronze medal for Russia. It was won by Elena Kalinina, who a few weeks before became the owner of the silver medal at the final stage of the World Cup, and in May - the silver medalist of the World Championship.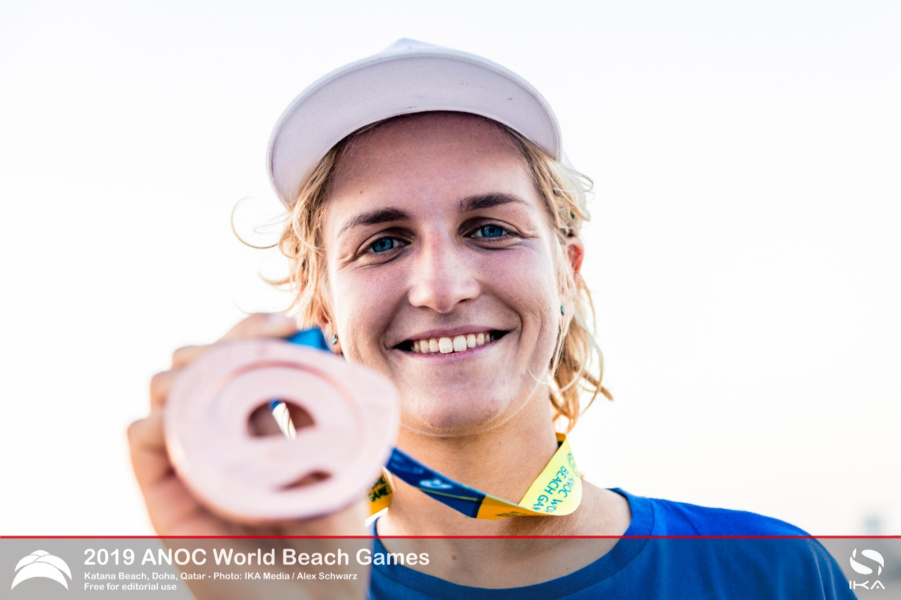 A total of 1237 athletes from 97 countries took part in the Games, competing in 14 sports. The program, except kiteboarding, included water skiing, open water swimming and aquathlon (an analogue of triathlon which combines only swimming and running).
Nineteen strongest sportswomen from all over the world competed in the kiteboarding event.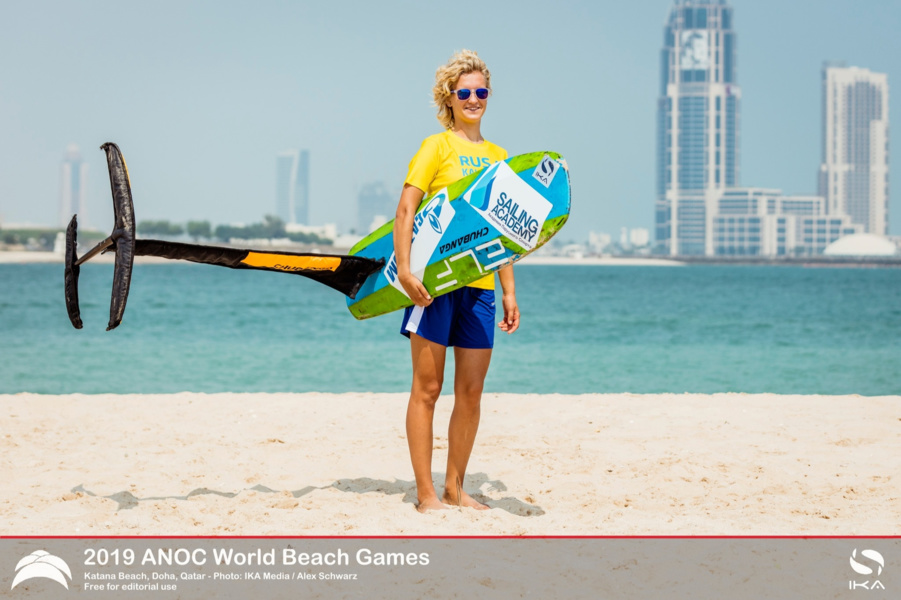 The races were not easy: air temperature reached 38 degrees and water - 32 and wind force rarely exceeded 4 meters per second.
Because of a weak wind on the first day it was possible to hold only one race. The qualifying stage ended after 6 more races on the second day. Having finished second and two third races, Elena Kalinina took the third place in the general rating and reached the semi-finals.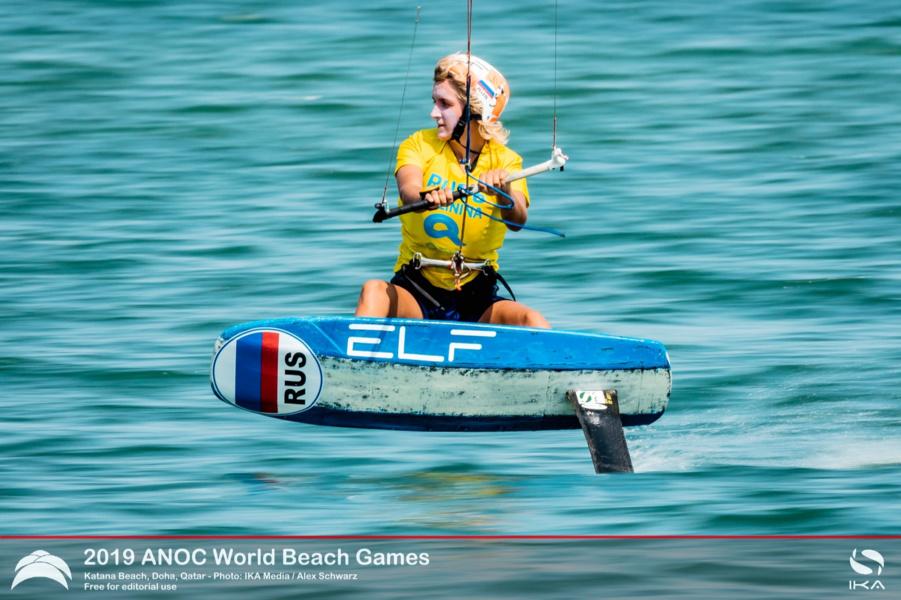 Russia won both semifinal races and advanced to the final together with Australian Breiana Whitehead.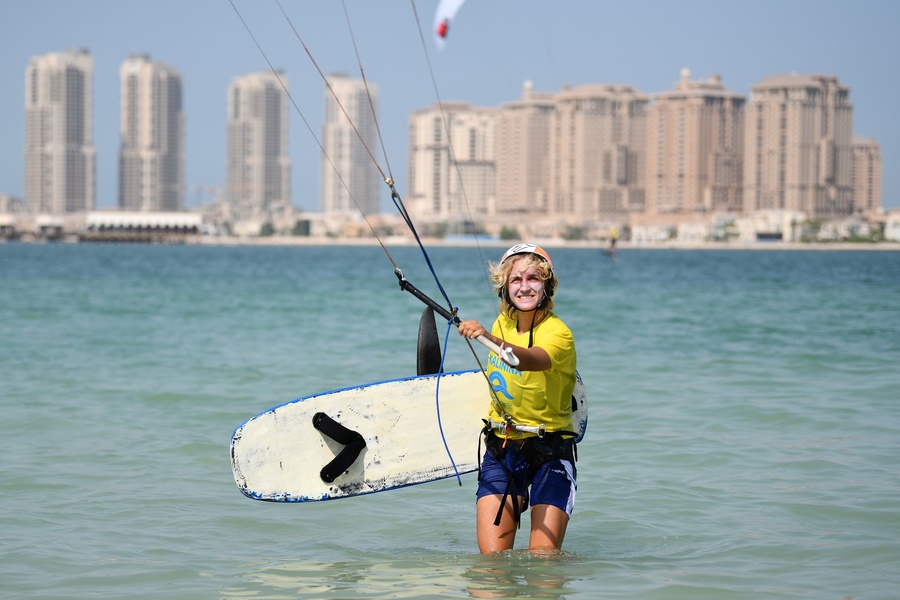 The American Daniela Moroz (USA) and Julia Damasiewicz (Poland), who had already won the World Cup, were waiting for them there. They got a direct pass to the final after getting the best qualification results. This also gave them a good lead in the repechage and made their chances of winning gold and silver much slimmer.

«According to this regatta's format, if you do not get to the finals directly, it is almost impossible to get higher than the third place», - says Elena Kalinina.
She says it contributes to entertainment at the same time.
«At ordinary regattas there is almost no intrigue before the last races, everything is decided in the first three days. In this case, a competitor who finished her qualification in eighth place almost missed the finals. Such a format keeps us in suspense all the time and does not let us relax», - said the Russian.
The fate of the medals was decided by one race. As expected, Moroz and Domashevich took first and second places.«A close and fierce fight ensued at» for the bronze medal. But due to her good tactics Whitehead did not get ahead of her Russian opponent at any point.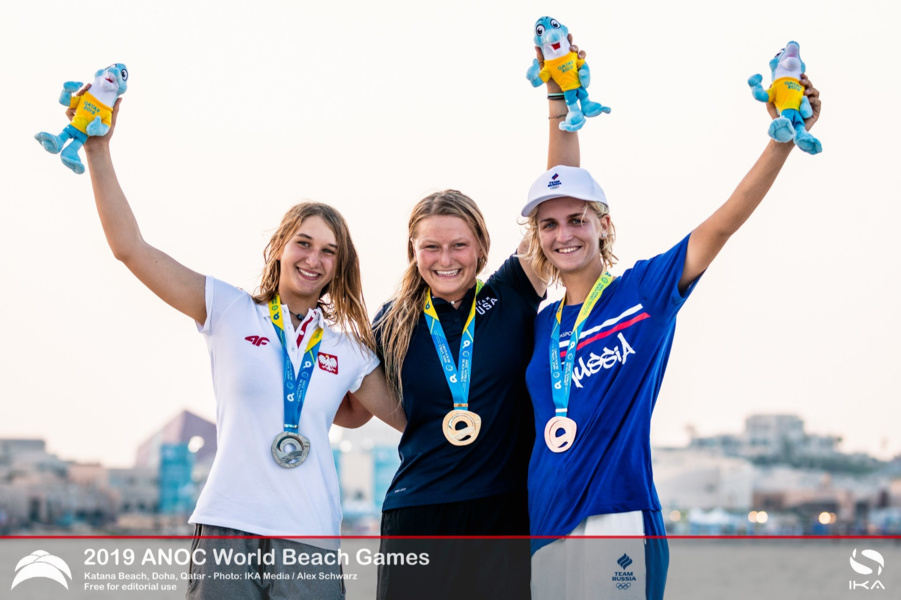 «In the final I overpowered and lost to Yulia quite deliberately, because I needed to control the Australian. <...> Before the World Beach Games I was really nervous. When at the airport the whole Russian Olympic Team met us, I felt really responsible for the result. I am glad that I gained a medal for my country», - confessed Elena Kalinina.
In 2024 kiteboarding will be on the program of the Olympic Games in France. Medals will be awarded in the team event with mixed crews.