Competition in Olympic classes, which started on April 1 in Mallorca, passed the halfway point: two days remain until the end of the regatta, and by the evening of April 4 in different classes from 8 to 12 races took place. After the first four starts, all sailors from the 49er, FX 49er, Finn, Laser, Laser Radial, Nacra classes and men from the 470 class were divided into«gold», «silver» and«bronze» fleets.
Nine Russian crews from almost all classes managed to get into the«gold fleets».
Unfortunately, only mixed crews of Nacra and a female crew of FX 49er class couldn't rise high enough in the standings and ended up in the«silver fleet». In Nacra class the pairs of Sergey Dzhienbaev and SofiaKiseleva and MaximSemenov and Alina Shchetinkinaon the morning of April5 are on the 35th and 53rd places respectively in the general rating. Zoya Novikova andDiana Sabirova of FX 49er are currently ranked 36th.
«Gold» crew of Pavel Sozykin andDenis Gribanov from 470 class has slightly lost their positions compared to the evening of the second day of competition. They dropped from eighth to twelfth position.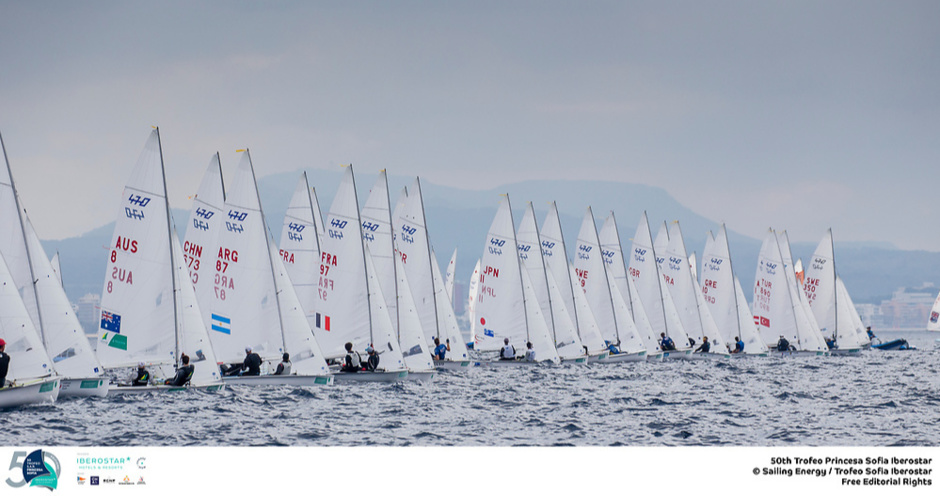 » Sergey Komissarov andMaxim Nikolaev in class Lazer suffered much more: Instead of 4th and 8th places, they are now 29th and 47th. Sergey Komissarov was disqualified before the fourth race, came in only 41st during the fifth start, and in the last race of the eighth it was impossible to finish. Maxim Nikolaev was also disqualified before the fourth race, and during subsequent starts came in the middle or even at the end of the fleet, which now consists of 63 boats: 61-33-26-50. «
In the 49er class, the team of Jan Cech and Ivan Zotov has moved from 20th to 11th placesince Tuesday.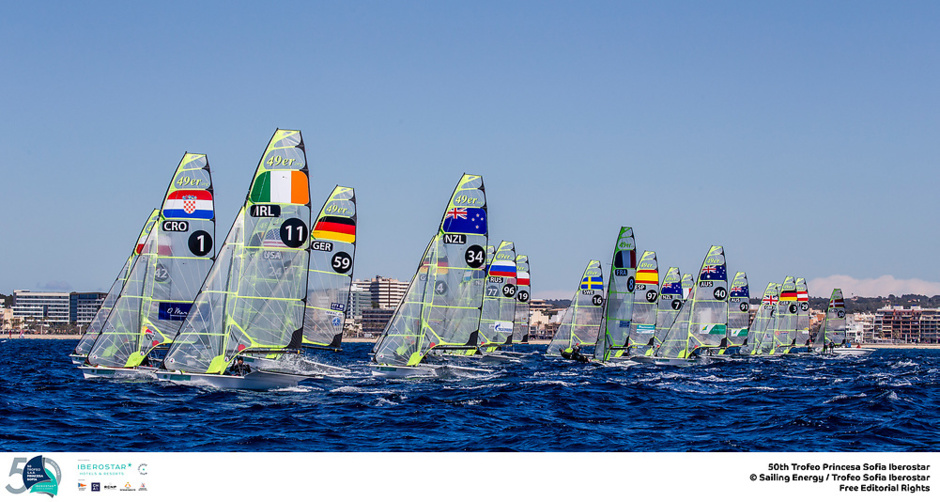 «In Finn class Vladimir Krutskikh and ArkadyKistanov are in» golden fleet. In the ranking of teams in their class they are on 35th and 36th lines.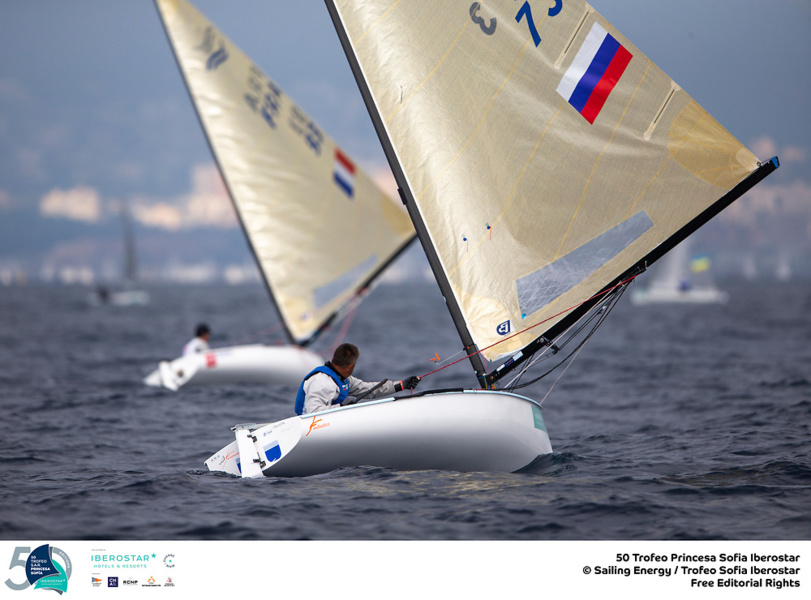 » Well showed themselves and broke into the«gold fleet and Russian women from Lazer Radial class: Maria Kislukhina (46th place), Ekaterina Zyuzina (49th) and Valeria Lomatchenko(59th).
Women in 470 class and windsurfers from RS:X class were not divided into fleets. Yachtswomen Alisa Kirilyuk and AnzhelikaCherniakhovskaya gained five points in the rankingduring April 3-4 and rose from 33rd to 28th place. The result could have been even better, but unfortunately, during the last race, the crew was disqualified: the girls did not have time to take the starting position and found themselves between the start line and the first sign when the U flag was raised.
Windsurfers Vladislav Burmistrenko, Alexander Askerov and Evgeniy Aivazyan keep getting closer to the leaders: as of April 5 morning they occupied 4th, 6th and 9th places in the standings.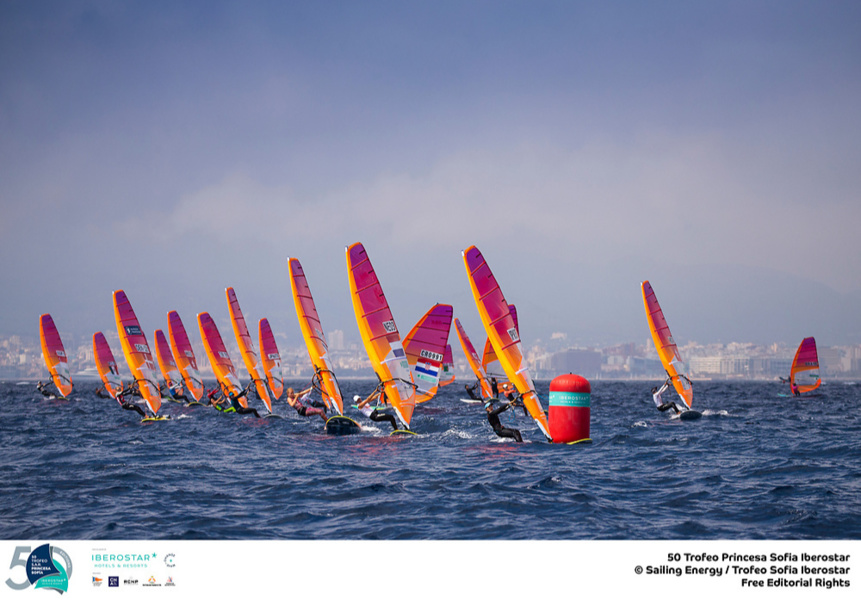 Burmistrenko is now only seven points separated from the third-place Swiss Mateo Sanz Lanz. Windsurfer Maria Lemenkova missed the last race and dropped from 21st to 24th place since April 2.

If we talk about the battle for first place in each class, the clear leaders are already in FX 49er and Laser Radial. Crew of Brazilians Martine Soffiatti Grael andKahena Kunze and Dane Anne-Marie Rindom are 19 points ahead of the rivals.
Remarkably, Rindom, last year's grand prize winner in her class, has not lost her position since the start of the event. During «qualifying» the first four races, she came in first every time. «After the split in the fleet, she eased up a little» (5-7-13) and even retired in the last race, but even then, she still edged clear of Dutchwoman Marit Bouwmeester.
Chinese windsurfers Hao Chen and YueTan took 16 and 15 points respectively.
The best among men in class 470 are Swedes Anton Dahlberg andFredrik Bergström. They have a lead of 14 points, which, according to their main rivals fromGreat Britain, was not so easy to achieve.
«It used to be believed that in this class it is all about experience. But now a lot of physical strength is required. "We 'old boys' spend half our evenings in physio," chuckles British helmsman Luke Patience . - I think it's bad for the class. It's just silly. The 470 is traditional boats, we should be doing traditional yachting. Believe me, I'm not complaining, I'm not whining. The reality is that fitness is growing in importance. You have to go to the gym, although it's nice to have that excuse for it».
On the contrary, the toughest struggle for the first place is among women in 470 class. The crews of Frenchwomen Camille Lecointre and AloiseRetornaz and British Hannah Mills and Eilidh McIntyreshare just three points in the standings.
«We're pretty confident. We were new here last year and performed well. I think we're on track for a medal in Tokyo. If we can be a little bit faster in all conditions, then we have a good chance»," believes Lecointre.