TheMonaco-based Wally shipyard has unveiled at the Cannes exhibition itsfirst sailboat designed since the company joined the Italian Ferretti Group. This «first-born» is a 30.7-metre sloop Wally 101 designed by the German studio Judel/Vrolijk & co (naval architecture) and the Italian design firm Pininfarina (exterior).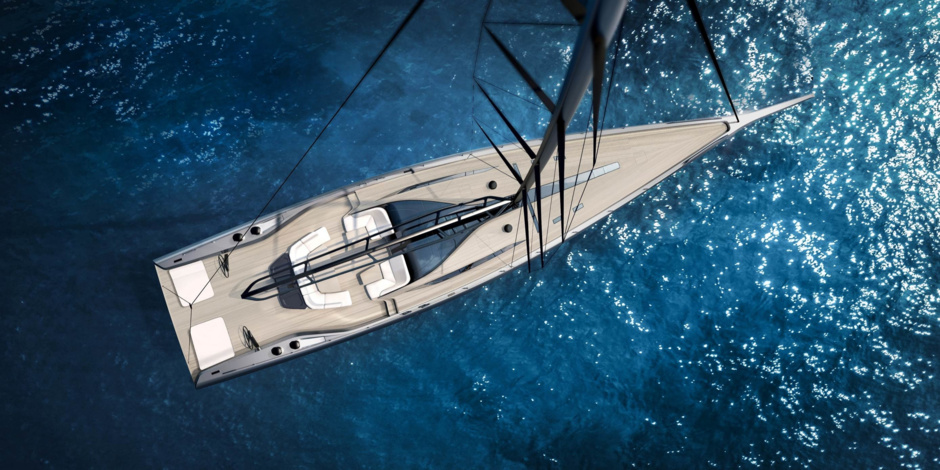 At the moment the project is in the final design stage.
A real eye-catcher of the project is the innovative keel system called the Wally Magic keel.
Not much is known about it. Apparently, the Magic keel will be a sort of lifting keel traditionally used on Wally boats. It will allow increasing or decreasing the boat draught by more than 2 meters. The Magic keel system will provide greater safety in case of a grounding, but will also increase the safety in case of a shoal.
The combination of Magic keel with the new generation of specially shaped hull will markedly improve the boat's performance.
It is expected that the boat will be able to reach the near upwind speed on upwind courses and on a full range with a wind speed of 12 knots and up to 20 knots.
The layout of the deck and below-deck areas will be highly flexible. She will be adaptable to the owner's needs.
The Wally 101 will be suitable for cruising as well as racing. An owner who is not planning to race will be offered the option of adding cockpit seats, tables and deck chairs in addition to the practical sunshade and sprayhood that are included in the standard equipment. The yachtsman-athlete, on the other hand, will be helped to remove anything superfluous from the deck.
«The yacht is optimized for the handicap system and will be very competitive in handicap racing, where time is counted», saysLuca Bassani , founder of Wally.
» The single-level teak deck will have a total area of almost 60 square metres with «beach area aft, compared to the usual 35 square metres for yachts of this size.
FOR THE FIRST TIME IN THIS SEGMENT, THE SAILBOAT WILL FEATURE 50 CM BULWARKS.

The Wally has already unveiled its signature glass roof, which is shaped like a funnel when viewed from above.

Below deck, this Wally can accommodate from 3 to 5 guest cabins for 6 to 12 guests. Depending on the number of guest cabins, 1 to 3 cabins will be available as an annexe with other needs, e.g. children's playroom, TV lounge, gym, study.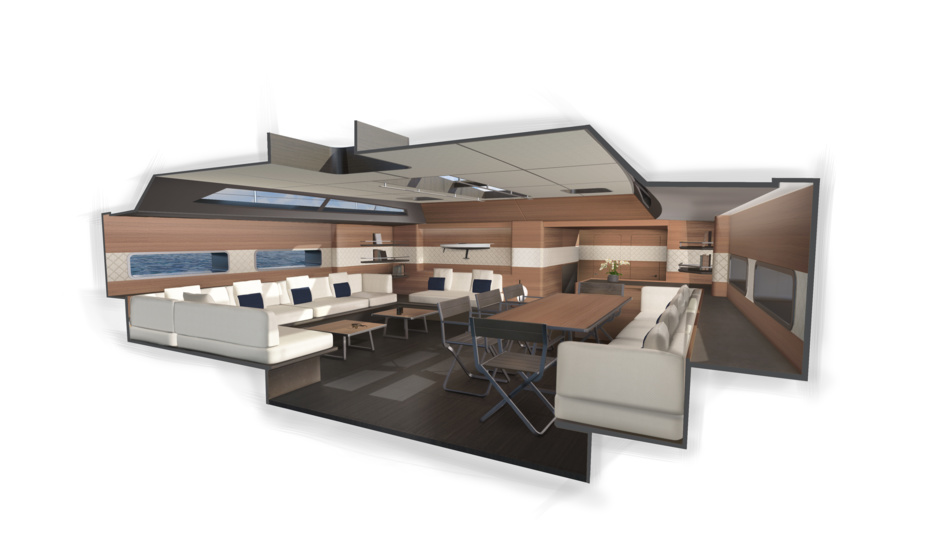 In any case two double crew cabins for 4-6 persons, adjoining crew cabin, laundry, galley and separate navigation area will definitely be provided on board.

The saloon on the yacht is elevated relative to the other cabins. This is done to provide more space for the engine room below the lounge. «The installation of the magic keel» will not affect the interior in any way.
Aft of the boat is a garage space for a 4m tender.