St. Petersburg company Laky Verf ("Lake Shipyard") entered the market quite recently - in 2005 - but since then it has already firmly established a place in the Russian market of cheap metal yachts, equally well adapted for inland waterways and sea exits. The company will not change the details: the model range starts at once with 23 meters - with a steel model. 23Мdesigned by a famous Dutchman. Guido de Groot.. The designer coped with his task brilliantly, and in just the past three years, its owners in Russia have found six boats of this series. An excellent result for a young Russian shipyard in, say, not the most active home market.
Not wanting to rest on their laurels, the shipyard is approaching the coming season with a new project: from now on the recently completed new Laky Verf site, which the company proudly calls "The Big Shop of Yacht Building", can be used to build flybridge yachts of the project. 24M. A semi-displacement aluminium yacht by the same de Groota is designed for long voyages, both river and sea, and has everything you need for a comfortable measured swim by a large company.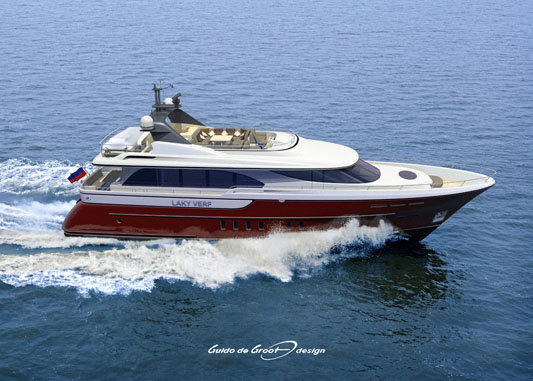 The wide (6.17 m) housing provides an outstanding usable indoor space - over 113 square meters. In addition to the crew cabin, four guest cabins are located on the lower deck, including a luxury owner's suite that stretches from side to side, with its own bathroom and private lounge area. For guests there is a large VIP forward cabin and two smaller cabins. As is the case in a good semi-custom project, there are many interior layout options. Finished egoists, for example, can donate one of the guest cabins, instead placing their own private office there.
The area of the flybridge is 40 square meters, so it easily fits two recreation areas for passengers, a large control station, and still room for a four-meter tender at the stern. The lightweight aluminum hull allows the boat to demonstrate a good speed - from 18 knots in cruising mode to 24 knots "for all money". Customers can choose from two propulsion options - either classic propeller shafts or an advanced complex with Volvo Penta IPS propeller speakers. The latter makes it very easy to navigate through the cramped interior water areas and allows almost any captain to impress the audience with its virtuoso mooring. The branded joystick allows you to control the boat literally with your fingertips, making it spin in place and (finally!) move sideways.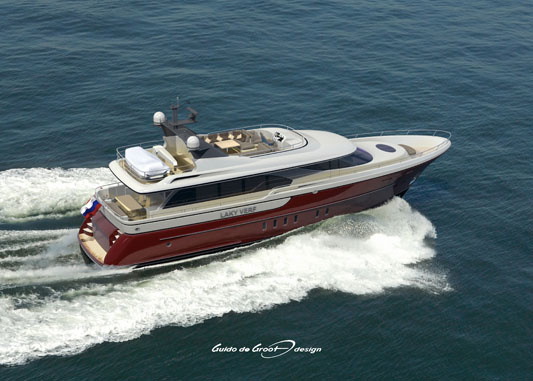 The 24M's sailing qualities also promise to be as high as a boat born in Ladoga. At least its predecessor, the steel... 23M Okhta.According to her captain, she feels quite confident on a two-meter Ladoga wave.
And we are still waiting for heat, thorough test drives and new models. Given that Laky Verf's "Big Shop" now allows us to build two hulls of up to 75 (!!!) meters at a time, we will not be left without news from "Lake Shipyard".