Every year for five years now the international contest of sailing photography Mirabaud Yacht Racing Image starts in November. The competition is not a joke: among the participants are such famous names as Carlo Borlenghi, Niko& Pedro Martinez, Mark Lloyd and Sander van der Borsch. Even just to be on the same list with them is a big luck. And it is a dream to be the first among the coryphaei of yacht photography. This year two Russian women - Ekaterina Zhilina and Marina Semenova - were among 80 contenders for the title of the best sailing photographer of the year. Boat found out from them how they became yacht photographers and why they chose such shots for Mirabaud out of hundreds taken this year.
Tell us about the photo participating in the contest. Why did you choose this one?
Ekaterina Zhilina: To be honest, I came to the contest already quite tired of my own photos. Recently the Yacht Club of Saint-Petersburg published my photo book, and for it I selected hundreds of photos, thousands of times looked at them.
I wanted something unusual, both visually and emotionally. That's why there is no yacht on the photo presented at the contest. There is a yachtsman, there is a sail, and there is no yacht.
And the yachtsman (Roman Konstantinov) turned his back on the camera. He is a tanker and he is the best at this position to see what is ahead. But he is not desperately forward on the waves, but is in contact with the team, which at this moment works at the limit. In his position, calm and confident.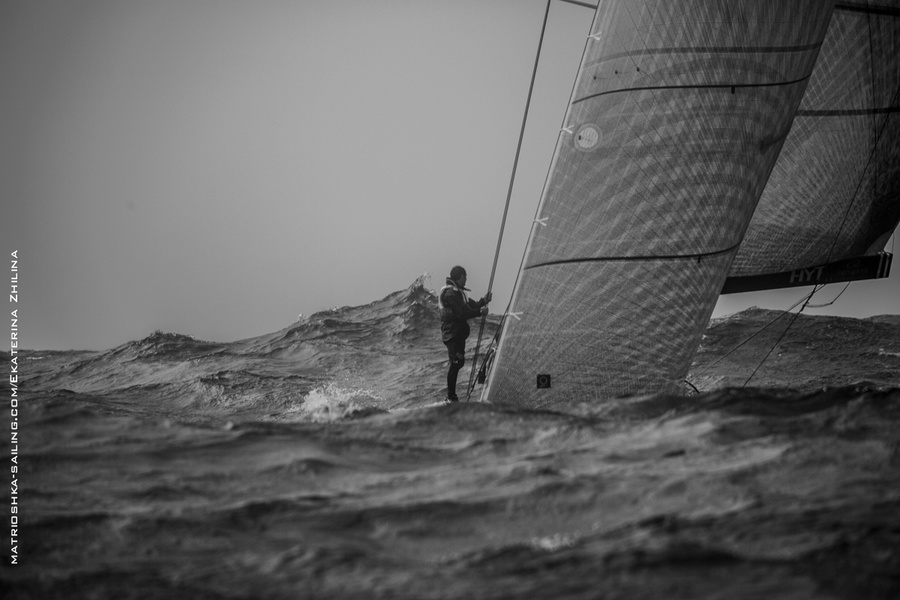 Waves that day in Cascais reached 5 meters in a squally wind. Not many photographers went out on the water and stayed there all the races of the day. But for the sake of such pictures I am ready to get wet, freeze and jump on the waves at any time of year and day in any part of the world.
Marina Semenova: This photo was taken last year in January in Monaco during the Melges20 Winter Series, where I am the official photographer. It shows the moment when Guido Miani caught a wave and surf on a Melges 20 racing car.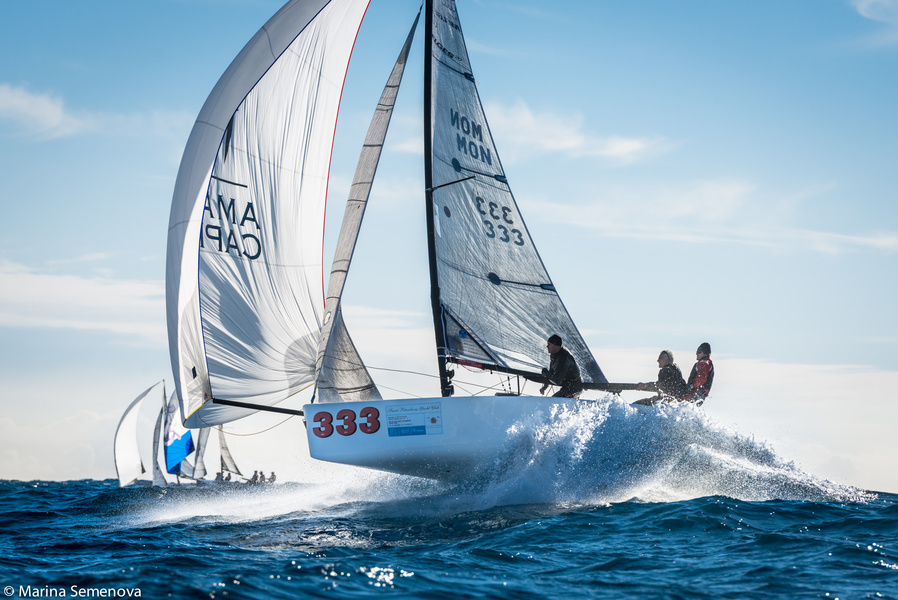 I didn't doubt my choice, as I think it is perfect for the competition on both the technical and artistic side.
Clearly caught the moment when the boat, taking off, cuts through the wave, breaking it into small splashes. Power and beauty in an instant.
What's your favorite picture of a sailing photographer in his career? Why?
Ekaterina Zhilina: My favorite, perhaps, black and white photo, where I shoot from the RC44 mast and my bare feet were caught in the frame. At first my friends and clients started to pay attention to it, although it almost got married. And then somehow I got used to him. It's my selfies, so to speak. Now the picture is in the book, I always use it in master classes, and at the exhibition next year it will be one of the main.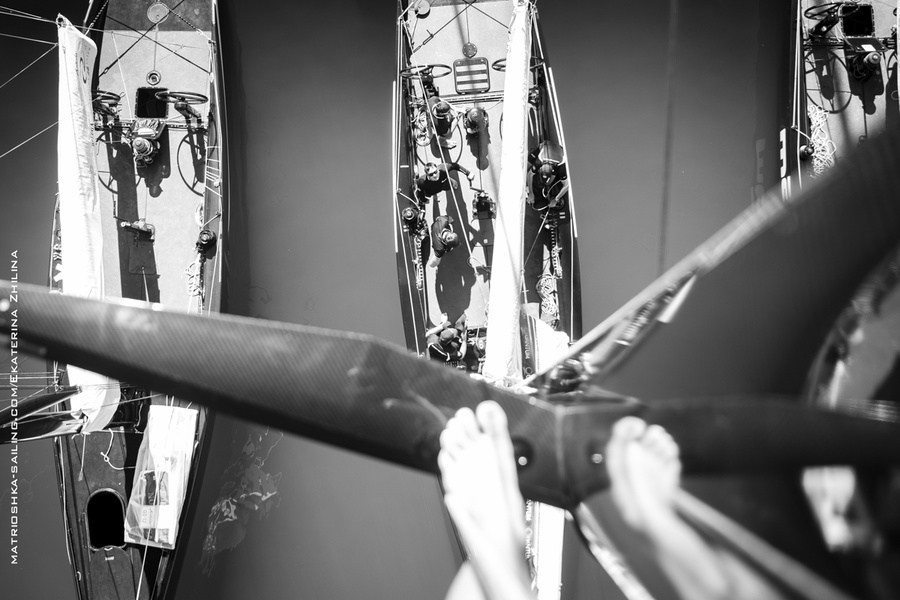 Marina Semenova: For today my favorite photo is a hand in sails. My favorite - because I wanted this picture, I was waiting for it! And so, during the shooting of the match race Grand Final Nations Ligue 2015 in Vladivostok, I caught this moment.
Sailing is fast and dynamic, and in this frame there is a fraction of a second when it seems like a gentle touch.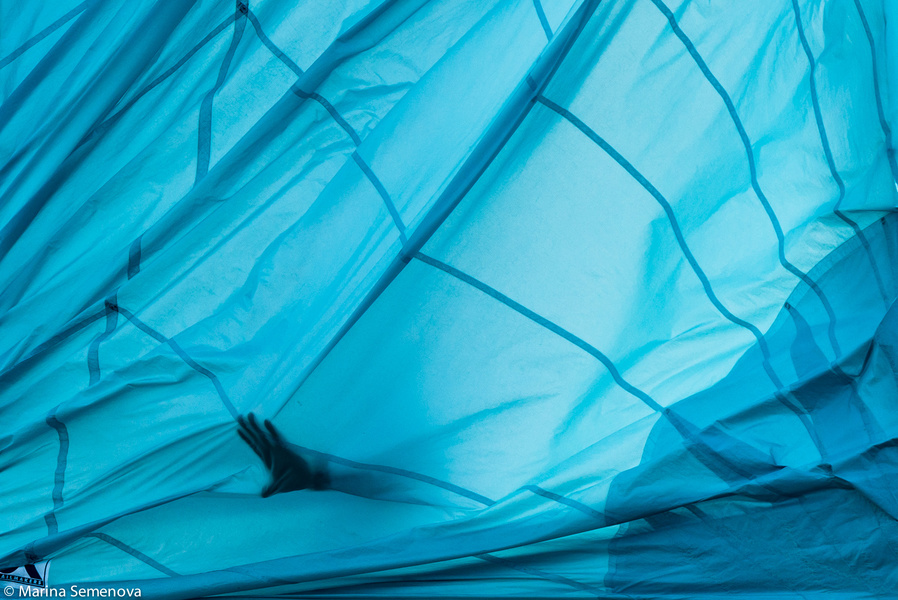 The most extreme conditions you had to shoot?
Ekaterina Zhilina: During the Volvo Ocean Race I asked Alvimedica for a mast during my training. They lifted me up with two cameras and went to test the yacht's settings: they were turning corners, going full speed and somehow forgot about me, I guess.
I am not afraid of much, but at 30 meters, to be honest, I was blown away.
I had to keep an eye out for the mast and then not to fly into it, not to break the equipment, and at the same time I really wanted to take pictures. I didn't take a lot of pictures, but now I know that I have to take one camera for the mast.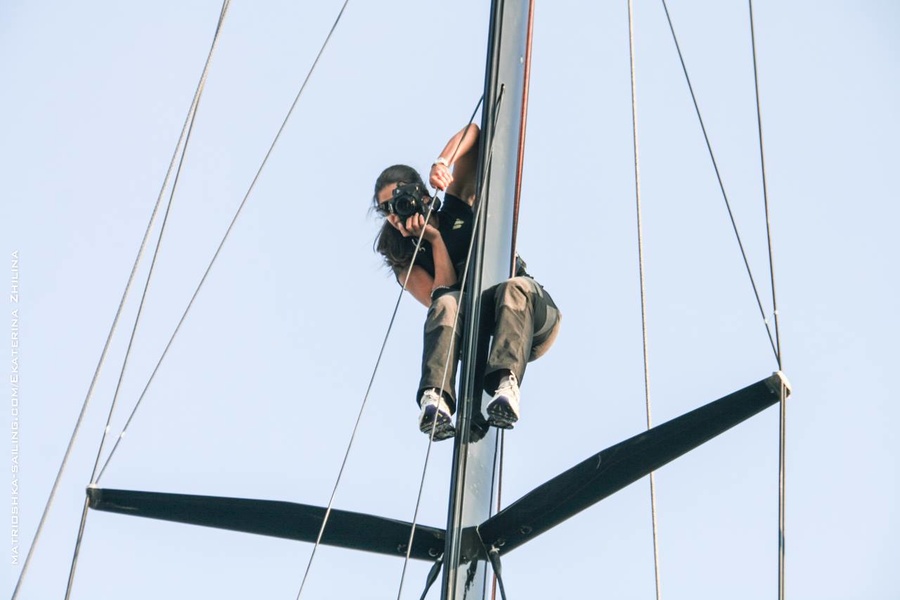 Marina Semenova: It was in February 2014 at the Primo Cup in Monaco. The weather was constantly throwing surprises: then calm, then 30 knots of wind, then heavy rain, then the sun. And of course the waves, the waves, the waves...
We've been sailing on our RIB yachts on two metre waves in search of an interesting story. At those moments, I felt like an action movie character.
And most importantly, it was my first serious sailing shoot and I was very worried!
If you had the opportunity to take pictures at any competition in any class, what kind of competition would it be?
Ekaterina Zhilina: As trivial as it sounds, the America's Cup final. Catch flying ships in the frame! I shot the world series of America's Cup in Europe, but I haven't managed to get to the finals yet.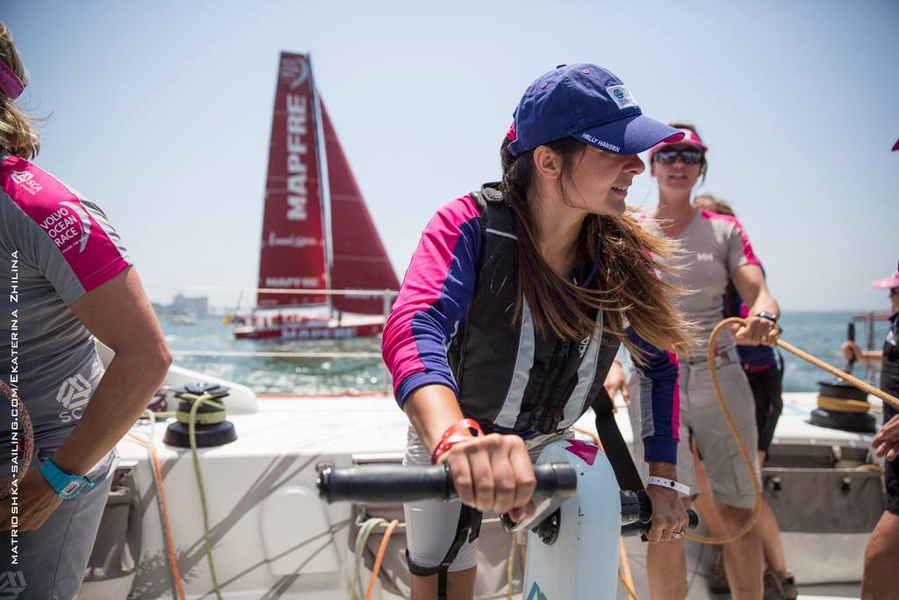 Marina Semenova: Rolex Middle Sea Race, as the regatta is held on the route with stunning landscapes.
Which of the corridors of sailing photography inspires you?
Ekaterina Zhilina: I, of course, follow the work of photographers with whom I had to work together at competitions, but I am inspired by documentary and travelogue photographers. In sailing photography it is difficult to come up with something new, and now the quality of optics is mainly important for successful shots, and the endurance and fearlessness of the photographer is of course. There are also a lot of mainstream moments: for example, someone took a semi-submerged shot and it was a long time ago. Everyone who has a budget, bought a waterproof cases and began to take, though very beautiful, but monotonous shots (by the way, I think to buy a case, too).
In addition to just a beautiful photo, I want to tell a story: the history of the place, team, race, yachtsman.
That's why at every opportunity I try to go beyond shooting from the water. I am inspired by the works of the Volvo Ocean Race on-board photographers, as they are more documentary, tell the story, reveal the identity. I've been following the work of Amory Ross since I boarded the Puma Volvo Ocean Race crew yacht in 2012. But he is still young and too smiley for a coryphaeus.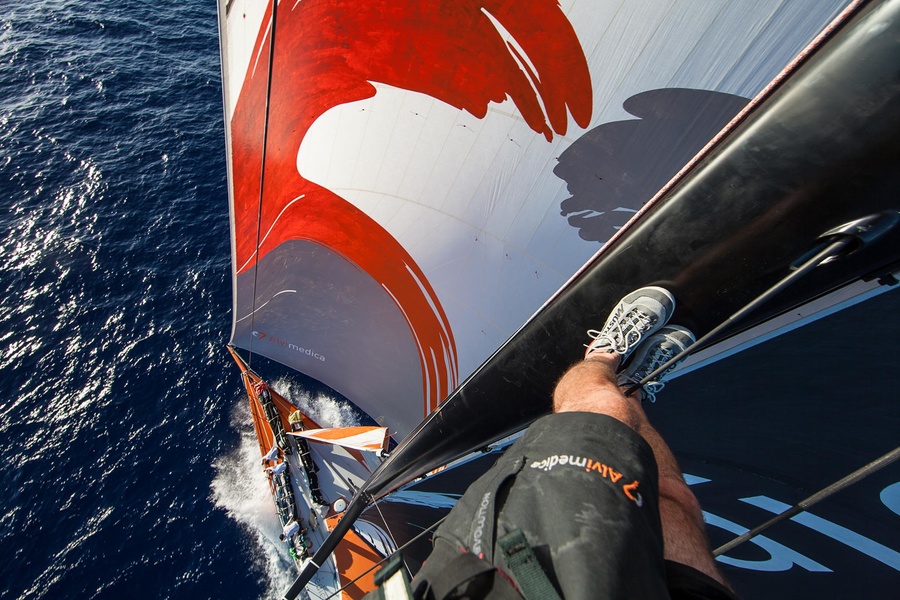 Marina Semenova: This is the simplest question - Carlo Borlenghi! For me this is the best yachting photographer and the person who inspired me to choose this profession.
One day, while leafing through the ribbon on Facebook, I saw stunning photos from some regatta. The sea, the yachts, the splashes, the struggle and unity of man with the elements were all special. Under the photo, I found the name of the author. He was Italian Carlo Borlenghi, who specializes in yacht photography. I decided to look at all his works.
I was flipping through the photo after photo on his website and my heart started beating faster and faster. At one point I took my breath away from the thought: this is what I want! I want to be a yacht photographer!
That very moment can be considered a turning point in my life!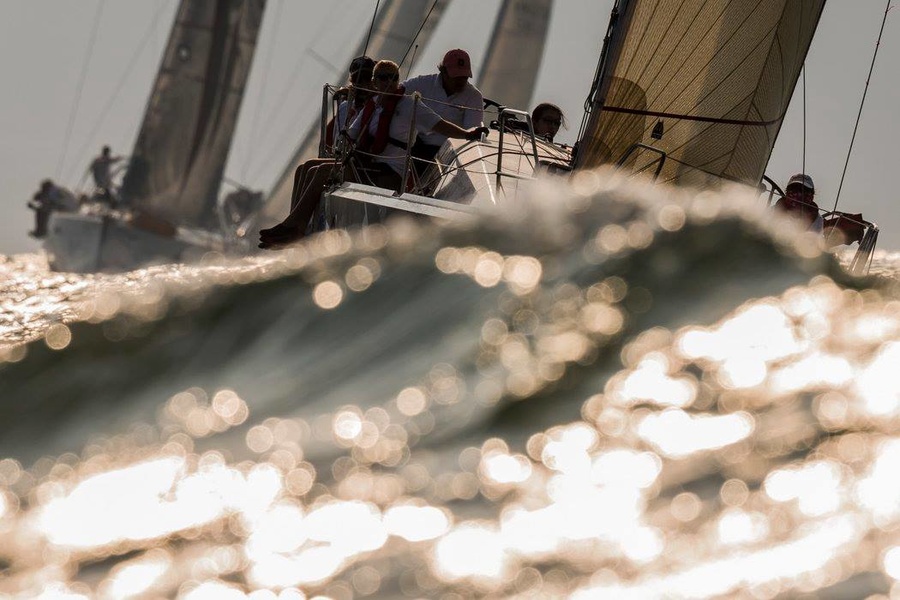 How did you come to the sailing picture?
Catherine Zhilina: I came by foot from Lisbon-Cascais train. There in 2009 Audi Medcup was and I have a task to write an article for Cosmopolitan Russia« What every girl should know about sailing». I met Maxim Lagutenko at the entrance of the port, who showed me the way to the press office and helped with the accreditation.
Back then, I used to write mostly in life style magazines and keep a «Trial column on me» about sports and travel. But after that day, I realized I wasn't interested in anything other than sailing.
I started writing about various competitions, got on Lanzarote on RC44 and spun.
Over the years there has been less and less writing and more photography and I still consider photography my main activity, although I still write about yachting and shoot video reports.
What can you recommend to a photographer who wants to try himself in sailing photography?
Ekaterina Zhilina: Sailing photography is about technique: shooting technique and safety. And the second is even more important, because without knowing where to step and what to hold on to, there may be no chance to get the right exposure.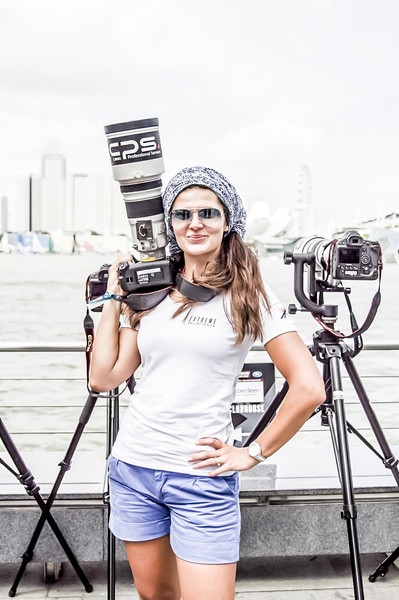 Marina Semyonova: To follow the works of recognized masters of sailing photography. Watching, analyzing and trying to repeat is like in art school. And be sure to buy a beautiful yacht costume, otherwise they may think that you are an ordinary photographer!
Very soon itBoat will have a detailed FAQ from Ekaterina Zhilina for those who dream of becoming a yachting photographer. In the meantime, have time to vote for your favorite shots on the Mirabaud Yacht Racing Image website. Voting will last until December 1!